Ars Phantastica
IN HONOR OF THE BIG TWO-PART EXHIBITION "PARIS VERTICALS" AT THE BELGRADE "ATRIJUM" GALLERY
Prophets and Barbarogeniuses
Most Serbian artists of all generations who live and create in Paris, 40 of them, are presented in one place for the first time. In the first period, on May 25, works of the most prominent ones, mainly painters, were represented, and in the second, from June 6 to 25, works of the younger generation which reflect the complex interactive network of present artistic practices. The exhibition is organized by the Art Department of the City of Belgrade Library, and the author is Mirjana Savić, art historian. Therefore, "National Review" once again mentions those belonging to the circle of most significant Serbian painters in Paris
By: Dejan Djorić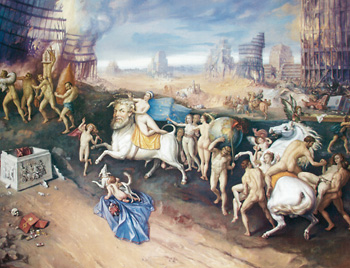 Friendship between the Serbian and the French culture, between two spiritualities has been lasting for more than a century. It was often marked with complete enchantment, as it was between the two world wars, or during the ascension of surrealism, when André Breton, Salvador Dali and others cooperated with Serbian artists. The myth about the noble Serbian barbarian, described by Ljubomir Micić, one of the significant members of the avant-garde, suited France, and the Parisian wing of "Mediala" (Miodrag Dado Djurić, Ljuba Popović, Vladimir Veličković, Uroš Tošković and Prvoslav Arsić) used the myth of the barbarogenius.
Creative personalities as well as a continuity of working, exhibiting and living exist between Belgrade and Paris, more expressed than the relation between the Moscow, Berlin or Prague artists and Paris. Our artists, mainly painters, went to Paris between two world wars as students and followers. After World War II, barbarogeniuses arrived to Paris from the Belgrade Academy of Fine Arts, the best in Europe at the time according to many, not to learn, but to prophesize and be accepted. The third, youngest, contemporary generation, was educated in Paris and comfortably, without conflicts, fit into the contemporary artistic streams. Three generations of Serbian artists live and create in Paris and France, becoming a part of the elite culture, not only French.
Regarding the valuable exhibition "Paris Verticals" in the City of Belgrade Library from May 15 to June 25, 2009, we will remind of some of the most significant ones, before all those who make part of the Parisian Ars Phantastica.
DADO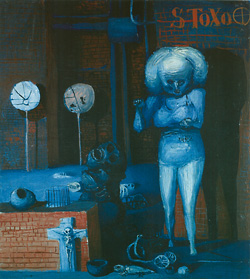 Already in his Belgrade days, when he was still a student at the Academy of Fine Arts, Miodrag Dado Djurić was a legendary person. Man-beast, wild man who came down from the Montenegrin mountains, from the horrors of World War II, and at the same time one of the most subtle, most refined painters of the XX century. Only his student days relate him to Belgrade which he despises because of the injustice he experienced there (including the fact that neither a retrospective nor any larger exhibition of his art had ever been held here, and that there is no monograph of his); he is neither Montenegrin nor French painter, he is a painter of the world, famous in all cultural environments. This academic without pompousness, living on a piece of bread, was the only painter Belgrade dared to show to Henry Moore.
He went to Paris straight from the University in 1956, and had his first independent exhibition in 1958. Jean Dubuffet, Henri Michaux and some of the then most important French people of spirit discovered him. He is considered the greatest living French painter, and in the 1980s one British artistic magazine proclaimed him the most important artist after Francis Bacon. His paintings are part of the constant exhibition of the George Pompidou Center; he is presented in numerous artistic reviews, monographs, dictionaries and encyclopedias. He is famous as Paja Jovanović used to be. However, it is all the same for him, he is more interested in the swans and chicken in his fantastic painting paradise created from the mill in Eruval near Paris.
He had been completely formed already as a student of the art school in Herceg Novi; the Academy of Fine Arts did not bring him anything new. The basis of his artistic miracle is the extraordinarily emotional drawing. Only Uroš Tošković, his old friend from Herceg Novi, Belgrade and Paris, has such a charisma. Although less successful as a painter, Tošković is probably the most original drawer in the second half of the XX century.
Dado's timeless painting might have appeared at the time of Gothic art of Conrad Witz, or at the time of Goya. His monstrously beautiful fantastic art belongs to the highest achievements of this art in all époques.
LJUBA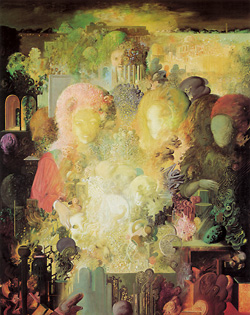 One of the greatest painters of the XX century fantastic art. Ljubomir Ljuba Popović met the leading artists of this genre, drawers Dragan Lubarda and Uroš Tošković, painters Dado Djurić, Leonid Šejka and Ljubodrag Janković Jale already during his Belgrade days, and together they created the nucleus of the Mediala artistic movement and group.
After he had graduated from the Academy of Fine Arts, he went to Paris in 1963. In his melliferous, woven with gold thread and at the same time demonic paintings, he merged the horror and gnosis of the Mediala school. He went through several phases in his work, but they did not significantly change his relation towards painting. In the sign of organic growth, figures, objects and landscapes in his painting slowly and ceremonially appear from the mass of particles of light and color.
Ljuba proved himself as a complete painter involved in all painting phenomena, from nude and still life to architecture. This great traditionalist, htonic painter of utopian Rutania, introduced eroticism into Mediala, for which Miro Glavurtić says that it had been expelled from Medialian aesthetics together with humor.
Ljuba's work is presented in the best reviews of erotic art, such as Bradley Smith's Masters of European Art of the XX Century. In about a dozen monographs, experts in fantastic art and surrealism wrote about him, from René de Sollier and Gustav René Hocke to Saran Alexandrian. However, his work is beyond any interpretation. His wide culture, discursive power, before all the mission of defending and promoting the neosymbolic, fantastic and metaphysical in Serbian painting is imposing. That is also how Popović has been managing the Modern Gallery "Valjevo" for the last thirty years, presenting the painting of our magicians on the highest level. Thus we can say that, in an artistic and social sense, at the end of the XX and beginning of the XXI century, he is our most important painter and Academy member.
VLADA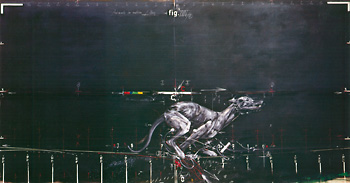 Vladimir Veličković graduated from the Belgrade Faculty of Architecture. Very early he proved to be one of the best European drawers, gradually developing his painting opus in several phases and subjects close in terms of iconography. He has been living in Paris since 1966, and from 1983 to 2000, he was professor at the Parisian Academy of Fine Arts. He was rightfully received many honors, from the highest French awards in the area of culture and art, to the membership in the Serbian Academy of Arts and Sciences. Among all Balkan artists, he has most published monographs. His absolute success is entering the French Academy of Arts and Sciences, which Salvador Dali entered before him.
Leonid Šejka announced the planetary and cosmic dump (with his famous metaphor City-Dump-Castle), and Veličković was the first painter of catastrophism, chaos, horror, human and planetary endangerment. He has been several decades ahead of the actual aesthetics of catastrophic, now dominant in Hollywood, and is now also the predecessor of great reviews of contemporary art and new theory.
He was the only who expressed such a view of the world and world of art in classic media without betraying the great European painting tradition, and was immediately recognized in French art, for which Dado Djurić said was the greatest in history painting wise.
LJUBICA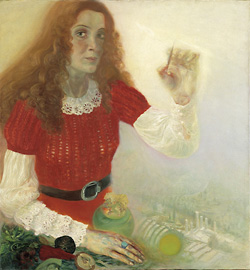 Several Serbian artists from the generation born after 1930 also succeeded in Paris. Ljubica Mrkalj first went to Paris in 1971. She returned to Belgrade to complete her postgraduate studies at the Belgrade Academy of Fine Arts and since 1973 has been living in Paris. With astonishing physical beauty and extraordinary as a painter, she found an important circle of friends and acquaintances in Paris: from Irina Ionesko, daughter of Eugène Ionesco, mystical beauty and author of powerful erotic photographs, and Michel Random, critic, now best expert and interpreter of visionary and fantastic art, to Guy Scarpetta and Jeanne Claire.
Along with Ljubica Cuca Sokić and Olja Ivanjicki, Ljubica Mrkalj is one of the most important Serbian painters at the end of the XX and beginning of the XXI century. Supporting this fact is her sacral relationship towards painting and quality that does not decrease with years. Ljubica Mrkalj, the noble lady of aristocratic origin, who photographs and writes poetry and prose as well as she paints, united the most refined from Serbian and French culture, the European with the Balkan, and the western with the Byzantine. Having a wide education, familiar with antiquity, she discovered the divine landscapes of Greece, and introduced the oneirism of Hypnos' and Hermes' empire into the Parisian School. For her, the Balkans is Plato, Parthenon and Fidia, whereas France and Europe are something ancient. With her works, contemplativeness and appearance, she gave birth to a vision with neither traditional nor modern, but timeless basis.
MIKAN
Immediately after graduating from the Belgrade Academy of Fine Arts and postgraduate studies, Mikan Aničić became prominent as one of our most daring painters of fantastic art. After arriving to Paris (he had a scholarship at Bosar – L'ecole des Beaux Arts and has been living in Paris since 1989), he reevaluated his fantastic art under the influence of the old masters.
Aničić is capable of responding to challenges, painting oils of larger formats, figural topics in which he resolves complex problems of illumination, perspective, human and animal anatomy, compositions with many actors. It is harder because his artistic language is metaphysical, completely traditional. He won the Medal for Painting at the Salon of French Artists at Grand Palais in 2006 for his painting The Abduction of Europe, a prophetic piece in the best tradition of European mythological and visionary illusionism. Only in France, the widest and therefore richest culture, at an entirely contemporary exhibition, one can also recognize traditional values which this painter and extraordinary portraitist unexpectedly brings into an actual context.
AT THE END
There are many artists of Serbian origin in Paris that we cannot describe in detail in this occasion. Nebojša Bežanić, for example, has been enlisted among the most skilled and most miraculous European drawers. Also respected in France are Aljoša Josić, Marko Stupar, Slobodan Jevtić Pulika. They come from different generations and are rarely presented to the Serbian public. Similar is with the sculptures of Adriana Popović. All of them have more or less succeeded in a city with eighty thousand artists, and as many who pass through it each year.
Will this be sufficient for succeeding here too?