Friends
DANIELE GIANCANE, ONE OF THE MOST REMARKABLE WRITERS OF CONTEMPORARY ITALY, UNIVERSITY PROFESSOR, PUBLISHER, EXCLUSIVELY FOR "NATIONAL REVIEW"
The Last Romantic Nation
During the previous 25 years, his publishing house "La Valisa" from Bari published more than 40 books of Serbian writers, and the magazine with the same name published articles of about 200 Serbian authors. His anthology "Serbian Poetry of the XX Century" is mandatory for Italian Serbian literature students. He knows the Serbian cuisine, wine, cities, the Serbian truth, and most of all the Serbian soul
By: Dragan Mraović
Photographs: Stevan Ognjenović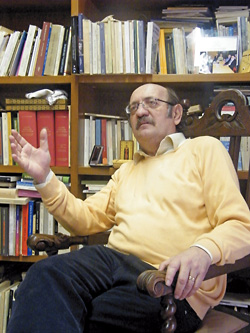 In the tame Puglia, which used to be Roman Apulia, with vast vineyards and olive orchards glittering in the Mediterranean sun, lives and creates Daniele Giancane, one of the most remarkable writers of contemporary Italy. He was born in Bari in 1948, the city of St. Nicholas, whose basilica was greatly respected by the Nemanjić dynasty. Besides the relics of the saint, the greatest treasures in it are the large icon of St. Nicholas, gift of Stefan of Dečani, the altar made of 600 kilograms of silver from Novo Brdo, gift of King Milutin, and the decree of Emperor Dušan the Mighty from 1346, with which he grants Bari 200 perpers of Dubrovnik's taxes a year and proclaims to the Western world that he has proclaimed himself emperor. The decree is signed in red Cyrillic letters: "With God's mercy, believing in Christ, Stefan, Emperor of the Serbs, coastal lands, Greeks and western lands."
Giancane teaches history of children's literature at the University of the capital of Puglia. He is the author of more than seventy books of poetry, literary and theatrical critics, books for children, essays, and editor of many anthologies. He is the founder and manager of La Valisa, publishing house and literary magazine.
Due to his almost twenty-five years long inexhaustible cooperation with Serbia, he received Vuk's Award (2001), the most prominent Serbian award for contribution to all-Serbian culture, and this year he won a special award – Decree of the Cultural and Educational Community of Belgrade for constant contribution to Serbian culture. His works were translated in Serbia, Montenegro, Albania, Spain, Croatia, Slovenia, Canada, Malta, Chile, India. In Serbian he published a book of poems Adder in the Body, children's novel Three on a Spaceship (three editions), New Fairytales and a study Children's Literature in Italy. Together with Svetlana Stipčević, PhD, he published in Bari, in Italian language, the anthology Serbian Poetry of the XX Century, today mandatory for students of Serbian literature at the capital of Puglia university. His publishing house La Valisa issued more than forty books of Serbian writers, and his literary magazine with the same name published articles of about two hundred Serbian authors!
He stayed several times in many Serbian cities at various events, at the Belgrade International Meetings of Writers, at the Sićevo Literary Colony, at Zmaj's Children's Games. He used to come to Serbia even when most of the world renounced Serbia, even when, due to the embargo, he had to fly by plane from Bari via Milano, Vienna, Budapest, Sofia, and then take a train to Niš.
MANIFEST OF A FRIENDSHIP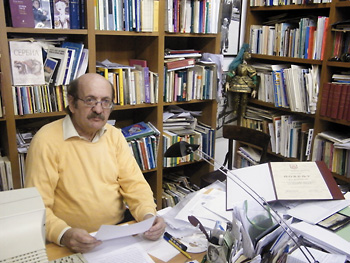 In Giancane's large working studio in the "Liberta" quarter, buried with thousands of books, we notice on different shelves books written by Desanka, Bećković, Vitezović, Brajković, Saša Hadži Tančić; all together more than forty books of Serbian authors La Valisa had published in a little more than twenty years. There are also all issues of the literary magazine with the same name, La Valisa. From issue number twelve to the recently published issue number eighty, each had room for Serbian writers, sometimes even more than forty pages.
"When we founded La Valisa, we proclaimed our Literary Manifesto. One of its points was establishing relations with cultures of eastern countries. Later it turned into a very intimate relationship with Serbia. I think two moments were crucial in this. The first was our aesthetics proclaimed in the Manifesto, and the second was a chance encounter, brought by providence, which became a friendship with Dragan Mraović, Serbian writer and translator", says Daniele Giancane for National Review. "What are the origins of our turning towards the East? The south of Italy, Puglia, Basilicata, are the historical and geographical gate of the West towards the East. The east of Europe is closer and more important for us than the north, which we feel as very distant in all aspects. Therefore, the awareness of our historical, geographical and anthropological closeness had an important role."
Many Serbian writers visited Bari and other cities in Puglia as guests of La Valisa, while Italian writers gathered around that publishing house returned the visits by coming to Belgrade, Niš, Sremski Karlovci, Novi Sad, Smederevo, Požarevac, Brankovina. They have been in Kosovo and Metohija many times, in Dečani, Patriarchate of Peć and Gračanica, in Kosovska Mitrovica, Gnjilane... They saw the Byzantine blue from Dečani which inspired the great Giotto, they saw vineyards planted near Sremski Karlovci and Smederevo by their and our emperor Probus as early as the III century A.D. They saw the Sićevo Gorge and Ćele-kula, met many people, had many experiences different than the image of Serbia in the western mass media.
DESANKA AS A CORNER-STONE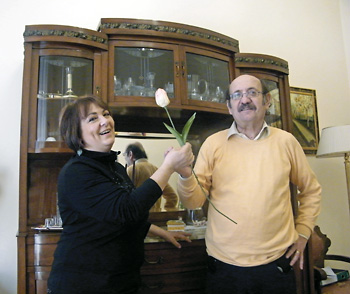 "We noticed many things we truly liked in Serbian culture and literature; e.g. a better feeling for rhythm, for authenticity, for the act of creating from the stomach. Serbian literature helped us a lot to refresh and strengthen our inspiration. The visits of Desanka Maksimović to Bari, Brindisi and Noci left a great impression in our cultural and intellectual circles, on television, at the University. For us, Desanka is unforgettable; she is the absolute corner-stone in poetry in general. Meeting your children's literature, starting from Zmaj, opened me a new and valuable horizon."
Besides the Roman, southern Italians also have Greek heritage, mainly Byzantine. They also have their experiences with the Saracens and Ottoman Turks, and a kind of 'Ćele kula' in Otranto, testimony of a tragic history of Turkish invasions in Southern Italy. There are also other similarities. Desanka Maksimović once said in Bari: "It seems to me that southern Italians like me more than some northern Yugoslavs."
"I, as well as my friends from La Valisa who often travel to your country, carry within a very beautiful image of Serbia. There are many reasons for that. Most of all, the Serbian nation. We have a feeling that it is perhaps the last romantic nation that still dares to dream and which preserved authenticity and sincerity in human relations, pretty much lost in the West. Great hospitality and great directness in behavior and character. We have always felt at home there, and many times even did not want to return to Italy. We also like the great love for art and culture we noticed in Serbs, and the readiness for personal cultural engagement."
Puglia, where Giancane comes from, has the best Mediterranean cuisine in the world based on fish, rice, olive oil, vegetables and numerous imaginative starters. Do the Italians like anything in the Serbian cuisine?
"I like Serbian cuisine. You have wonderful meat. I also like very much your way of eating meat, salads, potato, paprika. Although I am Italian, I don't long for spaghetti in Serbia because you have exquisite stews. I also tried different wines in Serbia which I liked very much, not only in restaurants, but also from small cellars, home-made, really very good. In Sremski Karlovci, for example, in Mario's vineyard, I tried extraordinary wines he makes himself."
SNOW IN BELGRADE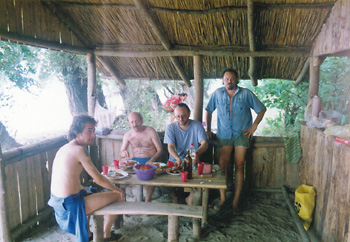 He says he likes Belgrade and Novi Sad, but he finds Niš especially attractive.
"Belgrade is a big European city. Niš, however, left a bigger impression on me because it has oriental colors and a special charm you cannot find in western cities."
He remembers years, moments, people. He is a poet, he has a sense for detail, for atmosphere. He remembers, a day after he was officially awarded with "Vuk's Award" in Belgrade at the end of December, it started snowing. He came out to the street from "Slavija" hotel where he was staying. An unforgettable stroll, he says. "Beautiful snow, everything was white, truly magical. Belgrade white, all in cotton, and the streets still full of people."
"And once, in Sremski Karlovci, I ate fish that had just been fished out of the Danube. Djordje Lazić Ćapša, painter, and Žarko Dimić, poet, fished a few meters from me. Mario put tanks of his wine and lit a fire on the bank. They soon fished a lot of different fish for stew and frying, and immediately cleaned two largest ones, breams, salted them, put on skewers made from branches cut from a nearby tree, and gave them to my son Mauritio and me to roast them on the fire. Never in my life have I eaten fresher fish."
Friends are a big treasure. Daniele Giancane made many of them in Serbia.
"It can be said that we created a Pantheon of friends, some mine and some mutual with other friends from La Valisa. It would be hard to mention all of them. Rakitić, Brajković, Ajdačić, Tančić, Ršumović, Ignjatović, Bogdanović, Puslojić, Žarko Dimić, Vitezović, unfortunately early diseased Moma Dimić, and many others. More than a hundred. Perhaps more in Serbia than in Italy."
Serbia has gone (and is still going) through a difficult period. In 1999, when the bombing of Serbia began, Daniele Giancane and writers from La Valisa strongly opposed the aggression. They could not be seduced by anti-Serbian propaganda, obnoxiously transparent. They knew the country, the people.
"As early as May 5, 1994, we sent a fax to Serbian writers stating that we are not going to respect the embargo because we do not accept it, and that we will intensify our cooperation. We also published that in our press. Today we also think that both the embargo and the bombing were a mistake hard to forgive."
***
Ljubivoje
"When we met Ljubivoje Ršumović, we realized he is a great writer for children, one of the greatest in the east of Europe, so today we call him 'Rodari from Serbia'. He was awarded with high literary awards in Bari, here he published his ABC of Children's Rights and he comes often. Ršumović is also one of the bridges which brings closer our two 'cultures for children'", says Giancane. He meets many children, schoolchildren, professors and teachers, reporters during his visits, so each is an event for the Italian circles working with children."
***
Communication
"I believe the Serbs as a nation have a great potential, but they do not know how to 'distribute it at the market'. As if they are underestimating the importance of communication and the very idea of communication, especially in our time. I think Serbia needs more cultural centers in the world, more consulates. Serbia closed its historically important consulate in Bari although its work had a strong influence. How is it possible that you do not have a cultural center in Rome? Rome is Rome. Although not all, many important roads still lead to Rome. You should invest a lot into communication, but Serbia, as far as I can see, is not doing it."