Notebook
MORE THAN HABITS, MORE THAN PLEASURE
Meze as Identity
Tell me what are you having as meze, and I shall tell you where you come from. One cannot have meze with whiskey, which one takes at the bar. Having meze is a ritual which belongs to a different civilization. We have the Russian meze, the northern meze and the Greek meze. For example, Serbs from Central Serbia have different meze form the Serbs of the Mediterranean. Why is meze of the province and the suburbia better from meze in the town centre?
By: Momo Kapor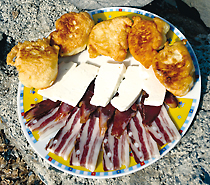 A curious foreigner whom a host invites for a drink will have the occasion to notice a difference between us and other nations – we eat while having a drink. There is an old story that a mother did not scold her son for gambling, but for trying to dig out of losses and another story about a mother who didn't scold her son for drinking, but for not having meze while drinking.
In a word, what is meze? In this time of history when globalism threatens to erase historical memory, tradition and identity, it may be useful to throw a bit of light on that which distinguishes us from other peoples.
I am the last man in the world who has anything against whisky, but I have never seen a group of people have meze while having a glass of whisky. In fact, whisky is drunk standing by a bar or – at that blessed moment when an exhausted Westerner, out of whom the West sucked everything it could take, throws off his moccasins upon returning from work and rushes a sip down his throat to become conscious of well-being. One cannot have meze with whisky, but nibbling chips, Indian nuts, pistachios or having a morsel of a small cracker canapé is considered appropriate instead.
This nut nibbling is specific to those civilizations that drink whisky, gin or cocktails; I personally most like "Manhattans" because they come with a sweet cherry in the drink.
To have meze is a ritual belonging to a completely different civilization, as is indicated by the very word, which is of Persian origin, having reached us via the Turks. With it came several important cultural phenomena, such as messiness, outhouses and haemorrhoids, or swollen anal veins, which one gets from sitting too much. The difference between civilisations that drink whisky and ours, (while drinking plum brandy one has to, at the very least, have a bit of cheese) is summed up in the difference between espresso (doppio ristreto) which one knocks back while standing, and Turkish coffee, which one sips slowly while sitting and chatting, and which Turks generally don't drink because their favourite refreshment is tea.
HAVING MEZE IN THE MOONLIGHT
Of course, even the Serbs differ greatly when it comes to having meze. Serbians eat more than they have meze; the least meze they can accept is liverwurst or a half kilogram of cracklings, while Serbs over the Drina River, due in part to their longer Oriental tradition, have achieved the finest distinctions in the art of meze. A famous Sarajevo bey, with his litre of soft brandy had as meze only a half of walnut kernel and some roses which he smelled while listening to a chirping cricket from his terrace – the cricket had been caught in Anatolia – while one of his grooms hummed and played a long-necked tamboura known as a "saz" down in the courtyard in order to make the cricket chirp.
Some of the great lovers of secret rituals could drink all night and only having a few grapes as meze. Serbs of the Mediterranean are having grape brandy and fresh figs and a slice of Njeguš prosciutto as meze. The Dalmatians eat two or three olives and a salty sardine, which is enough of a starter for a litre of red wine.
Tell me what you have for meze and I shall tell you where you come from. Russians, when they drink vodka, first eat a slice of lemon and then bring a piece of brown rye bread close to their nose and mouth and breathe through it, thus having meze comprising of smells. Northerners use Nicholas-meze, consisting of a round slice of lemon with one side sugared and the other sprinkled with ground coffee. Pickles are common to all northern drunkards. Our Orthodox brothers from Greece eat ouzo-meze where each little piece of bread is just a small mouthful, but the stuffing exceeds even the most daring imagination.
Generally speaking, it seems that in the countryside people have better meze and have it more often while drinking than people in metropolises. In small towns and the countryside, time passes slowly and people have a lot of it to rest and to listen to their heartbeats. In the evenings in Belgrade's suburbs, where people lead a becoming life, residents have their mezes, but this is less so in the centre which has long lost the habits of its fathers and grandfathers.
In peripheral courtyards people sit, sip and have meze. Night sneaks in like a thief through the tree-tops of linden and walnut trees, meze is served in the moonlight and everything is as it was before.
When Oscar Wilde returned from his journey in America to England, he told his friends that on one occasion he praised the moon in Virginia to his host and the host melancholically sighed and said: "Well, you should have seen it before the war, Mr. Wilde!"
***
Research
Some time ago, on a sandy beach across the port of Volos, from where in ancient times the Argonauts put out to sea in search of the Golden Fleece, I drank fourteen small ouzo drinks in a shack slapped together from tin, barrels and the remnants of ship boards – I wanted to scientifically test whether the inn-owner would make the same ouzo-meze once again. He did not. He was equal to the inimitable Byron. The first ouzo-meze consisted of a piece of bread topped with feta cheese in olive oil, the second was filled with salted sardines with tomato, the third was topped with tiny Garides-shrimp, the fourth with halved olives stuffed with almond…When I tasted all the variants prepared by this Greek hedonistic genius, I came to the conclusion that not only was I incapable of describing them, but could not stand on my legs due to my extreme scientific research.