Introducing
FINALLY A SUCCESSFUL SOUVENIR PROGRAM DEDICATED TO THE SERBIAN CAPITAL
An Ode to the Capital
They truly represent the Belgrade spirit; they are creative and witty, so original and so unexpected, of highest aesthetic and graphic criteria, along with the fact that they are a very important element of mass urban culture. One can see them and buy them in "Oda" Gallery in "Beograđanka"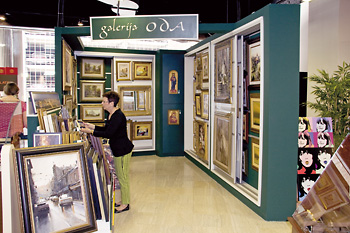 The experts claim that Belgrade had a problem in finding the right souvenir for years, urban by sensibility, but made in a way to satisfy high aesthetic and graphic criteria. Some of them were good, but they were not authentic enough. Others were good as well, but they did not satisfy visual and quality standards of the epoch we live in.
In "Oda" Gallery, the thing we have seen as a problem, is represented as a challenge. An entire program of Belgrade souvenirs is created, which satisfy all standards and originally represent the image of Belgrade. "The program has a good artistic idea, the solutions are very creative, the products are of good quality" says the critic.
Nenad Janićijević, the Director of the Art Workshop "Art Zona" and Dara Radić, the Director of "Oda" Gallery,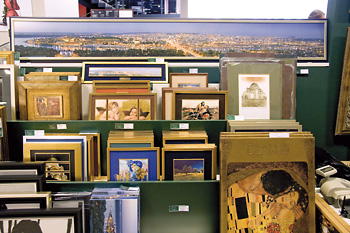 created this program. The experience and the talent of these two creative directors (and owners) of two famous galleries were transformed into a new program. The exhibition area and the selling gallery of this project are placed in the renovated "Beograđanka" building: in "Oda" Gallery.
Because of a constructive collaboration, the area also includes the works of famous Serbian painters (Janoš Mesaroš, Sava Stojkov, Stoja Đurić, Zdravko Mandić, Tomislav Suhecki, Stojan Milanov, Vladimir Veličković, Momčilo Fundup, Ljubodarg Janković, Mersad Berber, Dragan Petrović Pavle, Branko Dimitrijević, Risto Kiperaš…). The creative circle is always expanding, on mutual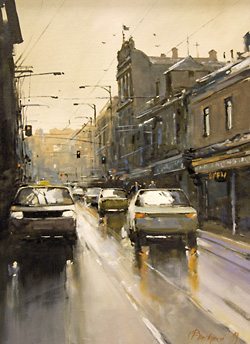 satisfaction, among which we should not forget the clients of "Oda" Gallery. There are many techniques in which various works were done: oil on canvas, aquarelle, graphics, drawings, acrylic… Many gallery owners are also steady collaborators.
One of the important activities of this gallery-project is the digital printing studio. Thanks to this studio, your personal photographs can be turned into art works, in size and colour you desire. The expert team of this gallery is there to give you advice in realizing your own ideas. "Oda" Gallery is keeping the pace with world tendencies in ideal solutions of digital printing. Some of those solutions, like pop and movie star icons, can be bought right away, or you can order some of them according to your own taste.
One can see "Beograđanka" from almost all parts of Belgrade. You cannot miss it. Come by and check it out.
We have already done that.