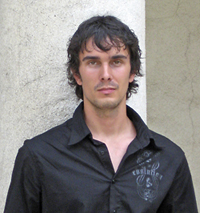 The Beautiful Face of Serbia

Igor Markov (Senta, 1984). He graduated on the faculty of Mathematics (Department for Geography, Tourism and Hotel Managing) in Novi Sad, where he still lives. Since his earliest childhood, he was interested in travelling and arts, which he joined by studying tourism and making photography. Since 2005, he is working with a digital camera and dedicating to intensive studying of the art of photography. His subjects are mostly paysages and architecture.
He is into mountain climbing and bicycling, and he spends a lot of time outdoors, getting to know Serbia and its beautiful places and lights.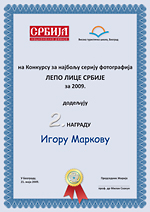 He is now using the camera "DSLR Canon EOS 400d".
He published his work in many magazines which deal with top-quality photography, such as National Geographic. He had more than 20 group exhibitions, for the "Museum Night", on the International Exhibition of Orthodox Photography (2008), on the Fifth International Exhibition of Animals (2009), in the project "Bogatstvo različitosti" (and on "Exit" Festival in 2008).
In collaboration with his faculty, he is now working on a monograph of Temska, a well-known place on Stara Mountain. He is planning his first big exhibition in two years. You can see his photographs on the internet: www.markovigor.com.
He got the second prize on the competition of National Review for the series of photographs "The Beautiful Face of Serbia" in 2009.