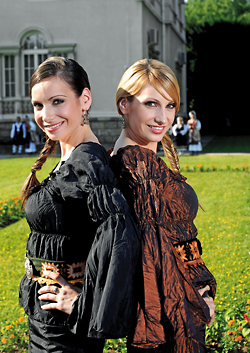 Cover page
Twin Sisters
Marina and Marija Gobović, Belgrade girls, born in the summer of 1984, only a few minutes one after another, which helps us in differing them. They finished the 13th Belgrade High School; they graduated on the Faculty of Law of the Belgrade University. They are both employed.
They were singing Serbian traditional and old-town songs in "Branko Cvetković" Cultural and Artistic Association since the days they were students. They spread their voices and songs all around the world; they were highly praised, enough for the following century or two. However, they say with a charming smile, their favourite prize is the one they got as absolute winners in the category of vocal duets on this year's "Zlatni opanak" ("Golden Peasant Shoe") competition in Valjevo. Opanak, a traditional Serbian peasant shoe, in Valjevo, in Serbia. At home, they listen to foreign and Serbian music, of different genres, from different epochs. They see culture as one of the main elements of national and personal identity.
The photographs which bring them on the cover of National Review were made in front of the White Palace, in May 2009, on the shooting of "Igrale se delije" series of RTS National Television.
We also know Marina and Marija's summer vacation destination, but let's keep it a secret.