Eye
DRAGOLJUB ZVICER, A PORTRAIT PAINTER FROM BELGRADE
History Comes from Within
He started painting the Serbian capital from anger, angry with those who should have taken care of that beautiful town and preserve its identity. Then, while painting it, he realized that he could intervene, construct, and arrange. "After almost ten years, I cannot wait to reach the end: I am building, laying bricks, moving around, and it is not easy"
By: Goran Budimir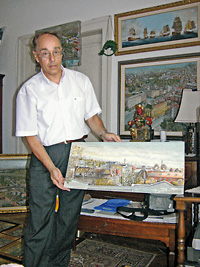 A man spends half of his life doing everything right, as all other people, somehow running away from the most important voice that he carries within, from what attracts him the most in this world. Then, on one curve, the inner voice is waiting for him; it shakes him, the constant clock that never stops ticking. He is evoked. It may seem strange, but a man can suddenly start writing, singing, or painting. Moreover, all things in this man's life, especially the things that happened before, can now get another sense, can shine another light, can be legitimate, and preserved.
Dragoljub Zvicer was born on the last day of 1953 in Maribor. He is an educated electro-technician and tourismologist, but, by evocation, he is a painter, which he realized on the beginning of his fourth decade. His mother, a Slovenian, a very talented painter in her youth, gave him this love, this optics, this need. His father, a man from Nikšić, a pilot, sharpened his son's eyes, showed him the heights, the travels that liberate and build. After finishing school in Podgorica and Belgrade, Dragoljub worked in JAT since 1978. His longest job was in "Jat Air Lift", and he travelled all over the world.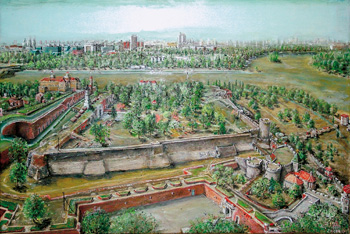 That is when he started painting.
– Travels have removed all the veils, dispersed the shadows and the ghosts, and broke the chains. They have become a mover and a connective tissue in my art. From Egypt to China, from Cairo to Shanghai, I have seen many things and I wanted others to see them – says Dragoljub Zvicer for National Review in his atelier in the centre of Belgrade, after 30 years and more than several hundreds of paintings.
He showed great artistic passion. He learned alone, with great efforts, he had to compensate all that he had missed. Even though he travelled a lot and carried fascinating images in his eye, in the first ten years of his work he only painted still life. That was an unusual way of developing an inner quest for artistic expression.
During the other ten years, the painter Zvicer was in search for old boats and sails.
"One does not have to live, but he must sail."
Since 2000, carried by a naïve hope that "better times have finally arrived", he found inspiration in Belgrade itself. On the other hand, Belgrade, maybe, found him…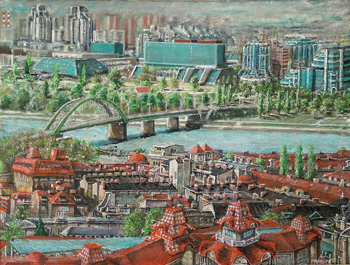 – When I think about it today, I think I have started painting Belgrade out of anger. Anger of friends, brothers, and sons. My "painting fascination of Belgrade" came out from the fascination of Egypt. I am changing Cairo-Luxor-Aswan for Belgrade-Smederevo-Đerdap – says Zvicer. – In the beginning of my painting adventure, I realized that I am making something out of nothing, in a mysterious way. I can also intervene, construct, and arrange, which gives me the strength to pass from one painting to another. Since I was painting Belgrade, I have done a lot of research. I sought for palaces, domes, lights, viewpoints. What happened to it all? Did the same happen with us? Moreover, I wanted to show it all to everyone, through my paintings, in order to do something good for all of us. Now, almost ten years later, I cannot wait to finish it, because I am working for a long time, very hard: I am building, laying bricks, moving around, and it is not easy. The photographer Ika Dimitrijević and the architect Vladan Zdravković have determined my wish to represent Belgrade through painting, with their own work from the bird's-eye view. That is why my paintings also include things that can reproduce paintings afterwards.
THE INNER TOWN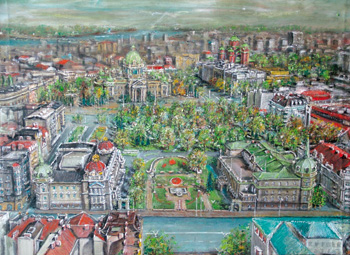 From the window of the atelier and apartment of Dragoljub Zvicer we have a lovely view of one of the central Belgrade squares. He could have seen direct broadcasts of history: demonstrations, parades, defiles, funerals. First, it is peculiar that we cannot find all this in his paintings. We wonder if he could have walked out from all these events and chaos with no injuries. When he deals with the outer, when he paints and redecorates, he flies above his inner town. When he looks at the street on which we walk every day, his view of it is metahistorical.
We have been moving furniture is the apartment of Dragoljub Zvicer so that he could show us his big composition Serbian Horizontal and Vertical, including fourteen painting elements.
– What can I do, I am a complicated man! Five elements were not enough. I made fourteen because I think it is an important number. The vertical is made of famous frescos and the horizontal of monastery images (as they look today) and of their endowers. The rest of the space consists of "remakes" of painter who are the greatest names of Serbian painting, such as Paja Jovanović and Uroš Predić. They gave the best representations of battles, migrations, prayers, crowning, and burnings, heroic and spiritual exploits. I also had to put Saint John (from Pustinja Monastery, near Valjevo) and Holy Warriors from Manasija. That is how I created the composition Holy Warriors, which is the guardian of our home.
We live in fear, we are disturbed, we have no orientation, and we need a guardian, explains this painter.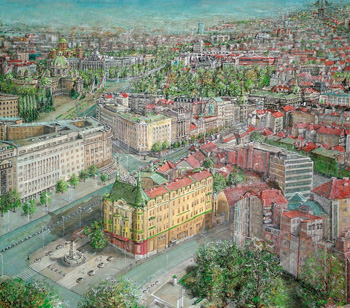 – My family's slava is Saint John. In the decades after World War II, we had a good lunch on that day, it was somewhat ceremonious, and we, the children, we never knew why. They could not tell us. Sometime later, when I was baptized, I made some kind of continuity. (Could you imagine how stronger and better we would be, as a nation, if we could have had this continuity?) That is how I painted Saint John for my home, and the Holy Warriors gathered around him themselves.
The actual attitude of institutions towards the past is really affecting this artist, a portrait painter of all faces and epoch of Belgrade. He recently went on a "sudden archaeological locality" on Kalemegdan, where appeared Singidunum, the Roman Belgrade, below the tram tracks.
– I say to archaeologists, to students: write down, seek for, and scream – we should not forget! They should not waste money. They give 30 million Euro for the project "The paths of culture of Roman emperors", and they bury those right here?! Where is common sense?! Would Athens, Thessaloniki or Rome do the same?! The explanation that they do it for the traffic is completely absurd: this part of the track, according to the frequency of tram traffic, is not that important and it could definitely be moved.
Belgrade lives through all of its epochs, fortresses, palaces, churches, streets, and squares, all its domes, including the blue one above us. It lives in the small atelier and the never-ending painting world of Dragoljub Zvicer.
– It is more than normal to represent yourself in the best way. Thank you very much for giving me the chance to represent myself and to be a proud part of Noble Serbia.