Friends
PROFESSOR VALERY ALEXEEV, PRESIDENT OF THE INTERNATIONAL FOUNDATION FOR THE UNITY OF ORTHODOX CHRISTIANS, EXCLUSIVELY FOR "NATIONAL REVIEW"
Spiritual Causes of the Global Crisis
"The problems we face surpass by far the financial borders; therefore solutions should be such too. Despite numerous designed smiles and theatrical demonstrations of familiarity, there is no more trust in the world, proven by the quadruple increase of military budgets during the previous ten years. Russia has a great responsibility in the newly created situation. I first of all wish the Serbs courage and more unanimity in crucial national issues. You will need it"
By: Branislav Matić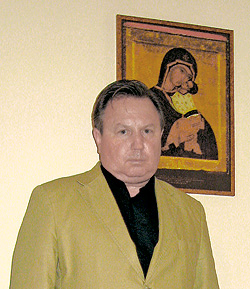 He was born in 1953 in Astrakhan. He got his doctoral degree in philosophy at the Lomonosov Moscow State University (Clergy-State Relations Issues in the XX Century), where he has been teaching since 1994. He held several high positions in the Russian federal parliament. Among his numerous works, we will mention Illusions and Dogmas (1991), Post-Perestroika: Non-Free Conscience? (1992), Agony of Evil: End of the World Order (1995). He is one of the authors of the fundamental work Russia's National Doctrine: Problems and Priorities (1994). He is the founder and editor-in-chief of the Towards Unity magazine. In 1995, with the blessing and support of the then Russian Patriarch Alexei II, he took part in creating the International Foundation for the Unity of Orthodox Christian and has been its head until the very day. The program and aim of this organization is strengthening the spiritual brotherhood of Orthodox Christians, initiating their cultural and social forces to a mutual creative cooperation and joint activities.
Professor Valery Alexeev has been awarded by the Russian Orthodox Church with the Orders of Holy Prince Daniel of Moscow, St. Sergius of Radonezh, St. Equal to Apostles Prince Vladimir, St. Innocent, St. Most Reverend Seraphim of Sarov. He was also awarded with high orders of the Serbian, Bulgarian and Ukrainian churches, as well as the Order of Holy Cyril and Methodius of the autocephalous Orthodox Church of the Czech Lands and Slovakia.
He lives in Moscow; he is married and has one son Denis Valerievich Alexeev, famous Russian church publicist and professor at Lomonosov.
He spoke with the editor of National Review on St. Vid's day 2009. We are publishing some excerpts, whilst the integral version can be viewed in our electronic issue at www.nacionalnarevija.com.
THE DRAMA OF LOST TRUST
In your speech at the sixteenth annual conference of the International Assembly of Orthodox Christian Countries last summer in Belgrade, you analyzed the spiritual causes of the contemporary "global financial crisis"?
Yes, I think this crisis by far surpasses financial borders and includes all areas of life. Both among individuals and in the society as a whole, there is a terrible loss of trust. Today almost 70% of energy resources in the world are controlled again by national governments, which is a five-time increase in half a decade (five years ago it was only 15 percent). Due to completely lost trust, it is clear that countries are beginning to manage their economy directly, in order to protect themselves from new dangerous attacks. This undoubtedly proves that the world of liberal doctrine is collapsing, that liberal economy (if it has ever existed in the true sense of the word) does not exist any more. In most cases, countries today control mines and metal production, electricity, sources of gas and oil. The United States invest a lot of money in the salvation of the automotive, airplane and electronic industry, and thereby take over the majority-share packages from them. This is a phenomenon we have not had for more than 50 years: return of the world to state capitalism. Global competition exists more between countries than between companies. In order to strengthen their positions in this game, countries are again actualizing the creation of military and political unions, they enter new or redefine old ones, and a new world order is rapidly being created before our eyes. Where does this lead to? The danger of an international conflict suddenly increases. There are centers of great power which are obviously way down a dead-end. Perhaps it might sound strange to you, but they need a new big conflict, international conflict, dramatic enough to serve as a justification for massive problems into which they have pushed the modern world. They are the source of destabilization we see every day.
Do you think that the breakdown of pseudo-liberalism is the key cause of the deep world crisis?
Another key cause of the global crisis is the Dollar as the "world currency". As you know, the Dollar appeared when gold stopped being used as an international means of payment, that is, since the agreement in Breton Woods in 1946. It was the most important result and one of the strategic aims in World War II, by far the most important source of power of the "Dollar Empire". In order to defend those currently unsustainable positions, some power centers are ready to go to the end in their global provocations. Governments, states and nations feel it deeply and take it very seriously. It is sufficient to say that in the previous ten years, parts of national budgets for purchasing weapons have been increased four times. Despite numerous designed smiles and theatrical demonstrations of familiarity, there is no more trust. This is what I was speaking about and pointing out at the meeting of Orthodox countries in Belgrade.
RUSSIA'S DIFFICULT MISSION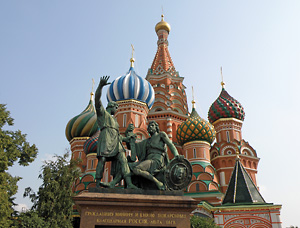 What is the position and responsibility of Russia in all this?
God, fate and the course of history gave Russia a very difficult and dramatic mission: to be the strength which compels the world to restrain from conflicts. Its geographical position as a bridge connecting two key continents obligates Russia to do everything to maintain the dynamic balance of the world. However, there are periods when this is impossible. Whenever it is bad in Russia, it is also bad in the rest of the world. When Russia is weak, selfishness and irresponsibility rule the world, and monstrous things happen (such as the vandalistic aggression on Yugoslavia, destabilization in Afghanistan and Pakistan, Iraq invasion...). Responsible political forces in Russia, led by the president and prime minister, as well as serious people from all other countries, understand that only strong Russia is a good pillar of the world's stability. Russia today, like in most of its history, does not have the opportunity to choose its own path following its narrow interests. Russia simply has the duty to become involved. Each human who behaves responsibly towards him or herself, his or her homeland and nation should be aware of these truths. Fortunately, Russia today is led by people who not only possess such awareness, but also revive it in other people.
In our époque, it has shown that culture, along with economy, is one of the most important cohesive factors. Is there any way or possibility for the Orthodox nations to, from mass to high culture and science, make a more organized, better designed and systemic cooperation in this area?
The fact that cult and culture have the same root and that any true culture essentially originates from a cult, speaks more than anything else. The cultivation of human spirit and environment, constant dedicated development, is the central point and meaning of any true culture. If a culture does not have a continuity and tradition, it is degraded, it has no basis, it does not have a function or meaning, it easily becomes a place of banal personal caprices. It is the key issue of the extracted and idealess modern culture, where every new style or tendency cancel out everything preceding it and proclaim that everything begins from them, that they can be compared only with themselves alone, and that the so-called originality is its own purpose. National cultures must be based on tradition, generations must hand over to each other the truth and knowledge from the first divine presentation until this conversation of ours. Each new generation contributes and continues with its talent and creativity.
JOINT CULTURAL SHIELD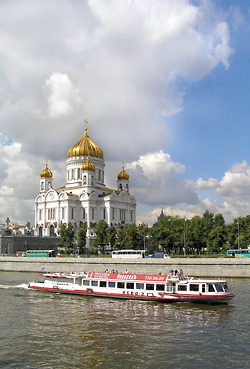 No one can love the whole mankind if he does not love his own nation, if he is not brought up in accordance with the national culture tradition, if he desecrates his language and alphabet. That is what both national and universal culture are based upon, that is the foundation of any healthy personality. Only by understanding one's national culture, one can understand the culture of mankind, and only this way. That is why it is of extraordinary importance to protect any national culture today, to prevent organized destructions and poisonous penetrations into them, the global terror of kitsch and debauchery, all the terrible space-merchant banality with the purpose to promote vulgarity and stupefying, the aggressive forcing to hysterical consumption. The means which today's western subculture uses to enslave the semantic space of the human and of humanity are horrible.
This is a challenge for all of us: the strike is very forceful and it is necessary to create a shield. Orthodox Christianity, of course, is not silent and must not be silent before this. I know the stands of all fifteen Orthodox Christian churches, I know their opinion about the demonization and de-Christianization of the world, I know their views about the motivating of the modern man to destroy his home, cancel his mind given by God, rebel against the Creator. Uniting forces in that direction and synchronization, and not only of Orthodox Christian nations, are certainly welcome.
Each year you organize your meetings in another Orthodox Christian country. What are your impressions from Serbia this year, how do you see all this here?
First, I love Serbia unconditionally and it is always in my prayers. About ten years ago, I had an experience, which, very unexpectedly for me, made me unexplainably proud and ashamed at the same time. His Holiness the Patriarch of Serbia Pavle, God give him health, awarded me with the Order of St. Sava of the first degree, the highest order of the Serbian Orthodox Church. You cannot even imagine how surprised and happy I was, however I also immediately thought: "Why did this holy man reward me, have I done anything important for Serbian brothers?" And I understood that I have been given this order more for what I still have to do from that day until the end of my life. That is what I am doing now. I think that from that moment on, there has not been a single year when the work of our Foundation was not related to Serbia or when activities were not directed towards it. I come to Serbia two or three times a year. We purchased and opened an office in Serbia, we have a representative office in Montenegro too, we cooperate with Republika Srpska as well as very closely with the Serbian Orthodox Church. My task is therefore to give support in any possible way and not to stand aside and lecture anyone. Our conference this year was held in Belgrade in the eve of St. Vid's day, the great Serbian national holiday which we have recently started celebrating in Russia too.
***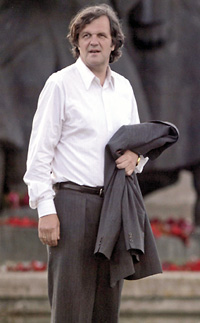 Award for Kusturica
Serbian film director Emir Kusturica is the winner of this year's "Patriarch Alexei II" award for strengthening the unity of Orthodox Christian nations, promoting Christian values in the society and contribution to Orthodox culture. The decision was brought on September 12, 2009 in Moscow, at the meeting of representatives of the Russian government, Trusteeship Council and Awards Committee of the International Foundation for the Unity of Orthodox Christians. With the blessing of His Holiness Cyril, Patriarch of Moscow and all Russia, president of the Trusteeship Council, the high award will be handed at the ceremony on January 21, 2010 in the Church of Christ the Savior in Moscow.
Besides Kusturica, St. Vladimir's Orthodox Theological Seminary from New York will also receive the award of the International Foundation for the Unity of Orthodox Christians.
***
About Courage and Shadows
"What I do not like in Serbia? Very complex question. First of all I would like to wish courage, strengthening of unity, national unity and unanimity in crucial national issues. On your path of development, often very dangerous and slippery, I wish you to be closely connected with Russia. You should know that Serbia joining the NATO is not only something Russia would not like; it can cast a long-term heavy shadow on our relations. Pushing Serbia into the NATO is violating its national consciousness and memory, a vandalistic policy. However, as you also know, there are people on your public scene who are pushing this. Therefore I wish your nation and highest Serbian officials as much courage, unity and strength as possible. You will need it."