Presentation
DR JUR. CHRISTIAN OTTO NEU, GENERAL MANAGER OF "DDOR NOVI SAD"
Investment into the People of Serbia
One of the leading companies in the insurance area, member of the Italian "Fondiaria Sai" group since a year ago, will invest over 15 million Euros into raising the level of safety in traffic, which is the largest non-government investment of such kind. More than 100.000 drivers in Serbia will get a supreme training, go through the most critical situations in real speed, and learn how to react, especially how to prevent dangers. Subventions or joining free programs are available for all, regardless of whether they are insured in "DDOR Novi Sad" or not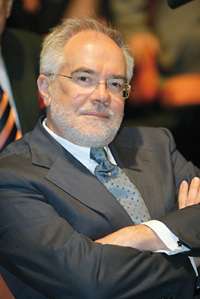 "DDOR Novi Sad" signed an agreement with the National Driving Academy (NAVAK) according to which it will invest more than 15 million Euros in Serbia. The investment will be realized through free training of drivers in the village of Subotište near Pećinci, and will finance examination and education as well as a training center of the National Driving Academy, the only one in Serbia.
During the following years, more than a hundred thousand drivers will have the opportunity to promote their knowledge in accordance with internationally recognized training methods. This is up to now the largest non-government investment into traffic safety in Serbia, and the first which directly invests into people alone – participants in traffic, therefore contributing to the reduction of traffic accidents.
There are three pillars of safe traffic – the road, the vehicle and the driver. The state directly influences the first two by investing into infrastructure and development of the automobile industry, whereas with this project "DDOR Novi Sad" and NAVAK support the strengthening of the third pillar: a high quality driver.
We spoke about this important project with Dr jur. Christian Otto Neu, General Manager of "DDOR Novi Sad".
Dr Neu, who will benefit most from your investment?
Mainly the society and the people. Tragedies caused by traffic accidents happen every day on roads throughout Europe, and we have recognized a way to use a part of the valuable European experience of "Fondiaria Sai" merged with the particularly long business tradition and confirmed values in the business strategy of "DDOR Novi Sad", and thus help the people of Serbia.
The reason of our engagement in this project is very simple: before all, each life which ends in such a way is a priceless loss. For this reason, the people, the society and also insurance companies suffer massive damages. Enormous amounts of money are paid for covering damages caused by traffic accidents (in the year 2008, non-material damages amounted to around 30 billion Dinars). This endangers all the pillars of the society. It is not only a significant investment, it is, more than ever, a big social responsibility of the company and confirmation of one of the most important principles in life – only by giving, one can gain.
Besides the satisfaction of the people, additional security and experience they will gain in traffic, the effects will be numerous. Among others, this will cut the costs of repairs, medical treatments, job absences. However, the effects we will realize by reducing the number of traffic accidents are mainly human, and then, of course, financial. We will preserve the lives and health of many people.
With this project, we will offer drivers a possibility to pass a training in safe driving, and it will be offered to all, regardless of whether they have an insurance policy of "DDOR Novi Sad" or are insured in some other company.
REALISTIC, PRACTICAL, EFFECTIVE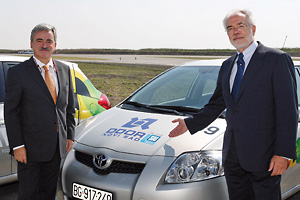 It seems very unusual that someone gives money to ones who chose competition companies?
It is sad that such a way of thinking is not widely accepted. The "Fondiaria Sai" group, through its affiliate "DDOR Novi Sad", has such a relation with its present and potential clients, without forgetting other people or the environment we do business in. Only by influencing a wider population, all drivers, we can increase the safety level in traffic. We therefore attempt to safeguard not only our policy holders, but also all people, because it is clear that accidents do not choose their victims.
A lot of money is practically given as a gift in this project. What is your calculation in that?
I know that 15 million Euros sounds as a lot of money, but that is only the beginning of what must be invested in drivers and their knowledge. Of course, each party has its own interest, and in this case we were connected by one: safety in traffic and the awareness about the importance of each person's life. We will, before all, invest in drivers who come willingly with the wish to become better, in those who are aware of the importance of safety. Therefore, the money will be invested in the most conscientious drivers, the best insurants, into those who should form the critical mass (the nucleus which would bring results and influence all the rest). When that wheels starts rolling, the reduction of accidents and killed and injured people will come naturally, not as a result of only one action. In this case, as an insurance company, we will act preventively.
Why do you invest in trainings of safe driving, i.e. into educating drivers?
After founding the National Driving Academy, Serbia for the first time has the highest quality school of safe driving, so our decision to become their partner is very logical. Safe driving trainings are important mainly because drivers will directly at the wheel and with real speed go through all the most critical situations in traffic, thereby understanding what can happen and how. The aim is to show people in practice what is dangerous on the road so that they could avoid danger before it happens. Furthermore, drivers, also in practice, learn how to behave in critical moments and how to sense danger, and all this in safe, controlled conditions. They experience what in traffic usually leads to death or permanent serious consequences. This is, as I said, prevention in the best possible sense. International experience shows that by applying such trainings the number of deaths in traffic can, only in a few years, be decreased up to 17 percent.
PROBLEMS WILL NOT BE SOLVED BY SOMEONE ELSE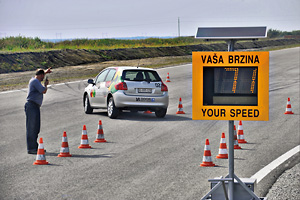 Were there any reactions of state institutions to your action, did anyone already support your pioneer steps?
The safe driving training programs which we will realize with the National Driving Academy were already praised by the Ministry of Internal Affairs and the Ministry of Infrastructure, as well as the State Committee for Control and Safety of Traffic. We are certain we will receive the support of the society, since we know that real values are always recognized and rewarded.
Were there any reactions of drivers, people to whom this whole program is intended?
Already during preparations for this project, for this large investment, we spent a lot of time speaking with drivers, in research activities, in everything that was supposed to indicate whether Serbian drivers are willing to learn more. As much as 60 percent of drivers expressed great interest in participating in such trainings, while much more of them, as much as 93 percent, think that traffic safety is crucial. This best shows that it is the right moment to give the people the opportunity to learn and become better participants in traffic.
When will the whole program start and how will the drivers be able to join?
Our preparations have begun long ago, but specialized programs and offers will begin within the following ten days. Everyone who comes to any of the "DDOR Novi Sad" offices anywhere in Serbia will be able to get a discount on the training price or to join programs which provide free trainings, regardless of where the person is insured.
You said that the investment into knowledge and awareness of Serbian drivers will last several years. What kind of results in terms of safety and in the insurance area do you expect in such a long period?
Better traffic safety is not achieved by ad hock actions and activities which last a few weeks or months. A permanent effect can be realized only by long-term investments, by investing into hundreds of thousands of drivers. Only then we will achieve what we all want – less accidents on the roads. I hope others will follow our example too, because it is time for all of us to ask ourselves what we can do to at least decrease, if not stop accidents. It is time for people to stop waiting for someone else to solve their problems.
Allow me to use this opportunity to once again thank our partners in this project, the National Driving Academy, state institutions, our clients, and all people who will recognize the importance and value of this action. We want to, with our own example, the first in Serbia, point towards the possible path of solving an extraordinarily big problem, to decrease black statistics at least in the area of traffic safety.
***

Dr CHRISTIAN OTTO NEU, head of "DDOR Novi Sad", German by nationality, was born in 1953 in Frankfurt am Mein. He studied law in Frankfurt, Lausanne and Munich. He graduated from his master studies at the New York University in 1982/83. He worked at the University in Munich as researcher and assistant, and at the "Max Plank" Institute where he got his doctoral degree. From 1985 to 1997 he held high positions at the "Allianz Group", from 1997 he was general manager of the insurance company "Milano Assicurazioni", and since January 1, 2003, he has been on important managing positions in "Fondiaria SAI".
***
New Strategic Possibilities
The "Fondiaria SAI" group is the crucial player on the Italian financial market where it is present through own companies as well as strategic investments in the areas of insurance, banking, telecommunications, real estate, health and agriculture. It has more than eight million clients, and a national network including 3.500 agencies and 1.500 financial consultants. The total value of assets "Fondiaria SAI" disposes over amounts to more than 30 billion Euros. In 2008, the concluded premiums amounted to 11,6 billion Euros.
In the field of non-life insurance, where auto-responsibility insurance is especially important, "Fondiaria SAI" is the first in Italy with a market share of 23 percent.
The merge of this respectable group with "DDOR Novi Sad", insurance company which fought for and confirmed its leading position in Serbia over its 60-year long business tradition, opened numerous new strategic possibilities, with cherishing the old and promoting a whole specter of new products completely oriented towards the clients and their needs.