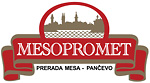 Examples
SVETLANA BOGDANOV, OWNER AND MANAGING DIRECTOR OF THE FAMOUS MESOPROMET PLANT FROM PANČEVO
Knock and It Shall Be Opened To You
They had a steady "state job" in Belgrade, at the time when it meant much more than now and when people rarely began private businesses. However, Svetlana and Zoran Bogdanov wanted more. It was a long way from the small workshop for processing meat in the Pančevo Misa to the present big system in the meat industry. Twenty years of life and work were invested and more than half a century of tradition. The golden rule has always been: "Never sell to the people what you would not give to your children!" As you sow so shall you reap
NR Press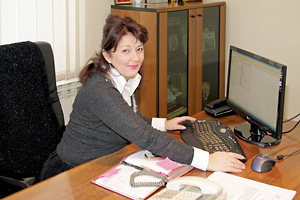 A clear idea, courage and positive view of the world are features without which one cannot survive as a businessperson, especially in times such as ours. Finding ways, not excuses, confronting difficulties, not withdrawing from them. Svetlana Bogdanov, economist, born in Berane, director and owner of the meat processing plant Mesopromet from Pančevo, had all these and a dozen more business and human virtues. In the late 1980s, she and her husband Zoran had a steady "state job" in Belgrade, a life arranged on solid basis. However, they wanted more. They left their jobs and the city, came to Pančevo to Zoran's old Pančevo family, joined their knowledge and family tradition (Zoran is the third generation of the Bogdanov family involved in the production and processing of meat), and boldly started their family business two decades ago.
In the beginning, it was a small workshop for meat processing with 10 employees named "Mala Srbija" ("Small Serbia"). The economy as well as the society were changing at the time. It was transferring swiftly, almost insensibly, from socialism to market economy.
– As it usually happens, life has opened us possibilities I have not even dreamed of as a student of economy. I was brave enough, although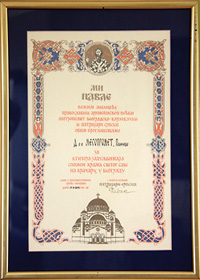 it seemed like madness to many at the time, to accept the challenge. Naturally, we did everything together, after agreeing with the family. And it brought results – says Svetlana Bogdanov for National Review.
It was uncommon at the time for people to begin their private businesses. Jobs in state run institutions offered comfort and security. However, the Bogdanov couple was determined to make something else. Coming to Pančevo also meant big changes in their lives. They first founded a company with a meat processing workshop. Later, as the business developed, they bought an object in Makedonska 179, which used to be a department store, and began industrial meat processing there. That is how Mesopromet was established on January 29, 1989.
– We have the dry and semi-dry program, the most up to date machines and a completely equipped plant, nice looking and with strictly controlled working conditions. We are entirely dedicated to introducing the quality system and HACCP standard. At the end of December 2009, experts from Certop, a company which offers certification services both in the country and in Europe, visited us and reconfirmed that we are doing everything in accordance with European regulations. We must do so if we want, and we certainly do, to enter Europe with our products. We took over the Banat meat industry from Banatski Karlovac at an auction in 2003. We have done business with it before too. There we have the slaughterhouse now, and here, in Mesopromet, we do the processing. The daily production capacity is 20 tons of semi-dry and dry products.
GOLDEN SKILL FOR A GOLDEN HEART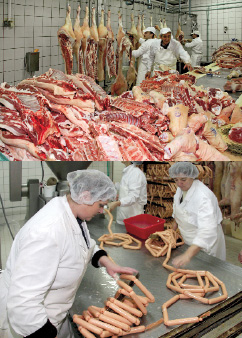 Mesopromet has been a regular exhibitor at the Novi Sad Agricultural Fair since 1995. They always give ten different products for assessment and, as if according to some unwritten rule, they always received five or six gold and several silver medals, whether for the tea sausage (those who know claim that it has been incomparable in the market for years), toast salami, debrecin sausage, ham or ham in foil, Tirol or other kinds of sausages.
From "Mala Srbija", a workshop in the Pančevo Misa, we achieved a true empire in the meat processing industry.
– It seems to me that these 20 years have passed like a blink of an eye – says the charming and noble director Bogdanov. – We have about fifty shops. In Belgrade, mainly in big green markets, in Pančevo and the surrounding villages, and two wholesale locations in Banatski Karlovac. Our products can also be found in big chains such as Interex, Metro, Tusch, Idea.
It is difficult to find a farmer in Southern Banat who does not make some meat specialties at home, for the family. However, even they, almost all of them, buy the products of Mesopromet. How come? Mrs. Bogdanov smiles, with the calmness of a woman who lived through many temptations and says: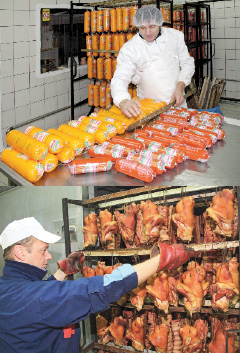 – A good product, and it is really not just a phrase, always finds its way to the customer. It sounds almost incredible, but our shops in villages sometimes have a bigger revenue that our shops in cities. The farmers start to their fields in the morning and drop by to buy something to eat. For example, "piquant bacon" dryly salted, without any dditives, only dried on beech tree. Or smoked meat ("pečenica") or karstic neck ("kraški vrat"), without spices and additives. The farmers know what they are buying and they know what is good, they cannot be seduced by marketing experts or merchants.
We try to satisfy our market and survive, says Svetlana Bogdanov, to continue moving forward and respect the rule of life: "As you sow so shall you reap!" An old textbook for butchers has the text of the then Serbian Patriarch in the first page. If I remember correctly, it states: "Gentlemen butchers, God has given you a golden skill and you must remain honorable and honest people, because you feed the nation." That is what we have been adhering to from the first day. My family eats everything we make in the plant, so do our employees and their families. I often tell them: never sell what your child and you would not eat. It is simply the golden rule of our company.
EUROPE AS A BENCHMARK
Mesopromet mainly employs young people. The average age of the employees is about forty. They recruit them mostly from the School of Agriculture in Pančevo. Usually they grant scholarships for the children of their employees, but without the obligation to work in Mesopromet after completing their education. For this plant it can be said that it is a family factory, because the husband and the wife work in it, their children, as well as the grandparents.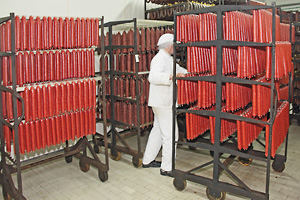 Due to the nature of her business, Svetlana Bogdanov can hardly find a free moment. She works ten to twelve hours a day, and then goes home, turns into a housewife, dedicates herself to her family, plays with her sister's daughter or meets with her friends for a coffee.
– I am grateful to my parents for providing me education and for teaching me working habits. However successful a woman is at her job, she must also be successful in her family. It is important a woman does not neglect this part of her personality, because then she would betray her female nature, which cannot be compensated with business success. However, with good organization and will, one can achieve the balance between the business and the private segment. The essence of life is in the pleasure you feel when you bring an important decision, and decisions here are made together by my husband and me, although sometimes we have different opinions.
Svetlana is determined to become a big Serbian exporter of meat.
– Our plans are mainly related to Banat, meat industry with a tradition of more than 130 years, because in Mesopromet we have completed the production chain. We can only, in accordance with the requests of time, improve the quality of service and packaging. Why both Banat and Mesopromet? Why haven't we merged them? We did not want to integrate something we have created ourselves with any other factory, just as we did not want to merge something with such a long tradition with something that was founded recently. So, we are also preparing Banat for exporting to the European Union. It has a potential and we think it will bring results.
***
Challenges
Yes, there certainly were difficult moments. Svetlana does not forget them. Today, after all, they are part of the golden experience which makes one stronger and more ready for challenges to come.
– We survived due to the optimism which pervades my entire being. My main motto in business: everything agreed must be fulfilled. Nowadays everyone is talking about the crisis and difficulties. The crisis does exist, but we have seen bigger ones and survived. The crisis must not be an excuse for quitting or retreating, there can be no giving up.
***
Army
Besides big export jobs (such as those with Russia and Vietnam), their cooperation with the Serbian Army speaks a lot about the quality of work of Mesopromet and the Bogdanov family. It is known that the army has special conditions, stricter than others, that their vets control the production process, but even under such monitoring, Mesopromet has never had any problems.
***
Door
We noticed that Svetlana Bogdanov always keeps the door of her office open. ("I like to see what is going on, and my employees are assured they can enter whenever they want. That is why I never close the door.") Whenever she has free time, she reads. Upon her initiative, Mesopromet was one of the benefactors of the Church of St. Sava in Vračar, Belgrade:
– The appreciation letter we received from the late Patriarch Pavle is particularly important for me, the greatest memory, and it is the only appreciation letter I keep here in a frame.