Bridges
UNUSUAL MULTIETHNIC EDUCATIONAL AND ARTISTIC PROJECT OF HIGH SCHOOL STUDENTS FROM BUJANOVAC, PREŠEVO, VRANJE: TEENAGE POP SHOW IN FOUR LANGUAGES
You. Me. Us
"About studying and school. About hobbies and fashion. About mom, dad, brothers and sisters. About school friends. About the TV program, Facebook, MTV, YouTube, graffiti and Champions League. About horoscope and coffee, falling in love, falling out of love, writing notes under the desk. About (un)justifiable absences, about the class teacher, about pedagogy, parties, candy, makeup. About diets and the unusual person watching you from the mirror. About school grades and pocket money. About journeys we had. About journeys we did not have. About wishes and dreams. About plans for the future. About Me. About You. About Us. About growing up and other things"
By: Zoja Vukašinović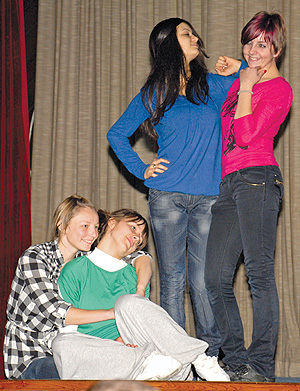 "We are not ordinary people! We are actors-marines!" cries are heard in the Bujanovac Home of Culture. Fourteen underage "marines" stand in a line. With this cry, they start their acrobatics exercises and already in the following moment, they all start running on the stage. The small, gentle Dafina hits her much bigger friend; he flies two meters, then stumbles to the floor. "Don't touch my boyfriend, you cow!" yells Miljana at Ersana, grabs her hair and hits her against the wall.
"Milena, what kind of a slap is that?!" interrupts Aleksandar Lazić. "My grandmother would slap a jar of pickles better!" Milena and her boxing partner Nesibe shyly justify themselves: "How can we beat each other when we love each other?! "How?!" Aleksandar is nervous, "the toughest fights are those of love!" He cannot restrain his acting temper and skillfully jumps onto the stage from the first row. He stands between Milena and Nesiba and teaches them how actors slap. It seems real, only there is no pain...
A cameraman squeezes between "actors-marines". While he shoots, he skillfully avoids the stage slaps and hits. In the third row of the audience, watching the screen of a notebook, sit Rahim Saljihu, translator and Minja Bogavac, scriptwriter, and discuss about the proper Albanian word for comic book. "Comic book" tries Minja using English. "Are you telling me that Koha Ditore does not publish comics with four pictures?" "It does", replies Rahim, "but I don't know what it's called in Albanian." "What kind of an Albanian are you?" she mutters and leaves … Fifteen minutes later, she returns victoriously carrying a printed page from Wikipedia. "Strip, Rahim! Stripe or strip! That is the Albanian word for comic book! Do I have to teach you your mother tongue?" Rahim looks at the page she is showing, then kisses her cheek and continues typing.
Zoran, the organizer, interrupts the working atmosphere and brings a bag full of juices, snacks and candy. The "actors-marines" greet him by yelling his name, and then move on to eating. "Zoki, you're the king!" yells one of the children, while the rest of the creative team jealously explain: "Of course they love him! He does not hold workshops. He never criticizes them, he just brings them food, picks them up or drives them home… They have no idea how bad tempered he actually is. Ever since we came to Bujanovac, he acts as if he is our dad although he is the youngest in the team!" Zoran just smiles to his colleagues' comments. "Artists!" he says gently, with a bit of compassion.
PROCESS MORE IMPORTANT THAN THE PRODUCT
"What is this project actually about?" asks your reporter using the first break to take them aside.
Aleksandar Lazić and Milena Minja Bogavac reply almost at the same time: "The project is called You and Me Are Us. It is financed by the Republic of Serbia Coordination Body for the three southern municipalities." After they noticed that they had replied at the same time, they start laughing. "Since we started working together, we often say the same thing at the same time. I think this is a sign that we are a great team", says Aleksandar. "I think this means: YOU AND ME ARE US!" adds Minja humorously.
"This is an educational and artistic program intended for Bujanovac and Preševo high school students. During the previous month and a half, selected high school students passed through a series of theatrical, drama and other workshops. Our aim was to make a theatrical play. The premiere in Bujanovac took place on December 2, 2009, several days later we played in Preševo, and then at the big stage of the Belgrade Drama Theater. Our young actors had stage fright from performing in front of their parents and school friends, while the two of us were most worried about how the play would go in Belgrade. Aleksandar graduated acting and I graduated dramaturgy. Both of us have been working in a professional theater for ten years. Although we have many plays behind us, this one is especially dear to us because it's our directing debut."
"There is no professional pressure in working on such a play", adds Aleksandar. "The process we went through is more important than the product itself. Although we think we have made a fun, modern play for young people, it is more important how much the workshops participants have advanced while working on it. And they indeed have. A documentary is being made about the whole project and we have recently seen the first shots. We could hardly recognize our actors-marines, who could neither walk nor speak a month ago. Look at them now! Some of their exercises could easily be shown at the acting exam!"
DESCRIPTION OF THINGS, SEPARATELY
Minja: "It is true that they have mastered the main acting techniques and principles of working in the theater, but their advancing as human beings is even more important. When we began working, these kids did not know each other although they were from the same small town. Serbian children did not know a word of Albanian. Albanians pretended not to understand Serbian. Before the rehearsals, they would stand separately in three groups: Albanian, Serbian and Roma. They did not mix or show interest for one another. In the meantime, their three groups became one. The Albanians suddenly began speaking Serbian, the Serbs try to learn Albanian. Only the Roma children, besides their mother tongue, spoke both Serbian and Albanian from the beginning. It's interesting. Even more interesting is that they began going out together after the rehearsals. After learning about life here, we found that it took a lot of courage.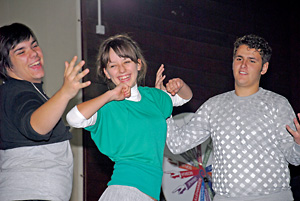 The Albanian and Serbian people here typically do not mix. Especially the young people. Some of them know each other, mostly from seminars and summer schools organized by foreign foundations. They become friends during these travels, but after they return to Bujanovac they stop any contact. If they meet in the street they just say hello discreetly, because if they would stop and chat, rumors would start all over town. For young Serbian women here, the worst punishment is if the neighbors start talking they see them with Albanian young men. The whole family is ashamed of such a girl, their community rejects them and the Albanian does not accept them. On the other side, it is unthinkable that Albanian young women see Serbian young men. They are brought up in a patriarchal system. Considering the number of relatives they have, they are practically under constant control.
It is a great success to make a team of young people ready to stand one by another on the stage and speak about their life in such an environment."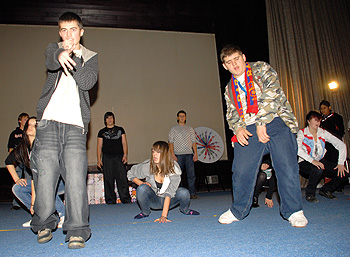 Aleksandar: "Of course, not everything is going smoothly. Every day there is a possibility to lose a marine. In the beginning, it wasn't a problem if someone leaves, but now it's different. The most talented and most hardworking children remained in the team. They have invested lots of efforts, time and love, and they care about this play more than we do. So we use all possible means to fight for each one of them. We organize parents' meetings, we call them by phone, visit them, charm their fathers and mothers, drive them to and from the rehearsals. We ask, beg, promise, and in the most difficult cases the municipality president helps us and asks the families to allow their children to continue their activities in our workshop. We understand that all of them are high school students and we try not to let the play distract them from their school obligations. Still, it is hard for us to understand why out of school education is considered as something sinful. All our rehearsals are public and anyone interested in what children are doing here can come and see for himself. This is an acting school where (besides us and our colleague Tinja Došen) we have acting legends as teachers: Nikola Simić and Boris Komnenić. We are not doing anything forbidden! Some of the students will perhaps become actors, but whatever their future profession might be, the skills they acquire here will certainly be useful for them: proper posture and moving, speaking clearly, Serbian grammar, awareness of one's own body, rules of professional makeup and the most important thing: self-esteem! These are things not only actors, but also professors, lawyers, merchants and doctors should know."
REVEALING THE PERSONALITY, WITHOUT A MIRROR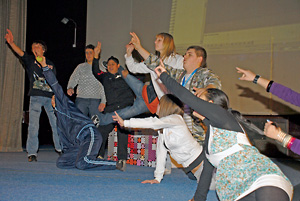 The workshop students were selected during a three-day audition. More than a hundred candidates showed up. They were mostly interested in how high school students talk, think and what is interesting to them. So they accepted a varied group for the workshops. Some of the students turned out to be good imitators, singers or experienced actors, the recommendation for some was their knowledge of the Champions League, for some believing in eternal love, and for others the poetry they write.
Minja and Aleksandar: "Two students attracted us only because they came eccentrically dressed to the audition. (Laughter.) Although they had terrible hairstyles, we assumed it took a lot of effort to make such a thing on their heads and we liked it. At their age, the need for individuality is shown in the most different ways. And we were right! They turned out to be extraordinarily interesting persons, only now they express their creativity at rehearsals and not in front of the mirror."
Rehearsal, first scene of the play. In four languages, the young actors speak about their dearest photographs. When they heard they would be photographed for the National Review after the rehearsal, some of them said that perhaps these pictures would become their dearest. "I'm not exaggerating!" says fifteen-year old Sadrija. "None of my pictures was ever on the newspaper!" "In the newspaper", the rest of the group corrects him.
***
Project
You + Me = Us. Educational and artistic project intended for high school students in Bujanovac and Preševo. Fourteen most talented high school students got a chance to work with numerous artists and teachers from Belgrade, Valjevo, Novi Sad and Sombor in creative workshops. During the two-month program based on studying drama techniques (intensive rehearsals, workshops, seminars and trainings), the play was prepared and played in Bujanovac, Preševo and Belgrade. The project was financed from the budget of the Republic of Serbia, through the Coordination Body for the municipalities of Preševo, Bujanovac and Medvedja. Furthermore, through playing and talking, the students were able to understand other cultures and tolerance.
We are not the same – but we are the same!
We are not equal – but we are equal!
You are you. I am me.
Together we can be the world!
***
Authors, Actors
The idea, text and directing was the work of Milena Bogavac and Aleksandar Lazić.
Actors: Dafina Aliju, Milena Andrejević, Bujar Bajrami, Abelant Zahiri, Mentor Zaćiri, Dejan Jaćimović, Ersana Kadrić, Miljana Nikolić, Nesibe Osmani, Sadrija Raimović, Ivan Stojković, Milica Stošić, Blerim Hasani, Miroslav Džikić.
***
List of Participants
Dafina Aliju is finishing the fourth grade of middle medical school and plans to enroll at the university in Tirana. After becoming a pediatrician, she will return to her hometown where she would like to help children. Her favorite subject in school is biology, her hobby is singing, and with her brother and father she got to like football. She likes to watch the Champions League. Besides Albanian, she speaks Serbian, English and Spanish.
Milena Andrejević is a student of the "Sveti Sava" high school in Bujanovac. She would like to study law at the Niš University where here older brother is currently studying. She was born in Gnjilane, and as a displaced person with excellent grades in school, she received a scholarship from a non-governmental organization where she is learning German. She plans to return to Bujanovac after finishing her studies.
Bujar Bajrami is a student of the middle medical school. His favorite subject is anatomy. He likes medicine because it is humane, however, if he would get a chance, he would also like to become an actor. He read Shakespeare's Hamlet, his favorite book,more than ten times. He likes to spend his free time by the computer, he supports Chelsea and his favorite football player is Kaka, whom he particularly admires because of his fair play.
Abelant Zahiri is a student of the middle medical school, he likes mathematics and computers and often plays computer games. Like his older brother, he is an amateur actor. He supports Barcelona, he is annoyed by the Latin American soap operas on TV, and likes football and bike riding.
Mentor Zaćiri is a student of the medical school and plans to continue his education in the US. His hobby is dancing, he is member of the folklore ensemble "Jehona", and traveled to several European countries with them. He would like to become a doctor like his father. He has an older brother and looks forward to a younger brother who will be born in early 2010. His favorite sports is basketball, he speaks English fluently and is not ashamed to admit that he believes in love.
Dejan Jaćimović is a student of the high school in Preševo, he likes mathematics and would like to work for the police. After graduating from high school, he will enroll at the Faculty for State Security in Belgrade, the city he often visits because his grandfather lives there. He is the oldest child in a family of five, he likes rock music, and earns money by helping his father who owns a construction company. He is not attracted to traveling, but he would go anywhere to see the concert of his favorite band Iron Maiden.
Ersana Kadrić is a student of the technical department of the "Sveti Sava" school. She likes computers and after graduating from high school, hopes to find a solid job in that field. She sings, likes fashion, although she feels uncomfortable in feminine clothes. She says she is persistent and brave, a good friend and a dangerous enemy.
Miljana Nikolić is a student of the "Sveti Sava" high school. Her father, amateur actor and poet taught her to love art. She hopes she will become an actress and is a member of all school sections related to acting. She loves TV, especially local series and reality shows. She says she would apply for any of them, she writes love poetry in rhymes. She loves her older sisters more than anything in the world, they are her best friend and greatest support. She hopes to travel to many countries. She wouldn't be sorry if she had to leave her hometown because of her acting career.
Nesibe Osmani is a first grade high school student, with excellent grades, president of the class, member of the students' parliament. She completed a mediation course and is proud to be considered the best mediator in school. She has relatives in Bihać, where she spends her summer and winter holidays. She plans to study abroad, and would like most to enroll at the faculty in Hamburg, where her good friend lives. She says she is culturally aware, she studies the history of the Roma people and their culture. She loves Indian movies. With her grandmother who is a tailor, she learnt to sew dresses the actresses in these movies wear. Her biggest wish is to travel to India with the man she will marry. However, she does not plan to get married until she finds someone she would truly love.
Sadrija Raimović is a student of the "Sveti Sava" school, he is a good student, trains basketball and is a passionate supporter of "Zvezda". He watches all domestic TV series, he likes folk music and his favorite singer is Darko Lazić. He says for himself that he is sincere: "What's in my stomach is in my words." He hopes to find a wife "who is neither more beautiful nor stupider" than him. He would like to travel to England, so he's learning English, but finds spelling very confusing.
Ivan Stojković doesn't know the meaning of free time. Besides school, he acts in an amateur theater and cooperates with several non-governmental organizations. From classes he rushes to rehearsals, meetings and plays. He works even the hardest physical jobs to earn his pocket money. He spends his summer holidays working, so he has a lot of experience in construction works. He would like to become a professional actor, although he knows that, whatever his profession might be, he will be engaged in the theater at least as a hobby. He learns his lines quickly, loves to watch cartoons and his favorite writer is Bora Stanković.
Milica Stošić is an excellent student of the "Sveti Sava" school. She will enroll at the Faculty of Political Sciences in Belgrade. She would like to work in diplomacy, so she regularly follows the political events in the world and studies English. Last year, she won the Miss of Bujanovac pageant, and the title of the most beautiful girl at the elementary school prom. She likes books, films and internet, she would like to travel to all metropolises in the world. She hopes her work in diplomacy will provide her that.
Blerim Hasani is a student of the general department of the "Sezar Suroji" gymnasium and a talented amateur actor. He would like to study acting in Priština. Genre-wise, he sees himself mainly in comedy. He loves to eat, he says. He has a lot of friends and is very close with his family, especially his one-year-old sister Erina.
Miroslav Džikić lives in Vranje and is a student of the "Sveti Sava" high school in Bujanovac. He is an eccentric and attracted to music and dancing much more than to school. He is talented for drawing and wants to become a fashion designer. He is known as an excellent cook, makeup artist, organizer of the best parties. He considers his dearest three female friends as family, he attends dancing lessons, he is attracted to esotery and likes to study magic.
***
Playing an Actor and Audience
In the warm October afternoon, the people of Bujanovac are sitting in the park by the kindergarten. The "You and Me Are Us" team bursts into the park led by the "crazy director" Aleksandar Lazić. Milica, the local Miss of 2008, is showing warming up exercises. Then come diction and stage moving exercises. "Five sharp and five soft movements with sound!" commands the director to the joy of the gathered audience. Then he sees one of his students is missing. "Where did Ersana disappear?!" The exercise stops, Aleksandar looks around and notices Ersana Kadrić on the most distant bench. He sits beside her. "What is the problem?" he asks. "Those kids there are from the Roma slum! That is the problem!" she whispers. "They'll say I'm playing some actress here. They're my neighbors and they will joke with me!" After fifteen minutes of speaking, Ersana returns to the group. She does her exercises, boldly and convincingly. The rest of the team greets her with applause. The Roma children join too. "What is it now?" asks Ersana in Roma. "Some actress I am, when you, dingy ones are playing my audience!"