Friends
ANNA SANTOLIQUIDO, ITALIAN WRITER AND POET
My Windows towards Serbia
She has been our acquaintance and dear guest for almost 30 years. As if, especially in the hard times, in the hardest times, she has always been here. She is completely fascinated with the Kosovo and Metohija frescos and icons. She has also been enchanted in Serbia by some people, some cities, homemade baklava, Smederevo wines, Serbian sausages, black coffee. She spent her most beautiful birthday in her life dancing Serbian kolo on a beach. She was deeply touched by a bread made by hand and baked in the house of her Serbian friends during the bombing of Serbia in 1999, which she had received as Communion. Desanka Maksimović used to call her little Italian sister
By: Dragan Mraović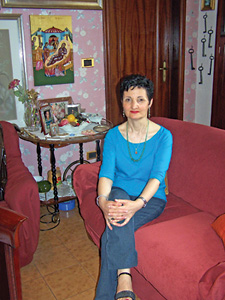 She was born in Forenza near Potenza in 1948, in the province of Basilicata, in the south of Italy. She graduated English language and literature. She lives in Bari. She publishes poems, short stories, essays and translations. She is the founder and president of the international manifestation "Women and Poetry". She is member of boards of several respectable literary magazines, member of the Advisory Board of the National Syndicate of Writers, secretary of the Section of the National Syndicate for Puglia and Basilicata, member of the Italian PEN management.
Among her numerous books of poetry, translated into Serbian are The Stone House (Nikšić, 1988), Journey (Niš, 1994), Therefore I Wander (Smederevo, 2008), as well as a book of short stories White Sailboat (1994). She is the organizer of several important anthologies and collections. She translates from English. She has been enlisted in the anthology of Italian Female Writers of the Second Half of the XX Century, presenting fifty female writers, published by the Italian government.
The poems of Anna Santoliquido were translated into English, Spanish, Serbian, Czech, Greek, Slovenian, Romanian, Armenian, Chinese, Albanian, French, Hungarian. She was very close with Desanka Maksimović, who used to call her "my little Italian sister".
You have been cooperating a lot with Serbia and have done a lot for Serbian culture. How come?
My relationship with your culture and literature began when I was a child. The first book I read was written by a Russian writer. As if my soul was already then preparing to meet the Slavic world. And my first meetings with Belgrade were sometimes after 1980, through linguistics. I was an associate at the University of Bari and so I met Professor Naum Dimitrijević from the Belgrade University. He opened me a window towards Serbia. He was a great linguist, an expert in Euro-linguistics. He used to come to Bari, to the Faculty of Philology, to give lectures and courses in applied linguistics.
Later, after becoming one of the editors in the publishing house and magazine La Valisa, I became part of that beautiful adventure with Serbian writers.
My contacts with Serbia were also through the association "Women and Poetry", which I founded and still run. We cooperated continuously, also in the very difficult moments during the war, when our friendship became even stronger. We became like brothers, because, your suffering and your war were at the same time our pain.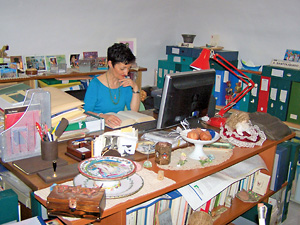 During all these years, has the encounter with Serbia and Serbian culture left any trace in you and your works?
I have received a lot from Serbia. The humaneness and generosity of your people are very important to me. I can compare them with people from the south of Italy, with the Mediterranean spirit. The Serbs have a big heart, they are great altruists, which reminds me of the area I was born in, the province of Basilicata, of the Mediterranean in general. These features are a great spiritual heritage of the Serbian people which left a deep impression on me. In literature, I have learned a lot by meeting Serbian intellectuals and writers, from Dragan Mraović to Desanka Maksimović, my artistic mother. There are also Moma Dimić (who unfortunately passed away), Dragomir Brajković, Goran Djordjević... The relation of your writers with nature, with the earth and the sky, leave a deep impression on me. In fact, the Serbs are a nation that still persistently defends the right to dream, a nation with the courage to follow its ideals. For you, like for all others, the material aspect is important, but the dream is above it. On one hand you have the dream, on the other you have concreteness. And your concrete relation with nature, especially rivers, forests, also influenced me, because I also originate from a rural area.
NON PLUS ULTRA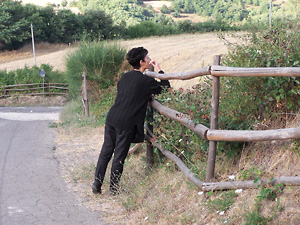 During your visits to Serbia, you discovered people, places, food, music, art?
I have been in Serbia several times, I have visited Kosovo and Metohija. I have visited the magnificent monasteries of Dečane, Gračanica. I am fascinated by Byzantine frescoes and icons, perhaps because I live in a part of Italy which, in one historical period, has also been part of Byzantium. What I have seen in the Serbian monasteries in Kosovo and Metohija is non plus ultra. There is nothing better. Wonder of wonders. It is terrible that the knowledge of us, the westerners, about this cultural heritage is so little and so shallow.
I have seen cities in Serbia which have enchanted me. I went crazy over baklava. I tried good wines in the Smederevo wine region. I very much like meat in your cuisine, especially in Kosovo and Metohija. It is roasted as it should be. Your sausages are great. I also like a lot your black coffee.
I love your poetry. Desanka Maksimović is a poet par excellence. The dialogue with Emperor Dušan she had in her verses makes her queen of poetry. I also love your painting, especially portrait painting.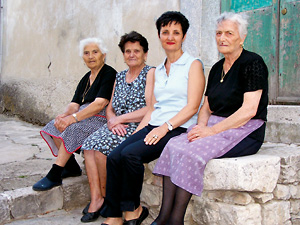 Special moments?
I like your folk music, I like your kolo dances. Once, on my birthday, I danced Serbian kolo on a beach. It was one of my most beautiful birthdays.
Serbia is putting a lot of effort to change the distorted image of itself which was dearly produced in the world. What should it do most in that aspect?
You should turn to young people, to school. My school has recently become a brother school with a school from China. All the managers of Puglia schools were in China. We presented our education system, as well as our national cuisine, our economy, tourist offer. Our people visited schools, as well as some companies, for example the silk production. They will return the visit in autumn. Therefore, it is not only a school exchange, they are also cultural and economical meetings. Serbia can do that too, it can be a good model and important channel. Children and young people should be able to meet without excessive mediation, without prejudice. The rest will come by itself. I am sure great friendships would be born, and perhaps some great loves.
***
Spirit and History
"You, the Serbs, are a proud nation, you do not give up. Your spirit, which teaches how not to yield, is especially expressed in times of crisis and danger. You have a deep knowledge of history, the feeling for the essence of its processes, for the real meaning of events, something which we in the West seem to have lost. I am sure that an ordinary westerner, with exceptions of course, does not have such a wise understanding of history as you do."
***
Bread
"The bombing of Serbia in 1999 was a terrible thing the West had done, a crime. The consequences were felt in the past, they are felt today, they will be felt in the future. Our children will pay for these misdeeds. I remember, during the bombing we spoke on the phone every day, and then came to Serbia. You continued organizing meetings and we came, brought medications for your hospitals, tried to express our shame and give you some consolation. Several moments are incised in my memory. In the home of Ljubica Miletić and Miša Djurić, famous writers, your poetess told me that they made and baked bread in the house, because there is a war going on. She also prepared a bread for me, with great gentleness I will never forget. That touched me deeply, as if I was receiving Communion. I remembered my mother and grandmother telling me how they baked bread during World War II. This Ljubica's bread had so much nobility, so much dignity, so much pride! We should learn a lot from you."
***
Consulate
"We had an excellent cooperation with your consulate in Bari. I must express my great regret because this consulate was closed after the year 2000. It was a stronghold both for your people who passed through our city or lived in it, and for us, Italian intellectuals. We held meetings there, agreed on the cultural exchange, organized mutual visits of writers, publishing books of Serbian writers in Italian and of Italian in Serbian." The consulate was truly a bridge between our two cultures. Its closing did not only have a politically negative reaction in Bari, it was also a mutual cultural loss.