Knowledge
BELGRADE BUSINESS SCHOOL, INTERNATIONALLY RECOGNIZED HIGHER EDUCATION INSTITUTION FOR APPLIED STUDIES
Science about Success
The oldest high business school in the area of former Yugoslavia (1956), the biggest in the Balkans, officially the most popular state run higher education institution in Serbia, has an excellent cooperation with the most respectable schools for business studies and universities in Germany, Italy, France, Greece, the USA… At the same time, an excellent cooperation with more than 120 companies and institutions in Serbia enables its students to find a job more easily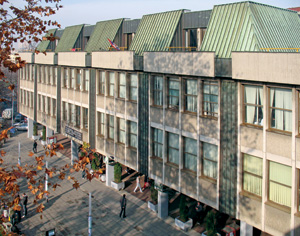 It is always easier with the truly successful ones. They are calm and stand on solid ground, they are clear about what they want and how to achieve it, they are adjustable and creative, but they do not bend as the wind blows. And when an institution systematically educates people to be successful as the Belgrade Business School has been doing for more than fifty years, all this is elevated to a higher level.
It is the oldest higher business school in the area of former Yugoslavia and the biggest one in the Balkans. According to official statistics and constant measurements of interested people for enrolment, it is also the most popular state run higher education institution in Serbia. There are certainly many reasons for this.
Already in September 2007, as Professor Ilija Samardžić, PhD states for National Review, the Belgrade Business School of Higher Education completed the procedures of accrediting its five study programs: Business Informatics and Electronic Business, Management, Finance, Accounting and Banking, Marketing and Trade, Taxes and Customs.
This school thereby officially became an organic part of the unique international education area, with all European norms and standards applied, with a good cooperation with high education institutions in Germany, Australia, England, America, Greece.
– We have existed since 1956 and are constantly on the path of modernization and development – says director Samardžić. – For all this time, we have never been limited only to theory, but have been maintaining a vivid relationship with the economy and adjusting to its main needs and streams. With the new program and new concept of education, it is actually obligatory. We enable our students to realize their professional practice in some of the 1.200 companies and institutions we cooperate with! Furthermore, our students very often provide themselves permanent employment during their practice in the companies. For example, all our 120 students who have had practice in the famous insurance company Uniqa have been employed in it immediately after graduation.
EUROPEAN EDUCATIONAL NETWORK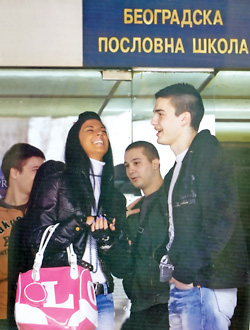 In accordance with the time we live in and high level of integration of the world system, international cooperation is a very important aspect of the Belgrade Business School. For example, they have made an excellent cooperation with the German Berufsakademie in Mosbach. There is also a joint study program according to the so-called dual system. The best students from the Belgrade Business School International Studies department finish their third year of studies in Germany, receive a diploma recognized in this country, and many immediately find employment. Besides the exchange of students, there is also the exchange of professors.
There is also the excellent cooperation with Nottingham Trend, a respectful business school from this British city. Such is also the cooperation with the Aristotle University in Thessalonica.
– Already in 2005, the Belgrade Business School became member of the Association of American State Colleges, including over 95 percent of accredited colleges in USA. At the same time, we became member of the American Congress Library, the oldest American cultural state institution and the largest library in the world, with a fund of 130 million library units and 29 million books – says Samardžić. – All this, naturally, enables our students to have the highest possible quality of education, the exchange of textbooks and literature. It is certainly also important for the permanent education of our teaching staff, including academicians, university professors, 38 doctors of science and 34 masters of science.
There are many famous names from the field of science and business among the teachers of the BBS. Those with the diploma of this school are also highly respected. One example is sufficient for a smart person: three ministers in the present government of Serbia graduated from this school.
– Naturally, tradition and famous names among teachers do not mean anything if you continue standing in one place while the modern world is constantly moving forward. That is why we have been developing international cooperation since a long time ago, we follow positive changes in the world and implement them into our system.
MONEY IS NOT AN OBSTACLE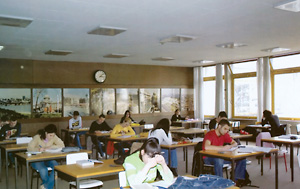 Students of the Belgrade Business School come from all parts of Serbia as well as from neighboring countries. Professor Samardžić says that each year between 200 and 500 students come from Montenegro, while up to now there were several thousands from Republika Srpska and B&H. After graduation, they find jobs in heavy industry (many of them work in Pančevo, for example), as well as in state authorities, the police, state tax department, in the radio, TV. Some are in France, Germany, Italy, overseas. Up to a few years ago, most were interested in studying information technologies and management, while now most popular are banking, finance and accounting.
However, a very important question for many of us is: how can good students with a poor financial situation enroll at this elite institution?
– The financial situation is really not an obstacle here – convinces us Professor Samardžić. – It is true that each year we enroll 1.200 students. Among them, only 200 are financed from the Republic of Serbia budget. However, we have a whole program of supporting those who are not able to pay for their education. The school gives free books to poor students, we have a big reading room where one can study from books which belong to the school, we have a library with 17.000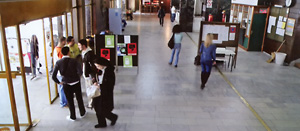 books… We gave students who pay the school fee (amounting to 60.000 dinars) the possibility to pay it in ten monthly installments, which is really not a big burden for an average family budget in Serbia. Furthermore, all students with a disability, without parents, or those in a difficult financial situation may be freed from paying the school fee. According to the agreement with the competent Ministry, our children from Kosovo and Metohija are also freed from paying the school fee. Last year, fifty Roma nationality students also enrolled at the school free of charge.
So, the education at the Belgrade Business School is not a privilege of the rich. In spite of that, or exactly because of that, the competition is very big, which is confirmed each year during the preliminary exams. Those who wish to gain knowledge in the area of business studies, and not for the prices of a bunch of newly opened private schools in this field, know the right address. Furthermore, those who wish to make a serious career based on such gained knowledge also know the right address. They will be among friends here.
***
Academy
"Our school was founded following the decision of the Government of Serbia in 1956. Five higher education schools were integrated and the Higher Economic School was created. About fifteen years ago, it was transformed into the Higher Belgrade Business School, and since two years ago it was elevated to the level of a higher education institution. We plan to make our school grow into the Belgrade Business Academy, to make the five departments parts of the academy, and have students educated for masters and doctors of sciences", announces Professor Ilija Samardžić, PhD.
***
Technology
"We have built a powerful information system which enables the students to apply for exams from home, to receive all necessary information, have a regular electronic communication with their professors (which is especially important for the students from out of Belgrade), and we also plan, and there is already a software made, to give the students the possibility to do their exams from home", says Samardžić.