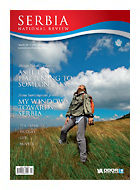 SERBIA - National review no. 17

Prologue

"Only shallow people do not judge by appearance. The true mystery of the world is in the visible, not the invisible."
National Review, before us and with us, continues its path. This time, we have spoken to writers Danilo Nikolić and Anna Santoliquido, we have cruised the forests of Vujan and Avala, climbed up its reerected tower, went to a pilgrimage to Fenek and Rakovica, studied an important street in Belgrade with Momo Kapor. We have recalled the handsome and brave Constantius III, the last Roman emperor born on the soil of present Serbia, and the forgotten Serbian writer from Cavtat Ljudevit Vuličević. We have explored the "Mir-Jam phenomenon" and the best of all centuries of Serbian painting, visited the descendants of Svetozar Miletić in Novi Sad, went horseback riding through 180 years of equestrianism in Serbia.
GALLERY
CONTENTS
Prologue
ABOVE CRUDENESS AND LOWNESS


The Path
Panorama
HOLIDAYS, CHRONICLE, PROJECT
Beautiful Face of Serbia
PHOTOGRAPHS BY MIROSLAV JOVANOVIĆ
Belvederes
DANILO NIKOLIĆ, ONE OF THE MOST SIGNIFICANT CONTEMPORARY SERBIAN WRITERS, EXCLUSIVELY FOR NATIONAL REVIEW
As If It's Happening To Someone Else
Master of narration, seducing with storytelling, old-fashioned postmodernist, young veteran, sad cheerful man, shows with each of his books that literature, despite all, still has the power to save the land and cities, people and time, to defend them for the ones who will come afterwards and be better than us. Can Metohija, one of the main characters of his literature, run away from geography into story, just to, when the time comes, return from story to geography?
By: Mila Milosavljević
Gifts
FOREST HOLDING "BEOGRAD" CONTINUES ITS LONG HISTORY OF CARING FOR AVALA
A Century and a Half of Guarding
Already in 1856, the famous botanist Josif Pančić, first president of the Serbian Royal Academy, sent a letter to the government warning it that Avala, the valuable oasis of flora and fauna, is dramatically endangered. After returning to the throne, prince Miloš ordered putting a fence around Avala in 1859 to save it from devastation… We owe everything we have here to this and the later generations that continued these fine examples
Text: Zoran Plavšić and NR Press
Holy place
FENEK MONASTERY, IN SREM, WITH A LONG MEMORY AND A LONG WAKE
Of Treasures and Suffering
It is now more than certain that the church here was built by Despot Stefan Lazarević and dedicated it to Saint Petka Srpska, and that he first brought the relics of the Serbian saint whose cult is very strong in the Serbian people. During the second half of the 15th century, Stefan and Angelina Branković renovated the monastery. The Austrian Emperor Franz Joseph marched through the chambers of this beautiful monastery as well as many Serbian great people, and today we still have the room of Vozhd Karađorđe
Text and photographs by: Danijela Petrović
Highlands
ACCOMPANYING WOODCUTTERS INTO THE BOSOM OF THE VUJAN MOUNTAIN, IN THE EVE OF THE FIRST SNOWS
The Forest, Both Bread and Home
Most part of the year, from the moment the snows leave until late autumn, they spend deep in the heights with their faithful and smart mountain horses. Each log has to be pulled out, each crumb of the tough bread earned. The mountains Stara Planina, Golija, Rogozna, Maljen, Povlen, Ravna Gora… all know them. They reach where others cannot. And when the frosts strike again and new snows arrive, the woodcutters withdraw to their hometowns, to their home villages where, they believe, someone still expects them
By: Dragana Milošević
BG
MAJOR HISTORY REFLECTED IN SMALL THINGS
A Street Between Different Worlds
In no other city in the world there are an orthodox cathedral church, a Turkish mosque and a Jewish comunity center in one single street like in Kralja Petra Street in Belgrade. The street, like a rainbow, connects two civilizations, two cultures and two rivers. It reminds of a saddle on the Belgrade's back resembling the back of a bull
By: Momo Kapor
Bridges
UNUSUAL MULTIETHNIC EDUCATIONAL AND ARTISTIC PROJECT OF HIGH SCHOOL STUDENTS FROM BUJANOVAC, PREŠEVO, VRANJE: TEENAGE POP SHOW IN FOUR LANGUAGES
You. Me. Us
"About studying and school. About hobbies and fashion. About mom, dad, brothers and sisters. About school friends. About the TV program, Facebook, MTV, YouTube, graffiti and Champions League. About horoscope and coffee, falling in love, falling out of love, writing notes under the desk. About (un)justifiable absences, about the class teacher, about pedagogy, parties, candy, makeup. About diets and the unusual person watching you from the mirror. About school grades and pocket money. About journeys we had. About journeys we did not have. About wishes and dreams. About plans for the future. About Me. About You. About Us. About growing up and other things"
By: Zoja Vukašinović
Crowns
SERBIAN SOIL – HOMELAND OF ROMAN EMPERORS: CONSTANTIUS III (421)
A Roman among Barbarians
He was born in Naissus, like Constantine the Great. He had no family connections with the imperial home of the Flavians, but had all the virtues of an emperor born in the purple. He was compared with heroes of Ancient Greece, he defended Honorious on the imperial throne, he defeated the usurpers in Gaul, married the famous Galla Placidia, was the father of Valentinian III, the last among the important monarchs of the western part of the Empire. He did not live to spend even a year on the Augustus' throne he justifiably deserved. He died suddenly, as many had often died in Rome. With him we end this long series in National Review
By: Professor Aleksandar Jovanović, PhD
Road Guardians
SERBIAN MEDIEVAL FORTIFIED CITIES: BELGRADE
A Petrified Ship over the Waters
The Romans made it an important city in the II century. After them, builders and destroyers changed, the Goths, Huns, Byzantines, Avars, Slavs, Hungarians, Serbs, Turks, Austrians… At its best times in the Middle Ages it had up to 100.000 inhabitants! It was Antique, Byzantine, Renaissance, Islamic, Baroque… After meeting with this city several times, the Serbs confirmed their resurrection in the new era only after the final liberation of Belgrade. Ever since then, one did not exist without the other: there is no Belgrade without Serbs, nor Serbs without Belgrade
By: Vojislav Filipović
Forgotten Ones
LJUDEVIT VULIČEVIĆ (1839-1916), IMPORTANT SERBIAN WRITER FROM CAVTAT, AND HIS EXCITING PATH OF SELF-COGNITION
Woken Up By Mother's Lullaby
He was brought up by his mother Jela, alone. He attended the public school, finished the lower gymnasium in a Franciscan monastery, and was introduced into this Catholic order at the age of 15. He studied theology in Italy, two years of philosophy in Venice, he was a missionary in Albania and became a Catholic priest in Istra. Four years later, disappointed, he abandoned his priest title and Catholic faith. He went to Trieste and only there, in the Serbian colony, he truly understood which nation he belongs to and in which language his mother Jela, whom he dedicated his most important book, sang him lullabies and songs
By: Jovo Bajić
People and Time
MEMORIES OF DR SLAVKO MILETIĆ, GREAT-GRANDSON OF THE FAMOUS SERBIAN DR SVETOZAR MILETIĆ
In the Spirit of His Great-Grandfather
Not far from the big bronze monument to the famous national tribune at the Freedom Square in Novi Sad, lives his oldest living descendant. That house, in which he greeted us warmly, has his great-grandfather's portraits on the walls, created by great masters Uroš Predić, Novak Radonić, Paja Jovanović, Nadežda Petrović, as well as original manuscripts, letters, photographs, a chess table, painting-clock from 1860, an armchair, a copy of the New Testament translation signed by Vuk Karadžić, a letter of gratitude from Duke Šupljikac... And many other memories only mentioned here
By: Zorica Todorović Mirković
Friends
ANNA SANTOLIQUIDO, ITALIAN WRITER AND POET
My Windows towards Serbia
She has been our acquaintance and dear guest for almost 30 years. As if, especially in the hard times, in the hardest times, she has always been here. She is completely fascinated with the Kosovo and Metohija frescos and icons. She has also been enchanted in Serbia by some people, some cities, homemade baklava, Smederevo wines, Serbian sausages, black coffee. She spent her most beautiful birthday in her life dancing Serbian kolo on a beach. She was deeply touched by a bread made by hand and baked in the house of her Serbian friends during the bombing of Serbia in 1999, which she had received as Communion. Desanka Maksimović used to call her little Italian sister
By: Dragan Mraović
Library
OLD BOOKS: "MOUNTAIN WREATH", THE SACRED SERBIAN BOOK
In Here Is Everything
A book that measures the reader. A book of experience and holiness, resembling the most reliable manuscripts-guides, rules of faith and ethics. Full of laughter and fear. A drama in time, in a human, in language. History of glory and fate. The way one understands "Mountain Wreath" is the way one understand one's self. Student, professor, father, son, school, state, Montenegro, Serbia. The way the nation interweaves is the way the wreath around its head and destiny interweaves. And, we, my brother, unweave ourselves
By: Dragan Lakićević
Life, Novels
MILICA JAKOVLJEVIĆ (1887-1952), FAMOUS AS MIR-JAM, CONTINUES BEING MOST POPULAR IN BOOKSTORES AND MOST WATCHED IN THEATERS AND TV
Mourning Chastity
She was the most read writer in the Kingdom of Yugoslavia and the sequels of her novels in the "Nedeljne Ilustracije" magazine were awaited with excitement. In 1939, her drama "There, Far Away" was triumphantly performed with Žanka Stokić as the leading actress. Then, after "the revolution", she was first harshly criticized, mocked, then moved aside. As if erased with a rubber. She withdrew from the arena of this world on December 22, 1952 in Belgrade, without even a note in the newspapers. Recently, 56 years later, over three million people were watching the series "Wounded Eagle" shown on RTS evening after evening! The same is now with the series "Sin of Her Mother", also made according to her novel. What has attracted us so strongly?
By: Dragana Bukumirović
Photo: RTS
Syntheses
THE AUTUMN EXHIBITION "PAINTING IN SERBIA 1850-1950" IN THE SANU GALLERY MARKS THE YEAR 2009
Persistent Sacrificing for Beauty
It was an exquisite opportunity to, at least briefly, overcome the six years long isolation of the National Museum and in one place review the history of new Serbian painting, its best period according to many, perhaps even unreachable. It is a heroic and tragic art created during wars or between them, in hunger and poverty, in the lack of everything, in spite of historical and social circumstances. It is a true wonder that this many and such paintings were preserved
By: Dejan Djorić
Event

FOURTH INTERNATIONAL EXHIBITION "ORTHODOXY ON THE INTERNET"

An Integral View of the World
Among 209 photographs, works of 48 authors from nine countries and three continents, the first prize for both individual photograph (Vladimir Kruglov) and collection (Vladimir Neelov) went to Russia. This year's works have also been full of inspiration, quality, diverse in terms of genre, subjects and poetics, but, without any doubt, an invisible golden thread connected them all
More than a Game
EUROPEAN TEAM CHESS CHAMPIONSHIP HELD IN NOVI SAD, ONE OF THE EVENTS WHICH MARKED 2009 IN SPORTS
The Chess Wonderland
For the first time after nineteen years, after the Chess Olympics in Novi Sad in 1990, a competition of this level was held in Serbia. 66 national teams participated (male and female) from 38 European countries; there were 139 grandmasters among 350 competitors, and the championship website had almost a million visits, mainly to watch chess games live! The happiest were the Russian female and Azerbaijan male team, the countries of former USSR again demonstrated their absolute superiority, and the Serbian team clearly announced the beginning of a great revival
By: Josip Ašik
Photos: Serbian Chess Federation Archive
More than a Game
POSITIVE ECHOES OF THE RENEWED KALEMEGDAN "RACE THROUGH HISTORY" CONTINUE
6.000 Meters through 6.000 Years
While running on the Belgrade Fortress track, top world athletes do not only go through sports temptations, but also through different époques, historical scenery, images of the world. Beautiful TV scenes which traveled around the globe and excellent impressions of competitors have only fortified its reputation. There are many attractive ideas for the development of this race with a potential to grow into a spectacle. The next gathering is on October 13, 2010.
By: Dejan Bulajić
Photo: Belgrade Marathon Archive
More than a Game
HUNDRED AND EIGHTY YEARS OF HISTORY AND EQUESTRIANISM IN SERBIA TODAY
Riders of the Balkan Destiny
The first horse race in Serbia was organized in 1829 in Šabac by master Jevrem  Obrenović to honor the birth of his first son. The first round track gallop race in Belgrade was held only 34 years later, and the rules were written by Prince Mihailo himself looking up to the Viennese. The first permanent Belgrade hippodrome was opened in 1914, in the place it stands today. Apart from the capital, gallop races are today held in Šabac, Požarevac, Ub. Although there are good hippodromes in Karadjordjevo and Zobnatica, races are not held there any more due to bad material circumstances
By: Radmila Tamindžić
Benefactors
"SEND A FRIENDSHIP GREETING CARD", CHARITY ACTION OF NAŠA SRBIJA FOR THE FOURTH YEAR IN A ROW
For Schools and Hope
By encouraging children's creativity, this local non-governmental organization based their activities on the creation and sales of greeting cards with artworks of Serbian children. The money from the sales will be used to support schools in underdeveloped areas of Serbia. "If a school is preserved in a village, it means there is still life and hope there"
Knowledge
BELGRADE BUSINESS SCHOOL, INTERNATIONALLY RECOGNIZED HIGHER EDUCATION INSTITUTION FOR APPLIED STUDIES
Science about Success
The oldest high business school in the area of former Yugoslavia (1956), the biggest in the Balkans, officially the most popular state run higher education institution in Serbia, has an excellent cooperation with the most respectable schools for business studies and universities in Germany, Italy, France, Greece, the USA… At the same time, an excellent cooperation with more than 120 companies and institutions in Serbia enables its students to find a job more easily
Knowledge
ANOTHER SUCCESSFUL YEAR OF THE COLLEGE OF TOURISM IN BELGRADE
Well Designed Path
This well founded institution of high education established already in 1967, constantly modernizes its educational concept, follows the changes in the society, economy, technology, communications. "In 2010, we expect the accreditation of our study program 'Management in Tourism'", says Professor Milan Skakun, PhD, director. "We also expect the Law on High Education to change soon, and the introduction of 'master professional', which would complete the education for the needs of tourism"
By: Milica Despot
Photos: College of Tourism Archive
Partners
NEW PRODUCTS FROM DDOR NOVI SAD LIFE INSURANCE PROGRAM
Life is a Premium
Life insurance is an investment into our own future and the future of our dearest ones, preserving moments spent together in easiness. Provide a high quality education, afford a dream wedding for your child, make his or her initial investments easier (purchasing an apartment, first car, computer, mobile phone)... DDOR Novi Sad Life Insurance Policy offers you the possibility to ensure your own security and the security of your family by planned investments of your means
Tourism
47th INTERNATIONAL HOTEL AND RESTAURANT ASSOCIATION CONGRESS IN BELGRADE
Mighty Guests Arriving
This international association has 300.000 hotels and eight million restaurants in its network, employing about 60 million people and with an annual revenue of 950 billion dollars! Its most influential representatives, 200 people who make crucial decisions in this field are arriving to the Serbian capital. Their host is the Business Association of the Hotel and Restaurant Industry of Serbia (HORES)
Leaders
CATALOGUE OF RECOGNITIONS: SPECIAL HOSPITAL "MERKUR", VRNJAČKA BANJA, 2009
Suitcases Full of Medals
Even at times of great turbulence, as ours obviously is, recognitions received from colleagues and consumers of products and services have the biggest significance. Therefore, in order to describe the achievements of this respectable company in the year behind us, we present excerpts from diaries of such awards and recognitions
Examples
SVETLANA BOGDANOV, OWNER AND MANAGING DIRECTOR OF THE FAMOUS MESOPROMET PLANT FROM PANČEVO
Knock and It Shall Be Opened To You
They had a steady "state job" in Belgrade, at the time when it meant much more than now and when people rarely began private businesses. However, Svetlana and Zoran Bogdanov wanted more. It was a long way from the small workshop for processing meat in the Pančevo Misa to the present big system in the meat industry. Twenty years of life and work were invested and more than half a century of tradition. The golden rule has always been: "Never sell to the people what you would not give to your children!" As you sow so shall you reap
NR Press
Gastronomy
ANOTHER MEMBER IN THE FAMOUS BELGRADE CHAIN OF RESTAURANTS
An Eagle Flies High
In Beogradska Street 47, according to its successful formula based on the excellent gastro program and affordable prices, the fourth restaurant-pizza house "Orao" has recently been opened. Although it has 80 places, it is advisable to make a reservation before you go there and there is hardly a more reliable indicator of quality