Decision
TEN MOST INTERESTING TOURIST DESTINATIONS IN SERBIA, ACCORDING TO VOTES OF THE MEMBERS OF THE BELGRADE CLUB OF TOURIST JOURNALISTS
Obstacles and Plenitude
The biggest problem with the list of ten most attractive destinations is that only ten destinations can really fit into it. This time, we include Mokra gora, Tara with the Canyon of Drina, Vlasinsko Lake, Đavolja Varoš, Stara planina, Zlatar, Felix Romuliana, Palić, Prijepolje with Mileševa and Lim, the area of Negotin…
Text and photographs by: Dragan Bosnić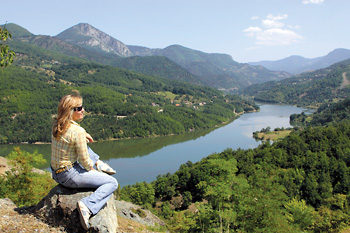 The most visited locations in Serbia, according to the statistics, are Zlatibor, Soko Spa, Kopaonik, Vrnjačka Banja... Belgrade and Novi Sad, are not considered in this way because they are much more than tourist destinations and they would be above any comparison. We have made a questionnaire in the Club of Tourist Journalists to see if the statistics matches the opinion of people who deal with tourism in the media. Jovan Vučković and Slavko Jovanović of Radio Beograd, Dragica Bajić of Politika, Roza Sazdić of Turističke novine, Milan Brašanac of KNTS, Olga Vukadinović and Slavica Berić of Politikin Magazin, Ivan Krivec of "Ekskluziv Turs", Nevena Mihajlović and Stanoje Radulović, the collaborators of National Review all gave their suggestions for ten most interesting tourist destinations in Serbia. Ljiljana Čerović and Jagoda Jovičević of the Tourist Organization of Serbia also gave their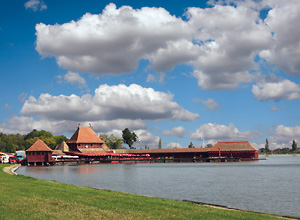 own. The questionnaire includes all relevant data of tour-operators about the number of tourists in Serbia.
The author of this text counted the votes and made the list of destinations.
The first place goes to Mokra Gora with its beautiful waters, its marvellous railroad, Drvengrad and many other wonders, which were seen by Tarabić prophets more than a century ago.
Tara Mountain with the Canyon of Drina River, the well-known pearls of nature are on the second place. Hotels were built on Kaluđerske Bare, Mitrovac is meant for children, and buildings on Predov Krst are for the lovers of intact nature. The canyon of Drina and Perućko Lake are a true paradise for swimmers, fishermen and boat owners.
On 1200 meters of height above sea level and on the third place of our list is Vlasinsko
Lake. We remind you that hotels, resting places and two camps are on locations of Promaja and Rid, on the east side of the lake. Everything else is already well known. Sub-mountain climate, ideal conditions for sport trainings and for respiratory and eye diseases, endemic drosera rotundifolia, floating peat islands...
The area of Toplica is well-known for its springs of thermal mineral water, after which it got its name. Recently, it became very popular for Đavolja Varoš, this unusual monument of nature, very highly rated on the list of seven wonders, but also on this list of the Club of Tourist Journalists and National Review (fourth place).
Stara planina (fifth place) is mentioned as the new ski centre of Serbia, as the zone of great tourist investment in the following year, but it is more interesting for its potentials i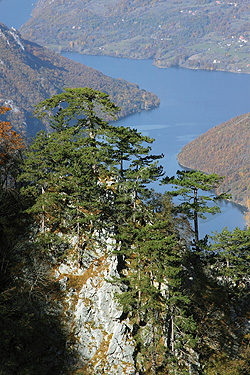 n the sphere of ethno, sports, recreation, hunting, fishing and religious tourism.
The sixth place goes to Zlatar, a mountain that has the status of an air spa. Besides "Panorama" Hotel and the Hospital for Heart Diseases, there are many households whichwelcome numerous guests. The visitors of Zlatar are going all the way to Uvac River, whose fascinating beauties are well known to the readers of National Review.
Felix Romuliana, the late-antique palace of the Roman Emperor Galerius – on the seventh position of our list – is the centre of a beautiful area, which was populated since the era of the culture of Vinča, now besides Beli, Crni and Veliki Timok, the town of Zaječar and Gamzigradska Spa.
In the suburbia of Subotica we have Palić Lake, a fancy sanatorium and summer area, once considered as good as Wiesbaden, St. Moritz or Karlovy Vary, today living of its old glory and on the eight place of our list.
Prijepolje, Mileševa and Lim are on the ninth position, which can be a surprise only for the ones who are not well-informed. It is true that Prijepolje never succeeded in showing its diversity and beauty of the region besides Zlatibor, Zlatar, Kopaonik and Montenegrin mountains. However, if we look at the list of protected culturalmonuments and natural beauties, if we pass through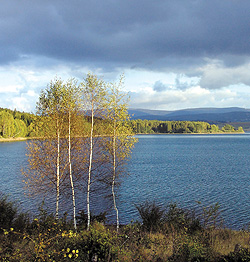 canyons of Lim and Mileševka, if we remember Jadovnik, Kamena gora, waterfalls of Sopotnica – all places well known to the readers of National Review – we shall not be puzzled anymore.
On the bottom of this list of most interesting tourist destinations in Serbia is Negotin, the town of Haiduk Veljko and good wine, the town of Mokranjac and wine cellars, and many other gifts which give to this area in East Serbia a very special place on our list.
The biggest problem with this list of ten most interesting or of ten best destinations  is that only ten of them can be included on it. We should also mention Apatin, Golija, Đerdap Gorge and Zlatibor, on following positions. Then, we have the valley of Ibar, the Gorge of Ovčar and Kablar, Resavska Cave, Viminacium, Valjevska Podgorina...