Examples
THE COLLEGE OF HOTEL MANAGEMENT IN BELGRADE, A WINNER'S VIEW OF THE WORLD
Knowledge + Skill + Creativity
We have already reported about their successes, medals, victories throughout the world, about the authentic and obviously very fruitful educational model, with two hours of supreme lectures and five hours of practice. The most famous educational institutions in the world of this type now carefully follow their work and ask for regular and high quality exchange of students and experience. All this enables the College of Hotel Management in Belgrade to remain in the world focus
By: Zoran Plavšić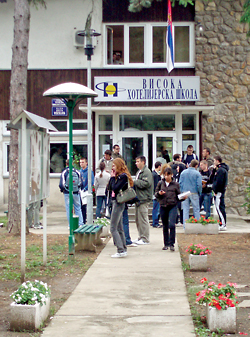 They say that the only thing this high education institution, offering the highest degree of education in the field of hotel management in Serbia and the region, misses is a triumphal arch at the entrance, the gate invented by the Romans to honor the victors, so that it could triumphantly welcome its professors and students. Everything else it already has. It is a school with the longest tradition of training lectures and professional training in Serbian college education. Among the 37 employees, 16 are doctors of sciences and 12 masters of sciences. The students of this school work in all continents in representative tourist and catering companies, and won a bunch of awards at numerous international competitions.
According to Brian Tracey, a Canadian who dedicated his life to educating people in business leadership, success is an expensive product and is paid only in advance. First you have to pay a high price, and then enjoy it. That is exactly what the College of Hotel Managementis doing. They are now collecting the fruits of their more than three and a half decades long work, constantly following the up-to-date trends in the world, and are now awarded for their hard work. By the world.
It is a state run school, founded in 1974. The educational programs and plans are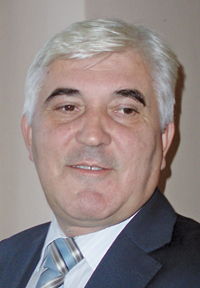 regularly harmonized with similar institutions in countries with most developed tourism such as France, Italy, Switzerland, England, the Netherlands, United States… They successfully completed the accreditation process in accordance with the new Law on High Education, based on European criteria from the Bologna Convention. After the accreditation, there were given a different name and degree: College of Hotel Management.
The basic studies last three years and graduated students obtain high education in the area of hotel management, catering and gastronomy.
– Our school works according to the same standards as similar institutions in the most developed countries and educational systems in the world. We have excellent cooperation with many of them, both in exchange of experience and practical work. That is why we usually tell our students at the beginning of their studies: "Whichever side of the world you enter through our gates of knowledge, you will reach world titles" – tells the director of the College of Hotel ManagementSlavoljub Vićić, PhD for National Review. – And the facts that prove this point are that our student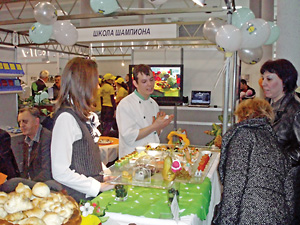 Goran Kovačević was proclaimed best cook in Great Britain, that our students work in the most elite ships-hotels ("Queen Mary II"), that 120 of them are employed in the "Savoy" hotel chain ("Claridges", London), that... Last year, at the International Fair of Food, Drink and Gastronomy Equipment students' competition in Thessalonica, six of our students competed and brought six medals. Before that, in Estonia, at the competition of European schools from 32 countries, we won two medals: gold for confectionary (Milan Lekić) and silver for hotel establishment (Marija Miladinović).
IN THE CENTER OF THE PROFESSION
The story about awards would not be complete without mentioning the great success in Venice in 2007, when students of the College of Hotel Managementwon five medals among 650 contestants, and the School received a special award for most won medals. That success, that victory of Serbian students, masters of their profession, enabled Serbia and Belgrade to be hosts of this great competition in 2014.
At a similar international competition in Dubrovnik, the students of the Belgrade College of Hotel Managementwon fourth place among 35 schools.
Thanks to such successes of the school, its students and professors, Slavoljub Vićić, already started his second mandate in the Executive Board of the European Association of Hotel Management Schools, where he presents authentic experiences from this school and is, at the same time, in the center of events of this profession in the old continent.
Although National Review has already informed its readers about it, we would like to remind of the awards and prizes the College of Hotel Management won in the country: Ordain of Vuk Karadžić of the third degree, 2004 (the medal was awarded by the p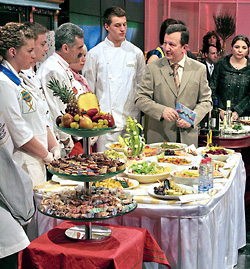 resident of Serbia and Montenegro), "Tourist Flower 2005" (awarded by the Tourist Organization of Serbia), "Tourism Golden Heart 2006" (by "Sacen International").
Our host points out that the awards and prizes were won thanks to the unusual way of studying.
– The specific system of practical training, according to which, during their three years of studies, students have 1.640 hours of training in the most elite restaurants and hotels in Belgrade, Serbia, Montenegro, England, France, Greece, Russia, Germany, Poland, United States, Turkey, Slovenia, just to mention some, yielded such results. From the establishing of the school till the very day, our educational concept is a high quality merge of theory and practice. This makes our graduate students immediately prepared for demanding service and managerial jobs, and enables them fast employment. We work with small groups of five or six students. For example, when speaking of gastronomy, each of the students makes his or her own menu with the best cooks in Belgrade.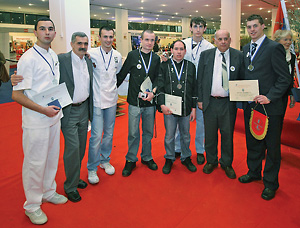 It is so from October to May. Two hours of lectures, five hours of training and working in the kitchen. In Belgrade, students have their practical training in hotels "M", "Hyatt", "Zira", "Moskva", "Majestic", in the "Jezero", "Madera", "Mihajlovac" restaurants. In Serbia, students have the same training in Zlatibor, in spas and lakes. They gain such experiences in hotels and restaurants throughout Europe – tells us director Vićić. – We organize summer trainings for them which last three months, in the country and abroad. Since we have an extraordinary cooperation with other schools and faculties, we regularly exchange students. They have free accommodation, meals and pocket money. This way they also learn foreign languages, the culture of these countries, their customs…
FROM THEIR OWN BOOKS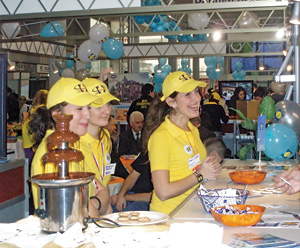 Attempting to maintain the highest quality in each segment of the educational process, the College of Hotel Managementdeveloped its own publishing.
– Practically for each class we have our own textbook, 38 publications made completely in accordance with the Bologna Convention, and we hope that during this year we will have one hundred percent of the prescribed textbooks. When a student begins a school year, he gets all the books for free, a cap and a T-shirt so that everyone would know where he or she is from – adds Mr. Vićić.
At the beginning of the new millennium, the College of Hotel Management(still Higher School at the time) was the initiator and main organizer of the first Congress of Hotel managers, also known as "Hotelplan". It was an international congress with 70 authors from six countries. This Congress which had excellent results and high achievements will be organized for the fifth time in April this year. Experts and masters of their profession from 23 countries already applied to participate, and submitted 170 works which will be enlisted in the Almanac. This practically means that this international congress became one of the most significant ones in the region in the field of hotel management and tourism.