Summoning
LISA BROWN, AN ENGLISH LADY WHO CONSIDERS SERBIA HER HOMELAND
The Power of the Homeland and Other Joys
She is the owner and director of The English Book, the company representing Oxford University Press, the biggest university publisher in the world, for this part of Europe. She supplies Serbia, Srpska and Montenegro with the best textbooks and methods for learning English, she organizes summer schools in Nottingham and Brighton, cooperates with the Serbian Ministry of Education. Perhaps the most enchanting idea for her is how to most impressively present the beauties of Serbia to foreigners, the land of her origin
By: Danijela Dragićević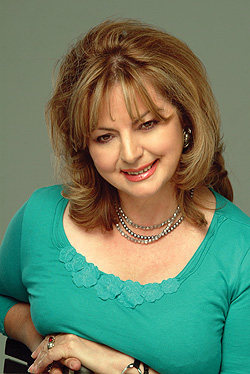 For many famous Serbs, scientists, philosophers, writers, the beauty of their own land, their homeland, was most impressively presented after they had gone to live somewhere abroad. The homeland would revive in the memory, suddenly for some, and they would then understand that, even without knowing, it has been accompanying them, it has been in them, and they will carry it forever. Constantly returning to her Serbia, Lisa Brown recently wished to share her love and new insight of the beauty of the country she came from with foreigners. She intends to establish her own tourist tour (not company) in order to impressively describe to chosen English people the beauties of Serbian mountains, rivers, forests, hills, caves… She took Andrew Glass to one of such tours, manager of the British Council, and described him in detail her idea about a special sightseeing tour of Serbia. Walking around Serbia, she reached Negotin Krajina, Golubac, Vratnik… She purchased six Rajac wine cellars, determined to rearrange them and completely enable them (together with other enthusiasts who share her idea) to accommodate travelers, guests, those who wish to understand the beauty of this area and the magic of the famous Rajac wine.
Lisa Brown is the owner and director of The English Book. She spent more than forty years in England. She still lives there, but works in Serbia. Not in Belgrade, really in Serbia. Her company owns bookstores in all major Serbian cities. Besides those in Serbia, The English Book also has bookstores in Montenegro and Srpska.
– I had a wish to study tourism. Now this wish is coming true in a different way. Thanks to my successful work, I am able to host my friends, closest associates and show them the beauties of my homeland – says Lisa. – I cannot say whether my guests are more delighted with the beauty of the Fruška Gora monasteries, actually all of Vojvodina, the caves of Eastern Serbia or the intact nature of Southern Serbia, the beneficial waters, spas… According to the saying "you can travel the world round but you will always return home", it seems that first I had to see all England, where I spent half of my life, then Europe and the world, in order to understand how beautiful my land is and to wish to show it to foreigners who do not know the beauties of Serbia. However, it is clear that the road to real tourism, whatever the word means, is very long. We lack decent, equipped restaurants, with national and international beverages and food, adequate hygiene (the small yet very important things such as nice toilets, hand soaps, toilet paper, tissues…). However banal it may sound, these are the basic elements of civilization, necessary for the commonest journey. Also, the service should be on a much higher level. Those who decide to work in tourism must understand that politeness, a smile and good manners are the first and elementary thing they need.
LANGUAGE IS A BRIDGE
As Lisa says, it is normal for her to wake up in the morning not knowing whether she is in England or in Serbia, and she wants it to be at some Serbian estate. The English lady of Serbian origin decided fifteen years ago to become a part of a big movement of learning English language, one of the biggest businesses in the world (besides computers).
– Not knowing English today means not communicating with the world.
Lisa Brown explains that her company takes students of 12 to 19 years of age and adults, during July and August, to seven-week long language schools in Nottingham and Brighton. This year, a new language course of the same quality will be held in Kopaonik.
Lisa studied business administration at the Lester University; she became involved in politics and joined the Labor Party. When David Owen's Social Democratic Party separated, she joined them. In 1983, she was elected member of the Lester County Council. She still keeps David Owen's letter in which he congratulates her on her victory. During her time in politics, she met Paddy Ashdown and Nigel Loson, first man of Margaret Thatcher's cabinet.
Business was always in Lisa Brown's head, and in time her wish grew to start a business which would connect her to her homeland. Finally, an idea came that the only true connection and true business between these two countries is the language. Thus it all started, 15 years ago. Now her son Richard Brown is also with her. He graduated philosophy with applied literature at the University of Kent in Canterbury. He works with his mother, he is involved in the summer schools and it was he who suggested Kopaonik as a cheaper, yet best tourist destination for such needs.
***
English
– My company is the exclusive representative of Oxford University Press, the biggest university publisher in the world. We supply both private and state schools and faculties with textbooks for learning English, we have an excellent cooperation with the Ministry of Education, and with the support of our publisher from England and "Mak Milan", we bring experts who introduce the latest methods of working with children to Serbian professors. We also take our professors to England for training, each year we organize the biggest meetings of teachers in Serbia, and for several years we have been one of the safest companies that organize summer schools in Nottingham and Brighton – says Lisa Brown for National Review.