Hosting
BELGRADE RESTAURANT "K 2", BETWEEN NEW BELGRADE AND ZEMUN, A PLACE FOR TRUE CONNOISSEURS
It Has It All
Here you can complete the circle of hedonism, from piquant dishes made according to the incomparable old recipes of our grandmothers, to the truly best Serbian wines and deserts and supreme Cuban cigars. It also has what Italians, French, Spaniards or Germans need to have when out of their countries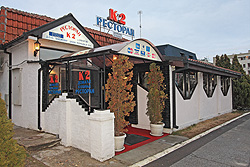 There are people who are able to enjoy the simplest things in the world with all their senses. Hedonism is therefore defined as a longing for pleasure for pleasure's sake. The first theoretician of hedonism was Socrates' student Aristippus from Cyrena. He thought that only the present belongs to a human, so we should enjoy as if each day was our last. Modern philosophers consider hedonism the crucial factor in the harmonious development of each of us. Thus hedonism in modern literature is often equaled with the art of living. In order to enjoy and please all your senses, we recommend you visit the "K 2" restaurant in John Kennedy Street in New Belgrade, at the border towards the Municipality of Zemun. However, even in that pleasant environment, you must not forget the basic ethical rule of hedonism: your pleasure must not jeopardize others. And everyone in "K 2" abides by it.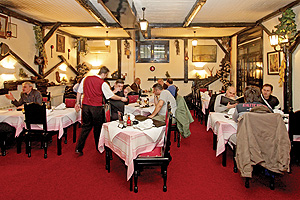 This restaurant became famous for its abundant and high quality offer of Serbian cuisine specialties. Three top cooks prepare more than two hundred of such dishes, for everyone's taste. In the wintertime, you will certainly not order stuffed green rolls, however you will enjoy pihtije, cold beans, beef prosciutto, dried mutton, game appetizer, or peppers in cream. Then there are warm appetizers, soups, stews, as well as delicious dishes prepared according to the recipes of our grandmothers. Some of the traditional Serbian cuisine dishes include: tripe fritters, grilled calf thymus, wedding cabbage, bean thin stew, sarma, calf head with tripes, gulash... You can start from a different side and who knows where you will end. As you prefer.
– We have been working since 2000 and hosted many connoisseurs of cuisine, wine, supreme brandy, numerous celebrities. We organize business lunches in a quiet atmosphere, cocktail parties, celebrations... Once you step in here, we really take over caring for you. Your only task is not to worry and to enjoy yourself – says Goran Kuvačić, owner of "K 2". – There is almost nothing we cannot do for a guest, in some reasonable terms. If the guest wishes, during lunch we can take his or her car for washing or something similar. Our aim is to see our guests again and we will do everything so that our guests remember us for beauty, quality, nobility, and not only in terms of food.
THE FEELING, SHADES, TASTES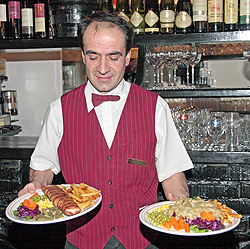 The local cuisine dishes also include braised veal shanks, prepared according to old recipes, then stewed lamb and veal, larded veal breast with kaymak, roasted veal in milk and vegetables. Those who like game can taste specialties made of this meat, or the special sausages made of boar, deer and fawn meat. Fish specialties include river fish (catfish, perch, trout, carp) and sea fish (bream, sea bass, "Saint Pierre" salmon), as well as sea fruit, octopus and mussels salads. A good grill and excellent salads, as many as 28 in the menu, are, naturally, offered in such a place.
Good and healthy food should be accompanied with supreme beverages. Among strong alcoholic drinks, we would recommend five years old plum rakias "sokolova" and "bojkovčanka", then "klekovača" and "manastirka", "žuta osa", "lincura", as well as home made quince, peach, apricot and pear rakias.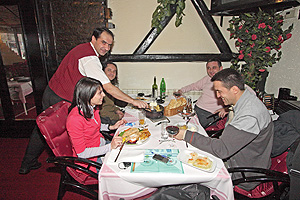 The wines in the "K 2" restaurant cellar are carefully chosen, and mainly include those from the most famous Serbian wineries (such as the Royal Winery under Oplenac, the cellars "Radenković", "Aleksandrović", "Kovačević", "Radovanović", wines from Herzegovina, especially the one from the Tvrdoš Monastery...).
And finally, we recommend two unique wines to accompany your desert: "bermet", containing more than twenty herbs and is only for short sips, and "krokan", the supreme white Muscat wine from the Pearl Island on the river Tisa by Novi Bečej.
In order to complete the circle of enjoyment, those who like to smoke can have some of the most famous cigars (we would recommend the Cuban "partagas").
***
Selection
In order to maintain the quality in such a restaurant, purchasing high quality ingredients is of great importance. Similar to the famous English cook Jamey Oliver who picks the ingredients for his dishes himself, a man of refined taste, specialist for purchasing does the same for the "K 2" restaurant. Among about twenty employees, his job is to go out every morning and choose ingredients, spices and everything the supreme cooks need to be able to fully express their gift.
***
Reservations
"K 2" has plenty of space (about 80 seats), but it is usually crowded and it is recommended to reserve a table in one of the two rooms. Telephone numbers: + 381 11 319 37 39, + 381 63 20 11 02.