Gastronomy
BELGRADE FISH RESTAURANT "BASTION 2" PROMOTES THE BEST COASTAL GASTRONOMIC TRADITION
Great Skills of Old Grbalj
Since the famous Kotor restaurant got its Belgrade twin three years ago, the cooking achievements at the corner of Jenkova and Braće Ribnikar streets attract attention of the finest Belgrade connoisseurs and strictest gourmands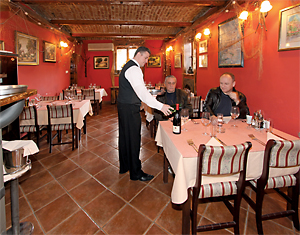 When tradition and profession unite, as well as knowledge gained since childhood, faith and work pervaded with love – results must be good. That is how the life of Nikola Parapida, Niko, from the village of Glavatičići, immediately above the small cove of Bigovo, a famous Montenegrin fishing village, can be described in brief. All this could also be reduced to a single word – Bastion. The name of this Kotor fish restaurant was joined with a number 2 along the way and landed straight in Belgrade as the fish restaurant "Bastion 2" on the corner of Jenkova and Braće Ribnikar streets. It celebrates its third birthday in May. It surpassed many other restaurants with its specialties and many of its dishes are hard to find even at the seaside. The Adriatic seaside. For example, it is impossible to find date mussels because their fishing is strictly forbidden. However, grilled date mussels or stew are a regular specialty in Mr. Niko's restaurant. Other specialties include anything else prepared in a traditionally Grbalj way.
Niko's father Marko, sailor, began his career by catching fish and seafood in the Fishermen Society in Bigovo, and later sailed most of the world. Already as a little boy, he taught Niko what fresh fish is and how it is prepared. The assumption that the freshness of the fish can be determined only by the clearness of the fish's eye is wrong. Sometimes it can lead to a wrong conclusion. Thus Mr. Parapida buys groceries himself. He knows what a freshly caught fish or mussel is. He also takes care about the way the fish is delivered to his restaurant from the European seas. The seafood from the sea depths arrive from his homeland of Montenegro, as well as from Italy, Greece, northern European seas…
PERSUADED BY BELGRADIANS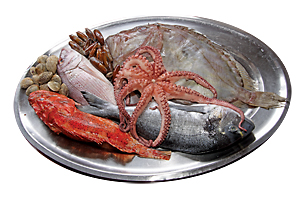 After graduating from the Catering School in Podgorica four decades ago, he began working in the "Fjord" Hotel in Kotor. Then he graduated from the College of Hotel and Catering Services in Trebinje. In 1994 he left the hotel and started a business in "Babylon" in Dobrota, a place which almost merged with Kotor, with his friends from the previous company. His wish to be his own boss led him to private entrepreneurship. After hearing that they had left "Babylon", the then mayor of Kotor Dr. Ivanović, a reasonable and good man, offered them a space in the city for opening a restaurant. He knew well what a prestigious restaurant means for tourism. So in June 1997, in the old powder mill inside the city walls, the first "Bastion" was born. The second one in Belgrade appeared upon persuasions of Belgradians. Finally they gave up before their arguments and charm, so Nikola Ćetković, one of the partners, stayed to run the restaurant in Kotor, and Niko Parapida came to the Serbian capital. He found a place in a quiet neighborhood which did not need much investing.
– We invited all Belgradians who were our old guests in Kotor to the ceremonial opening and made a big party – tells Niko Parapida. – Afterwards, you know how it goes, guests satisfied with the food, drinks, service recommend us to others. We are also satisfied. The kitchen works from 11 a.m. to 11 p.m. and we lock the doors at midnight. The food is prepared by two excellent cooks. All our specialties are prepared in a traditionally Grbalj way. The fish is prepared in three ways: either we grill it, or cook it and make soup, or fry it in oil. We make several kinds of brodet (stew). In Kotor we prepare octopus under pastel, but here, unfortunately, we don't have the conditions for it, so we prepare it in the oven with vegetables. We also bake fish "in salt". A large piece of fish is covered with sea salt. When the fish is ready, the salty mold is broken, the flake and skin fall of, and the meat preserves the juices. A real delicacy! We also grill the fish with flake; when it is ready, the flak and skin are taken off with one move, like a sock. When the guests chose the fish, they also chose the way it is prepared.
APPETIZERS, WINES, ALTERNATIVES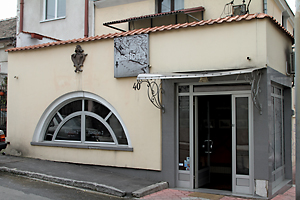 There are all kinds of fish in "Bastion 2":  from tubfish, bream, gilthead bream, sea bass, angler, golden grouper, common sole, scorpion fish, Saint Pierre… to catfish, trout and perch. They are famous for their white fish stew, as well as for preparing lobster, big shrimps, Grbalj red herring. One should also not forget or neglect the appetizers in "Bastion 2". Among about twenty cold and warm dishes, we will mentioned seafood, octopus, shrimp cocktail salads, fish pâté, Njeguš prosciutto, cheese from oil as well as goat cheese (another specialty of the house). There are also different mussels (vongola, piligrina...), and risottos (especially good is the black cuttlefish risotto).
Supreme wines are, of course, implied: those from renowned Serbian wineries, as well as those from France, Italy, Portugal, Spain, Herzegovina, Macedonia, Montenegro...
And let us not forget: those who don't particularly like seafood can have a steak, pork fillet with mushrooms, grilled chicken breast, and many more.
***
How to find it
The "Bastion 2" restaurant in the quiet neighborhood on the corner of Jenkova and Braće Ribnikar streets can be reached from Dimitrija Tucovića Street. If you go down that boulevard towards Zvezdara, you turn left at the first traffic light after the bridge in Ruzveltova Street. That is Jenkova Street and "Bastion 2" is at the first corner. Make reservations or ask about the menu at 011 344 77 11, or 064 533 42 27.