Health
SPECIAL REHABILITATION HOSPITAL "GAMZIGRAD" IN GAMZIGRAD SPA
Heirs of the Imperial Salutary Water
This modern hospital successfully treats rheumatic diseases, blood vessel and connective tissue, as well as neurological, orthopedic, gynecologic diseases… It also offers excellent programs for sportsmen and schoolchildren

Its thermomineral waters come from the depth of 303 meters with the temperature of 42 degrees Celsius. They belong to alkaline hyperthermal (acrothermal) waters and spring on the bank of the Black Timok. For more than two thousand years, these salutary waters have been much more than a metaphor for the benefit of this area. Gamzigrad Spa, about which salutariness people spoke of in Roman imperial palaces from Sirmium to Thessalonica and Constantinople, was erected on these waters.
Gamzigrad Spa is 11 kilometers west of Zaječar, in the lower part of the Black Timok, in the valley where this river creates its famous meanders. It is near the Zaječar-Paraćin highway, at 160 meters altitude.
"Gamzigrad Spa belongs to the continental climate, but has a complex microclimate with characteristics of the continental and submountainous climate", states a small local guide. "It is surrounded by green hills and is a very pleasant place for treatment, relaxation, recreation, sports, fishing. Quiet, far from urban zones, with constantly clean air and intact nature, with a beautiful park full of flowers and greenery, this Spa is also very attractive for people without health problems."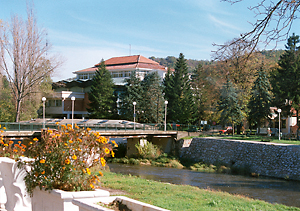 Remains of a luxurious palace of the Roman emperor Gaius Galerius Valerius, named "Felix Romuliana" after the monarch's mother, were discovered only four kilometers from Gamzigrad Spa. Galerius was one of the eighteen Roman and early Byzantine emperors born on the territory of present Serbia, who first had its seat in Sirmium, and then in Thessalonica, and was undoubtedly born in this area. Thus he built his palace right here and was divinized near it (on the nearby hill of Magura). He wished to spend his last days on earth in the place from which he set off into the adventure called life. However, old chronicles imply that one of the significant reasons for the emperor's choice was also the Gamzigrad salutary springs. He suffered from rheumatism and some other diseases, so he knew about their value. They say that here he sought rest for his "suffering body". A legend states that the water from the Gamzigrad springs was delivered to Galerius' palace via special pipelines, and that the emperor was treated at his home, but no material proof about it was found.
However it may be, "Felix Romuliana" is today one of the important tourist attractions in Serbia and an inevitable destination for the guests of Gamzigrad Spa. (Those who are more vital and brave go every day for a walk to the palace.)
The construction of modern baths in Gamzigrad Spa began in 1920. In 1978, the Special Rehabilitation Hospital "Gamzigrad" was built and started working, and became the basis of development of spa tourism and treatment.
– We successfully treat diseases of peripheral blood vessels (organic and functional disorders of arterial blood vessels, lymph system diseases) and vibration disease – informs us Rade Kostić, manager of "Gamzigrad". – Furthermore, we do general rehabilitation of connective tissue diseases, forms of articular and non-articular rheumatism, orthopedic diseases and posttraumatic states, anomalies in children, neurological and gynecological diseases. We have two thermomineral water pools, for children and adults, with impressive wall mosaics (designed by academician Srbinović).
The thermomineral water is used in mineral, habard and galvanic baths, pearl and local baths, for underwater massage and gynecological sprinkling.
– We also apply electrotherapy with the most up-to-date equipment – adds Kostić. – Special devices operating on the pressure change principle are used for peripheral blood vessels diseases. Phototherapy is performed by ultraviolet and infrared lamps. We have rooms with modern equipment for kinesitherapy and working therapy. We also do paraphin therapy, diagnostics, checking the functions of the peripheral bloodstream, heart, lungs, peripheral nerves and muscles.
FOR SPORTSMEN AND SCHOOLS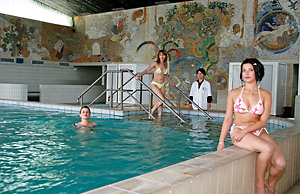 "Gamzigrad" developed excellent programs for the preparations and rehabilitation of sportsmen. For these purposes, there are two indoor pools with warm water (for swimmers and non-swimmers), a training room with a gym, a table tennis room. The Special Hospital also disposes with outdoor tennis courts, indoor football, handball, basketball, volleyball courts and a grass football field.
– We have extraordinary results in organizing and conducting the first and second phase of preparations of football teams during their preparation period – says manager Rade Kostić. – Besides the excellent natural and technical conditions, during the whole period of a team's stay here, our experts monitor the health of the sportsmen, the rehabilitation of some of them, provide them with trainings for general fitness in the gym and pool, underwater massage, treat injuries or acute diseases. There is a special possibility that specialist doctors do a stress test for each sportsman.
The "Gamzigrad" Special Hospital also pays attention to relaxation and recreation, as well as to recreational classes for schoolchildren. There are possibilities of organizing swimming schools, special examinations by physiatrists of body posture, state of the feet. The treatments for correcting deformities are conducted according to the methodology of the "Banjica" Orthopedic Hospital in Belgrade, and patients are given special instructions for continuing their exercises at home.
***
Accommodation, Nutrition, Entertainment
Accommodation in the "Gamzigrad" Special Hospital is in double and triple rooms and apartments. Nutrition is organized as full board, with the possibility of agreeing additional or special meals. There are two restaurants, a chess and TV room, table tennis, pool table, conditions for sports fishing.
***
Contact
Address: Banjski trg 12, 19228 Gamzigradska Banja
Phone: (+381) 19 450 444
www.gamzigradskabanja.org.rs
e-mail: gambanja@verat.net