Life, Novels
FROM THE SEA TO THE PRASKVICA MONASTERY, AND FURTHER TO PAŠTROVIĆA GORA
Jegor's Road of No Return
He appeared one stormy night at the gates of the Serbian temple above Miločer, Montenegro and stayed there. He asked for a glass of wine and shelter, he had one hand and a vow of silence, and a secret which covered everything like a heavy veil. He made his task in the monastery, for more than a decade, to grub up and make the path from the sea to the sky, stone by stone. Only at the hour of his death, at his final confession, he left a key to his fate and fate of his only daughter. Then the story arrived from other sides and outlived everything
By: Vlada Arsić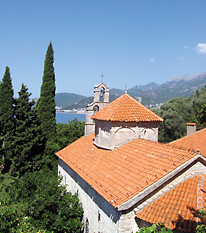 The storm was raging for days. Gathered at dinner, the small monastic fraternity silently listened to the storm and breaking of the waves on the rocks. The dishes were already taken away, they only waited for the prior to stand up and read the prayer, so they could slowly go to their cells to sleep. Suddenly, or did it just seem so between two strokes of the wind, they heard knocking on the heavy monastery gate. The monks looked at one another confused. They did not expect anyone at this hour, especially not in this weather. Father Simeon slowly stood up and went towards the gate. Whoever it is, he thought, he was driven here by some big trouble.
A tall stranger with a pale face and long beard was standing at the door, soaked to the bone. He seemed exhausted, without a drop of strength left, with a distant look in his eyes. Only after he entered, the monks saw he did not have his left hand. They started moving around, offered him a chair, a piece of bread and a plate. He refused. He only asked for a glass of wine and to speak to the prior alone. His wish was fulfilled.
That night, a new member joined the fraternity of the Serbian monastery Praskvica near St. Stefan. Silent and hardworking, he seemed like a man carrying a big secret. Many years later, and only by accident, the monks will reveal it.
SILENT UNTIL HIS DEATH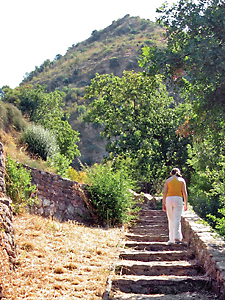 Old prior Savo Ljubiša immediately realized that his guest is of aristocratic origin, as well as the fact that the unusual stranger carries an enormous misery which he did not wish to speak about. He wanted to stay in the monastery, to work and be silent. The prior fulfilled his wish, gave him a special room (the so-called "kamara") and requested others to respect his vow of silence. And so it was. Until his hour of death, Jegor Stroganov never said a single word.
Soon the Russian aristocrat found his task in the monastery. He decided to connect the village of Čelobrdo, located above the monastery, with the seaside by making a stone path. Every morning, month after month, he used to come to his path, take out the stone, build and construct. He worked every day except Sundays and holidays. He would bring a piece of bread and a dish of water, and begin stubbing up the goat path, pulling out the weed and bushes, aligning, arranging as much as he could with his one hand. He kept advancing. The years were passing and together with them came meters of the unusual stone road.
About ten years later, the monastery chronicles recorded another event worth mentioning. A young monk named Jelisej, still without a beard, came to Praskvica from afar. He said he became a monk in the Kiev Lavra and asked to stay here. He was a merry young man, with a beautiful face and unusual gift for music. On the first day he went to the choir and astonished them with his divine voice. However, Jelisej was only interested in the single handed old man. He silently watched him every day leaving to and coming back from his construction site, and prayed for him. It seemed as if father Jegor was both astonishing and scaring him with something invisible. He used to come to the path, stand behind some bush so nobody could see him, and watch the old man. No one, not even Stroganov, noticed this unusual interest of the young monk. Jelisej also was carrying a secret within.
THE MONK AND THE GIRL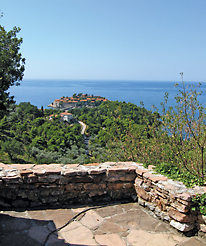 This lasted for four years. Jelisej learnt to speak Serbian, he taught children to read and write. The old prior suggested the metropolitan several times to make Jelisej a priestmonk, however Jelisej persistently refused. "I am not ready yet", he would say. "I must first repent my sins." What sins and how big, he did not say.
One stormy night, similar to the one when Jegor arrived to the monastery, the young monk fell ill. They brought doctors, medications, but nothing could help him. He was getting worse every day. The monks tried everything to cure their favorite brother, he also fought against the illness, but the end was near.
One rainy day at dusk, Jelisej asked the brothers to call Jegor and to leave them alone. The monks fulfilled his request. Jegor and the young monk meditated and prayed together. Then Jegor's hand, seemingly suddenly, started towards the ill young man's head, took off his monk cap and let loose the long, brown hair. Before his eyes, the young monk turned into a girl! Jegor saw a big mole on the left temple, and recognized Jekaterina, his only daughter.
Jegor was silent for a long time. The storm was raging over the sea, the trees were bending, a human had to feel fragile and unprotected. Before dawn, Jekaterina's life ended. The monks watched the face of the passed away beautiful girl with awe, the never more silent old Jegor and the dawn of a new day. They decided to bury her immediately and bury the secret forever.
Soon everything was back to normal. Jegor continued building his path, cutting stones, placing plates. It took him two years to complete what he had started. No one ever found out what was happening in his head, what he was thinking about, what was breaking his heart. However, although he took a vow to be silent until his death, he did not allow the secret to be buried with him. In the moment of his death, he called a monk to his chamber, the same monk who took care of young Jelisej during his last days.
– I was a high officer of Imperial Russia – confessed the old monk. – I wanted to dedicate my life to the service and my only daughter Jekaterina. I was satisfied with my service and even happier because of my beautiful and clever daughter. Unfortunately, as it usually happens, fortune was replaced by misfortune. My Jekaterina saw a handsome captain at an officers' ball. However, obviously they had different views about love. She was in love, but the officer only wanted adventure. It hurt us terribly, both her and me. I challenged the young man to a duel. The captain shot first, he wounded my hand and side. However, my right hand did not shake and I shot the captain straight into the heart. I tried to cure it for a long time, but my wounded hand had to be amputated. However, that was not the biggest trouble! When I returned home, my daughter was gone. I was looking for her for seven years, from city to city, from monastery to monastery. Unfortunately, without success. I could not live in Russia any more. I wanted to go as far as possible. I boarded a ship in St. Petersburg which brought me to Budva. I noticed this monastery from the sea. And then, after I finally managed to calm down a little, fate played another game with me. As a reward or punishment, I do not know, yet the Lord gave me another chance to see her. To see her and finally lose her…
AT THE END OF THE QUEST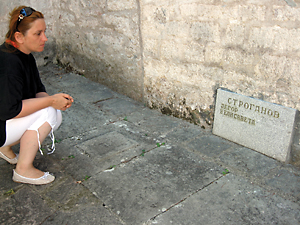 For a long time Jegor watched into the distance with his eyes closed. Who knows where he traveled. Perhaps some other world and some other time when he played with his daughter in his homeland and his home. It was time for them to finally see each other again. At the dawn when Jekaterina passed away, Jegor started his final journey. Before dusk that day, the body of the old monk was placed in his daughter's tomb by the monastery's foundations.
More than two centuries have passed since Jegor Stroganov knocked on the gates of the Serbian temple under Paštrovića Gora. That is how long the legend about the unusual Russian man has lasted, about his accomplishment and ill fate. Even today, the legend attracts the attention of pilgrims and tourists, especially Russians. One of them, Viktor Shtrebinsky from Odessa, is here for the third time. He was first inspired by the story of one of his colleagues, and then led by some strange internal restlessness. It turned out that the destiny of the Stroganov family was, to a certain extent, connected with the life of his ancestors. He told us the part of the story which took place in Russia, before the girl came to Montenegro.
Shtrebinsky's ancestors knew the Stroganov family, and the story about them has been passed on through generations. After getting over her unfortunate love, Jekaterina returned home. She forgave her father, realized the dishonor of the unfaithful officer and her father's reasons. She wanted to throw herself into his arms, to be beside him, to return the peace and warmth of the family home. Unfortunately, her father was no longer in the house and no one knew anything about Jegor. Her father was looking for her and she was looking for him. They took the same roads, but in different times. Many years later, Jekaterina heard from Russian monks about an unusual Russian monk without one hand in the monastery of Praskvica. They say that she was immediately certain that she had found her father, however it will remain a secret forever why she continued hiding from him until her hour of death.
***
Peaches
The monastery of Praskvica is settled on a green slope above Miločer, about ten kilometers from Budva. It is considered one of the most important Paštrovo monasteries, and it was named after a nearby spring, with water tasting like praskva (peach). According to the legend, the monastery was built in 1050; however written chronicles mention it only in the early XIV century, when King Milutin Nemanjić, during his visit to Kotor, gave a big donation for it. It is fenced with a defensive wall; it has the monastic quarters, an old school building and two churches. The smaller is dedicated to Holy Trinity and the bigger to St. Nicholas.
***
Restoring the Path
Jegor's path, leading from the Adriatic Sea shore to the village of Čelobrdo above the monastery was impassable for a long time, grown in weeds and bushes. A few years ago, Sretko Lakić, brother of the Praskvica prior, cleared the path. More and more pilgrims and tourists are visiting the monastery, especially Russians, deeply moved by the story of their two countrymen, the father and the daughter, Jegor and Jekaterina. The monastery is also been receiving big donations from Russia.
***
In the Theater
The tragic fate of Jegor Stroganov and his daughter Jekaterina inspired Vida Ognjenović a few years ago to write the drama Jegor's Path (2000), performed at the stage of the Budva "City Theater", with Svetozar Cvetković brilliantly playing the role of Jegor.