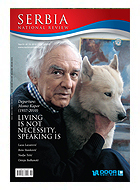 SERBIA - National review no. 19

Prologue

For a long time now, the fact that the price of something has increased is not news here. We carry the package of explanations like a boring murmur in our heads: raw materials price increase, international energy products market disturbances, Euro exchange rate, increase of taxes and fees, objective circumstances, subjective weaknesses, slippery field and round ball. Now, after such a long resistance we are also forced to increase the price of National Review. Should we join this chorus too? The real news is that National Review succeeded in not increasing its price for three years, in spite of calculators, isn't it? Shouldn't we actually explain how we managed to endure it?
GALLERY

CONTENTS
Prologue
AFTER THREE YEARS OF "NATIONAL REVIEW'S" resistance
Price Increase
Vitrage
NUMBERS, EVENTS, INTERESTING THINGS
Beautiful Face of Serbia
PHOTOGRAPHY BY SVETLANA DINGARAC
Departure
MOMO KAPOR (1937-2010), WRITER, PAINTER, FRIEND
Living Is Not a Necessity, Speaking Is
He was himself and very much ours, this Momčilo. Our kind. One could live from his stories like Scheherazade. With him, one would become nostalgic, witty, joyful. No one has taught us so strongly and so easily how to love our own. Our city, our country, our virtues and shortcomings. Our women and our wines. He, a city legend, a walking chronicle of the capital, a wandering bullet of the BG spirit. We will neither say goodbye nor depart from Momčilo, the first on the list of our associates. As the poet would say, he meant so much to us that we should not express, but receive condolences. These few fragments are a greeting to Momčilo for our first next meeting
More than a Game
NADJA TEŠIĆ, WRITER, EXCLUSIVELY FOR "NATIONAL REVIEW" FROM NEW YORK
About the Summer, Simplicity and Strawberries
Rohmer made a movie about her in Paris, Coltrane and Che gave her smile superiority and sorrow, her brother Stojan, Steve, the only Serbian Academy Award winner claimed that she has never made rotten compromises and thus sleeps in peace. She studied French literature in America, completed her doctoral degree on Proust at the Sorbonne, taught scriptwriting, directing, production and propaganda at the Brooklyn College. Still, she is mainly and entirely a poet
By: Branislav Matić
Visit
BELGRADE MUNICIPALITY OF RAKOVICA, FROM THE CRISIS OF INDUSTRY TO THE CENTER OF DEVELOPMENT
Anticipating a New Era
Both the Kingdom and Republic were proud of it. This is where our first airplane engine was manufactured, the first truck, the first cooling apparatus, first tractor… At its zenith, in the 1980s, its industry employed more than 25.000 people. Then followed the disintegration of the state, market, industry, as well as the dark whirlpools of transition. The bypass motorway around Belgrade on Corridor 10 is currently in construction and this vital traffic route will cross with the Ibarska Highway in this municipality, thereby bringing Rakovica into the very center of attention of the most powerful local and foreign investors. Entirely new perspectives will open before it. How will Rakovica welcome them?
By: Jovo Bajić
Photo: Dragan Bosnić
Serbia from the Air
FLYING ABOVE THE RASINA AND THREE MORAVAS, ABOVE CITIES, SANCTITIES, MEMORIES
Above the Heart of Lazar's Serbia
Here, in the northern parts of the previous Dušan's Empire, Prince Lazar Hrebeljanović restarted creating a powerful Serbia, a land worthy of the glory of its ancestors and faith of its offspring. He raised it by sword, wisdom, diplomacy, St. Sava ethics and state philosophy, and last but not least, high culture. Can a pen and keyboard depict any of this at all? Or one just has to fly and watch, silently, reveal the same images in the veins? Perhaps only then our real flight begins?
Text: NR Press & Rozana Sazdić
Photo: Dragan Bosnić
Event
AGRICULTURE, ECOLOGY AND RURAL TOURISM FAIR
"KOLUBARAFEST" IN LAZAREVAC, FOR THE THIRD TIME
Discovering New Potentials
This year's event will be organized from April 16 to 18, it remains international and invitational, and there is no entrance fee for visitors. It will host about 60 exhibitors from Serbia and the region. For the first time, it will include programs in the open, which will enable manufacturers of agricultural mechanization, greenhouses, irrigation systems, to present themselves. "The fair is very important for the affirmation of our agricultural potentials", says Branko Borić, president of this Belgrade municipality
By: Nenad Despotović
Project Serbia
AN IMPORTANT INITIATIVE OF "NATIONAL REVIEW" AND SCULPTOR OSTOJA BALKANSKI
The Path of Serbian Glory
The workshop of the famous artist already includes about 250 completed excellent reliefs-portraits of great people of Serbian history and culture, from Stefan Nemanja to Patriarch Pavle. Upon the suggestion of National Review, the artist will grant this to the Serbian people as a starting point for establishing a unique cultural and historical open air gallery. How? A nice stone path should be made through the woods in Avala. On each fifth meter of the path, one relief-portrait should be placed on a pedestal made of Ljig sandstone, with the name and basic information. The further additions to the path would be managed by a special authoritative body of the SANU, and new reliefs-portraits would be created by the most famous Serbian artists in a special sculptors' colony. The Path of Serbian Glory would turn Avala into a real Olympus of Serbian history and culture and one of the most attractive places in the cultural, historical and tourism offer of the Serbian capital
By: Bane Velimirović
Monuments of Nature
PREKONOG CAVE NEAR SVRLJIG, PROBABLY THE MOST BEAUTIFUL CAVE IN SERBIA
Forgotten Underground Treasury
In the late XIX century, Jovan Cvijić visited it, made a map of most of it, described the cave ornaments and determined the geological facts regarding its origin. He concluded that it is the richest cave in Serbia in ornaments, and that some of its parts can be "compared with the more beautiful part of Postojna Cave". However, it took a whole century before further explorations began
Text and Photo: NR Press
Diaspora
LETTER FROM PERTH, WHERE ABOUT 13.000 SERBS LIVE
A Drop of Melancholy in Every Joy
In this metropolis in the southwest of Australia, the city resembling a futuristic image of urban paradise, Serbs have been respectful citizens for five generations, reputable doctors, businessmen, artists, sportsmen. People watch matches of White Eagles, they have Karadjordje's Cup, they listen to Radio Serbia and gather in the churches of St. Sava and Holy Trinity. However, they say that the soul of every immigrant is eternally divided into "there" and "here". Each of them left only to return one day, but "life is short and the journey long"
By: Mirjana Dragović
Road Guardians
SERBIAN MEDIEVAL FORTIFIED CITIES: PROKUPLJE
St. Procopius Watches Over Us
Romans called it Hammeum. Serbs named it after the saint whose relics were moved here in 1386 from Niš, before the Turkish invasion. Folk tales relate legendary Jug-Bogdan to this city in many ways. The fortress on the rocky Hisar height, bordered by the river Toplica from three sides, guarded the road which led to the Adriatic coast or Thessalonica from Niš, over Kosovo and Metohija. Nowadays, only pale remains of the former power and importance remain
By: Vojislav Filipović
Traces
ROMAN HELMETS DISCOVERED NEAR ŠID AND SREMSKA MITROVICA CONTINUE ATTRACTING ATTENTION AND OPENING BIG QUESTIONS
Neglected Treasures under Tillages
More than 800.000 people from all parts of the world have seen the extraordinary artifacts from Berkasovo and Jarak and were astonished by them. This reawakes the difficult question: why does not Serbia pay more attention to its enormous Roman heritage, such as (for example) the unexcavated palace of Emperor Maximianus Herculius in Glac? Can this enormous potential really be covered with two canopies and big pictures of small politicians?
Helena Duković
Photo: Milica Djukić, photographer of the Museum of Vojvodina
Life, Novels
FROM THE SEA TO THE PRASKVICA MONASTERY, AND FURTHER TO PAŠTROVIĆA GORA
Jegor's Road of No Return
He appeared one stormy night at the gates of the Serbian temple above Miločer, Montenegro and stayed there. He asked for a glass of wine and shelter, he had one hand and a vow of silence, and a secret which covered everything like a heavy veil. He made his task in the monastery, for more than a decade, to grub up and make the path from the sea to the sky, stone by stone. Only at the hour of his death, at his final confession, he left a key to his fate and fate of his only daughter. Then the story arrived from other sides and outlived everything
By: Vlada Arsić
BG
LEGENDS ABOUT BELGRADE (1)
Let There Be a White City
The presentation of Belgrade as a mythical and archetypical city on holy waters is ancient and profound. It was present in Belgrade people of different blood and origins, of different languages and cultures, in all times. "Any honest travel guide should warn an incautious traveler: if he or she stops to study that, he or she will become a victim of unexplainable falling in love with that city"
By: Dragan Lakićević
Lighthouses
LAZA K. LAZAREVIĆ (1851-1891), WRITER AND MEDICAL DOCTOR, DOUBLE DOCTOR AND DOUBLE ACADEMICIAN
When Will It All Be Repaid?
He lived for only 40 years, even less, yet he managed to obtain a PhD in law and medicine, to save Serbian wounded soldiers at the front, and be the personal physician of the first Serbian king in the new era. He founded physical medicine in Serbia, he was the first in the world to scientifically describe sciatica and prescribed an effective therapy (after he had first tested it on himself, like all others); he was the first in the world to diagnose symptoms which were later named after Brogard, Tomayer, Caring, he was the first to separate the geriatric department in hospitals…He was accepted twice in the highest institution of Serbian science and art: in 1883 as a physician, in 1888 as a writer
By: Petar Branov
National TV
PETAR STANOJLOVIĆ, DIRECTOR OF RTS TV SERIES "FORGOTTEN MINDS OF SERBIA" AND "COME CLOSER"
Attractive Undiscoveredness of Serbia
"The role of RTS in the public and culture of Serbia is incomparable, without competition in what it is doing. RTS also has a defined obligation to produce, emphasize and follow the cultural model. The public service has all chances to be the initiator of things impossible in commercial televisions. RTS is an exclusive institution in which you can be engaged in art! This cannot be done any more in film, a little in literature, in journalism never, in the theater only sometimes and a bit. Therefore RTS remains the only oasis in which you can boast that you have made a big cultural thing, without anyone finding fault in it, and the only place where your work will be seen"
By: Maja Radonić
Eye
ZORAN DANILOV POPOVIĆ, PAINTER, AND A TURN IN THE DEPTHS OF (POST)MODERN ART
Nocturne for Monet
Popović's works are homage to the late phase of the great impressionist, the renewal of the joy of creation derived from nature. The forgotten virginity of water, water lilies and flowers are surprising in his paintings, as well as improvisation, variation, working in series. He perceives the states of nature as spiritual, not abstract. In the era of the dominion of technology, his traditionalism is unique also for the discovery of sweetness of life in the XIX century, styles of hedonistic will, the aesthetics of the beautiful and charming
By: Dejan Djorić
Ethno
UNUSUAL ETHNO BAND "VRELO" FROM RUMA CONTINUES CAPTURING AUDIENCE THROUGHOUT THE PLANET
Positively Shocked By Themselves
From Kusturica's movie "Life Is a Miracle" and punk opera "Time of Gypsies" to a composition included in "Serbia Sounds Global All Stars", everything created by Vrelo sounds brilliant and very pleasant for the ears. Only in the second level of perception you notice that all this actually firmly rests upon an unimposing traditional basis. Such an approach leads us to very creative urban forms of the traditional
By: Slađana Ristić
Imprints
POSTAL STAMPS IN SERBIA, THIRD CENTURY
Great Art of Small Format
Serbia is one of the 22 countries, founders of the Universal Postal Union in Bern in 1874. The first postal stamp here had been printed eight years earlier, in 1866, presenting Prince Mihailo Obrenović, according to the drawing of lithographer Anastas Jovanović. Since that time, Serbian stamps achieved and maintained high reputation around the planet, mainly for two reasons: they were never reprinted and, until the very day, they have been produced manually, in the manner of old masters
By: Radmila Tamindžić
Peaks
BORA STANKOVIĆ, SERBIAN AND WORLD SPORTS LEGEND, EXCLUSIVELY FOR NATIONAL REVIEW
It All Began with Four Aces
Together with Radomir Šaper, Nebojša Popović and Aleksandar Nikolić, he was one of the four people who led Serbian (then Yugoslavian) basketball to the top. As a man without a passport, he played for "Zvezda" and "Partizan", he founded "Železničar", trained the team of BSK (OKK Beograd). Then he set off into the world at the same time Aleksandar Nikolić did, and first went to Italy. He left an inerasable trace in the World Basketball Federation and International Olympics Committee. Now he lives in Belgrade again, to close the epochal circle
By: Dejan Bulajić
Jubilee
160 YEARS OF MILITARY EDUCATION IN SERBIA
Honor Is Our Property
The army was the stronghold and protector of the national idea in the period of creating the modern Serbian state. It needed educated people, and there were not enough of them in Serbia at the time. Therefore military education, especially the education of officers, was given special attention ever since the first decades of the XIX century
Text and photo: "Odbrana" magazine
More than Education
"DR. DRAGAN HERCOG" ELEMENTARY SCHOOL, UNIQUE IN SERBIA
Teachers in White Coats
Its classrooms are hospital rooms and students' homes. Its students are children who, due to serious health problems, cannot attend regular schools, including children with malignant diseases. More than a thousand students a year pass through this school. The school not only teaches. It also brings back faith in recovery and life. "Just like a doctor must never retreat from treating, a teacher must never retreat from educating"
By: Jovan Gajić
Illumination
THE UŽICE HYDROELECTRIC POWER PLANT "UNDER THE CITY", ERECTED IN 1900
Light Appeared from the River
It happened just as the Tarabić brothers, Miloš and Mitar, prophesied decades before, just as Nikola Tesla dreamed and just as professor Djordje Stanojević advised the people of Užice. On the day of St. Elijah in the last year of the XIX century and only four years after the one on the Niagara, the first hydroelectric power plant in Europe with Tesla's system of multiphase alternating current began working under the city of Užice. And it has been working ever since
By: Zoran Plavšić
Presentation
"DDOR NOVI SAD" OFFERS NUMEROUS ADVANTAGES AND CONVENIENCES WITH CASCO INSURANCE
Casco – Cheaper than a New Car
Despite the widespread belief that casco insurance is a luxury reserved only for owners of expensive vehicles and those being leased, a simple calculation proves that insuring one's own vehicle is profitable in all cases. Replacing just one broken headlight or windshield often costs more than annual casco premium
Health
SPECIAL REHABILITATION HOSPITAL "GAMZIGRAD" IN GAMZIGRAD SPA
Heirs of the Imperial Salutary Water
This modern hospital successfully treats rheumatic diseases, blood vessel and connective tissue, as well as neurological, orthopedic, gynecologic diseases… It also offers excellent programs for sportsmen and schoolchildren
Lens
Close-Up
Gastronomy
BELGRADE FISH RESTAURANT "BASTION 2" PROMOTES THE BEST COASTAL GASTRONOMIC TRADITION
Great Skills of Old Grbalj
Since the famous Kotor restaurant got its Belgrade twin three years ago, the cooking achievements at the corner of Jenkova and Braće Ribnikar streets attract attention of the finest Belgrade connoisseurs and strictest gourmands