Lighting
HYDRO POWER PLANT "MORAVICA" WORKING SINCE ST. NICHOLA'S DAY IN 1911
And the entire town joined the celebration
At that time, electricity already illuminated eight cities in Serbia, but none in the Moravica District. Citizens of Ivanjica gathered in 1907 to address this issue. They ordered the equipment from the company "Siemens-Schuckertwerke", had it delivered to Čačak by rail, and then by ox-drawn carriages, at their own expense and their own risk. Only when, on St. Nichola's Day four years later, Ivanjica lit up in the middle of the night, the deliverymen realized why Master Milutin needed all that iron
By: Zoran Plavšić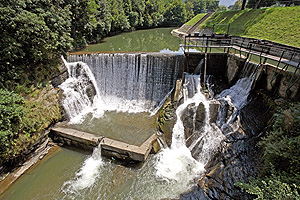 It was a great time in which little Serbia, right after being liberated from slavery under the Turks, was quickly compensating for being left behind in the time of darkness and catching up with the developed industrial countries. It was the time when "big people walked around little Serbia" (Radovan Samardžić), such as Josif Pančić, Jovan Cvijić, Mihailo Pupin, Milutin Milanković, Stojan Novaković, Ljubomir Stojanović, Mihailo Petrović Alas, Miloje Vasić... Great creative energy of the people was set free.
Exactly during this golden age, between 1880 and 1914, electrification of Serbia began. It was preceded by the visits of first foreign engineers in the 1830's, such as Franz Janke and Baron Franz Cordon in 1834-35. In 1863, during the time of Duke Mihailo, classes began at the Technical Faculty of the Great School. Industrialization officially started ten years ago, when the Military-Technical Institute, the first industrial company, had been founded in Kragujevac. In 1884, the first electric lighting was introduced exactly in this Institute, to enable the bullet shell casing production to also run during the night. This was achieved thanks to Todor Toša Selaković who built the first water turbine in Serbia, among other things. Nine years later, in 1893, in Belgrade, on Dorćol, the first thermal power plant was commissioned, followed by the first European hydro power plant "Pod gradom" in 1900, on the river Đetinja, in Užice, which was built in accordance with Tesla's principles.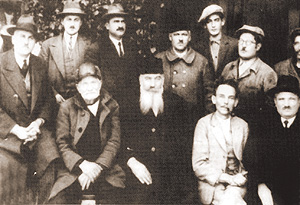 At that time, merchants from Ivanjica increasingly traveled through Serbia and Europe, reaching Budapest, Vienna, as well as more distant places. Among them, whenever he would return from traveling around Europe, merchant Milutin Popović would exaltedly describe cities lit with electric bulbs, streets and homes that "glow like during the day", night life. At that time, they already glowed in Belgrade and in the little town on the other side of the hill, in Užice. As recorded in the memories of merchant Radojica Jeremić, in early spring 1907, Mališa Atanacković, President of Užice municipality, and also President of Joint Stock Company "Tkačke radionice", visited Ivanjica. At the people's meeting he told them about his experience in the construction of electric power plant, introducing electricity into the town. He spoke about electric motors that drove weaving looms, about public lighting, about all the advantages and benefits they obtained together with electricity.
"And you, people from Ivanjica, you have the river Moravica running through the town. If you build an electric power plant on the river, you will turn each drop of water from that river into a coin!" said Mališa.
And so people from Ivanjica took the advice of Mališa Atanacković. They gathered and on June 20th, 1907 they founded the "Ivanjica Electrical Industrial Joint Stock Company". In the first Article of their Policy, they wrote: "In order to improve local Serbian industry, the Joint Stock Company in Ivanjica is hereby established." The Policy and operations of the Company were approved by Kosta Stojanović, Minister of National Economy of the Kingdom of Serbia.
ON DELIVERYMEN'S CARTS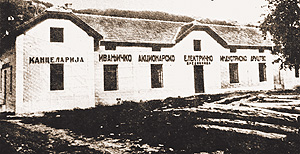 A year later, they collected enough money for the construction of power plant. The most suitable location for the construction was near the old mill owned by Milovan Šolajić. The land was purchased by the said Milutin Popović. They built an eight meter tall wooden dam, enclosing the Moravica River, from where the water was distributed to the power plant building through a hundred meter long canal.
Two years later, exactly on the day of incorporation of the Joint Stock Company, a contract was signed at the District Administrative Office in Čačak for the procurement of hydro power plant equipment with representatives of "Siemens-Schuckertwerke". Pursuant to this contract, the Austrian company was to provide a three-phase generator with total power of 160 Kva, 200 horsepower "Francis" turbine and other necessary equipment, and to deliver all this to Čačak by rail. People from Ivanjica would take it over from there and, at their expense and their own risk, transport it over the mountains Jelica and Potajnik, on ox-drawn carts, to the power plant. After the equipment had arrived, the transport lasted three days. Deliverymen asked curiously: "Why does Master MIlutin need all this iron!?"
Simultaneously with the mounting of equipment, electrical network was installed in the ground floor of the building (additional two floors were built later). Finally, on St. Nicholas Day, December 19th, 1911, lights were lit along the streets, in the municipality building, in taverns and in about twenty private houses. The entire town joined in the celebration! Electricity arrived on St. Nicholas Day, one of the major saint days in Serbia!
Ivanjica was the ninth town in Serbia to receive electricity. They were proud of this, knowing that electricity had arrived here before it was introduced in other district towns (Čačak, Arilje...).
There was plenty of electricity. Only one fourth of the capacity was used for the mill, wool processing, sawmills, manufacturers producing packaging material for apples and plums and, of course, for the lighting. When the first transmission line, six kilometers long and with a power of 6,000 volts, was commissioned in the District of Moravica, there was enough electricity even for the antimony mine in Lisa.
OVERCOMING ALL DIFFICULTIES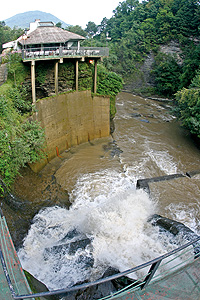 People from Ivanjica overcame many difficulties as well. The first big hydro power plant related disaster in Serbia happened exactly in their town. The plant was also damaged by Austro-Hungarian conquerors during World War One, along with the machines in sawmills, wool processing plants and other manufacturing plants. The Electric Joint Stock Company was never paid war damages in the amount of 73,348 dinars.
However, the most substantial damage was suffered on January 20th, 1936. Heavy snow suddenly melted at the unfavorable moment, the Moravica rose as never before, and the flood washed away the dam. As if only then, when the electricity was gone, people from Ivanjica became aware again of the benefits they had from it. That is why they immediately started to build a new dam, made of concrete, which also included a large floodgate for water level control. A restaurant was built next to the dam, and it soon became a favorite gathering place for locals and their guests.
The "Electric Joint Stock Company" was dissolved immediately after World War Two. With the increase of power consumption, electricity was first delivered through a 35 kilowatt, and then 110 kilowatt transmission line from Požarevac, and hydro power plant "Moravica" operated as a peak-load hydroelectric station, supplying the network when necessary.
Next year it will be one century since it was first put into operation.
"Work of mind, science and crafts should serve human community to make lives easier and more beautiful, and not individuals for gaining of wealth." (Nikola Tesla)
***
Growth
When the hydro power plant was put into operation in 1911, Ivanjica had a population of about 1,100. When several decades later, in 1974, in the village of Prilike near Ivanjica, satellite station "Yugoslavia" was commissioned (which was foreseen by Nikola Tesla during his experiments in Kolorado Springs in 1899), Ivanjica had 4,162 households and 230 kilometers of transmission lines, each household had a radio, and every fourth household had a TV.
***
Town
Just after Serbia gained autonomy, in 1833 Duke Miloš Obrenović ordered a new town to be established, which would serve as the seat of the Moravica District Captaincy. That year, on the banks of the Moravica, covered with willows, the town of Ivanjica was created. Officially, the town was established on June 16th, 1866, based on the edict of Duke Mihailo Obrenović, and it was one of the first in the region. They used to say that this was the most beautiful and most developed town of the "erska kapetanija". It had its own school, library, post office and telegraph. People traded in cattle, cheese, kajmak, wool, cereals, tar, kindling wood, honey... The main street, covered with cobblestone just like the surrounding streets, started to overfill with taverns, pubs, shops craftsmen shops, hotel... Two story buildings were built. And everything was just like Duke Miloš had ordered: "the village roads must be set straight".
***
Engineer's poem
On the day when the hydro power plant was put into operation, a memorial block was mounted with inscribed verses written by engineer Rade Pavković, who had participated in the construction:
God that sent us solid steel
Does not like the agony of slaves
Working machines he created
To give some rest to human hands
And the multitude of natural forces he created
To drive the mechanical giants
Gave wings to the human mind
To learn old and create new miracles