Across the river
BANJALUKA, BEAUTIFUL CAPITAL OF REPUBLIKA SRPSKA, BECOMES THE CENTRE OF THE MOST ATTRACTIVE TYPE OF MODERN TOURISM
Led by the spirit of adventure
This elegant and very neat city, without any oriental elements in its temperament and appearance, even today preserves the memory of Tisa Milosavljević from Niš, A general and the first Vrbas governor, who built the most valuable edifices and symbols of Banjaluka in only four years. And near the centre, on the clean and incontinent hills of Vrbas, excellent terrains and tracks for true adventurers have been developed. Rafting, hydrospeed, canoe, kayak, canyoning, but also paragliding, parachuting, free climbing, speleology, mountain climbing... The way it really looks like is presented by the reporters of "National Review"
By: Olga Vukadinović
Photographs: Zoran Pejašinović, Dušan Milijić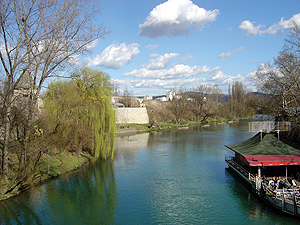 A foreigner will immediately see a lot of greenery, rows of sycamore trees and wide streets that make this city spacious and full of air. This impression is enhanced by the fact that there are no skyscrapers here. It is because of the seismic area, explain the locals. A curious eye will not miss the fact that this is a very clean city. There are simply no cigarette butts, cigarette packs, cans or other packaging. Some of the people we spoke with attributed this to good communal service, while Mayer Dragoljub Davidović did not fully agree with this. He claims that the merit goes equally to the people from Banjaluka. Vrbas is a special story. Both the river and its banks look like a clean housekeeper is mending them on a daily basis. At least this is how it looks in that part of the river that flows through the city area, and it is not exactly small. Banjaluka, with its 1,239 square kilometers, was the third largest municipality in the former Yugoslavia. Having this in mind, it is not difficult to imagine the amount of effort that would be needed to clean the river. Great merits for this have the members of a diving club who surveyed the riverbed and marked the precise position and type of all waste. As the result of this, about 100 car shells were taken out, even one entire truck with a trailer.
WANTED A LOT, DONE A LOT
The Mayor also told us that Banjaluka owes a lot for its today's look, which makes it stand out among other cities in B&H, to a man from Niš, Svetislav Tisa Milosavljević. The first governor of the former Vrbas regional unit, who came out of World War One as a brigadier general, proved to be very venturous: soon after he had taken the post in 1929, he started building the Mortgage Bank, Banski dvor, Sokolski dom, Hygienic Institute, National Theatre, Holy Trinity Church, which was, unfortunately, demolished during the German bombing. All these edifices even today attract the eye with their appearance. One can simply not pass by them without noticing that oriental influence here is not as dominant as in other cities in Bosnia and Herzegovina. Obviously a man of great spirit, energy and passion for building, Tisa Milosavljević also took care about commissioning a great number of schools, Ethnographic Museum, the b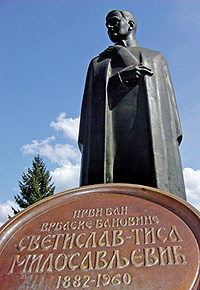 uilding of the City Bridge and City Park. And all that, they say, in only four years. This period many people even today call the golden age of Vrbas regional unit. As a sign of memory and gratitude toward this governor general, people from Banjaluka built him an adequate monument near Banski dvor.
Exactly between Dvor and the monument is Veselin Masleša Street, although not many people in Banjaluka call it by that name. For most of them, it is called Aristocrat Street. Foreigners will immediately and easily recognize it, not only because it is a pedestrian zone. Its single-story buildings will enchant them with their architecture, completely different from anything else you can see here. For a moment they will feel like they found themselves in an unfamiliar Italian Rennaissance city. Aristocrat Street is not only a promenade, it is the main artery creating the pulse without which one cannot feel and experience Banjaluka. Everything is so full of life here: people shop, walk, sit in cafes stringed in the line one after the other. Mostly until 11 PM, except for those that can laud themselves with the "Golden Spoon", a recognition awarded to the best hospitality establishments enabling them, among other things, to have longer working hours. Around midnight, everything quiets down. Going out in late night hours is practically unimaginable. Young people, who are the most frequent visitors of these cafes, have a hard time coming to terms with this, but the city authorities would not budge. Very few cafés and bars stay open until three or four in the morning.
CAREFULLY GUARDED RECIPES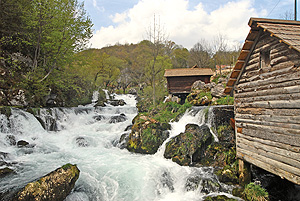 And when people find themselves in Aristocrat Street, it would be a pity, even when they are full, not to go around the corner and stop by "Kod Muje". There, they say, one can eat the best ćevapćići in Banjaluka. Why here, one may think. The explanation is quite simple. Banjaluka ćevap is the local brand and, as Dragoljub Davidović say, the merit for this belongs to Muja Đuzel. He is the person who "invented it". Muja is long gone, he passed away about twenty years ago, but the family has carefully guarded the recipe, and the business was taken over by his daughter Emina. Everything that is offered under the brand of Banjaluka ćevap is only a better or worse copy of Muja's, says the Mayor.
With some luck, you can find a seat. And while you savor the smell of barbecued meat with a glass of beer, a dilemma appears. What kind of ćevap to order: big, medium, trade-union, small? This is not a problem for the Banjalukans, they have experience. It's a whole other story for newcomers. They have a hard time making a decision, and they will invariably ask what the trade-union ćevap is. It is the same as the small one, the waiter would explain laconically, only served in a smaller piece of bread. Beer and barbecue prices are similar to those in Belgrade. Calculated in dinars, beer costs about 120, and big ćevap (200 grams of meat) 410. Speaking of money, one must keep in mind that, unlike in other cities in Serbia, there are almost no money exchange offices in Banjaluka. There is one in the city centre, at least we were told so, and those who need to exchange money must go to a commercial bank. Dinars cannot be used for payments, despite the stories that even this is possible here.
CHARMS OF THE MOUNTAIN RIVER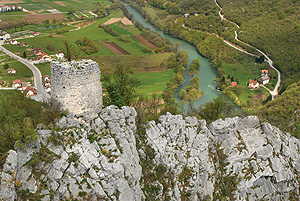 Maybe you have, while reading these lines, learned a thing or two about Banjaluka that you didn't know before, maybe along the way you have remembered that its most famous inhabitant was the writer and national tribune Petar Kočić, but most likely not much reminded you of adventure tourism. And it is exactly the thing in which big hopes are invested here, and justifiably so. Namely, out of those 1,239 square kilometers, which is the total surface area of Banjaluka municipality, as many as 800 is used by "Vrbas Adventure Resort". The axis of all this is the Vrbas, quick, incontinent river, thanks to which water sports have become a tradition in this city. Fishing is certainly the oldest, but for adventurers and adrenaline lovers the extreme ones are far more interesting: rafting, hydrospeed, canoe, kayak.
Regardless of where they begin, all rafting tours end at the Rafting Centre in Karanovac. They even have the same price – 33.25 EUR – regardless of whether they begin in Zvečaj, which is 5 km away, or Bijeli buk, which is 21 km away. It takes three and a half to raft down this trail, the longest one, without stops on the way, and it leaves the participants breathless. The challenge in the form of the wild Vrbas is not an everyday experience, and this was probably the key factor why both the European and World rafting Championship took place here.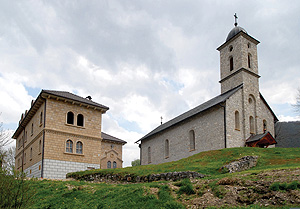 Night rafting offers a special excitement. The well lit trail is just over 800 meters long, quite sufficient to remember each moment spent on it. Can you imagine well lit rocks of the hollows, whirlpools of whitewater, spotlights dancing high above your head like fireflies and deafening noise of the river, the only sound one can hear? This enchanting unity of man and nature makes one forget about everything else, even the fear that the skipper will successfully lead you through yet another whirlpool. And when you finally disembark at the Rafting Centre and your heart calms down, there is nothing better than a refreshing shot of walnut brandy served by the host Mića Samardžija. He will even, if you care to ask, tell you a secret about how he is making it. What you will do next, it depends on your appetite. Some people remember barbecue, others cheese, kajmak and fritters. Round balls soft like silk.
THE FIRSTBORN WAS A SHE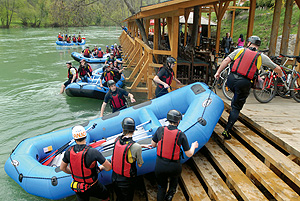 Hydrospeed, sledging down the whitewaters on a board, is an increasingly popular sport here, maybe because of the feeling of superiority over nature it creates. For this sport one really needs a brave heart, and judging by the number of hydrospeed fans, a big number of guys have it. Unlike this sport, kayak and canoe have been a long tradition on the Vrbas.
Adventure lovers are also attracted here by canyoning. It is a sport that requires numerous skills and substantial physical endurance. Within the "Vrbas Adventure Resort" there are three locations. The most challenging one is the 17 kilometer long canyon of the Cvrcka River, the overcoming of which takes six to ten hours, because the trail leads across waterfalls, cascades, hollows, and steep cliffs above the peaks of which one can see only patches of the sky. Ugra and Švrakave canyons are much shorter, but those who want to try themselves, will have an opportunity to do so.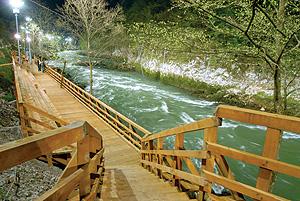 Opportunities for adventure tourism in Banjaluka are not only related to water and the Vrbas, says Dr Ostoja Barašin, Director of Tourist Organization of this city. And really, the nature has been plentiful here, and that is why, only a step away from the city, there are excellent possibilities not only for walking and trekking, but also free climbing and speleology. Among numerous treks, some of which are over 250 meters high, the most interesting are Tijesno Canyon, a part of Zvečajska Gorge and the Stone Bridge that represents a rare natural phenomenon. There are as many as twenty treks on it, although not higher than 40 meters.
Even this is not the end of what Banjaluka has to offer only ten to fifteen kilometers away from the city centre. In the metropolitan area, Banjalukans have as many as five paragliding runways. Parachuting is also a sport that has a long tradition here. Last year, it was the sixtieth anniversary of the first jump, and it was made by a woman, Nevenka Ličina Majc. This jubilee will also stay remembered because on that day Nemanja Goronja, a student, set the Balkans record, making 60 jumps in a single day.
***
Krupa
The adventure that for some represents a tandem jump, for others is walking to the Krupa waterfalls or trekking to the many times burnt down and demolished monastery with the same name, with a church dedicated to St. Ilija. On Sundays, they say, it is very crowded here. Many come here believing in healing powers of the particles from holy Matrona, the Moscow saint and miracle maker who passed away in 1952.
***
The Ridge
A trek to 482 meters high Greben (Ridge) and the remains of a medieval town with the same name starts at the church of Krupa Monastery. This place offers a fantastic view over the Vrbas and Krupa. The fortress probably owes its existence to this view. Form here, it was perfectly possible to guard the road to Split, built during the Romans.
***
Rarities
A signpost placed at the beginning of the trek to the top will inform you that the area of Grebenska Gorge is a habitat for rare, endangered and endemic species, such as Eranthis Hiemalis Salisb, the plant that grows on the outskirts of white hornbeam forest. We tried to spot two other rare local creatures, viper and big woodpecker. Our guide Igor Savić did not share this hope, at least regarding the Vipera berus. He didn't have anything against the woodpecker, but we were not that lucky.