Visiting
CITY SUSPENDED ON THE ROCK, THE CAPITAL OF MACEDONIAN TOURISM, AND HOME OF ITS SOUL
There are no Random Loves
For several years Serbs have been the most numerous visitors in Ohrid. Natives tend to say, the best ones: simple, hearty, hot blooded, not stingy. At the end of April, "National Review" organized a visit to Ohrid for a number of prominent reporters and tour operators, just to make sure what the new season will bring
By: Bane Velimirović
Photos: Dragan Bosnić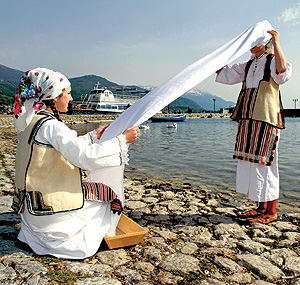 The City of Ohrid ("Suspended on the Rock") resembles a white pearl necklace, compared to indigo mountain scenery. And rock is at the bottom of the field, secluded on the northern shore of the lake, high above the water, resembling a cape entering the lake. That tale has been told twice already, so we won't tell it again. Greek Lihnidos, Illyrian Desaretia, Roman Via Egnatia, St. Kliment and Naum, King Samuilo, the fascinating Churches of St. Sofija, Bogorodica Perivlepta (Svevideća), St. Pantelejmon, St. John Kaneo, and St. Naum, those jewels of Byzantine architecture, warm, touching and mystical... The events and actors have changed through time, but the city suspended on the rock, stood still, outliving it all....
Since Samuilo, who established his mighty empire (976-1014) and moved the capital from Prespa to Ohrid, carried on a wave of Slavic uproar against Byzantine Empire, one can find Serbian traces in this city. And in the 14th and 20th centuries it was a part of the Serbian state. Naming it a famous city, Serbian Emperor Dušan Nemanjić annexed it to his state in 1334. During his reign, Ohrid was governed by sevastokrator Branko Mladenović, founder of the later royal family Branković. When Dušan was being crowned Emperor, in Skopje in 1346, Archbishop of Ohrid Nikolaj was officiating.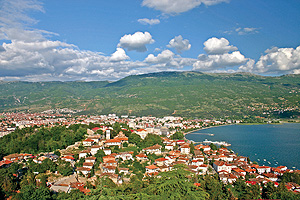 "At the time of Emperor Dušan, extensive fishing activities were taking place on Lake Ohrid, and in the city of Ohrid the mani fish market was situated. Most of the hunting grounds and fishermen were under authority of church estates. So Dušan as an Emperor (approx. 1337) annexed to the Prilep monastery Treskavac contributed in Ohrid the estate of the Church of St. John at Kaneo 'along with its hunting ground' (today it remains the Temple of St. John at Kaneo, in fishing village Kaneo), and in the Charter from 1342 and Charter from 1345 he acknowledged ownership to Ohrid monastery of Presveta Bogorodica Perivlepta. On that occasion, he gave to the monastery the following fishing villages on Lake Ohrid: Radobužda (today known as Radožda) 'with its hunting grounds', Hoduništa (Uduništa) 'with its hunting grounds', Struga Vranijska and Struga Mala (today Struga), in the city on the lake Church of St. Nikola 'with seven fisherman', Frugove Vlasi (today Frigovo and Mali Vlaj), Church of Presveta Bogorodica and its estate in Radovlište (Radolište), Podmoli (Podmolje), Momlišta (Mumlište), and Lukovo on the Crni Drim River 'with its hunting grounds'..."

Succeeding Dušan, during the reign of Emperor Uroš, governor of Ohrid was Caesar Grgur, elder sibling of Vuk Branković. In 1361, Grgur restored, as its endowment, the heavily damaged monastery of St. Naum on its old foundations. Later, when Emperor Marko Mrnjavčević, son of Vukašin (Marko Kraljević), reigned over this region, Ohrid was governed by his cousin Prefect Andrija Gropa, along with his brother-in-law, lord Ostoja Rajaković. In 1378, Gropa built, as his endowment, the Old Church of St. Kliment, on its old foundations. And in the beautiful Church of Bogorodica Perivlepta, Svevideća, the same church in which earlier marriage of Emperor Milutin with Simonida took place, today remains the grave of Ostoja Rajaković. There is also a fresco on the wall with his image.
When Emperor Marko Mrnjavčević was killed in Rovine in 1394, the first period of Serbian reign over city ends, and briefly after it falls under the reign of the Turks.
St. Nikolai of Žiča and Ohrid entered the city when it was again under the reign of the Serbian state. He was made the Bishop of Ohrid in 1922, and he remained there until mid 1930's. He left behind buildings, folk tales, and written works (The Ohrid Prologue, among others), but this is another story, grand and special, which will soon be told.
Anyhow, these numerous Serbian traces in Ohrid tell a tale of people and cultures mixing in the Balkans. No one should either emphasize or hide these traces. It is both funny and sad when an official guide through the Old City of Ohrid conceals this information, or blushes when asked something about it.
The Mayor. We have visited Ohrid, the capital of Macedonian tourism, at the end of April. National Review has led fairly large group of prominent Serbian reporters and tour operators, in order to present this city in its best attire and make it more accessible to the guests from Serbia prior to the upcoming tourist season. We were welcomed by city officials, led by the mayor Aleksandar Petreski, warmheartedly as old friends. This is how the Mayor spoke: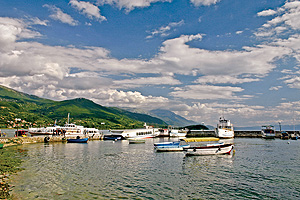 "There are many reasons why Ohrid was included in the list of 30 world cities recommended to tourists, and why it was awarded 'The golden glass of hospitality of Southeast Europe' award, which we will receive on April 28th in Belgrade. This award is very dear to us, since it depicts the relationship between tourists from Serbia and hoteliers from Ohrid.
As you know, Ohrid with its vicinity is among the oldest cities in the world, and is under UNESCO protection. Therefore, we cannot enable more extensive connstruction of tourist facilities, like countries that focus on tourism can. Out of the entire coastal area, only five to six kilometers are eligible for development, as well as investment in hotels and other facilities...
Serbs and Macedonians are not connected only through trade, but through many significant matters. We understand each other without a need for translation, which goes in favor of our relations and friendly development in all areas. Of course, the economy is an important basis for it, and in Ohrid it is especially tourism.

Faith is also a bond that we share. As you know, Ohrid is where Slavs converted to Orthodox Christianity, spreading it later even to the Russian planes. When you are in Ohrid, I want you to feel at home, and I am certain that you will, while walking around it, feel that you are more than welcome. I continually speak to Ohrid hoteliers, restaurant, bar, and night club owners and keep asking them: 'Who are your best customers?' There is none that wouldn't reply that guests from Serbia are the best. In numerous conversations with tourists coming from Serbia, I practically hear the same: that they feel like at home.
So there is a certain bond between Ohrid and Serbia. And we wish to enrich and deepen that bond even more. Ohrid is a twin town and sister city to Kragujevac, Zemun, Novi Sad, and we maintain excellent relations with Niš... I am certain that we will cooperate in all the other areas as well.
I visit Serbia quite often, and I am aware that there is an outstanding potential for large-scale visit of Macedonian tourists to Serbia, both in the mountains and as a part of spa tourism. Macedonian tourists haven't forgotten either Kopaonik and Zlatibor, or Vrnjačka banja, or other spas in Serbia. Travel agencies and all the others in this line of work should seriously consider it. Macedonians are very fond of winter tourism, skiing, mountains. They have mainly visited Bulgaria these last few years, but with Bulgaria entering the EU, the prices have gone up, so Bulgaria is now more orientated toward tourists from England and Germany, than toward tourists from Macedonia or Serbia. Therefore, it is necessary to head in that direction; I am sure that mutual interest will be found in it.
I am certain that you will be feeling good in Ohrid, and I ask you that whatever you see and experience here, pass on once you return to Serbia, all the upsides, and if there are downsides, well, then downsides also. Thank you."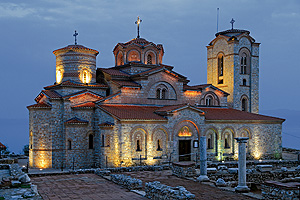 Goce. Belgrade youth would probably refer to him as: charmer. Cool. The man. That's how he welcomed us. Even while we were talking officially, and while "Wine cheereth God and man", and while we were making arrangements for him to visit Serbia and to learn how to fly. He searched for that deeper code in the eyes of each of us, the true understanding. And then, he stored it as such on his mental map and on his I-phone.
"I would like to remind you of something special. You all know that Branislav Nušić visited our city and lived here in the late 19th century. He wrote about Ohrid and Ohrid Lake. I shall read you a couple of lines from his travel account On the Shores of Lake Ohrid: 'Don't let that powerful water mesmerize you with sleep. It has such a power: it mesmerizes you to sleep, enchants you, and then attracts you to itself with its magic. And you will stay in Ohrid for many days and years, and you will keep coming back.'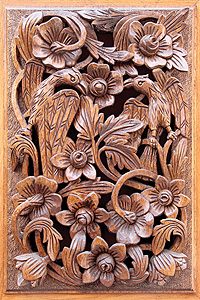 I really hope that this magic will mesmerize you in these 2 to 3 days, and that it will make us visit your country more often, to mutually stimulate tourism development in Serbia and Macedonia, as well as overall economic development and our friendship."
The Captain. "Lake Ohrid is one of three lakes in the world over 3.5 million years old (Tanganyika and Titicaca being the other two). It is located at 695 meters above sea level. The lake is 298 meters deep, while others claim that it is deeper than 300 meters. Water transparency is 22 meters, which means it is very clean. Maximum length is 33 kilometers (from St. Naum to Strug), width around 16.5 kilometers, and surface area around 350 square kilometers. Total length of the coastline is 97 kilometers; with two thirds in Macedonia and one third in Albania. It is a home for 17 species of fish, most popular among them being Ohrid trout, eel, Ohrid red spot trout (from which Ohrid pearl is made).
There used to be many fishermen around here, it was a true fishermen community. There are far fewer of them now with Ohrid trout fishing ban in effect. Due to uncontrolled fishing, this fish species that are crucial to this lake became endangered species, therefore the moratorium. (Ohrid trout gains one kilogram per 5-7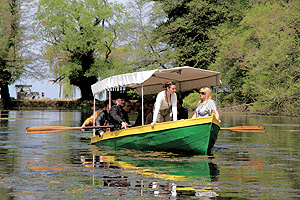 years, because there is less food for it, which is one of the reasons why it is considered endangered species.)
For many years we have had a large number of guests form Serbia: our experience with them is very pleasant. They are good, straightforward and warmhearted people, good customers, not stingy at all. In my opinion, they are satisfied with their stay here as well, and that's why they keep visiting again and again, which brings us tremendous joy.
I know your people fairly well, I took a ship captain exam in Novi Sad, so I am fully aware of what I am saying." (Petar Vasilev, the captain of the ship "Aleksandrija", one of the two used by Serbian journalists for cruising the Ohrid Lake in April 2010)
Pearls. Blagoja Risteski knows it all about pearls, those of Ohrid kind. He is a descendant of one of just a few Ohrid families, who foster the secret of this widely known valuable making. He tells us about it, while he takes us on a ride around the lake with his boat, where the Crni Drim springs up only to flow immediately into Lake Ohrid:

"Ohrid pearl is different from all the other pearls in the world. It is not created as one might imagine in pearl-oysters, but is made from the stomach scales of the unique Ohrid red spot trout. These scales are carefully taken, then cooked under special conditions, which results in a special emulsion from which the pearl is shaped. How it is cooked, under what conditions, whether you add something, why some get superb quality and some don't – these are the tricks of the trade of only a few Ohrid families and are passed from generation to generation."
Afterwards, Blagoja was showing us, in his restaurant "Ostrvo" on the very spring of the Crni Drim, beneath St. Naum, beautiful pearls form his workshop. One can't resist them, and your girlfriends or wives will surely forgive you many things if you do the right thing. The Risteski family has its exclusive shops in Skopje, exhibits on various fairs in the region, and is thinking of opening a luxurious shop in Belgrade.
***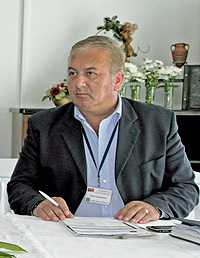 We are ready
"In Ohrid, there are 30.000 beds in total. 5.000 of them are in hotels, and the rest in so called private accommodation (I refer to it as "so called", because everything here is private). There are three, four, and five star hotels at your disposal, all refurbished, and strictly categorized, so one can know precisely the type of accommodation, and what it includes. Last year, we had most guests from Serbia, approximately one third of all guests. This whole economic situation, global economic crisis which affected us all, resulted in a certain decrease in the number of guests from Serbia last year, compared to previous years. However, they are still the largest group of tourists in Ohrid." (Goce Simonoski, the city Minister for tourism and local economic development of Ohrid)
***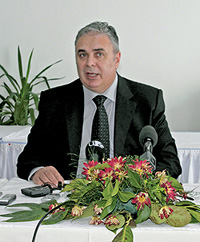 Excursions
"I must add something on this occasion. Travel agencies and education authorities of both countries should think long and hard about school excursions as well. It would be nice to have, as before, a lot of children from Serbia come to Ohrid, and children from here to travel to Serbia – to get to know each other better. We, the older generations, who lived in a common state, we know each other. But, younger generations don't. I know Serbia fairly well, but my son doesn't. So, I think, it is necessary to devote much more attention to youth, and their introduction to each other." (Aleksandar Petreski, the Mayor of Ohrid)
***
Music
There are countries whose essence is word. The others can only be understood through images. Some are just a great silence, or light reflecting over the water surface.
The essence of Macedonia is music. Without it, it becomes hard to understand this country and its people. We are aware of it on each step we take, and especially in fabulous restaurant "Belvedere", in the hotel that bears the same name, in the restaurant located on springs of Biljana, in the restaurant "Sveta Sofija" in Kaneo, and just by the water in various clubs and bars that offer great entertainment till sunrise.
You might have premium Macedonian wine in front of you (the one from Popova Kula), or traditional Macedonian gourmet dishes, or you might even fall for beauty of the Macedonian woman... But if it all lacks Macedonian music, you are not experiencing Macedonia.
***
Hospitality
Prestigious award "Oscar of Tourism – The Golden Glass of Hospitality" was awarded in 2010 to the city of Ohrid by the International Center for Tourism and Hospitality Development (SACEN). On April 28th in Belgrade the award was received by Filip Vasileski, special representative of Aleksandar Petreski, the Mayor of Ohrid.
This well deserved award is yet another acknowledgment of what, during the recent visit, both journalists and tour operators could certify, and it is the confirmation of the orientation of a great number of tourists from Serbia in last few years.