Notebook
NUMEROUS ANECTOTES HAVE REMAINED ABOUT THE RELATIONSHIP NIKOLA PAŠIĆ (1845-1927) HAD WITH JOURNALISTS, WRITERS AND THE PRESS
The politician who knew how to be silent
He was not known as a great spokesman, but many of his sentences are still quoted as examples of national wisdom. Both when he spoke and when he was silent, it was studied and measured from all sides. His unusual "casual remarks" would reach the person he is talking to suddenly, and much later. Only the frivolous would take lightly the words of this old fox, who led the Serbian government in some of the most difficult periods of the 20th century Serbia
By: Milovan Vitezović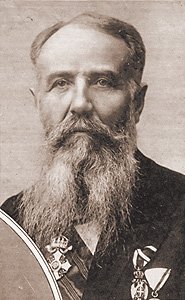 Politics. Expecting unusual definitions from him, journalists often asked Nikola Pašić what politics is for him.
"You know what politics is?" said Nikola Pašić once. "It is like when a straw needs to be lifted, and then the entire National Parliament tries with all their might as if it is a tree trunk. And when there is a tree trunk to be lifted, the, you know, only Laza Paču and I remain to do the work..."
Pose. In the eve of the Balkan Wars, Lev Davidovich Bronstein, better known as Leon Trotsky, came to Belgrade as a correspondent of Kijevske novine. He stayed there, living in Hotel "Moscow", until the beginning of World War One.
Writing about Nikola Pašić, Leon Trotsky said:
"Pašić lacks the orator's radiance and talent. However, there are at least two opinions about this, like about anything else in Serbia. Some believe that the Lord himself deprived Pašić of this gift. Most Serbs, however, think that this is Pašić's calculated pose."
Newspapers. The custom of journalists running to meet prime ministers and ministers is as old as newspaper. And it was already established in the time of Nikola Pašić's governments.
One day, Nikola Pašić enters the Government building and is ambushed by journalists.
"Mister President, what is the news?"
"I don't know, well, I haven't read today's papers yet", answers Pašić who, of course, was not born yesterday.
Rudeness. In the early 20th century, the poet Jovan Dučić, born in Trebinje, was a student in Paris, as a fellow of the Serbian government. His studies stretched for several years and more, and Dučić repeatedly requested an extension of his leave of absence. He had already become the subject of jealousy among Belgrade authors because of his poetry, and long studies gave reason to an even bigger gossip.
Since the author and professor Mile Pavlović was close to the president of Serbian Government Nikols Pašić, so much so that his spy in Bosnia, where he went as a travelling shoe maker, was nicknamed Krpa (Cloth), he once dared to address Dučić and his long studies in his conversation with Pašić.
"Please, mister Pašić, Dučić is really a fool – Ibrahim... Please, pardon my language, if he had studied with his ass, he would have graduated until now... It is simply rude!..."
"Well, you know, Mile, what you are saying is rude!" answered Nikola Pašić.

Leader. When, following the fabricated assassination of king Milan on St. John's Day, Nikola Pašić, trying to save his head, publically recanted and left his arrested friends from the National Radical Party to the mercy of enraged kings Milan and Aleksandar Obrenović, Radoje Domanović wrote his satire The Leader, as a parody of Pašić.
When the satire was published, there was a great commotion and anger directed at Domanović in Samouprava (Self-Government), the paper run by the radicals, because he worked for this paper. Radoje Domanović continued going to Samouprava, but he would make sure not to meet with Stojan Protić, and especially not with Nikola Pašić.
One day, an associate runs into the editorial office and cries out to Domanović:
"Rade, hide, the Leader is coming!"
Domanović rushes down the stairs. And just when he is about to get out, Pašić appears at the door. In order not to get stuck in the door, Domanović moves away, careful to avoid the conflict and watching Pašić's cane.
Pašić, however, smiles at him cordially and offers him his hand.
"So, it is you, Domanović! What are you doing now?"
"Oh, writing fiddlesticks!" mumbles Radoje Domanović, all confused and blushing.
"Hey, well, don't write fiddlesticks!" Pašić pats Domanović on his shoulder. "Don't, well, write fiddlesticks! Write good stuff instead... I, well, like your stuff, I like to read it... You, hmm, have your way with words. So, hmm, goodbye, and write, Domanović, write!"
Choice. At the beginning of the reign of Petar I Karađorđević, there were conflicts between Petar and Prime Minister Nikola Pašić. King's secretary Živojin Baluguić wrote offensive articles about Pašić in Štampa and Dnevni list. Nikola Pašić sued him. Baluguić had to escape prison sentence by leaving the country.
What he did not dare or did not want to say to the old king himself, Pašić did that through Milan Đurić, a parliament deputy and Užice archpriest. And what king Petar did not want to tell Pašić in his face, this, again, would go through this people's priest, with whom he had been friends since the time when he had not been king yet but duke-immigrant on Cetinje.
Whenever the relationship between king Petar and Nikola Pašić would grow tense, archpriest Milan Đurić would jump in to calm them down as much as he could.
"Listen, Petar, if you think that the people, in case it had to choose between you and Pašić, would choose you, you are terribly mistaken! The people rejected Obrenović dynasty, but they chose Pašić!" archpriest Đurić would bark.
Crowbars. New Serbian rulers were always more respected among the Serbs outside Serbia than in the country itself. In the conflict between king Petar and Nikola Pašić, Vrač pogađač, Serbian humorous magazine that was being published in Zagreb and printed in Cyrillic, was on the side of the sovereign.
In November 1905, Vrač pogađač wrote this about the new fall of Pašić's government:
"Changes in the government people see as a meteorological phenomenon. That is why all government falls, and even the last fall of Pašić's cabinet, the people comment by saying: Crowbars are falling down!"
(The news about Pašić published in Vrač pogađač was signed by HUZ, which was a secret pseudonym of Živojin Baluguić, king Petar's secretary.)
The vizier. Vrač pogađač, in which Sima Lukin Lazić was the editor and main author, in December 1905 published an article about the changes in Serbia that were not exactly that:
"In Serbia, Nikola Pašić reassembled the new old cabinet. Everything is according to Baja, namely as it used to be. Only the Serbian press is afraid that out of this Pašić's cabinet a new vizier could appear again (namely, the one that will tie its hands)."
The reader. Dimitrije Tucović, Secretary of Serbian Social Democrat Party and editor of Radničke novine, was once introduced to the Serbian Prime Minister Nikola Pašić.
"So, you are Tucović!? I read your articles, you have a sharp pen and piercing mind!"
"Mister President, I didn't know that you read the opposition papers!"
"Every real prime minister must read opposition papers, because he already knows in advance what his people write!"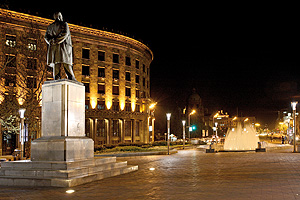 Typo. In 1906, Branislav Nušić was the editor of Samouprava, the paper of the National Radical Party, which was at the time when this party was in power considered to be the government newspaper. One day, Nikola Pašić, the party president and the prime minister, sent to Nušić an article against Austria and ordered it to be published immediately. The article ended as follows: "... and all this clearly indicates that Austria is the permanent butcher of Serbia."
Since Samouprava was then considered to be a government body, an Austrian emissary immediately sent a protest letter, requesting explanation for the use of the word butcher.
Before replying to the letter, Pašić calls for the editor of Samouprava and orders him to publish a correction in the next issue and to say that it was a typo.
"And what typo, mister president?"
"Well, hmm, figure it out yourself, why are you the editor and why are you Nušić!? It must be some kind of error!"
Branislav Nušić spent the entire night juggling this in his head. The following day, the correction was published: "In the issue before last, a typo occurred in the editorial, distorting the entire meaning. The last sentence should read: '...and all this clearly indicates that Austria is the permanent blood circulation of Serbia."
As a reply to the Austrian letter, only one copy of Samouprava was attached.
Ban. During the annexation of Bosnia and Herzegovina, Sveta Jakšić, the editor of Štampa,published a piece of news from Pester Lloyd. Because of that news, the police banned Štampa, and Sveta came to Nikola Pašić to intervene.
"Mister Pašić, I don't understand this action of the police!"
"Well, yes... You know, Sveta, it is good that you reprinted that thing, but, well, it is also good that the police have banned it."
"How is that good, mister Pašić!?"
"It is good, because it will get noticed from both sides!"
Walnuts. In 1908, on the occasion of annexation of Bosnia and Herzegovina, the poet Rista Odavić wrote a fierce patriotic and poetic comment, using carefully chosen metaphors to attack Austro-Hungary. He finished with Njegoš's verses:
Hard walnut is a strange fruit,
You won't break it, but it will break your teeth.
In these critical times, Nikola Pašić himself used to read all articles published by Samouprava. That is how Odavić's article came to his attention. He read it and called for the author:
"You know, hmm, Rista, these walnuts can be printed. The rest of it can't."
Provocation. During the Balkan Wars, Austro-Hungary did everything to provoke a conflict with Serbia, but in such a way as to make Serbia guilty of everything. The Vienna press constantly attacked Serbia. And although Samouprava was prepared to fight back with the same force, Nikola Pašić restrained them. Still, a short article against Austro-Hungary managed to get through.
"Hey, what is it that you are doing in the press?!" Pašić barked at the editor Jovan Nestorović, pointing at the article.
"Parrying the attacks, mister president... They keep provoking us..."
These words made Pašić pout even more, and he said:
"The one who provokes knows what he is doing. The one who is being provoked doesn't! That is why he must be smart and not let himself be provoked!"