Benefactors
"OUR SERBIA" HELPING CHILDREN FOR AN ENTIRE DECADE
School of Goodness and Friendship
Thanks to numerous benefactors from the country and abroad, this organization, with its support programs, included thus far 1,500 children from all over Serbia and Republika Srpska. Special attention and care are dedicated to children from Serbian enclaves in Kosovo and Metohija. Children are stimulated to nurture national identity, culture, language, alphabet, tradition and customs of their people, and to show solidarity and tolerance toward others. Above all, they learn how to be good people, so tomorrow they too can help some other children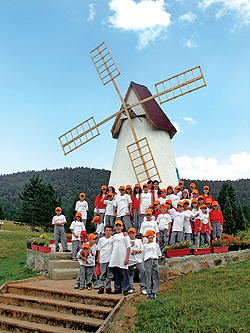 With a concert "Kolo to Our Serbia", held on May 15th at the National Theatre in Belgrade, the national Ensemble "Kolo" celebrated its 62nd birthday. The "Kolo" Day, established as the date when, in 1948, the People's Republic of Serbia founded this Ensemble of Serbian national dances and songs, was an occasion to celebrate another jubilee – 10 years of "Our Serbia", a non-governmental organization that provides support and protection for children. The Ensemble "Kolo" organized its concert as a gift to "Our Serbia", dedicating it to the children that this NGO is taking care of and to the benefactors that gathered around this organization.
Special significance was given to this event because of the presence of His Holiness Patriarch Irinej of Serbia, who blessed the gathered children of "Our Serbia". Also present at this event were Bishop of Jegar Porfirije, Tatjana Tadić, sponsor of numerous events and projects of "Our Serbia", conceptual creators of the organization – Mayor of Belgrade Dragan Đilas and its long-time president Mlađan Đorđević, Slobodan Vučićević, also one of the founders of the organization and the leading person of its long-term general sponsors "Grand kafa" and "Soko Štark", Draginja Đurić, president of the Executive Board of "Banca Intesa", who is the general sponsor of the activities of "Our Serbia", president of the Management Board of "Our Serbia" Željko Drašković and long-term associate from London Mira Radojević.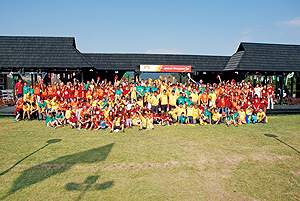 This event also gathered together numerous benefactors and friends, many of whom were with "Our Serbia" from the very beginning, helping its children, admirers of Ensemble "Kolo", guests from diplomatic corps. The guests were welcomed by Radojica Kuzmanović, Director of Ensemble "Kolo", and Sanja Pajević Bundalo, Director of "Our Serbia", and a special moment was the appearance of children taken care of by the organization, some of whom are already successful students.
Members of the children's folk dance ensemble KUD "Kopaonik" from Leposavić in Kosovo and Metohija appeared as special guests at the concert, attracting ovations in the audience. After this, Ensemble "Kolo" began its program of national songs and dances, presenting the richness of traditional culture in all its beauty and splendor of sounds and colors.
FOR WHOM, IF NOT FOR CHILDREN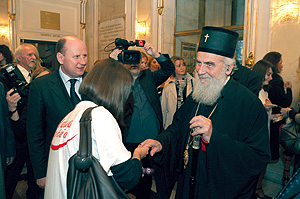 Cooperation with Ensemble "Kolo" is very important and stimulating for "Our Serbia". This cooperation was established upon the initiative of Goga Grubješić, when in June 2009, with the support form the agency "SuperStar worldwide", a big cultural and humanitarian event "Kolo of Friendship" was organized. Numerous famous Serbian artists were involved, in order to stimulate benefaction through the nurturing of traditional values.
Since its establishment in 2000, "Our Serbia" has been providing material and psychosocial support to children whose parents were killed, abducted or disappeared during the past wars in these territories. At the very beginning, the children and the work of "Our Serbia" were blessed by the late Patriarch Pavle of Serbia.
"Our organization gathers all people of good will, regardless of religious, national, professional and other differences", the hosts reminded us on this occasion. "Through our support programs, we are trying to contribute to improvement and advancement of general living conditions, education, social and health protection of children and youth. Special events are organized for the children in Serbian enclaves in Kosovo and Metohija, and within the program we also realize assistance for children in socially endangered families, talented children and students."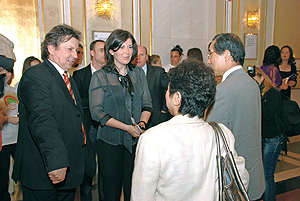 Thanks to the benefactors from the country and abroad, "Our Serbia", with its support programs, included thus far 1,500 children from all over Serbia and Republika Srpska, and the main and comprehensive project, School of Friendship, gathers every summer on Tara Mountain several hundred children taken care of by the organization and children from Serbian enclaves in Kosovo and Metohija, enrolling them in the program of upbringing-educational and sport-recreational workshops.
"The School of Friendship program, based on psychosocial support, is realized through joint participation of children in workshops in the fields of ecology, ethnology, language, singing and dance, sport, journalism, painting and sculpting, acting, computers, and this involvement is especially beneficial for children from endangered areas in Kosovo and Metohija, for whom this is a rare opportunity to move freely and to recover, in a friendly environment and beautiful nature, from worries and dangers they are facing daily."
TOLERANCE, IDENTITY, CULTURE, PLAY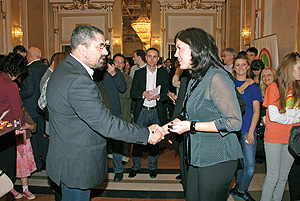 When working with children, "Our Serbia" stimulates the nurturing of national identity, language, culture, customs and tradition of Serbian people, as well as solidarity, civil behavior, tolerance and acceptance of differences in their relationship toward members of other nationalities and cultures. This summer, the tenth School of Friendship will last one month, and for the first time Serbian children from the region will participate in it – from Bosnia and Herzegovina, Croatia, Slovenia, Macedonia, Albania, Romania, Hungary and Montenegro, and they will have an opportunity to, in an entertaining and educational way, maintain their relationship with their home country and its fundamental national values.
"In addition to the program of regular financial assistance and the School of Friendship, the axis of our entire annual work, year after year we are initiating events the goal of which is to expand the circle of benefactors. One of them, the humanitarian event 'Sent a Greeting Card of Friendship', is dedicated to collecting funds to help the youngest ones in undeveloped areas, through the sales of local greeting cards created by children from elementary schools throughout Serbia. The result is the event 'Parks of Friendship', which enabled 180 village schools and outposts, in over 40 municipalities in Serbia, to get parks, for the first time, as developed areas where children can play."
Many years of initiatives of "Our Serbia" are an example of how, through wide partnership and joint actions of non-governmental sector, state institutions, humanitarian organizations in the diaspora, successful and socially responsible companies, as well as diplomatic missions of foreign countries, can do so much for the welfare of our children.
***
My Better Tomorrow
"Our Serbia" is teaching children to become good people and continue the circle of benefaction, so that one day they themselves could help some other children or people. Its mission is to contribute to the general wellbeing of children, thus contributing to the better future of Serbia, which is expressed in the slogan: "My Better Tomorrow".
***
Giving and Receiving
"Life gives back to us only what we give to others." This Andrić's thought is the motto of "Our Serbia" in its ten year long existence. Its numerous activities for the wellbeing of the youngest ones are supported by benefactors from the country and abroad. With this support, they make the childhood and future of Serbian children more beautiful and more joyful.