The Winner
VLADIMIR VUJASINOVIĆ, THE WORLD'S WATER POLO STAR, EXCLUSIVELY FOR "NATIONAL REVIEW"
Mystery of decisive moments
In dramatic moments, in those moments that are not for fainthearted, eyes full of hope and trust are looking at him. "Lord, what is this man made of?!" we would ask ourselves so many times when the eruptions of joy would subside. His ancestors came from the village of Ivoševci near Knin, he was born and began his career in Rijeka, become famous in Belgrade, Barcelona, Rome, Recco... In this town near Genoa he was proclaimed an honorary mayor. He won just about everything one can win in sports and was righteously nicknamed Vladimir the Great. And in 2008 he returned to Belgrade to end his career there
By: Dejan Bulajić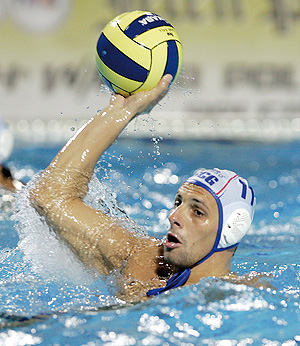 He was not the first athlete to be called "the Great", and will not be the last one. Journalists are squanderers who boast around with words like with someone else's money, whether they praise or criticize. Maybe that is why he did not pay attention to words when they were flattering, but turned his back to them, looking for something stable in his world.
"I know that many people have criticized me because I do not appear in public more often. That would be a logical consequence of what I do, and it could be beneficial as well. I never wanted that. I don't need additional publicity, and I don't want to be in the public eye constantly. What I appreciate much more is peace that I have with my family, and this is something I want to preserve. I prefer to, instead of public appearances, relax in my own surroundings, read a good book, listen to music, or simply play sudoku."
From the very beginning my family was not only the strongest support, but the witness of everything he has achieved in his career.
"For more than 20 years my life is sports, and my family had to adjust to this. My wife has been following me since 1994, when I moved to Barcelona. From there we returned to Belgrade, and then went to Rome and Recco. My son was born in Italy, he even gained friends there, but he started school here. My daughter, on the other hand, was born in Belgrade. Maybe I have imposed too strong a rhythm on my family and it was difficult to follow me, but I know that we have worked it out well and were flexible every place we moved to. We have been through so much and if I could chose now, I know wouldn't change anything."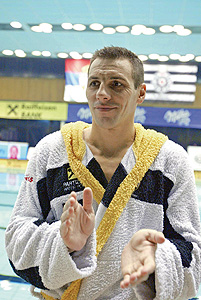 Sport has continued to post road signs in this family. His eleven years old son may be on his way to inherit the father, because he is playing water polo himself.
"Like many boys his age, he is full of energy and will. For me, it is important that he is involved in sports and I think all children should do that. They do not have to practice in sport clubs. They can go for a run with their parents in Košutnjak, or be involved in something else, for healthier growth and development. That is what I teach my son. Besides that, he will benefit from practicing a team sport. It's a life in miniature, and such children are much better prepared for what they will be facing in the society when they grow up."
However, there are some details he does not like in this story.
"I think that some things have changed in comparison with my time, but not for better. As kids, we used to practice twice a day, but it was a kind of fun one can find in a serious work. Nobody was able to make us leave the swimming pool after the practice. It's different today. Children are overburdened by practices, both physically and mentally. And while it is difficult to tire them out, because they are full of energy, it is easy to annoy them, which is much worse. We kill in them their honest will and make them face the natural selection too early. Those who endure, they move forward. That is the way it works now in all sports that desperately search for new champions, kicking very talented children out of the game with too much pressure."
DON'T HESITATE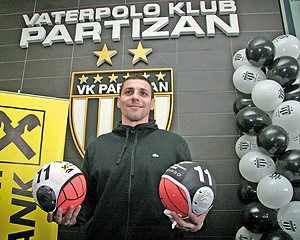 And while he is watching his son overcoming his first sports probations, he is helping her daughter collect her first life impressions. In their company, he becomes convinced that it is wrong to make long term plans in your children's lives.
"Everything I want is to make them aware of my moral principles and my way of thinking. That is what I pass on to them while preparing them for life. What will happen once they grow up, they will decide. I only want them to be carefree and unburdened."
Maybe his children will not be interested in how to become a champion one day, but many boys will definitely like to hear the answer exactly from him.
"A person at a certain age, if he has talent, must bite hard, be persistent and not give up. Nothing can interfere with his full commitment to sports. It is true that intelligence and natural predispositions mean a lot, but nothing ever happens without hard work and persistence. One of the main rules is not to hesitate."
That is how it was in his case, in which his first entry into the swimming pool did not, actually, lead to water polo.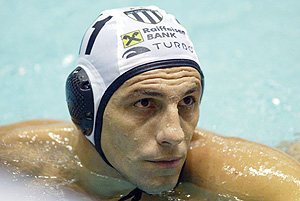 "A doctor's recommendation led me to the swimming pool, because I had problems with my back and flat feet. They recommended swimming, but I wasn't good at it, nor was I very interested. Fortunately, there was a rule at the club that weaker swimmers would be transferred to water polo school, and there I was on the right place."
It all happened in Rijeka, where Vlada was born in 1973. He began his career in the local "Primorje", where he played from the beginning of war conflicts that announced the breakdown of the country. After moving to Belgrade, he joined the "Red Star", which was one of the best clubs at the time. However, he reluctantly looks back at that time.
"Red Star was very strong then and it would be much better if they had a stronger league now. But that entire period was upside-down. On one hand there was war and everything that goes with it, on the other hand they imposed sanctions on us and prohibited us to compete internationally. The entire generation in our sports was denied what gives the elementary meaning to the work that we do. I expected much more from that period compared to what I got. But at least I learned that I must not give up what I love and that I must be persistent."
BRIGHT AND DARK MEMORIES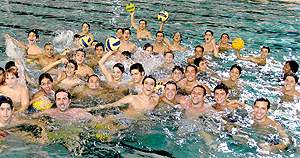 There is another detail from his career he is reluctant to recall, although it is crowned with glory. It is the triumph in the finals of the European Championship in Kranj in 2003, against Croatia, when their fans created big riots.
"I almost erased that victory from my memory, because everything was very ugly. Croatian fans were so enraged that we expected them to turn against us. We even planned to jump into the water and wait for them there, if it would come to that. I am sick of vandalism and everything about it. In that poor organization they even didn't announce the winners, they gave us the medals in a small room, without the flag and national anthem. It was pitiful and it didn't look like anything."
If he were to choose one of his most favorite trophies, which he is reluctant to do, that would probably be the gold medal at the European Championship in Belgrade in 2006. This is primarily because it was won before the local audience, and for the first time under the name of Serbia. However, in addition to numerous medals he has won, one remained as an unattained wish – the Olympic gold.
"It is a painful spot of the entire generation. We will probably never forget the final match in Athens in 2004 and being defeated by Hungary. But my generation still has something to be proud of. Three Olympic medals are not insignificant, despite the fact that none of them is gold."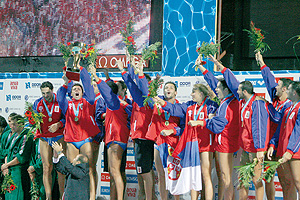 Vlada belongs to the generation comprised of excellent athletes and very strong personalities. There is always a question as to how difficult it is to fit strong individuals into a harmonious team?
"It is certainly not easy, and depends a lot on both strength and character of each of us, and strength of the trainer and people around the team. There were many great teams that didn't achieve anything because of inner disharmony. When you take into account our representative generation with all character descriptions, how long we have been together and how many medals we have won, it seems that we were able to get along and to suppress personal extremes. There are always exceptions, nothing is perfect, but we still managed to understand one another and get along. I played in the best European clubs, with the best players in the world. It is a great honor to be a part of such a team; if you approach it in that way, then it is easy to find the right spot in it."
In such teams, he was the leader, the player for decisive moments. One of those that everyone will turn to in most difficult situations.
"I cannot explain this. Whether it is a gene, a nerve, experience, it will remain a mystery for me. A psychology professor once told me that in this science it is a mystery what is happening in athlete's brain in the most decisive moment, when he takes the decision upon himself. Penalties, free throws, the last throw, all that involves a strange reaction of the body to what is happening to it. What happens inside a person in such moments will probably always remain a mystery."
CHAMPION AND MAYOR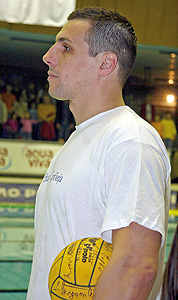 He has received numerous recognitions for everything he has achieved in his career. In various surveys he was proclaimed the best player in the world, and has received this recognition many times in Serbia. However, one acknowledgment stands out, because it is not athletic in nature. Namely, thanks his contributions to excellent results achieved by "Pro Recco" in the past decade, Vlada was proclaimed an honorary mayor of this small town near Genoa.
"That is probably the brightest moment in my career, because it is an exception from everything I have done and experienced in sports, but is still related to it. This recognition merged together everything I had done in Recco, as a player and as a person who lived there and who left a special mark in it. I am very glad that people in this town recognized how devoted I was to them. They gave me great honor."
It seems that he will end his career in "Partizan", a club that has been dominant locally for years, and which represents one of the beast teams in Europe as well. However, how long will this last in the conditions that are predominant in Serbia?
"Partizan lasts and will continue to last, but the question is in what way. The lack of funds is shaking the club and is threatening to completely disturb it. Whether this can still be followed by good results and how long that will last are questions that we should leave to those who think they know everything. I cannot say that I am a big optimist, but I hope that we will at least be able to continue generating good players and that there will always be some of us here to welcome the boys who would like to play water polo. That is maybe the most that we can expect at this moment, and hope for better times."
Although  already in an advanced sports age, he still has the drive to compete and practice hard. He is the leader of yet another excellent generation of "Partizan" and is in no hurry to decide what he will do once he puts an end to his career as a player.
"Practice and games are still not a problem for me. They still fill me with strength and give me a strong motive. For as long as it lasts, I will last as a player, and when I feel it is time to stop, I will start thinking of what to do next. Since almost my whole life was related to water polo, I have no doubts that I will stay in it even after my active career has ended. What kind of work that will be, I cannot even imagine because, honestly, I am not thinking about this yet. When the end comes, I will know what way I should move forward."
His generation withdrew from our water polo representation after the Olympic Games in Peking in 2008. There was a fear that a great emptiness would be left behind them, but it turned out that the successors could aptly replace them. There will be real champions among them, but it will take a long time until some of them, or maybe someone completely new, deserves to be called "the Great", both by the co-players and the opponents. And to preserve that nickname with ease and coldly, on that thin line that separates the great ones from everyone else.
***
Road
He was born in Rijeka in 1973. His parents are originally from Dalmatia, the village of Ivoševci, near Knin. He began his career in Rijeka club "Primorje". He continued in "Red Star", "Barcelona", "Roma", "Partizan" and "Pro Recco", only to return to Partizan" in 2008. He was 17 when he débuted for the representation in Kotor, playing against France. In this match, he made his first goal for the representation. He has been a permanent member of the representation since 1995, and its captain since 2003. He played in 341 matches for the representation and made 391 goals.
***
Honors
In addition to numerous other honors, Vlada Vujasinović was proclaimed the best player of the European Championship in Budapest in 2001. He was the best athlete in Serbia based on the survey conducted by magazine "Sport" in 2003, and two years later he received the same honor from the Olympic Committee of what was then Serbia and Montenegro. With the representation he won: one silver and two bronze Olympic medals; gold, silver and two bronze medals in world championships; three gold and two silver medals in European championships; three gold and one silver medal in the World League; one bronze in the World Cup.