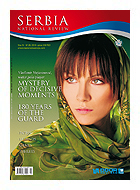 SERBIA - National review no. 20

Prologue
No, we have not miscounted. Before us is the 2oth issue of the bimonthly SERBIA – National Review, the edition that leads us deep into our fourth year. And it seems, sometimes, that as many decades have passed. When we started, friends would waive their heads in disbelief. They would call us Don Quixotes. They would show us the models of currently "successful and high circulation" publications that are, point by point, exactly the opposite of what we want to create. "If you start, in not more than a year all this will be closed and sealed with an aphorism: It is the wrong stone! They told to Sisyphus on the top.
And there, here we are, and there is many more of us than at the beginning. No, we have not miscounted.
And it does matter.

Stay with us.
GALLERY
CONTENTS
Prologue
20
Vitrage
NUMBERS, EVENTS, INTERESTING THINGS

Beautiful Face of Serbia
PHOTOGRAPHY BY FADIL ŠARKI
Belvederes
ACADEMICIAN SVETLANA VELMAR JANKOVIĆ, WRITER, EXCLUSIVELY FOR "NATIONAL REVIEW"
On the Road with a Load of Gifts
At the beginning, in the middle of the previous century, she was considered the Serbian Gertrude Stein. She has been a writer ever since she became aware of herself, even at times when she hid it from others. It seems that this is what helped her survive both the years of suffering and the years of success. She discovered and accepted her famous father Vladimir Velmar Janković through resistance. If there had not been any difficult experiences in the past, she says some essential values of life would have remained unreachable for her. What more can one say after everything we have been through, all of us together and each of us individually?
By: Mila Milosavljević
Photo: Dragan Bosnić
Roads
RAVNA GORA, ON SUVOBOR, ABOVE THE SHADOWS OF THE PAST AND THE PRESENT
Liberated from the winners and the defeated
In World War II, after the fast fall of Yugoslavia, the headquarters of the guerilla Yugoslav Army of the Homeland (Chetniks) was stationed there. After the war, it seems as if the political ruling of the winners against the defeated, communists against monarchists, was a sentence against this mountain as well. It was left without access roads, electricity, water, or people. Only occasional nature lovers and enthusiasts would, almost secretly, come to the beautiful flowery meadows, clear water creeks from which the water can be drunk, picking medicinal herbs and mushrooms from pristine forests. They enjoyed the solitude and silence of the mountain. Half a century after the war people started coming to this mountain, bringing along problems
Text and photographs: Milan Janković
Sailing
HOW TO TRULY EXPLOIT TOURIST AND ECONOMIC CAPACITIES OF RIVERS
Potentials of Serbian river banks
In 2011, the EU will adopt a special Strategy for the Danube, which clearly indicates the significance of this river, 500 kilometers of which run through. Serbia still has a lot to learn in order to activate and wisely exploit the treasures of its rivers and canals. Ports, marinas with arranged berths, fuel stations and modern repair shops are missing, as well as numerous related programs that would attract tourists to come and stay longer. In all this, there are also "developmental traps" one must certainly not fall into
By: Milan Brašanac
Across the river
BANJALUKA, BEAUTIFUL CAPITAL OF REPUBLIKA SRPSKA, BECOMES THE CENTRE OF THE MOST ATTRACTIVE TYPE OF MODERN TOURISM
Led by the spirit of adventure
This elegant and very neat city, without any oriental elements in its temperament and appearance, even today preserves the memory of Tisa Milosavljević from Niš, A general and the first Vrbas governor, who built the most valuable edifices and symbols of Banjaluka in only four years. And near the centre, on the clean and incontinent hills of Vrbas, excellent terrains and tracks for true adventurers have been developed. Rafting, hydrospeed, canoe, kayak, canyoning, but also paragliding, parachuting, free climbing, speleology, mountain climbing... The way it really looks like is presented by the reporters of "National Review"
By: Olga Vukadinović
Photographs: Zoran Pejašinović, Dušan Milijić
Visiting
CITY SUSPENDED ON THE ROCK, THE CAPITAL OF MACEDONIAN TOURISM, AND HOME OF ITS SOUL
There are no Random Loves
For several years Serbs have been the most numerous visitors in Ohrid. Natives tend to say, the best ones: simple, hearty, hot blooded, not stingy. At the end of April, "National Review" organized a visit to Ohrid for a number of prominent reporters and tour operators, just to make sure what the new season will bring
By: Bane Velimirović
Photos: Dragan Bosnić
Event
THE THIRD "KOLUBARAFEST" SUCCESSFULLY ORGANIZED IN LAZAREVAC
Encounters that make us stronger
Manufacturers from three regional countries presented their products, as well as reputable banks and car, agricultural machinery and equipment manufacturers. "In addition to mines, at this location we want to develop agriculture and tourism, in order to offer to local and foreign consumers – in addition to the cleanest energy – the healthiest food, which is not genetically modified", said Branko Borić, President of the city municipality of Lazarevac
By: Aleksa Mitić
Road Guardians
SERBIAN MEDIEVAL FORTIFIED CITIES: SMEDEREVO
The last glow of old Serbia
After the death of Despot Stefan Lazarević in 1427, when Belgrade was contractually returned to Hungary, Serbia was left without a capital. Upon decision of Despot Đurađ Branković, the new capital was built on the confluence of the small river Jezavica into the Danube. Their model was Constantinople itself, the city of all cities, works were supervised by Toma Kantakuzin, and the construction was completed, amazingly, in only two years. Everyone in the state made big sacrifices to achieve this exploit. This magnificent capital that "grew like a mushroom" was the end of Serbian golden Middle Ages. Despite the destructions in both world wars, it is one of the best preserved medieval fortifications in Serbia even today, with potentials that are yet to be seriously exploited
By: Vojislav Filipović
BG
LEGENDS ON BELGRADE (2)
Doomed is the one who does not love
Why does the Danube water, crossed right in Belgrade, tell the fortune? Why do people remember those who build, and not those who demolish and burn? Why did the Roman sculptor want to sign on the sky above the White City? Does Slavija, in its name, remember the girl or the nightingale? How did old Slavs see, in a distance, their white stone castle in the sun? Has all this reached us as knowledge or as a dream?
By: Dragan Lakićević
Notebook
NUMEROUS ANECTOTES HAVE REMAINED ABOUT THE RELATIONSHIP NIKOLA PAŠIĆ (1845-1927) HAD WITH JOURNALISTS, WRITERS AND THE PRESS
The politician who knew how to be silent
He was not known as a great spokesman, but many of his sentences are still quoted as examples of national wisdom. Both when he spoke and when he was silent, it was studied and measured from all sides. His unusual "casual remarks" would reach the person he is talking to suddenly, and much later. Only the frivolous would take lightly the words of this old fox, who led the Serbian government in some of the most difficult periods of the 20th century Serbia
By: Milovan Vitezović
Ars sacra
ANA KAPOR, A SERBIAN PAINTER FROM ROME, IN A QUEST FOR THE MAGIC OF THE URBAN
City as an art and miracle
Ana builds on the great tradition of Italian maestros enchanted with architecture, those who searched through edifices and ruins like through archives, perceiving the urban as a kind of grandiose history and repository of centuries. However, her approach and poetics makes her, in this respect, unequaled in the recent arts. She is not concerned with the phenomenal, but with ideational aspects of the urban, she is not exploring types and perspectives, but city as an archetype, symbol and secret. For this reason, her paintings do not feature webs of alleys, boats in a harbor, street vendors, atmosphere of evanescence and traces of humanity. She is a painter of the ideal, eternal, celestial city, fortress of God, a trap for the soul described by Saint Teresa of Ávila and Leonid Seika
By: Dejan Đorić
Horizons
SLOBODAN VLADUŠIĆ, NEW SERBIAN LITERARY STAR, EXCLUSIVELY FOR "NATIONAL REVIEW"
Literature as a pattern of survival
"Literary awards are not the result of competitions between authors. Every real author is actually competing with him or herself; when they finish their work, they already know whether they have won. There are very few artistic works today that go beyond the set framework of 'political correctness', works that manage to reach the margin from where they can distort the centre. Serbian literature today is exactly that balance between one's identity and openness for the foreign, which enables small nations to survive. Serbian politics, unfortunately, frequently lacks that balance"
By: Teodora Ž. Janković
The Winner
VLADIMIR VUJASINOVIĆ, THE WORLD'S WATER POLO STAR, EXCLUSIVELY FOR "NATIONAL REVIEW"
Mystery of decisive moments
In dramatic moments, in those moments that are not for fainthearted, eyes full of hope and trust are looking at him. "Lord, what is this man made of?!" we would ask ourselves so many times when the eruptions of joy would subside. His ancestors came from the village of Ivoševci near Knin, he was born and began his career in Rijeka, become famous in Belgrade, Barcelona, Rome, Recco... In this town near Genoa he was proclaimed an honorary mayor. He won just about everything one can win in sports and was righteously nicknamed Vladimir the Great. And in 2008 he returned to Belgrade to end his career there
By: Dejan Bulajić
National TV
TATJANA ĆITIĆ, MA, EDITOR IN CHIEF OF DIGITAL PROGRAM OF RTS
New age of television
Apart from much better image, sound, and new image formats, digital video broadcasting will enable us to have far more electronic media in the air, and direct access to them via antenna (in Belgrade around 60). Nevertheless, qualities of authors, editors and reporters shall remain crucial. Not before interactivity, that will enable the viewer to be the creator from a sofa (for example, to chose from which camera the sport coverage will be followed), we won't witness any major genre novelties. Anyone who doesn't find himself ready for new trends in electronic media development, will hardly be able to survive in media market
By: Goran Budimir
Benefactors
"OUR SERBIA" HELPING CHILDREN FOR AN ENTIRE DECADE
School of Goodness and Friendship
Thanks to numerous benefactors from the country and abroad, this organization, with its support programs, included thus far 1,500 children from all over Serbia and Republika Srpska. Special attention and care are dedicated to children from Serbian enclaves in Kosovo and Metohija. Children are stimulated to nurture national identity, culture, language, alphabet, tradition and customs of their people, and to show solidarity and tolerance toward others. Above all, they learn how to be good people, so tomorrow they too can help some other children
Jubilee
180 YEARS OF SERBIAN ARMY GUARD
Belonging to elite is an obligation
It was being created and developed together with the new-century Serbian state and its army. It always represented those chosen among the best, the elite of not only the army but the state and society as well. The elite of virtue, beauty, honor, loyalty. In Serbia, to be a guardsman has always been the source of greatest pride, as well as the highest obligation. None of this has been profoundly changed by time or fate
Text and photographs: Magazine "Odbrana"
Jubilee
THE FAMOUS NOVI SAD GYMNASIUM "JOVAN JOVANOVIĆ ZMAJ" IN THE SERIES OF IMPORTANT DATES
Four Centuries of Continuous Education
On Saint Sava's Day in 2010, this top quality school celebrated the 200 years since the establishment of the Serbian Orthodox Grammar School, its predecessor. Next year, in 2011, it will celebrate 280 years since the beginning of the Spiritual Academy of Bishop Visarion, and in 2013, it will be exactly 310 years that the school has existed on the same location, in the yard of St. George's Church. Many reasons to remind ourselves of that bright chronicle, in which a lot more can be learned than about one educational institution
By: Đorđe M. Srbulović
School
CRIMINALISTICS-POLICE ACADEMY IN ZEMUN
Nursery for security staff
The only higher education institution of this type in Serbia today, KPA builds on a 130 year long tradition. In addition to comprehensive general education, it provides its students with numerous special skills necessary for efficient conducting of security activities in the 21st century, from understanding high technologies, through medicine and forensics, to high level martial arts. "The main driving force of our students is their wish to represent their country tomorrow and to ensure safety of everybody in it", says the Dean, professor Goran Milošević, PhD
Introducing
BELGRADE MUNICIPALITY ZEMUN IS READY FOR THE ANNOUNCED "DEVELOPMENTAL STRIKE"
The power of new bridges
When the magnificent Zemun Bridge was built over the Sava River, this town officially became a part of Belgrade capital, entering the most turbulent growth in its history. When, three years from now, the bridge over the Danube, between Zemun and Banat, is completed, according to the experts, this municipality will face "just as big wave of prosperity"
Music
FOUR GOLDEN DECADES OF ENSEMBLE "DANILUŠKA"
The fire of Slavic expanse
From the first tones made by the renowned artists, such as Olga Jančevecka, Živan Saramandić, Duško Jakšić, Iveta Hlopeckaja, Merima Njegomir, this ensemble held over 4,500 concerts in the country and abroad, out of which 1,500 humanitarian ones. During that time, Danilo Danilović, the founder and leader of "Daniluška", composed about 4,000 songs and made more than 1,000 arrangements for many famous singers. They play many things, but the trademark of this ensemble is Russian Gipsy music. They are maybe best remembered for the soundtrack for the 1974 TV series "A Grange in the Small Marshland"
By: Radmila Tamindžić
Lighting
HYDRO POWER PLANT "MORAVICA" WORKING SINCE ST. NICHOLA'S DAY IN 1911
And the entire town joined the celebration
At that time, electricity already illuminated eight cities in Serbia, but none in the Moravica District. Citizens of Ivanjica gathered in 1907 to address this issue. They ordered the equipment from the company "Siemens-Schuckertwerke", had it delivered to Čačak by rail, and then by ox-drawn carriages, at their own expense and their own risk. Only when, on St. Nichola's Day four years later, Ivanjica lit up in the middle of the night, the deliverymen realized why Master Milutin needed all that iron
By: Zoran Plavšić
Leaders
MR NENAD OGNJENOVIĆ, GENERAL MANAGER OF "GALENIKA AD", THE OLDEST PHARMACEUTICAL COMPANY IN SERBIA
The future begins now
The pharmaceutical factory from Zemun entered 2010 as a state-owned company, which was not unfavorable either for the company or for the state. Last year, 12 new medicinal products were registered, the annual profit increased to 670 million dinars, 16 million euros were paid into the state budget, the value of production increased by 17 percent, and export by five percent. The greatest success, however, was the completion of the new factory of solid medicinal products, which increased the value of this company for at least twice the value of the investment. This, however, is not the end of the growth or investments
Insurance
"DDOR NOVI SAD" AND JAT AIRWAYS
Free travel health insurance
Passengers of Jat Airways, who travel to EU countries, will receive free travel health insurance during their stay abroad, with their return airplane ticket: "DDOR Novi Sad" will cover expenses up to five thousand euros
Flight
INTENSIFYING OF THE TRAFFIC ON NIŠ AIRPORT "CONSTANTINE THE GREAT"
World on the Palm of the Hand
The activating of Niš air harbor has great economic, cultural, communication and tourism significance for the entire Southeast Serbia. It now takes an hour and twenty minutes to reach Italy, and a round trip fare is 16 euros. The number of tourists in Niš increased by 20 percent
Roads
BELGRADE "LASTA", REGIONAL LEADER IN ROAD TRANSPORT OF PASSANGERS
History of safe flight
Back in 1947 trophy busses and trucks were salvaged, 80 laborers were hired, the first bus stop was built in Belgrade Tašmajdan Park (near St. Mark's Church), and so "Lasta" ("Swallow") had taken off.  Among the first salvaged busses was a three-axle "Mercedes", which served as the headquarters for General Rommel on the North African front during World War II. Sixty three years later, this company has carried more than 2 billion passengers, and its busses have passed as many kilometers. It has 935 buses, a vast network of branch offices, and almost 4000 employees. And it still flies