Diaspora
DR SLAVOMIR GVOZDENOVIĆ, POET, PRESIDENT OF THE ASSEMBLY OF THE DIASPORA AND SERBS IN THE REGION
All Gathered under One Roof
About four million Serbs live today outside of Serbia. All of them have many problems, but also represent a great potential. As the blessed deceased Patriarch Pavle said, it is not important just how many of us there are, but what we are like. It is time to gather, look one another into the eye, regain trust and see what we can do for one another. Serbia must be a mother, we must be good children. Emotions are undisputable, but we must also be pragmatic, hard-working, concrete
Text and photo: Mišo Vujović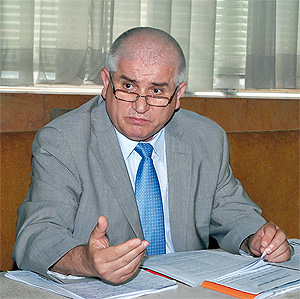 At the first constitutive Assembly of the Diaspora and Serbs in the Region held at the beginning of July in Belgrade, the remarkable writer, public and cultural worker, one of the leaders of Serbs in Romania, Mr. Slavomir Gvozdenović, was elected president. Professor of Serbian language, poet by vocation, fighter for preserving the Serbian identity in Romania by orientation, this energetic fifty eight year old man, besides a fruitful creative work also has a rich political experience as member of the Romanian Parliament representing the Serbian minority.
Many think that the Serbian Diaspora is a great potential, yet a very inaccessible scattered shore, with abandoned hidden islands, rejected and forgotten by the motherland. How do you see the Serbian Diaspora today?
The Serbian Diaspora indeed has a great economic power. We have seen that 3,5-4 million Serbs live scattered on all continents, all over the world. It is a huge potential. In Belgrade we have also seen that there are good intentions to gather all of us under one roof. In that sense, we are for the first time connected with the motherland through institutions, with all our hopes, wishes and problems. We have an enormous task before us, and whether we will succeed and how much we will do depends on us, as well as on our motherland Serbia. During its turbulent history, Serbia sometimes forgot us, often renounced its children. And all of us, whether from the home threshold or from a bit further, used to look at it with love and longing. In the meantime, history has taught us to be practical and pragmatic, yet we are still very emotional inside. In Serbia both must be understood and taken into consideration.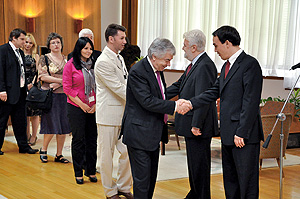 What is the main function of the newly established Assembly of the Diaspora and Serbs in the Region? What are its priorities and is there any strategy for a more active participation of eminent individuals, companies, institutions and organizations from the Diaspora in the economic and cultural life of Serbia?
The Assembly of the Diaspora and Serbs in the Region mainly has a consultative function. I repeat, it is the first institution connecting us to the motherland, and as its first president I believe that the priority is to make an inventory of all problems. There are many, as we have seen in Belgrade, from investing into Serbian economy to preserving culture and education in the mother tongue. I think that, during collecting those big problems of Serbs scattered around the world, we should care about how to return the shaken confidence, how to impose mutual respect in those new relations for a more concrete and more efficient cooperation. First of all, it is necessary to collect the general problems in one place, and then the specific ones from individual countries or regions. Then, it is necessary to address the Serbian state institutions with an open letter which would include all our thoughts, problems and suggestions. It could be a strategic move for all of us. A serious approach to all this could be a signal for those who wish to invest in Serbia, those to want to return, that it can also be different in the motherland. This could also return the trust of the Diaspora shaken or lost during the previous decades, from which Serbia suffered the greatest damage.
AN ENORMOUS TASK IS BEFORE US
Is there a joint project of the Diaspora and the Serbian government, before all the ministries of economy, culture, science, agriculture, for a more active inclusion of the Serbs from the Diaspora capital into the economic life of Serbia?
Joint project are in plan. Based on existing regulations, as well as new legal solutions (in which the Assembly of the Diaspora and Serbs in the Region should be more actively involved), wider possibilities should be created and investors offered more guarantees. We are at the beginning, aware that this will be neither smooth nor simple, and that an enormous task is only awaiting us. Now it is up to Serbia and Belgrade, not to have everything, as it had happened many times before, end on polite words and brotherly love (which we indeed have).
Besides nice words of greeting and protocolary welcome, did the 49 representatives of Serbian Diaspora receive any project assignment from the representatives of the Serbian state?
After we had been nicely, warmly, humanely and brotherly greeted in Belgrade, it was obvious, apart from any protocol, that there is a great wish to finally connect in a different way, as someone nicely reminded: to let God lead us, to multiply and concur. This does not request any project. The projects should follow, they should be concrete and real. One cannot expect much to happen overnight. Both for the projects and their realization, we will need skills, efforts and patience.
According to official data, there are about 3.500.000 Serbs living in the Diaspora, and only 40.000 among them have the voting right. Furthermore, only a small percentage with the voting right uses that right. Will the Assembly through its representatives be able to initiate more of our compatriots to take a more active part in communicating with the motherland?
That is where we could perhaps make the most concrete moves. People should be returned their taken away passports, the process of issuing passports and granting Serbian citizenship to those who never had it should be simplified, as well as the process of returning to the motherland. Furthermore, Serbian emigration should be turned towards the homeland and returned to it, and care should be taken of the status of Serbs in each of the former Yugoslav republics. Through bilateral relations and cooperation with its neighbors, Serbia must take more care of the Serbs who are national minorities in their domicile countries. Those Serbian minorities may be a very important factor in the political balance between the motherland and its neighbors. Same goes for the Serbian community in Romania, whose delegate I am in the Assembly of the Diaspora and Serbs in the Region.
I WATCH SERBIA WASH ITS FACE

What are the biggest challenges today for our people living outside of Serbian borders?
Everything I have pointed out is a big challenge for Serbs outside of their motherland. If the investments of the Diaspora in Serbia are a priority, we must also add the stated problems, as well as specific problems of each Serbian community. Such an approach could be a sign of recuperation of the relations between the motherland and its children scattered all around the world. Citizenship is a problem for all the Serbs who want it, being granted a voting right is also important for all Serbs in the Diaspora, including us from the neighborhood, however Serbs in Romania also have specific problems – preserving the last Serbian schools in Romania, returning the property of our church and individuals. We are separated from our motherland by an unfortunate border and Serbia was furthest for us even though we could see it from our doorstep. ("I watch Serbia wash its face", my grandfather once told Matija Bećković.)
The looking towards Serbia kept many of us alive in the previous regimes. Every segment of the Serbian Diaspora has a similar story, regardless of whether they are our brothers at long or short temporary work abroad, or the Serbian economic and political emigration prior to World War I, between the two wars, and especially after World War II, when many good Serbs had to flee from Broz's regime, or, last but not least, Serbs from the region. Just imagine how many problems Serbs in former Bosnia and Herzegovina or Croatia have. Serbia must be a good mother to all of us, and all of us must make an effort to be good children, remaining good and honorable citizens of the countries we live in with our families, with a great historical and cultural heritage.
I reminded in Belgrade how good it is to connect with Serbia through institutions, with its state, spiritual and cultural institutions. I emphasized that it is a huge task, and what a task it was for our ancestors while, when founding institutions in Serbia such as Matica Srpska in Novi Sad or Society of Serbian Literacy (future SANU) in Belgrade, they built themselves, many also their large estates, into their foundations. Such examples are not only among Serbs in Romania, Hungary or Croatia. The new relationship with Serbia is built starting from such examples. In the past, we used to be a nation in the Austro-Hungarian Empire, we defended both the Empire and the motherland, while today we need understanding and support from Serbia in specific Serbian affairs. Therefore the connections and cooperation must run both ways, with mutual esteem and respect.
What do you expect from the Serbian state? What is your opinion about the present national politics of the pro-European government in Belgrade?
Serbia must create its national politics towards the Diaspora without giving up the path towards Europe. Being a good Serb is not opposite to the Europeanization of Serbia. The best example is the Serb and European Dositej Obradović, both from Čakovo and Timisoara. He embraced Europe, stood side by side with Karadjordje, educated his people. Perhaps his orientation and his path could be a pointing arrow for us today. Naturally, in different circumstances, when globalization is crushing us and when Europe does not have much understanding or mercy for us.

***
Biography
Slavomir Gvozdenović (Belobreshka, Romania, 1953) graduated in Serbian language and Yugoslav literature at the Bucharest University and received his doctoral degree in 2000 ("Language and style in the poetry of Vasko Popla"). He is member of the Writers Association of Romania, honorary member of the Writers Association of Serbia, member of the Writers Association of Srpska. He is cofounder of Vuk's Legacy, member-associate of Matica Srpska (since 1995), founder of the Writers Association of Serbia affiliate in Timisoara, and one of the initiators of the League of Serbian and Romanian Friendship in Bucharest and Timisoara.
He published about thirty books of poetry and collected a dozen anthologies of Serbian literature. With his poetry, he is included in several dozens of Serbian, Romanian and European anthologies, as well as Serbian schoolbooks. He won many important Serbian and Romanian awards…
***
Assimilation
"The drastic decrease of the number of Serbs outside of Serbia is not a problem only in Romania. It is a big danger for both those far from and near Serbia. For us in Timisoara it is more painful than anything else. According to the census from 1992, there were almost 33.000 of us, while at the repeated census from 2002, only 22.568 remained. We were eaten by forced and natural assimilation, low birth rate, mixed marriages. So many things were against us throughout history. Today, looking at telephone books, one can see that several hundreds of thousands of names sound Serbian. And the enormous historical and cultural treasure must be preserved in Timisoara, Arad and our other places in Romania."
***
Church
"In the past, the Serbian Orthodox Church had 4 eparchies, while today it is reduced to the Serbian Orthodox Vicariate, which is now in process of regaining the title of eparchy. Even in such conditions, we preserved 56 churches and 5 monasteries, among which Bazjaš and Zlatica are legacies of St. Sava, the only ones on the left bank of the Danube."