Memory
THE 50TH TRUMPET FESTIVAL: ABOUT POETS WHO CREATED, ASCENDED AND SAVED "GUČA"
In the Spirit of the Unsurpassable Macho
"Everything seems to change. The Festival remains the same. Like an element. Earth. Air. Water. Roast pork. Bread and bacon. Garlic. The first and last one in the kolo dance. The Festival is really a wonder. A wonder of wonders. It took a lot of courage to march the streets of Guča then. In a Serbian folk costume. With a Serbian folk hat on your head. In the presence of the authorities. Followed by trumpet players… Sneaking up. In disapproval. Defying. Defiance is about to grow. The true defiance is about to defy. In omnipresent doubt"
By: Bane Velimirović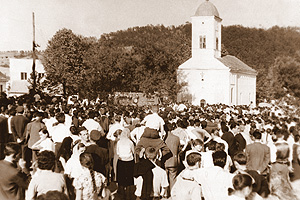 And so, who would have thought, the fiftieth Trumpet Festival in Guča is before us. A whole history of the Festival is behind us. Many formerly main histories became marginal today because of it, many side ones irreversibly flowed into it. Books were written, songs sung, movies made, jokes and cheers, seductive statements and tombstone inscriptions. "Short and deadly, long and meuble."
Half of it you can throw away immediately. Without a guilty conscience, with the feeling you are doing a good deed. Ashes to ashes, the worthless to the garbage can.
Today, after everything, it is harder than ever when the untalented ones write about "Guča". When those fallen into kitsch demonstrate their divineness and their ungentle belonging to the people. When the real beauty of the folk is allegedly eternalized by bad verse writers and charlatans. Vermins.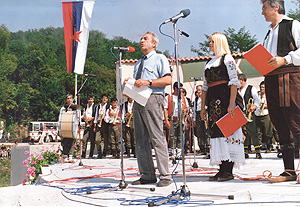 But why? Kitsch and charlatanism are a general mark of this pinkish époque in which so many mortal ones were lured to the farm, and then forced into the pen. Why is it harder to accept in case of "Guča"?
Because "Guča" as such was not created by trumpet players, or a small group of enthusiasts from the neighborhood that still cannot succeed in overgrowing the psychology of a local cultural-artistic society. It was created by poets. Great poets, real masters. A few of them. They cannot be counted on the fingers of one hand, let alone for the so many mass produced laurels.
"Guča" was created, ascended and saved by such poets. They gave the tone and meaning to everything. Everything was compared to them, even the instruments tuned. They encouraged others. Then followed journalists, than the mass, and then even the p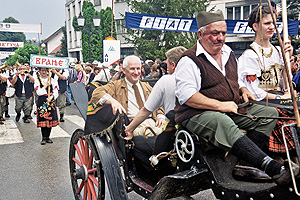 oliticians understood that being in this boat is not so bad.
One of these poets comes before all the others. He is the measure of all. If you write or read about "Guča", and are not sure whether it is good, read his works. You will know immediately. We want to remind of him now, while the invitational trumpets are bursting for the fiftieth time from all parts of Serbia.
His name was Branko V. Radičević.
And in Belgrade they called him Macho.
BRANKO HAS TIME
This is how Momo Kapor wrote from Guča in his last summer of 2009:
"Who could have imagined that the call of the trumpet would succeed in gathering as many as six hundred thousand people and that a field of tents would rise on the d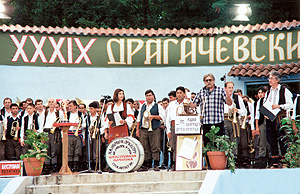 esolated planes of Guča, as if in a warfare? And everyone forgot, no one even mentions, that the whole story was started in 1960, forty nine years ago, by a poet, Branko V. Radičević, aka Macho, who made Serbia, especially his hometown of Čačak, famous with his poems. No one remembers Macho who, with a few of his friends, gathered three or four unfortunate brass orchestras that wandered around Serbia on wedding and funerals, more often hungry than fed, and brought him to the Holy Archangels Michael and Gabriel Church yard to play there for the whole day, and the night, and all this for three days…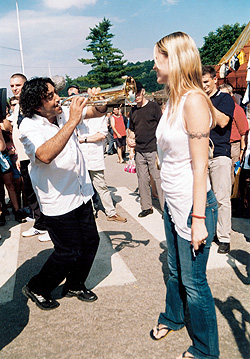 It would have been nice if at least one of the officials just mentioned Macho, Branko V. Radičević, but this is Serbia: it quickly forgets. After all, the late Macho has time to wait to be mentioned."
How did it actually look like in 1961? Here is what some of the founders and most persistent local chronicle writers of the Festival write:
"News reached the writer and then editor of Duga Branko V. Radičević. At that time, all performances had to be politically evaluated. To have the complete information. And we did not have it because we also did not know exactly what we would have and what all this would look like. Branko V. Radičević contacted the then deputy president of the municipality Vlastimir Lale Vujović. Lale accepted the idea and, putting himself at big risk, used his political authority while the rest of us put in our efforts. And we succeeded." (Nika Nikola Stojić, Joviša M. Slavković, Radoslav Rašo Protić, Predrag Raović and Radovan M. Marinković, All the Trumpets of Dragačevo, Guča, 2000)
How did he, the famous Macho, see it?
"It is a very convenient moment for organizing such a festival. The festival mania has already been existing for long. One should be smart and find a new form of competition which could refresh the grayness of the official gatherings. The people of Dragačevo are really on a good way to surprise us with the originality of their rich folklore."
WHO ENDURES CAN JOIN THE ARMY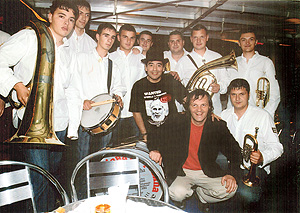 Let us, those who accidentally or intentionally forget, be honest: it was him, the unforgettable Macho, who initiated the Guča story in the media and among the people. With his Belgrade and Dragačevo friends. With the talent he unselfishly gave away, to all sides, on his paths and byroads. This is how he spoke in Politika Ekspres from September 15, 1966, before the Sixth Festival, describing how Guča would look like in the following days:
"Imagine a small town covered with a giant wave. There is nothing left: not even roofs. Only the sky above the heads. And down there – all over – a huge crowd. Tent by tent, kolo dances all around, skewer by skewer, drum by drum. The golden trumpets sing to celebrate the health of this country. Cheers follow jokes. For two days and two nights, those who fall asleep can consider they haven't been at the Dragačevo Festival. People who like silence should not come. The Dragačevo Festival is not for them. Pipe players should not come, tamburitza players should not come. Those who endure two days a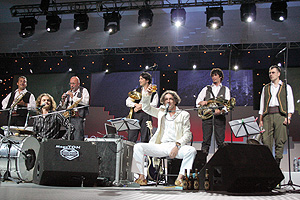 nd two nights and stay on their feet can immediately join the army. Because the trumpet of Dragačevo sings as a soldier. And it is not tuned to gentleness, it is tuned to onrush. The strong are invited, those who like to wait for dawn with songs. And to hear a song which is sung nowhere else. And to march the streets of a small town. Just to remember how people used to sing and march in the past: one goes forward and the brass band follow him! And he commands the joy. Those with a thin waist are not for the Dragačevo Festival. It is a place for eating, sometimes standing, sometimes at a table, with one's hands. The strong ones, come! If you eat a whole roast ox, cheers!"
Macho knew how to roll up a story and then let it unroll itself. He sits under a walnut tree, in the shade, slowly drinks the plum rakia from a wet glass, watches around. If there is a must, he will start singing. Heal. If everything is fine, he will have cooked cabbage and hot pepper, cut it with young malmsey and then take a nap on the grass until the first dew.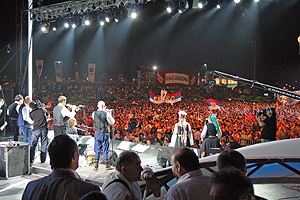 Like the crazy lunches with Libero Markoni. And as soon as he opens his eyes, he immediately knows whether he should spice up, heat up, shake up something somewhere.
He once said:
I have seven wounds
And seven trumpets weep
With each seven days
I have fought and drank
And homeland
– hear me
It is the love of a beloved one.
PEOPLE ARE DANCING, THERE IS HOPE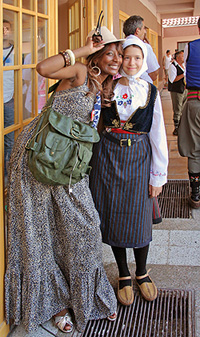 Then, in 1990, at the thirtieth Guča Festival, the institution of the Festival host was introduced. And the first was elected to be the first. Branko V. Radičević was 65 years old, with a little less than 11 in front of him. He entitled the first Festival host's speech Welcome, trumpet! Here is the integral version of it:
"Everything seems to change. The Festival remains the same. Like an element. Earth. Air. Water. Roast pork. Bread and bacon. Garlic. The first and last one in the kolo dance. The Festival is really a wonder. A wonder of wonders. It took a lot of courage to march the streets of Guča thirty five years ago. In a Serbian folk costume. With a Serbian folk hat on your head. In the presence of the authorities. Followed by trumpet players…
That is a wonder. This lasting march. The one that does not stop. From Festival to Festival. From city to city. In late summer. Before the autumn. The drum bangs. The kolo dances. But, please, just imagine how it used to be thirty five years ago. Sneaking up. Disapproval. Defying. Defiance is about to grow. The true defiance is about to defy. In omnipresent doubt.
It was sneaking up. And preparing, this big kolo. In sneaking. Seemingly naive and inexperienced. It took a lot of courage. One had to resist the disapprovals. Why are you doing it there? And why there exactly? And what does Dragačevo have to do with it? Can it be done in Dragačevo? What will the others say? How will the others behave? Who will be responsible for that? And what if it turns into something inappropriate? It's da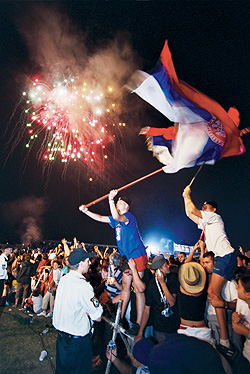 ngerous! This is not the right time! Why trumpets? Why do you need trumpets? They remind of wars! And what kind of wars were they? You have wars and wars. Wars for conquering, attacking, oppressing; unjust, evil and evil-timed wars. Why do you need trumpets? What do they remind us of? Some princedoms and dukedoms?
The trumpet was not invented by Serbs. Why would a trumpet be in a kolo? It has better things to do. Its place is known to all. It sees off to wars. It marches with armies. One, two. Under the command. One, two. It cannot be in six steps.
And it burst. In Dragačevo. As a challenge. And defiance. It reminded. Refreshed. Breathed joy. And hope. Because people were dancing. There is hope. Because people were dancing. It is good when people are dancing. There will be weddings in autumn. Children will be born. Fields and meadows will come alive. There will be bread and bacon. The soil will be plowed. There won't be a war. It will be plowed. Because Perun, the supreme Serbian divinity, is not the god of war, but welfare, god of fertility. He commands thunder and lightning. He controls the earth and heavens. And sends rain to the thirsty soil. It fertilizes. Revives. Makes younger. Creates. Gifts.
We had to slyly, slowly, patiently, with necessary ingratiating and unnecessary acceptances, preserve the Festival which became a gift. It fed people with faith and hope that there is still health, that not all is over yet, and that they will live and multiply.
The big Festival kolo danced. And the big, pan-national defiance was born. The trumpet turned into a wonder. Listen to it. It's shaking. You will hear what you haven't heard before. You will hear it if you are languished. You will hear it if you are in doubt. There is salvation. There is hope. You will hear it if you hadn't been born or given birth yet. You will hear it if you are impregnated.
My voice is weak. I don't have the strength to override the trumpet. Everything I am saying, the trumpet will tell you. It is constantly repeating it. One should hear it, listen to it, understand it. It speaks on our behalf. One day, who knows when, it came to us from the great wide world. And spoke our language. As if it was a pipe. As if it became a pipe. As if it became gusle. We have seen it in pictures dedicated to divine realms. The angels announcing Judgment Day. It became completely docile in Dragačevo. It does not invite to onrush. It does not want to go to war. It does not announce the end of the world. The kolo starts. It celebrates. And spreads joy. That is why it's welcome. Like an enlightener. For joy. And happiness."
SHAKE IT, JAVOR
Branko V. Radičević gave up on us on January 11, 2001. And left. After him, the hosts of the Festival were composers, sculptors, directors, painters, journalists, politicians… It took twelve years until another great poet was given a chance to speak and reply to Macho. Here are parts from Matija Bećković's welcome speech from 2002:
"... Since the ancient times, the trumpet has been used by people and angels, and never and nowhere without a good reason. Here, in Guča, the trumpet players were among the first to reach for the trumpet with one more reason.
They say that the first trumpet landed in Guča looking for a place from which it will be heard furthest. After it came all its sisters and together burst into the bosom of Serbia (...)
| | |
| --- | --- |
| | |
Along with the sounds rushed the people and musicians without notes in front of them, but those written inside of them. A poet said – feel the sound you tremble from, and you will know whose mother's son you are.
That is how it turned out that we have never had a more joyful gathering since the one in Žiča!
Life looks for a way out, sound looks for its rights.
The walls crushed by the trumpets of Jericho have also been crushed by the Dragačevo ones already for forty two years.
Some call it Woodstock, some Mariachi, some Band Aid, but everyone knows that the way out is in Guča and that it sounds better live.
Serbian peasants haven't forgotten what many intellectuals don't know. It is better to blow the trumpet than sniff glue! Therefore, there is hardly anything more urban and superior than the Trumpet Festival in Guča.
It is obvious that the world Festival in Guča contributes to globalization. If we would enter the European Union without our melodies and colors, without our name and memory, how would they know who came to them and what it brought?
From the old to the new era, from goose's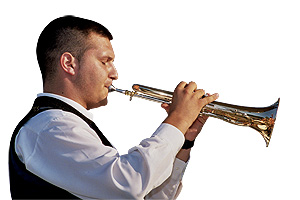 feather to the computer, from calling one another from hill to hill to wireless phones and e-mail – everything that has ever been created is still changing and being created. The Festival in Guča is a festival of all festivals, from the most ancient forgotten times to the present day. It is not only a Festival, it is a volcano of health and beauty, erupted from the heart of Serbia. And young volcanoes always erupt in the place of the old ones. (...)
May you happily arrive – and even more happily leave!
Shake it, javor!"

***
Monuments By the Road
"Returning to Belgrade, Macho loaded into his car a heavy monument made by the road from the vicinity of Čačak, the first one Belgrade has ever seen, introducing thereby old traditional colored sculpture and making it trendy, while intellectuals were admiring the holes of the Englishman Henry Moore..." (Momo Kapor, summer of 2009)
***
Instead of a Moan
Instead of a moan for the fallen young warriors, led by the trumpet, Macho cried:
Stop, halt, hear this people,
Hold on!
He got married, took a rifle,
Without ever touching his wife!