Old maestors
MIROSLAV ANTIĆ (1932-1986), THE POET WHO DOES NOT ACCEPT FAREWELLS
I have lived at least eight lives
His blond lock of hair and sooty alley, his summers and loves, rivers and intersections, marked the early youth of so many of us and weaved into us like a code, like a gift. He left us the Immortal Poem and Nonreturnable Song, better than anyone taught us that thing about ants and eagles, scattered all around us the magical images from that "land of czardas, glasses and landless people". This unforgettable Banatian, chaste debauchee, poet, painter, journalist, sailor, talker, "the last Duke of Vojvodina", he who could do anything, told us at the end: "If they tell you that I have died, don't believe it. To die I don't know how"
By: Zorica Todorović Mirković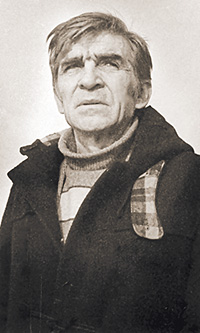 He believed he was immortal. And long before he wrote the Immortal Poem, the prophetic verses of which transformed into the poet's continuance. He knew, even after moving to the eternity of stars, he would remain scattered around Vojvodina, the homeland that he loved "from barns to the sky, from mud to wheat, this land of czardas, glasses and landless people". He suspected that his Blond Lock of Hair, promoted in 1965 at Belgrade theatre "Atelje 212", would become the hymn of first youthful infatuations and loves, and that, together with some of his other lyrics, it would find the permanent home in literary chrestomathies.
Only on June 24th, 1986, when, at the age of 54, after losing the battle with a severe disease, they talked about Antić who was not there. He left, but the other Antić remained, the immortal one, who is still there in sooty alleys, in melancholic chords of Gipsy ballads winding from tamburica strings, in the smoke and drunkenness of taverns, on the banks of the Danube, in auteur films Holy Sand and Breakfast with the Devil. He is there in the lens of a small telescope through which he would look, sometimes for hours at a time, at his house in Mihaila Babinke Street no. 1, at the Avijatičarsko naselje in Novi Sad, waiting, as he used to say, for the sky to come and visit him.
He lived fast. He wanted everything, right here and right now. He was born in Mokrin and lived in Kikinda, Pančevo, Belgrade and Novi Sad. Years went by at the speed of an express train, taking away school, high school and student days... He was a film-maker, got married and divorced, dreamed, and in between he wrote poems and newspaper articles. The disease caught him by surprise, wearing him mercilessly. Right before leaving, he bespoke that no one was allowed to deliver a eulogy for him, only Tugomir, with the orchestra of Janika Balaš, upon his wish, sadly plaid the Gipsy ballad "Chororo". People from Novi Sad and what was then Yugoslavia bid farewell to the Duke of Vojvodina using verses of the Immortal Poem recited by actor Miodrag Petrović.
BECAUSE I WAS A JOURNALIST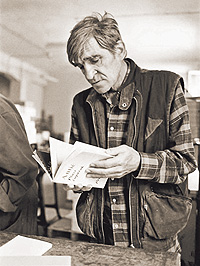 Antić's versatile gift left a permanent mark on everything he touched. He wrote about serious philosophical issues in such a manner as to make it understandable to all readers. His poems have high artistic quality, but are also bestsellers read during summer vacation and during school classes. What is the origin of that strength, magic, creativity, talent for so many crafts and arts...? Not knowingly, he provided the answer himself:
"... I have lived many lives. At least eight. My first life was journalism. The second life is poetry. Then film, television, theatre. My life is also wondering, straying, women. And, in a post scriptum, he adds: taverns, Gypsies, taxi drivers. I was able to do all this because I was a journalist."
Generations of journalists of Dnevnik remember how he would, bent over a typewriter, ritualistically take out his notebook, underline a word or a sentence, run his fingers through his hair and start typing his article. He wrote quickly, all in the same breath. Later, not saving his energy, he would editorially polish his manuscript.
He was an exceptional reporter. He published his conversations with readers in the form of a feuilleton in the section of Dnevnik entitled "Usually on Fridays". Unstereotyped, he would pack them in a completely new newspaper genre. He talked about this to his colleague and friend Ljuba Vukmanović:
The section "Usually on Fridays" was my attempt to, with a little bit of sorrow and a smile, emulate Chekhov. My temper was different and it was nothing like him, although I would have been proud if it had been. And so, actually, it looked like me. The record had something of its own, and I followed it. I think that I have created something between information and literature in journalism, a kind of hybrid that readers need, and we used to call it feuilletonism."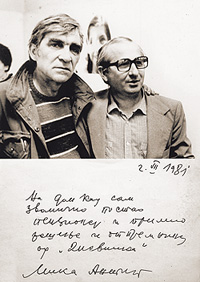 At first he only liked journalism, and later, fascinated by this profession, he respected it.
"A galley proof must be written for a long, long time" – he used to say, recommending everybody to write it in such a manner as to remain honest both to themselves and to others. "Once I wrote an editorial for the May 1st issue of Dnevnik. I was proud of that 1-2 page long article. I asked my mother Melanija, while she was reading it, how she liked it. 'Mika, it is wonderful, but you lie a lot!' she said. In order not to let down those whom I trusted, I never lied again."
He spoke honestly and in a picturesque language, not pretending to be an artist.
"I paint", he claimed, "so that I could breathe deeply. I don't paint so that I could be a painter, I paint so that I could be human... Painting is what is saving me from dying. Dying, I think. Thinking is the most horrible way of dying. And a painting wouldn't even let me think. While painting, I watch, observe in my horrific solitudes."
USUALLY ON FRIDAYS AND USUALLY ON WEDNESDAYS
He knew, this fabulous Banatian, how to create the magic of ordinary, in everything and from everything. His adoration of taverns and bars, in which he invested like in his house, reflected a bohemian infatuation with life, alcohol, women, song... In one newspaper report in the section "Usually on Fridays" the Yesenin from Vojvodina writes:
"I publicly declare that I frequent numerous taverns and that I can carouse so well, that it is simply unbelievable. Gypsies have been playing for me, year after year, they play without notes, straight from their hearts, and I know that I spent a good part of my life on them, and they on me, and that because of them I even learned Roma language so well that nobody could translate better than me all the verses of, for example Pira mange korkoro, kaj sem devla chororo..."
In this article, Antić empathizes with his friend, a musician who, after playing violin for three and a half decades, and is about to retire, must learn how to read music notes. He is forced to do it by authorities, he wants to, he is trying, but he cannot read music notes.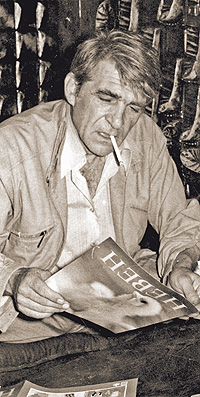 He loved musicians and they loved him. It was sufficient that he, disheveled and spontaneous, appears at the door of a tavern, and the musicians would immediately stop and start playing a song that he liked. Mika would sit down, order a drink, and after several shots he would begin to recite. With a strong voice, seductive diction and dramatic appearance, he drew the attention of other guests. Many citizens of Novi Sad remember, even today, those Antić's poetry lessons in taverns, his irresistible immersions into lyrics that he would recite for hours before the silent and enchanted audience.
He had a constant need to be with people. If by some miracle he would find himself alone in a tavern, he would order for two. There is an anecdote from Beočin, where the poet used to come for some time, intending to open a studio in the attic of the Old Castle in this small town in Srem. Although he frequently stayed there, he didn't do as he intended, but he got to know local taverns. His friends would find him sitting alone with two shots of brandy before him. One of them asked him with curiosity:
– Why do you order two shots for yourself?
– One is for me, and the other is for my other "me" – said the poet. – To have someone to toast to.
Mika's great friend Bata Pežo served many famous people in his tavern, from the Nobel Prize winner Ivo Andrić (because of whom he got an F at school, when writing an essay about him), then Miloš Crnjanski, Borislav Mihajlović Mihiz, and finally (of course) Miroslav Antić. Bata spent a good part of his life with him, but he never dared to evaluate his personality and his work, saying that a team of writers, painters, musicians, doctors, priests, sociologists, etc. should be hired to do that work.
Bata once posted a slogan in his tavern: "Alcohol never brought any good to anybody". Having seen this, Mika asked for a pen and added: "... but it didn't took it away either".
The charismatic poet used to come to Bata's tavern on Fridays, when Dnevnik would publish his "Usually on Fridays". These articles, in which many readers would recognize themselves, he would read out loud. Guests rewarded this reporter's record with applause, and Mika would use this good atmosphere to ask each one of them: "Hey bro, could you lend me two grants?" He paid his debts regularly, usually on Wednesdays, when he gets paid, never forgetting who he had borrowed from.
ABOUT THE SAILOR, SWEATER AND BOAT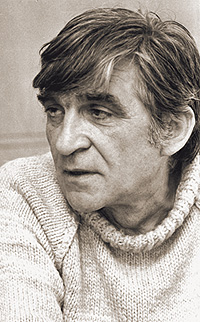 Mika Antić served his military duty with the YNA Navy, and he was exceptionally proud of this. Deep in his soul, he always remained a bit of a sailor. Once, while walking along the Danube pier with his friend Ljuba, he noticed young sailors wearing beautiful black turtle-neck sweaters.
– I like these sweaters! – he said repeatedly, excitedly and obviously determined to somehow lay his hands on one of them.
And really, the very next day he strutted around in a black sailor's sweater. He got it by going straight to the commander of the river flotilla, Admiral Petar Simurdić. After introducing himself as a poet and a sailor, Miroslav Antić, he told him honestly that he would very much like to have one sailor's sweater. The commander of the Navy's river fleet found a way to requisition a turtle-neck sweater for the charming poet. However, friends would sometimes make jokes at the expense of Mika the Sailor.
– We would often gather on the Danube – remembers Ljuba Vukmanović. – We sat there once, with some guys from "Danubius", talk about the sea and sailors, and someone, listening to Mika's adventures in disbelief, arrogantly noticed: "What kind of a sailor are you, anyway, you don't even have a boat?!"
– I have a boat – he was defiant, showing a wooden boat tied to the bank.
– Eh, a strange boat it is, it doesn't even have a name! – added the Distrustful One, wondering at the nameless boat.
On this remark, Antić asked the guys from "Danubius" to bring him paint and brushes, and asked his friends to turn the other way. When he finished, he asked them to approach the boat that he had just christened with a freshly painted name: Boat. That was him, unpredictable, original, in his own right...
Antić's obsession with the sea and sailing probably originated in his rich imagination, that roadmap for numerous travels. He was constantly on wheels, in the air, or sailing down some imaginary rivers, seas and oceans. He used to say, looking at a distance: "I am not here. You are telling me this in vain. I am not here." He wrote about these wondrous travels of his in the section "Usually on Fridays":
"Who knows who owns our bodies. Our souls are ours – we know that. That's probably why we are unhuntable. That's probably why nobody is where they think they are." He would wonder: "Who knows where we are?" And he would answer indifferently: "Someone is ringing at the door. Why should I bother to open the door, when I am not here. Who knows where I am."
Already then he knew that he was immortal, as he prophesized.

***
The "Nevenians"
There is a connection between Miroslav Antić and Jovan Jovanović Zmaj. As Aleksandar Tišma once said, Mika was the most popular author from Vojvodina after World War II, loved equally by youngest and elderly readers. On the other hand, Zmaj was deemed the greatest Serbian author of children's poetry in the 19th century. They also had in common their editorial commitment to the same children's magazine with a flowery name Neven (Marigiold), which Zmaj conceived and started in 1880, and which he edited until his death in 1904. Exactly 99 after the first issue of Zmaj's Neven, the foundation of Serbian literature for children, the magazine was renewed in Novi Sad, and its first editor was Miroslav Antić.
***
Bouquet for the Princess
He was able to, when wooing a woman, eat an entire bouquet of flowers together with the stick and sing about it: "Princess, I will eat this for you!"
Today it is difficult to say how many bouquets Mika ate in this way, but, women loved him, that unbridled bohemian with unavoidable cigarette between his teeth. He married several times and had six children from two marriages: with Svetlana – he had Igor, Sanja, Ženja and Boris, and with Ljiljana – he had Vuk and Jug.