More than a Game
EXCLUSIVELY FOR "NATIONAL REVIEW": LJUBICA MRKALJ, SERBIAN PAINTER IN PARIS, AND VICE VERSA
With the Mysteries of All Times
She started off from the bottom of the Pannonian Sea. Discovered and conquered Belgrade. Went through all those small personal rites, visible and invisible, which make us who we are. At the beginning of the suffocating 1970s, she decided to leave. With a tube of a few selected paintings, one small suitcase, a few dresses, three buns and a bunch of apples, she boarded the train to Paris. She learned to enjoy small things and that painting is a form of prayer. She understood her nostalgia for unknown lands. She met the greatest artists of her époque and they met her. Today she is one of the greatest living Serbian painters and one of the most remarkable artists of the Serbian Paris circle
By: Branislav Matić
Photo by: Dragan Bosnić, Vladimir Marković
We caught her between Paris, Belgrade and Greek islands, where she stays long every summer. Between eternal departures and arrivals, isolations and appearances. Between new exhibitions and new books. Unlike many others, we did not need to convince her to give way to the story, to brush off any conveniences, to wait with a smile for her voice and "mercy of forming".
Ljubica Mrkalj (Odžaci, 1946) knows it.
Ljubica Mrkalj in National Review.
At the bottom of the Pannonian Sea. The birth at the bottom of the Pannonian Sea is a paradigm of almost each of my waking, rising out of the mist, renewal and often beyond-reasonable revolt. Still. In the childhood, the magical world was interlaced with the transparent and gloomy reality, and that is the reason why I cannot, nor want, to use oblivion to get rid of the dark soil, the multilayered "mud" which greedily gnaws any sleeping fruit and spirit, but also feeds the metamorphosis of any idea and seed.
I remember how the endless horizon there constantly overruns the milky-green, goldenly ripe, reddishly fruitful plain already in metamorphosis, and then black and snow-white… There, instead of sea sickness, I got a melancholy which persistently follows me on all my escapes and all journeys.
It's only that my sudden arrival to this world greatly surprised both my brother and my sister one Sunday after their return from a high-school dance, and during the first years it took a lot of imagination and enthusiasm to turn the role of an intruder to my benefit. Probably thanks to that, there came an incredible easiness with which I could almost unnoticeably, from the corner, include myself into the world of the actions of adults, especially creativity, that it seemed to me equal to the freedom I allowed myself when jumping over different obstacles such as garden fences.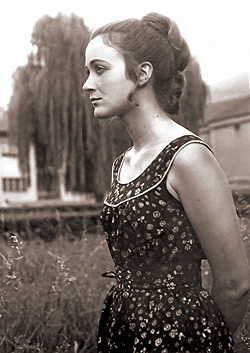 At the edge of the small town, turned to nature and its elements, our house used to be a live stage for my happy childhood and open gallery with a view of the mysterious games of life and death.
Still, the multilayered knowledge and learning did not remain most important for that insight into the outside and inside; it seemed to me that an invisible suitcase with which I arrived into this world was becoming heavier. I was discovering its mysterious contents by growing up with rising disapproval towards the world of adults. At the same time, I reconstructed the past of my family, the degraded social status in which it found itself after the war, prior to my arrival into the world.
The puberty under the skin boiling during the metamorphosis of an "ugly duckling" as I saw myself, despite the requesting and stubborn personality with already well grown grafts, was surprised by a shocking event – my mother's death.
I was grieving for a long time, a bit deadly, and, being in conflict with God and the world, used to ask myself Hamlet-like questions. She was the only one who anticipated the labyrinth of my soul, the only one who recognized the upcoming eruptions of emotions in the cliffs of my nature, incomprehensible to me.
She was my first teacher on the beauty of the world – the endless, unreachable one, as well as this degraded, unnoticeable one.
Art Studies. I liked the vastness of classical education and was good at everything. It is no wonder that the dilemmas what to choose to study were torturing me before my high-school graduation. I thought how I would be most satisfied with some futurist merge of different areas, if it only existed… It seemed to me that architecture would at least reconcile the pragmatic rationality with aesthetic creativity. And I spent the first year understanding night after night, holding a divider and a ruler above a drawing board, that, if I continued like that, I would perhaps make a cozy and seducing henhouse one day, but that I would surely fail my life, the only one I have!
I secretly began preparing for preliminary exams at two Academies, of fine art and theater, and for the case of failure I enrolled at world literature. Since I was accepted at both Academies, I used to run for a while through Knez Mihajlova Street from one Academy to the other, excited, with a new dilemma… Shortly after, the decision was made: both of fate and mine!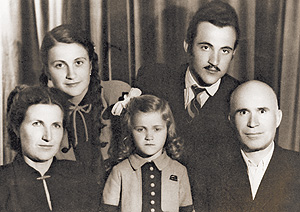 Initiation. One thing was certain: I knew I was no genius. How? Well, ever since I was a little girl, I was friends with not only those older than me, but also with those from the past, while an ambitions teacher persistently put under my nose certain smudges and blotches saying: "Free yourself a bit. This is modern painting!" I was never even attached to the thing everyone was speaking about in the first liberations from soc-realism in our art environment, related to the allowed post-Picasso period. I came to learn great mastery, and I would have been disappointed if there had been no news about the exhibitions and catalogues of the painters of the destroyed Mediala, and if I had not found myself in a talented generation of stubborn students, where professors sometimes gave up on the epigone grafting of their own ideas.
The years passed by in passionately learning from morning to dark in classes, where each of us experimented watching the easels of those around us, discovering almost randomly old and forgotten trade secrets, just to, more or less skillfully, breath life into our ideas… The scents of linen oil, turpentine, Arabic rubber and various resins mixed with the first cigarette smoke in our nostrils and sooty evaporations of small furnaces by which blue with cold and despondent bodies of models, those exhausted souls, used to sweat. Perhaps that is the origin of the varying tone of fantastic art in all of us who passed through the Belgrade Academy, the tone so noticeable "there", when we go into the world.
Upon my arrival, on my first day, I shook hands with the Apollo of Belvedere by the stairway at the entrance of the Academy, and I never missed doing it, even in the turbulent times of students' demonstrations. I am not superstitious, but I respect rituals – they connect the sensual with the unearthly, because they cancel time, sometimes even space limits…
At the time of my university studies, Belgrade of my childhood expanded incredibly. It spread from Studentski Grad (campus), where I slept, to Topčider Hill, where the Academy studios were, then even further, all the way to Careva ćuprija, where I sometimes replaced Marxism with horseback riding classes. By the way, I was also in the city, in several places: in the students' canteen "Three Skeletons", in the "Left" Theater (where I played Arrabal, Pinther, Schisgal), or in the audience of the "Kolarac" concert hall.
My initiation continued on many scattered paths: at film and theater festivals, at journeys, restorations of old monasteries in nowhere lands, in wild and beautiful nature, but also at some corner table in a recognizable cult kafana of the invading elite… Even in the conflicts with the regular norms of creating politicized art.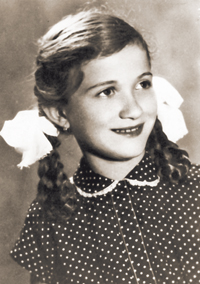 My Belgrade. Strangely, from my childhood, double experiences in viewing the world and myself have been following me. Even though I grew up in a small town, I began discovering Belgrade already before my school days. I used to come to the city at least twice a year, during school holidays. My aunt was married to a janitor of an elementary school above Slavija. What a privilege! Wandering around the classrooms without the supervision of adults, drawing or writing with a chalk on a huge blackboard, and, without any regret, erasing it; peeking into the jars with fetuses of animals in formalin; going through the collection of minerals, dreaming about the lands built of their colorful crystals; turning pages of school archives and attempting to imagine the faces of students according to their names which I could perhaps meet and become fond of them…
And so, as years went by, I was expanding my contacts and conquering the city. I loved the winter and steep streets covered with snow where the sleds would, without pulling, run down the slope; rattling and ringing of trams; the powerful fortress above the Confluence and its mysterious Roman well; many people walking by on Terazije; ritual visits to the "Medjed" confectionary for baklavas; the golden light of the sunset on gray facades, when the plaster figures would come alive, here and there; deserted streets in the summer heat and my lonely greedy swallowing of novels from the school library in the narrow and fusty janitor's office, but with the fantastic performance of an invisible harp in the water pipes.
I admired my cousin who lived in Belgrade and about whom the newspapers several times wrote as a wunderkind. Although his dried clay figurines crumbled, people compared them with Rosandić's marble. I watched him draw brilliantly, in front of me. He would narrow his eyes, as if a model was there somewhere, and with only a few pencil strokes he would pull out the whole figure out of nothing. From his memory, for sure. But, he was almost fourteen, while I was only eleven.
"You must watch the world around you and memorize while drawing, but see them all without clothes", he advised, while I could only humbly nod my head, thinking about the difficulty of such a task in the province. I remembered all those books on art we had discovered a few years before at the house of a friend whose grandfather was a doctor. Unsatisfied with the crippled antique statues in those books, we moved on to studying details from medical atlases, and almost everything there was presented as in a butcher's shop! I had to wait for the summer and the pool, while almost all school notebooks were being filled with marginal things.
However, a few years later, I brought a trophy home from a drawing competition: a silver medal.
Departure. Such a decision derived from the more and more obvious situation that after graduating I would be able to develop only within the limits of the narrow and calculating spirit from the beginning of the seventies. There were rebellion and searching for new possibilities and my longing, with an untamable gaze, for something outside of my delivered fate, turned into curiosity for the "big world".
And the "dice was thrown"! I chose Paris because it was the furthest place for which I could afford a one way ticket. Although I had previously met Italy, Spain, Greece, and felt good in the Mediterranean, the myth of the "city of light" was magnetic, even though I didn't know a single word of French, nor did I know anyone there.
With an average sized tube holding a few selected paintings, one suitcase with a few dresses, three buns and a bunch of apples, I boarded the train. I took a deep breath of the Belgrade smog, waved to my friend, already a famous actress, who sincerely worried remained on the platform, and confidently started off into the unknown.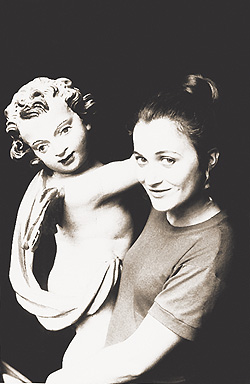 Ljubica in Paris. I stepped onto the Paris platform without any burdens. The tube with the paintings seemed to elevate me because its contents were the seed of my future work, a document more valuable than a passport. A document which will not annul my self-confidence before the expected exhilarating encounters in Louvre with the masterpieces of world art. I felt: that burden was the cause of the growth of my fever of overcoming – and it became a complete liberation! Elevation!
The city was bustling in an anachronous mixture of different phenomena of previous colonies' folklore, like a fair of time where also present was the other world which had since a long time ago been considering itself the world of modern age. Babylon, not only of languages. I was greeted by the scent of the metro, a strangely cool July day, impeccably sorted fruit and vegetables in boxes, along with a kind of a carelessness of the crowd for noticing personal destinies…
A room at the top of a small hotel in the Latin Quarter, on which tin roof the pigeons beat their love dance in the mornings, and wake me up. The famous croissant and coffee, and then running to the endless labyrinths of museums until closing time, then a tuna fish sandwich and a terrace of a coffee shop, listening to dialogues in a language I don't understand, watching. It was summer after all, the days were endless, the city was too much north for my habits and tastes, but the streets, squares, boulevards, had a Mediterranean light. Perhaps because of the Roman-Gaelic influence, perhaps of the Sun King, perhaps only because of the Seine and its poets, the coffee shop chairs push each other and the conversations mix, smiles are exchanged. Someone even speaks a foreign language.
During those first days, perfect calmness covers my spending time only in watching, noticing and scaling both the city and myself. I see myself completely careless. The poor contents of my wallet are getting smaller, still I am not worried. I do not want anything to disturb the vibrations of my footsteps and thoughts, because the accords of eternity in the present times are echoing. The whole city became a magical instrument and lures me. I hear, that is, I notice, that it is the personification of a future lover. Paris becomes Paris and conquers me, even though I am not a Trojan beauty. I respond without words and reservedly smile with an inner smile, my lips tight, as if I was taught by Apollo's sister.
Already before the end of that week, many questions which I did not even ask were resolved. I met important famous people who would become witnesses, friends or accomplices of the difficult yet irresistible risk in artistic and human overgrowing which awaited me.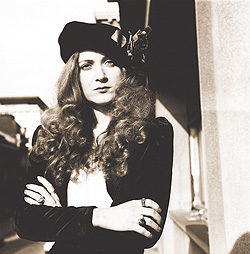 The plots of the Paris novel. I was not afraid of working. I learned a lot not only in the area of my craft at the Academy (graphics, drawing, illustrating), but also restoring old paintings, sketches for theatrical costumes and scenery… I also did not mind doing plain physical work such as washing dishes in restaurants or bottoms of others' babies. Still, a precautionary job, until some painting attracts the glance of a buyer at an exhibition, seemed to be the dangerously attractive, notorious old Montmartre. "The scaffold of talents". There is a belief that nothing except kitsch can survive there.
One of the ten commandments I had received from the Dorćol rascals with well intentions was: "Never to Montmartre!" In spite of it, I risked my painter's destiny with a controlled dose of poison – small stylistic exercises. This experience with portrait, human face and appearance, derived from my love for the stage and movie iconography, will later change into art photography.
The plot of my Paris novel began, as it usually does, during my first days, but the city never lost its primary role in a series of characters bound to appear, or its role in my forming.
Especially in the issues of aesthetics, creating and living.
I confirmed that the form cannot be separated from the contents in the Parisian spiritual and material treasuries, founding it as my credo, regardless of the incredible width of the intellectual horizon that existed there. The personal choice, such as not withdrawing from the basic idea which arrived with me, already grown into my soul, confirmed the creative self-consciousness, as well as a possible value criterion, which could have been tested. Because, besides the bringing up, experience and taste, there were also the world cultural heritage and tradition of assimilation "of the country where roasted larks fall from the sky"!
Without any irony, I have rarely humored anyone (anything) except love, imprinting my profile in the whirlpool of the Paris light and dark. I learned to like small things: the rainy grayness of the city, the persistent imperfections of friends, unreasonable little lies of lovers, my nostalgia for unknown lands, the unexpected fondness of animals and plants upon our first encounter.
I remember my exaltations, the overemphasized romanticism, provocative theatricality, which I cherished as expensive clothes for the "comedy of errors" – in order to cover, without tricks, my vulnerability, and paved my way through a bunch of mediocrities. That dose of Baroque expression surely must have flown from my art into my existence.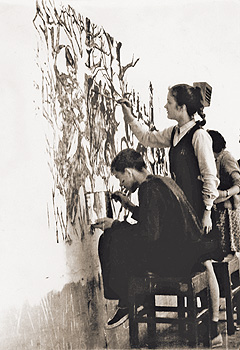 Most important journeys. Two, within only a few months, at the beginning of my university studies.
The first was within the festival of students' theaters with the "Left" Theater, when I traveled to Parma. From there, with a group of Florentines, I sneaked out for three days to their city. I was their guest in the attic of a palace in the city center, among the domes from the Medici times. Only from looking at the Florence roofs, I became ecstatic. That is the first time I confronted in person with the works of Renaissance masters, previously experiencing a delirious mixture of reality and the past, like Stendhal or Gautier.
The second journey was when I set off to Greece with a regular tourist group, searching for the shadows of mythical heroes and in Delphi fell unexpectedly into the pure cliché of prophecy.
These journeys-pilgrimages literally cast light upon the area of my hermeneutics, which I have anticipated in some oneiric events.
The image that follows me. A life image. On one of those long and tormenting journeys by train in the hot summer to my mother's family, more to the south than Kosovo, after passing a desolated field without peonies, in a small town, already tired, we would wait for the bus. My mother and I were standing near an inn, in the shadow of a big tree, and father went to buy something. Time passed. The rusty scents and the dust a vehicle passing by would make were mixing, and the awaiting and worry were growing. The bus is probably late, but father is nowhere to be seen… Suddenly, we heard the bus approaching, but I noticed my mother's cheered up face. I turned and saw my father running towards us over the dusty square in the heat. However, as he was approaching, I did not recognize him because the smile that brightened his face and changed him so much was only for mother. And suddenly, I saw them large and magnificent, as if on a movie screen, in the beauty of their love.
Also following me are paintings I did not want to paint.
The place I will always return to. The island of St. Louis, with the view of the Seine and the Notre Dam in the middle of Paris. Kalemegdan, with the view of the confluence at sunset.
Books and ideas that changed my life, my world. Dramas of William Shakespeare. The Brothers Karamazov by Dostoyevsky. Lautréamont Chants of Maldoror. Carl Gustav Jung Living Labyrinth. Mircea Eliade History of Religions. Torquato Tasso Jerusalem Delivered. Louis Pauwels and Jacques Bergier The Morning of the Magicians. (…)
People who left the deepest trace in me. Mainly my family: mother and father, brother and sister. Then certain teachers-devotees who influenced me to search for my spiritual family.
My loves. Never, not even in my earliest childhood, have I liked fairy tales from bourgeois Europe! That is certainly why it happened to me later that, when I would find a beautiful prince and kiss him, he would irreversibly turn into a disgusting frog… I am joking! My loves are unforgettable and very dramatic. And may they stay hidden, although they exist here and there, like riddles difficult to solve, in some of my paintings. My Animus creates with me, side by side, but we have never agreed about its twin.

About music. Music, especially the one that intoxicated me, always cancels time, so it seems to me that with it one can reach eternity. The fact that for many it serves as the guardian of the key to the past confirms that it also, like other arts, cannot exist without sensitivity and memory. Since it unconditionally creates an illusion of duration in the course of time, music with its sound impulses reveals instrumentations of our own body and spirit.
I remember, when I was four, the cracking voice of Louis Armstrong: "Mona Lisa, Mona Lisa..." It is a summer evening and our yard is full of young men and women around my brother and sister, dancing. Then, when I was seven, I hear my own unskilled, yet persistent practicing of Mozart's Turkish March on the piano. I am at the music school, the sound of someone's violin is coming from the classroom next to ours, silence and snow are falling outside on the garden and the street. Then, still with those huge butterflies made of ribbons above my ears, I am sitting with my sister in the opera, emotionally following inside of me Cavaradossi's sad song about sweet kisses. I am amazed by the illusion of the disappearance of the roof above the stage, when the night sky opens filled with stars.
And so on.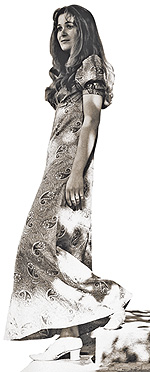 The land of my ancestors. It is an archetypical land crystallized in my being through a kaleidoscope of experiences of all the people whose genes I inherited. Its soil is interwoven and pervaded with the threads of sensuality of my reality, and it is recognizable for the symbols of our similar spirituality. Those sliced idyllic images of landscapes move and distribute like all those wars and migrations which forced and moved my ancestors for centuries. Visionaries with an ascended spirit and with national consciousness, personified them in their works and saved them from being lost.
Do not ask me to paint that landscape, because there is not only one… It consists of calm bushy hills and stone ravines which slide towards the sea, as well as the endless fertile soil and a series of blue mountains halved by the sharp light of the river… That is why in this land, the oak, olive and willow trees remain the trees of cult, which I know both in reality and in dreams.
Language as the homeland, as power, as culture. At the beginning of my stay in Paris, my mother tongue suddenly became the language I am silent in. Silence, the contented one, is more significant than empty speaking because it is the precondition for thinking and the inner conversation; and since I was learning French by listening to it, I was listening to both languages at the same time. The lack of Serbian speaking people imposed a form of ascetic silence for a few years and the wave of clearing its depths, which I thought I knew, was initiated. I realized that the valuable sediment of its brilliant liveliness and sharp meaning is at the bottom.
And so, when I entered French speech, the world had fun with my infantile stammering and Dadaist babbling, but it also made me feel that my interior, under the silence and quietness, was rumbling with the upcoming mental images. Silent like an earthquake, the voices and words from my childhood and early youth created an almost tellurian strength in the body, which will become the resonance of both my mental space and my heart. It is no wonder it will also penetrate dreams, returning like a picturesque echo and shaped vision.
My Serbia. Fenced with interlacing belts of beauty of the East and West, North and South, Serbia truly makes the belly button of Europe. That seductiveness, the mirror of its rich and fertile uterus, embodied (also through the frequent historical epidemics and catastrophes) great people not only of its land, national heritage, but also of Europe and the world. With melancholy I turn back towards its past, towards its scattered pearls and with concern ask myself who will protect it, who will renew its brilliance, when today so many of its honorable children are scattered around the world.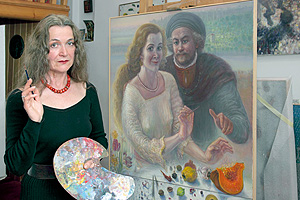 An artist in the civilization of spectacle and money. It is no news: desacralization of art. Obedient vulgar performers have always existed, recruited among the untalented ones, among the favorites of slave merchants, who served the general degradation and distortion of the role of art. It is only that in the past, the vulgar dances took place in places reserved for it, becoming a plague only in the society's moment of decadence. Today, however, it is a flood bursting out from the monstrous machine for spirit stirring and brainwashing, from which a human cannot protect himself even on his deserted island, whether fed or hungry of media!
High taste in the mass (sub)culture époque. For a naive and curious person with cultural heritage, the present is full of different absurd situations. However, if you are not in the realm of art or do not belong to some cultural institution, you cannot even anticipate what is happening, how an artist is born, because today it is neither interesting nor trendy. Today artists are produced, cloned, made looking up to the time-wise closest avant-gardes, because there are their creators, authors and owners, and then they balance on the market like an arbitrarily blown up currency...
If someone today is a born artist, and educated too, then he or she needs either angels or demons.
In order for an artist and his art to be saved, besides talent, one needs lots of moral strength for surviving in solitude and among rare admirers. That is why I think about the credo left by Leonid Šejka as his last inscription: "... If I would return to life (living strength), I would paint the way painting offers most joy, looking up to old masters, even if I had to pay the price of not being authentic… Painting is a form of prayer."
Tradition and/or modern art. If worthy of attention according to aesthetic standards, the modern in art today already tomorrow becomes tradition. That is why an artist who honestly digs his or her garden, without the demand to dig out the mug of novelty, does not have to worry. If he or she is a personality, an artist can be neither a copy cat nor an epigone – the artist's work will become the mirror of his or her being.`
Beyond national is not international, but universal. The power and survival of any nation are not in its physical size, but in the number of categories of human values which it possesses in each of its individuals. It is recognized and expressed in the crucial circle of higher universality, never in pulling everything to mediocrity.
Those of us born in the previous century. I think that, in our boldness, liberation, mystery, revelation, many members of new generations will seek our longing for realizing humanness, like a bequest which will serve them as an initiation for the unrepeatable living of their own lives. Like we sought it in previous generations.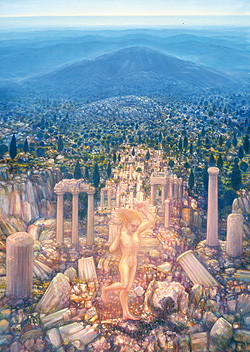 Eros and its power. My explorations of Eros. In several versions of the creation of the world, the Greeks confront Chaos by placing an egg with Eros in its center. Lucky us! It depends on the understanding of metaphoric speech, on the poetic image of the "big bang", what message and what benefit we can have from it today, except for multiplying like amebas. Besides performing this mechanism, perhaps it is possible to do something else too before embracing with Eros' cousin Thanatos.
Exactly in that my curiosity was initiated by such an Eros without which we would not be breathing, let alone existing, we, the arrogant artists who transform their vital strength into "immaterial" forms of artistic actions, creating "our own worlds"!
It is a challenge for me to confront it both as an artist and as a woman. After so many thousands of years of destroyed and "surpassed" civilizations, decadence and lies about the code of conduct in life and art, is it allowed, and is it possible today to be dignified and passionate at the same time? Can a naked body be found thematically in the focus of the aesthetic experience and as an inspiration, and survive like an ideogram and symbol of Eros in art, without any taboos, however without pornographic and necrophilic winking to the market which makes orgies in the cultural reality?
It can, if the aesthetical enthusiasm with Eros is equal to the erotic. If one kisses with open eyes. If sensuality transferred into signs achieves catharsis.
As for the male and female Eros, they are, except for the gender condition, the manifestation of a personality towards the culture of time and its rules. In those artists who overcome the averageness of the obscene and vulgar, an Eros of a third gender can be anticipated in their creative sublimation – I prefer to say middle gender rather than androgen.
Me in the lands of the oneiric. What could be translated by artistic poetics from my oneiric adventures, and what was convenient for a certain logics of the development of iconography and pictorial experiment, found its place in my painting.
Otherwise, confessions of such sort, even when they are not impossible, are completely meaningless.
The faces of the Apocalypse. There is no civilization that did not leave us its memory of the Apocalypse. We, in our (transient) present time, look at those past events only as a myth or profitable spectacle, vulgar entertainment. That is how the perception is lost that the Apocalypse has been existing live for a long time, somewhere, partially, but with the eternal mechanism of evil in the form of a petty or big human handcraft. I am afraid that the desecrated humanity which lost its consciousness does not see what will remain from that Roman saying about bread and circus: only a terrifying game! And this also for a short while, because the destruction of this tremendously beautiful planet is underway.
Therefore the face of the Apocalypse cannot be the mirror of the earthly cheek – invisible is the blindness of nothingness.
Therefore my paintings borrow the oneirian allegory of exorcism of evil for the apocalyptic vision.
The land of Hypnos and its messengers. I often joyfully pass through Hypnos' gates, learning to stay awake, because in this vastness of restrained memories rest the mysteries of all times.
In some of the wanderings through a labyrinth of illusions, where our own imagination often takes us, it is also possible to run into a messenger with the right news.
All those faces beautified (or tired) with pain. As a portrait painter, unnoticeably, like a usually neglected glance when passing by the world, in the ocean of faces, I am often hit by the lightning strike of Logos: in them, like on a page of an open book, everything can be read!
It seems to me that the process of the Final Judgment has been lasting for a long time now – the masks of demons have never been more ironed with triumph… But, I do not want to go any further, I am not a prophet… My task is the consecration of art, which heals with beauty.
Can darkness be taught to shine. As far as I remember, it cannot happen in a dark wilayah! Darkness itself cannot shine.
What most annoys me is… The contagious dominance of human stupidity.
The most touching is… The magnificence of the beauty of nature.
What always makes me happy... Love.
I will always be sorry for… The privileged ones are never sorry.