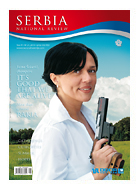 SERBIA - National review no. 21

Prologue
National Review, curious and positive as usual, takes us to the biggest events this summer ("Exit", "Guča", "Tamburitzafest" in Deronje). It reveals the perhaps forgotten corners of Serbia (a Banat village made of reed, Crna Trava - the homeland of masons, little known Priboj). It reminds of the old masters who help us survive in the present time (Mika Antić, Branko V. Radičević). It directs our glance and thoughts towards the Serbs in the Diaspora (Staro Nagoricane, Timisoara, Assembly of the Diaspora). It speaks with the supreme ones (Ljubica Mrkalj, Jasna Šekarić).
It takes us, reveals, reminds, directs, speaks.
GALLERY
CONTENTS
Prologue
SYMBOLS OF TIME AND THE ART OF LIVING
Participants and Voyeurs
Vitrage
NUMBERS, EVENTS, INTERESTING THINGS
Beautiful Face of Serbia
PHOTOGRAPHY BY SAŠA MARIČIĆ
Echoes
THE END OF THE TENTH "EXIT" FESTIVAL IN SERBIA
I didn't have a Clue that You Were So Cool
The jubilee festival received in its lap 35,000 jolly people every night, about 200,000 of them in total. Again, there was a large number of planetary music aces, who did not only work at the Petrovaradin Fortress, but had a great time as well. And they talked to our reporter about spinach pie, rakia, goat cheese, the Danube, but they were most enthusiastic about people, about these "beautiful folks"
By: Teodora Ž. Janković
Photographs: Exit Photo Team
Memory
THE 50TH TRUMPET FESTIVAL: ABOUT POETS WHO CREATED, ASCENDED AND SAVED "GUČA"
In the Spirit of the Unsurpassable Macho
"Everything seems to change. The Festival remains the same. Like an element. Earth. Air. Water. Roast pork. Bread and bacon. Garlic. The first and last one in the kolo dance. The Festival is really a wonder. A wonder of wonders. It took a lot of courage to march the streets of Guča then. In a Serbian folk costume. With a Serbian folk hat on your head. In the presence of the authorities. Followed by trumpet players… Sneaking up. In disapproval. Defying. Defiance is about to grow. The true defiance is about to defy. In omnipresent doubt"
By: Bane Velimirović
Playing
THIRD INTERNATIONAL "TAMBURITZA FEST" IN DERONJE
Look at Me, Unfaithful One
That unusual village lost in the plain, "somewhere round Odžaci", was first made famous by musicians such as Todor Paganini, Djena and Džigi Bau. Then, there in the part of Deronje called Čerga, Saša Petrović made, his masterpieces "Soon the World Will End" and "I Even Met Happy Gypsies". Now, in that small village, which counts "three thousand souls", a festival is being created, which could in a year or so reach the fame of "Guča" and "Exit". And the locals, mostly Romas, on their cemeteries still say goodbye to the deceased with the song "Look at Me, Unfaithful One"
Text: Margareta Z. Jankov and NR Press
Photo: "Tamburitza Fest" archive
Road
BELO BLATO, IN BANAT, AT THE END OF THE ROAD
A Reed Village
Between the Begej and the Tisa, between Carska bara and fish pond "Ečka", cowering at the foot of the embankment, several meters below the lake water level, this village has for decades lived almost exclusively from reed. About 1,500 inhabitants and about fifteen ethnicities are being educated in three languages. Some of them take the only way there is to the wide world, the others stay in Belo Blato to continue the old ancestral reed dreams and to make new export deals. Because, trucks from several Western European countries often wait in queues for the new supplies of reed
By: Vladimir Putnik
Photographs: Dragan Bosnić
Road Sign
WILL THE BEAUTY IN FAIRY HOMELAND OF FAMOUS BUILDERS REMAIN BETRAYED
Black Grass of Oblivion
Nature and people used to be its treasure. On St. George's Day (Đurđevdan), they used to go far and wide building the most beautiful edifices, and would come home in the fall. This was their home, their centre around which the world revolved. After World War II everything changed. Many people left for good, the fairyland became desolate. And those who stayed, they are still, in the new millennium, trying to find their own way
By: Olga Vukadinović
Photographs: Milan Janković
Summits
FROM BRZEĆA TO LUKOVSKA BANJA, DOWN THE RIB OF KOPAONIK, THIS SPRING
Even the view is healing here
This mountain is so spacious and has such a diverse climate that on it you can, in a single day, eat young lamb, fresh cherries and just-ripe grapes, in natural ice. In the golden ages of Serbia under Nemanjić dinasty, so many precious mines were working here, so much digging was taking place, and hence the name of the mountain. The "National Review" reporter just passed through the eastern side of Kopaonik, full of interesting traces and colorful images. He also recorded numerous legends told to him on the way by incessant storyteller Radovan Tanasković
Text and photographs: Dragan Bosnić
Road Guardians
SERBIAN MEDIEVAL FORTIFIED CITIES: KOZNIK
Eight Towers over Župa and Rasina
It was probably already held by Stefan Nemanja. A decade before the Battle of Kosovo, Prince Lazar issued decrees "in the noble city of Koznik". At the times of Despot Stefan and then Djurdje, this city belonged to their topper Radič Postupović, described in folk poetry as Rajko of Rasina. For many reasons Koznik was considered worthy enough to have monarchial decrees issued in it, and today it is one of the best preserved fortifications of medieval Serbia
By: Vojislav Filipović
Crossing Border
A VIEW FROM ZEBRNJAK: STARO NAGORIČANO, BETWEEN FAMOUS PAST AND STRUGGLE FOR THE FUTURE
Roots Make Us Stronger
For thirty years Saint Prohor Pčinjski led an ascetic life on one slope of Kozjak, where Staro Nagoričano is located, and then moved to the other side of the mountain, near the place where today stands the monastery dedicated to him. These two sides are today separated not only by the mountain, but a state border as well. And along this border live people who are trying to turn this into their advantage, to be the bridge, to win by surviving
By: Ruža Srbinović
Photo: Dragan Bosnić
Diaspora
DR SLAVOMIR GVOZDENOVIĆ, POET, PRESIDENT OF THE ASSEMBLY OF THE DIASPORA AND SERBS IN THE REGION
All Gathered under One Roof
About four million Serbs live today outside of Serbia. All of them have many problems, but also represent a great potential. As the blessed deceased Patriarch Pavle said, it is not important just how many of us there are, but what we are like. It is time to gather, look one another into the eye, regain trust and see what we can do for one another. Serbia must be a mother, we must be good children. Emotions are undisputable, but we must also be pragmatic, hard-working, concrete
By: Mišo Vujović
My Corner of Serbia
UNUSUAL ARCHEOLOGIST SAVO DERIKONJIĆ TAKES US THROUGH HIS HOMETOWN OF PRIBOJ
Oh, If Only I Could Have a Horse
He graduated in archeology in Belgrade. He won the October Award, worked at many sites throughout the country. Twenty years ago he returned to his hometown with his family, initiated the founding of the Homeland Museum and has not stopped since. He goes through the ancient past, follows the traces of people who "knew how to dream and build". "We should roll up our sleeves, there are many more things to be done", he says
By: Roza Sazdić
Photo: Dragan Bosnić
A Sip
SERBIAN SLIVOVITZ, ONE OF THE FEW MOST PERFECT HARD LIQOR IN THE WORLD
Rakia needs a servant and a master
Together with cognac, malt whisky, calvados, some types of grape pomace and grape rakia and, of course, wine, a place among the most renowned old liquor in the world is reserved for Serbian slivovitz. The good, old, conifer-vanilla-balsam-cedar one. The high altitude one. The best variety of plum for this type of rakia is požegača, followed by, in this order, crvena ranka, čačanska lepotica, valjevka and čačanska rodna. This is what we are told by professor Dr Ninoslav Nikićević, currently the only Serbian expert who earned his PhD focusing on požegača and double-distilled rakia made of it, in his interview for "National review"
By: Radmila Tamindžić
BG
LEGENDS ABOUT BELGRADE (3)
No One Will Betray You There
"Let Him save us, and we will save Him in ourselves", said the unknown old man to Christ's students before the gates of the White City. Where do all Belgrade people know Archangel Michael from? Whose is the gentle voice, resembling father's, which saved the runaway boy in a Belgrade winter night? How come the White City has Sava's water, Sava's bread, Sava's river, Sava's temple? There are moments when every true Belgradian clearly hears the big bell of King Dragutin which the Serbs buried in the ground to save it from the Ottomans. What about you? Do you remember the moment when Belgrade enchanted you and made you a Belgradian, or are you still not aware it happened?
By: Dragan Lakićević
Illustrations: Peđa Dragović
Old maestors
MIROSLAV ANTIĆ (1932-1986), THE POET WHO DOES NOT ACCEPT FAREWELLS
I have lived at least eight lives
His blond lock of hair and sooty alley, his summers and loves, rivers and intersections, marked the early youth of so many of us and weaved into us like a code, like a gift. He left us the Immortal Poem and Nonreturnable Song, better than anyone taught us that thing about ants and eagles, scattered all around us the magical images from that "land of czardas, glasses and landless people". This unforgettable Banatian, chaste debauchee, poet, painter, journalist, sailor, talker, "the last Duke of Vojvodina", he who could do anything, told us at the end: "If they tell you that I have died, don't believe it. To die I don't know how"
By: Zorica Todorović Mirković
More than a Game
EXCLUSIVELY FOR "NATIONAL REVIEW": LJUBICA MRKALJ, SERBIAN PAINTER IN PARIS, AND VICE VERSA
With the Mysteries of All Times
She started off from the bottom of the Pannonian Sea. Discovered and conquered Belgrade. Went through all those small personal rites, visible and invisible, which make us who we are. At the beginning of the suffocating 1970s, she decided to leave. With a tube of a few selected paintings, one small suitcase, a few dresses, three buns and a bunch of apples, she boarded the train to Paris. She learned to enjoy small things and that painting is a form of prayer. She understood her nostalgia for unknown lands. She met the greatest artists of her époque and they met her. Today she is one of the greatest living Serbian painters and one of the most remarkable artists of the Serbian Paris circle
By: Branislav Matić
Photo by: Dragan Bosnić, Vladimir Marković
Eye
DUŠAN ĐUKARIĆ, ONE OF THE MOST AUTHENTIC SERBIAN WATERCOLOR PAINTERS TODAY
Uniting and Overgrowing
He elevated this form of art to a higher level. We do not recognize his urban centers by the accuracy of their description, but by the impression they leave. He is a painter of atmosphere, not one who copies reality. By uniting the European and Far East style, mimesis and abstraction, sensuality and intuition, fond of before all life, he introduces calmness and feeling for space into his works. Still life, oriental scenes, marinas, landscapes, nudes, streets… Especially attractive are his scenes of Belgrade and Venice
By: Dejan Đorić
Winner
EXCLUSIVELY: JASNA ŠEKARIĆ, THE FIRST LADY OF WORLD'S SPORT SHOOTING, A WOMAN WHO LOVES THE SMELL OF GUNPOWDER
It's Good that We Are Alive
Nobody wanted to join the school's shooting team, as the trainings were on non-working Saturdays. They then opened the school diary and, in reverse order, called out names which had to take up that obligation. She was the first on the list. Since then, she has won over 90 medals, she has been the world champion for five times, an Olympic winner the same number of times, fifteen times the champion of Europe, two times world record breaker, three times voted the best sport shooter in the world… She has managed to set firmly her character, to rule her stage fright, and keep a smile when it was the hardest. She is happy, she says, for being where she is, in the nation she belongs to
Text: Dejan Bulajić
Photos: Archive of Jasna Šekarić
Knowledge
BUSINESS ACADEMY, THE FIRST PRIVATE UNIVERSITY IN THE PROVINCE OF VOJVODINA
Top Quality Personnel and a Decade of Growth
Tenth anniversary of this university was marked with a successful completion of the accreditation process. And now, this first accredited private university in the province becomes an institution of higher education with a strong position in the Serbian market of higher education
Insurance
"DDOR NOVI SAD"
Safe driving training – along with the casco policy
All vehicle owners who write casco insurance for their car in "DDOR Novi Sad" will receive a free safe driving training in the National Driving Academy (NAVAK)
Health
SPECIAL HOSPITAL "SOKOBANJA"
Guardians of Long Tradition
"Sokobanja is one of the few climate stations in our country where you can feel there is air, day and night, and where you can feel freshness and scent in the air." That is what the Nobel Prize winner Ivo Andrić wrote in his novel "Signs Along the Road". The long tradition of healing and traditional medicine is today preserved by the Special Hospital that carries the name of the town, gathers a team of foremost experts of various specialties, offers a series of treatment, recreation and anti-stress programs, as well as removal of the consequences of contemporary unhealthy lifestyle
Travel
"SERBIAN RAILWAYS" OFFER PLENTY OF NEW POSSIBILITIES THIS SUMMER
The Lowest Cost Travel around Europe
For only month and a half, over 45,000 people and 2,000 cars were transported on international lines. A range of new railway identity cards ensures a wide range of discounts for young people, old people, members of various social organizations, practically for everybody
Leaders
MILENKO NIKOLIĆ, MA, DIRTECTOR OF "AUTOMATIKA", COMPANY THAT OPERATES WITHIN THE INSTITUTE "MIHAILO PUPIN" FROM BELGRADE
High Technology of Process Control
The strongest company in the respectable holding, "Automatika" is involved with systems of process control in electric power industry, in traffic (toll collection systems) and state administration (taxes). The company itself designs a dedicated system, develops equipment for it, uploads it and puts it into operation, and afterwards maintains it. Thus far it has achieved excellent results
Lighting
HPP "GAMZIGRAD" ILLUMINATING EASTERN KRAJINA FOR 101 YEARS
White Light from the Black Timok
In June 1902, people gathered in the centre of Zaječar. And professor Đorđe Stanojević spoke feverishly about the new age and advantages of electricity. "Zaječar Electrical Association" was founded soon afterwards, and the hydro power plant, after numerous obstacles, began to work in 1909. It works even today, only it produces almost five times as much
By: Zoran Plavšić
Photographs: The archive of "Elektroprivreda Srbije"
Lighting
MIJODRAG ČITAKOVIĆ, ENGINEER, DIRECTOR OF "DRINA-LIM HYDRO POWER PLANTS", EXCLUSIVELY FOR "NATIONAL REVIEW"
Golden Reserve of Serbian Electric Power Industry
Total power of this group of power plants is 1,280 megawatts, which is about 10 percent of the installed power in Serbia. It is especially important that this is ecologically clean energy, from renewable sources, but also that it is peak energy. Peak energy is used during very high consumption and in the world it is 10 to 20 times more expensive! In the coldest winter periods, when all consumption limits are reached and all red lamps are lit up, these power plants operate with full capacity, "ironing the peaks" and enabling to avoid the crisis of electric power system. The planned revitalization, which is currently in progress, will extend the useful life of these power plants by additional 30 to 40 years
By: Aleksa Mitić
Photographs: Dragan Bosnić