Eye
PAINTER AND SCULPTOR DUŠAN RAJŠIĆ STEADILY FOLLOWS HIS ENTHUSIASMS AND SELF-EXPLORATIONS
Revealing Don Quixote
"Rajšić's art is founded on the poetics of Romanticism Expressionism, which creative mechanism is initiated by pure energy very close to the one Serbian culture cherished with the works of unrepeatable Mateja Vuković and partially Jovan Soldatović. Rajšić is on the path of becoming part of the top of Serbian fine arts", wrote Nikola Kusovac for the exhibition in the "Ikar" Gallery in Zemun
By: Milorad Đoković, PhD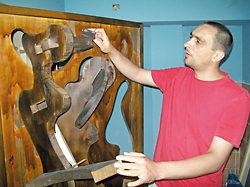 Being an authentic artist in the whirlpools of time means to surrender to the passion that constantly pursues you, to be a monk in self-captivity, a devotee who repeatedly questions his work. It must be what Dušan Rajšić, sculptor, painter, master of drawing, is thinking while standing before his works, he who easily, from numerous lines, gives birth to galloping horses, birds in flight, dancers and swimmers not ashamed of their body.
Born four decades ago in Gospić, he grew up in the embrace of mount Velebit and three rivers, Lika, Novčica and Jadova, drawing his artistic inspiration from his homeland. While lying on a Lika stone, gazing at the sky, he once saw himself riding a flying black horse and reaching the Velebit degenia (Degenia velebitica), an endemic plant with a fragile stalk and beautiful yellow flowers. And when his father Mile Rajšić, art pedagogue, bought him a luxurious monograph in which he saw the sculpture of famous artists from Brač Valerij Mikeli and Branko Dešković, he was astonished.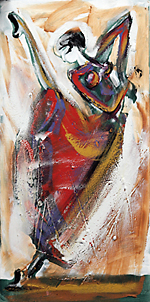 – The first encounter in my childhood with pictures of sculptures freed my hidden artistic spirit and clay became my obsession. I immediately knew I was going to enroll the Academy of Fine Arts in Zagreb, where my artistic credo began – he says.
Although excellently received by his professors led by Stjepan Gračan, he soon had to flee Croatia. He continued his studies in 1992, at the Faculty of Fine Arts in Belgrade in the class of Professor Nikola Vukosavljević. He went through great temptations, as a refugee, as a student, as an artist. He never wavered, never gave up his dreams and obsessions. While other students sculpted one sculpture during several classes, he used to make a dozen of them in clay for only one day, and to, unsatisfied with the result, destroy them. Professor Dragan Lubarda, who recognized the great artistic talent in his student, was his important stronghold and support.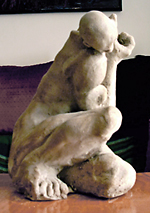 In painting he followed the traces of great masters: he first made sketches, then an anatomic presentation of the painted work, portrait. At the end of the complex and arduous process he sculpted. He gradually came out of the fusty shelters, Belgrade basements, hidden in the darkness watched the outlines of shadows and visions of figures, and finally brought them out into the light, before the audience.
After graduating in 1996, he sought a new sanctuary throughout Serbia. He settled in Lazarevac, and became editor of the artistic program at the Cultural Center. He met new people, the historical ambiance of the Battle of Kolubara, and again started from the beginning. Together with his adaptation, he also started a family in Lazarevac.
STRANGER AND OBSESSIONS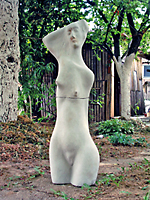 It is difficult to classify his comprehensive artistic expression within common artistic canons. Bracing between abstraction and reality, if it exists at all, the sculptor and painter turned his artistic imagination into expression and rushing emotions. "Rajšić's art is founded on the poetics of Romanticist egalitarian Expressionism, which creative mechanism is initiated by pure energy very close to the one Serbian culture cherished with the works of unrepeatable Mateja Vuković and partially Jovan Soldatović. Rajšić is on the path of becoming part of the top of Serbian fine arts", wrote Nikola Kusovac recently for the opening of Rajšić's exhibition in the "Ikar" Gallery in Zemun, in the Aviation Home.
In order to understand Rajšić's creative work, one should be present for a day when he creates. To see the road he passes from the first drawing, when the outlines are still chaotic and unclear, to the first identification after several hours of work. And then further.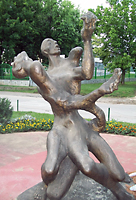 The enthusiasm for the female image as a symbol of life is visible in his delicate eroticism, in nudes, through long-legged dancers, in images of girls performing magical accords on the piano, flute and bass. He is also enchanted by horses, borzois, deer, birds that live in nature and enjoy their freedom.
There is almost no artistic form in which he has not shown his skills: drawing, graphic, sculpture, oil on canvas, monuments, works in metal and wood, models, works in applied arts and design. Once, at the end of his working day, a stranger approached him and asked: "Can you make me a sculpture of Don Quixote?!" Surprised, the artist looked at the stranger. From that day, he made thousands of drawings, paintings and sculptures of Don Quixote. So initiated, the artist found that a hidden Don Quixote is inside of him, attempting in vain to make the world better and more beautiful with his ideas. He understood that the strange, sad and humorous knight became a kind of his personal fate. Whenever he would draw or sculpt a new Don Quixote he would be satisfied with, he would ecstatically say the famous words from the novel Don Quixote:
"Freedom, Sancho, is one of the most valuable gifts heavens have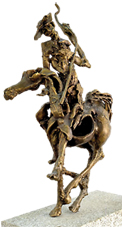 given to people; the treasure buried in the ground and covered by the sea cannot be compared with it; even life can and should be sacrificed for freedom, as well as honor; as its opposite, slavery is the greatest evil people face… Lucky is the one whom heavens gave a piece of bread, and who is not obligated to thank anyone else for it but the heavens."
Rajšić's paintings and sculptures are among the popular ones in many Belgrade galleries. Art experts obviously immediately see the uniqueness of his work, which cannot be successfully imitated or copied. Rajšić's greatest wish is to make a monumental sculpture of Don Quixote, one that the world has never seen before, in the Spanish town of Alcala de Henares, birthplace of Cervantes (1547-1616), the writer who wrote the famous novel Don Quixote de La Mancha. Next to him, in life size, would stand his squire Sancho, faithful companion of his knight, the courageous fighter against windmills.

***
Exhibitions
Dušan Rajšić is member of ULUS and editor of the art program in the Lazarevac Cultural Center. He exhibited his sculptures and drawings in Belgrade, Zemun, Lazarevac, Bačka Topola, Kovin, Ub. He is author of the painter Straub Joseph memorial in Bačka Topola and the Lazarevac Monument to soldiers who died in the 1990-1999 wars. He designed and realized the scenery and costumes for several theatrical plays in the "Plus Theater" in Lazarevac, as well as several posters for different cultural and artistic events. His works are part of many private collections in Serbia and the Southern-Slavic area.
***
Editor
In the Lazarevac Cultural Center "Simonida" Gallery, where Dušan Rajšić is editor of the artistic program, many renowned painters exhibited their works: Sava Stojkov, Janoš Mesaroš, Vukašin Milović, Duško Kostić, Vesna Moravić-Balkanski, Ljubodrag Jale Janković, Dragan Lubarda, Željko Milović... In the "Savremenici" Gallery of the same cultural institution, Rajšić organized a constant exhibition of the Leskovac School of Naïve Art, led by the internationally famous artist Bogosav Živković.
***
Talents
"Dušan Rajšić is an artistic wonder. He has synthesis in his being as well as artistic skills and several talents. It is difficult to say whether Rajšić is a better sculptor or painter, not to speak about other artistic genres." (Professor Dragan Lubarda)