Visit
HOW IS UB PREPARING TO BECOME ONE OF THE RICHEST MUNICIPALITIES IN SERBIA BY 2015
Grounds for Realistic Optimism
"We have completed soil and water analysis and have all preconditions for mass production of various healthy food. We have signed an agreement with Germans on refurbishment of old mines and their turning into a tourist-sports oasis. Since 2015, two big new thermal power plants will be supplied from our mine 'Radljevo', one of which is in our municipality, and EPS is investing EUR 700 million into it. A 26 kilometers long southward highway will be running through the municipality (the construction is in progress), gas pipeline will arrive by 2016, and we are opening two new industrial zones..." says the president of the municipality Vladislav Krsmanović
By: Aleksa Mitić
Photographs: Dragan Bosnić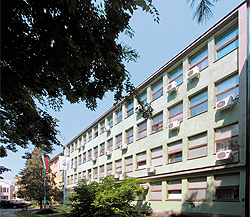 Abundance of vegetation, sun, clean and well arranged streets greet us in this lovely little town. On an elevation not far from the center there is a beautiful new church, standing as a symbol above everything. This town has rich history. It can be traced back to the Vinča culture, five millenniums BC, which is proved by the findings in current settlements of Trlić, Kalinovac, Brgule... Findings from the Bronze Age were found in the settlement of Čučuge. The Tamnava, Black River, is called Flumen niger by an old writer Jordanes. The oldest account found thus far in which Ub is mentioned directly is an agreement dated in May 1426, concluded between despot Stefan Lazarević and Hungarian king Sigmund.
This town has preserved, in a manner transparent to all or only a few, all layers of its rich history. Despite numerous turmoil and wars, there are still buildings from the times of Serbian uprisings, authentic Turkish cobble stone streets, old buildings protected by the state because of their cultural and historical value. Village churches are built mostly in baroque style, and by far the most important one is the church that belongs to Dokmir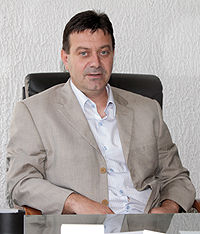 Monastery from the 15th century. The sisterhood is comprised of nuns from Herzegovinian Monastery of Žitomislić, who found refuge here during the war. (...)
Ub is today the second largest municipality in Kolubara region, occupying an area of 456 square kilometers. It borders with municipalities Obrenovac, Lajkovac, Valjevo, Koceljeva and Vladimirci. In 1981, 40,000 used to live here and today this number decreased by 9.000. Although the town is in the vicinity of Belgrade, people are moving to big cities even from here. Just like everything else, in the past decade this was partly the result of poorly realized privatizations, unjustified closing down of previously large companies, increased unemployment, and consequential stagnation of cultural and sports life...
However, people from Ub snapped out of it and are currently on the way to turn the direction of those negative trends, believes Vladislav Krsmanović, president of the municipality and host to the reporters from National Review. A successful man, man of career and position, returned from the capital city into his hometown exactly because of that. His goal is unambiguous: to make Ub one of the richest municipalities in Serbia in the next few years. The plan is realistic and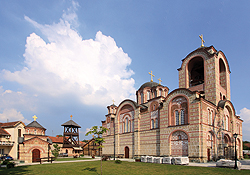 the preconditions for it, he says, have been met.
– Many projects have not been realized exactly because people were leaving – says president Krsmanović for National Review. – We have a huge unused potential. I primarily mean rich mines. As of 2015, "Radljevo" mine, which will in the next 35 years occupy an area of about six thousand hectares, will be supplying coil to two big new thermal power plants: "Kolubara B", which is located in the territory of Ub municipality, and "Kolubara B 3". Only the Electric Power Industry of Serbia will invest about EUR 700 million into this.
HEALTHY SOIL FOR HEALTHY FOOD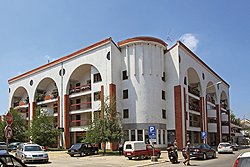 - There is also a big agricultural potential, the real wealth. If you look at the map, you will see that Ub municipality occupies an area starting from the hills of Valjevo and Koceljeva, then continues into the plains of Mačva. It is suitable for various agricultural cultures, from different fruit (spacious vineyards have recently been planted here), to vegetables, wheat and corn in the plains. Every third truck on the market "Kvantaška pijaca" in Belgrade, and not many people know this, comes from our municipality. We will invest 30 million dinars into the further planned development of agriculture (we realize the project in collaboration with the Ministry of Agriculture). We approve subsidies to registered agricultural households for the purchase of new calves, breeding cattle, planting of orchards, purchase of equipment for vegetable farming, irrigation drop by drop... And next year we will invest even more – explains Krsmanović.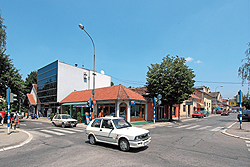 The goal is, he says, to produce healthy food. We collaborate extensively with German experts on the solution for the issue of soot, and the improvement of air and soil. Tey have already achieved excellent results in similar mining regions, turning them into green oases, with beautiful lakes, excursion grounds and other attractive content. After the bombing of Serbia by the North Atlantic Treaty Organization, extensive soil explorations were conducted in Ub. Over 1,000 samples were taken in all villages and it was determined that there was no presence of heavy metals or increased radiation. On those grounds, we have signed an agreement with the Ministry of Agriculture on long term loans for agricultural production.
ENERGY, COMMUNICATIONS, FOLLOWED BY INVESTMENTS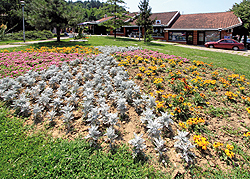 – Our region has the largest beddings of white clay and quartz sand, and there is also a quarry – continues president Krsmanović. – Many companies, from all over the country, purchase their material here, including the industry "Toza Marković" from Kikinda, and that is why I can't see a single reason why we shouldn't, in the near future, build a suitable factory for the production of civil construction materials. There, in the area filled with deposits of clay and sand. The only obstacle for such projects is the lack of gas, which is also the problem for Valjevo and the entire region. Thus far, gas has reached Meljak and stopped there. In accordance with the project of "Srbijagas", it should arrive here by 2016.
Experts for strategic development in this municipality have planned to, along the future highway Ub-Lajkovac, the construction of which is in progress, build two industrial zones. One would cover the area of 70 hectares and is already fully equipped, and the other, greenfield, will cover 60 hectares. Gas will also be a prerequisite for this, as the most powerful energy source, and the time of its arrival is already known.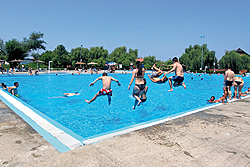 – That is why I say that we have a realistic perspective to become, by 2015, one of the richest municipalities in Serbia – says Krsmanović. – Potential investors are already here, one of them is the Electric Power Industry of Serbia, and the 26 kilometers long highway will run through our municipality. Then it would take us 35 minutes to get to the centre of Belgrade by car, and as much to get to the airport. We have decided to exempt the direct investors from the payment of local taxes, property tax, various fees, land lease (...), for a certain time period. The length of that period depends directly on the volume of investment and number of newly employed staff. From the moment when such a decision was made, the interest of investors suddenly increased. And that is undoubtedly the way that would bring prosperity to all of us.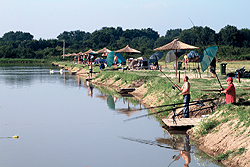 In addition to these tax-administrative allowances, which constitute an attractive business environment, traffic connections have exceptional significance for the level of investment. Ub has excellent perspectives in this respect as well. The municipality has almost 200 kilometers of modern roads, an industrial railway runs through it, and the railway station in Lajkovac (on Belgrade-Bar railway) is only six kilometers away. The port on the Sava River in Šabac is only 50 kilometers away, and the reconstruction of Ub-Obrenovac-Belgrade road, one of the roads with the highest volume of traffic in this part of Serbia, has already begun.
In Kalenić, everything is ready for the construction of a recycling centre that will occupy 63 hectares, and which would meet the needs of Valjevo, Lazarevac, Barajevo, Lajkovac, Obrenovac, Aranđelovac. Designs are finished and the Spaniards have donated funds for the preparation of feasibility study that would include municipalities of Belgrade and Kolubara regions. It is important to emphasize that eight municipalities from this region, together with the Valjevo Chamber of Commerce, have established the Regional Association for the Development of Small and Medium Sized Enterprises (with registered office in Šabac).
ELEMENTS FOR GOOD QUALITY LIFE
– We have a Health Centre and dispensaries in villages. But for specialist exams, people have to travel to Valjevo. That is why we have come to the idea to get together with the Health Centre Lajkovac and jointly organize specialist services. In that way, specialists would work part time here and part time in Lajkovac during the week. Recently, we have purchased a color doppler, replenished our fleet, dispensaries in villages...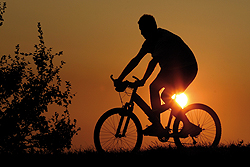 In addition to elementary schools, the one in Ub itself being one of the largest in Serbia based on the number of pupils, the axis of education here are the gymnasium and technical school. The latter provides education for future mechanical technicians for computer design, auto mechanics, car body repairers, waiters/waitresses, chefs, textile workers, trade technicians, sheet metal workers… The only way for young people from Ub to pursue higher education was to go away, usually to the nearby Belgrade, and this far they would remain there.
– I hope that this would change in two-three years, when we realize the plans I've been telling you about, because that is the key for everything: people. We always need experts, and we will need them even more, but the quality of life in the town and the municipality depends to a large extent from people who live and work there – says the president Krsmanović.
Ub was made famous not only by athletes but many citizens of Ub who gained reputations in the field of culture and science, such as philosopher Božidar Knežević, actor Raša Plaović, writer Aleksandar Popović, rector of "Velika škola" Svetomir Nikolajević (and president of the Government of Serbia during the reign of king Milan Obrenović).
– Since Petar Lalić came here from Novi Sad, cultural life in our town is rejuvenated. Three years ago we have started the competition of amateur theatres "Repasaž fest", which gathers amateur theatres from the former Yugoslav republics. Well equipped modern movie theatre with 350 seats is also a theatre building, hosting actors from the most famous theatres. Sometimes a ballet performance could be seen here, folklore ensemble, opera sing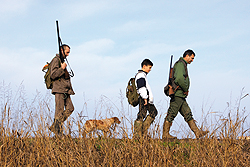 ers... Literary evenings are frequent here. We have audience that can appreciate quality and reward the artists. Artistic colonies and exhibitions are regularly organized in the town, among others, the International Salon of photographs of nature. Ballet studio, the youngest cultural institution in town (for little girls, age three and up), has already won first prizes at two European competitions, in Moscow and Hanover.
This year, says the first man in Ub, the big sports hall will be completed, and tent halls will be mounted in the villages. The first one will be in Radljevo, then in Banjani and Pambukovica. Additionally, football club "Jedinstvo" is the only one from the region of the former Yugoslavia that regularly, upon invitation, participates in the tournament in Viareggio, Italy, an unofficial world youth club championship. That also helped Ub to make good contacts with the Toscana Chamber of Commerce, and concrete results can be expected this fall.
The main tourist attraction of the region is the recreational complex "Ub – Paljuvi", with refurbished surface mines arranged for sports and recreation, then rivers Kolubara, Tamnava, Ub and Kladnica, with hunting and fishing resources.

***
Name
The exact origin of the name is not known. They say that in Russia only there are three towns named Ub. Out of many assumptions, two seem to be the most probable. According to one, the name comes from the Latin urb, meaning "town", and in time this word was shortened. According to the second – local one, the root of the name of this town should be looked for in Slavic word ubavo, meaning beautiful, wonderful.
***
Bricks, football, crossword puzzles
The best bricks in the country used to be manufactured here, and there is no civil engineer who has not heard about Ub. The town has also become famous for football players: the legends of "Zvezda" and Serbian sports in general, Dragan Džajić and Dušan Savić, were born here. Ub can frequently be found in crossword puzzles in daily papers: those who are playing the puzzle often fund it really convenient to close corners with "town in Serbia, two letters".
***
Associations
Among associations in Ub, the biggest one is the Hunting Association is "Tamnava", founded as far back as 1898. It gathers about one thousand hunters, occupying 46,000 hectares of hunting grounds, which is a habitat for rabbits, deer, wild boars, pheasants, grouses (they have their own pheasant farm, producing about 35,000 pheasants and 2,000 grouses a year). It has its hunting lodge with excellent cuisine. In addition to numerous other clubs and associations, local young people gather at the Young Explorers Association "Čučuge". Also well organized is the municipality organization of sports fishermen.
***
"Tamnavac"
It used to be a giant in agricultural production. It has two administrative buildings, several supermarkets in town, cereal silos, slaughterhouse, bakery, plants for the production of baby food and formulas. However, as the result of privatization it ended up in the hands of the company "Slap". How long the bankruptcy procedure will last, it depends on the state.
– There are those who are interested in re-privatization of this company, whether in full or in parts, and to restore it into its former condition, to restore the production, to improve everything, to hire new staff – says Mr. Vladislav Krsmanović. – It used to be a very important company for Ub...