Road Sign
IN ZAJEČAR, ABOUT GREAT CULTURAL LIVELINESS AND CLEAR DEVELOPMENTAL PERSPECTIVES
A City Looking Up to Europe
Spectacular archaeological discovery of sculpture "Thracian Horseman" brought joy to everyone. "Gitarijada", after two decades of stagnation, gathered over 10,000 fans of rock and roll and brought the name of this city back to the musical map of the Balkans. More than 1,000 bikers from 40 clubs across Europe arrived to the city. Central celebration of the "Days of European Heritage" in Zaječar this year. "Belgrade Chamber Academy" performed at the Imperial Palace in Gamzigrad. And business people are getting ready to explain, at a series of business and fair gatherings in Italy, in the language of investors, why it is important to invest into this city and the region
By: Goran Budimir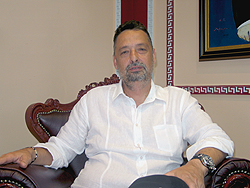 It was very lively and bright this summer in the "capital of the East". In August, the forty fourth Zaječar "Gitarijada", after more than two decades of stagnation, managed to regain its audience and former attractiveness. In addition to numerous demo bands that participated in the competition, old time maestros, such as Lens Lopez, "Van Gogh", "Piloti", Đorđe David and "Psihomodopop" also appeared. Th ethree day happening took place for the first time on a new location, above "Euroklub" on Kraljevica. About ten thousand people gathered: the generation that was dominant in the audience had never seen anything like that before. The winner of the competition was band "As I Fall" from Banjaluka, the audience award went to the local (Zaječar) band "Mind", the award for best lyrics went to "Šraf" from Kosovska Mitrovica...
"Gitarijada was especially decorated by bikers, who arrived on over 1,000 motorbikes from 40 clubs across from Europe", says a Zaječar chronicle writer on the official website of the city (www.zajecar.info). "Since the organizers brought together at the same time and at the same place rockers and bikers, their companionship and competition, as well as two camps with abo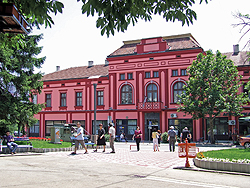 ut 400 tents, turned into a kind of celebration of the entire city. Bikers played a football game against the rockers, there were competitions in beer drinking, arm wrestling, motorbikes strolled through the city almost ceremoniously, and acrobats among them showed their special riding skills. The entire Kraljevica was a hang out for motorbike and rock and roll lovers. The organizers, we can say freely after a very long time, did they job excellently! If 'Gitarijada' continues to develop in this direction in the next few years as well, the general impression is that Zaječar could soon again become one of the most important cities on the rock map of the Balkans, and far beyond. And Kraljevica, where that beautiful ski resort was built (practically in the city itself), would in that way get its full summer life."
But it wasn't only that which gave life and liveliness we are talking about. Out of numerous events, let us mention a very beautiful concert at the Imperial Palace in Gamzigrad, held on this occasion of the recent big archaeological discovery of sculpture "Thracian Horseman". "Balkan Chamber Academy" from Belgrade (Ognjen Popović on clarinet, Bojan Pešić on oboe, Nenad Janković on bassoon) impressively performed Mozart, Iberia, Beethoven and Tomasi. What contributed to the authenticity is certainly the spirit of the location where the concert took place, that "mysterious smile of the Emperor over the pain, friability and evanescence of this world".
CONTRIBUTIONS TO EUROPEAN HERITAGE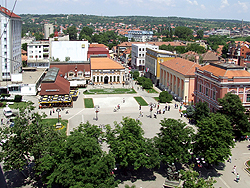 And the end of summer, mid of September in Zaječar was marked by the central celebration of this year's "Days of European Heritage". Numerous cultural emissaries gathered, sophisticated and creative people. They were solemnly welcomed in Rajačke vinice, where they were first greeted by the director of Krajina Museum Gordan Janjić. Traditional Krajina toast was made, and Cultural-Artistic Association "Tamnič" performed a custom "Preparations for grape harvesting". New permanent exhibition was ceremoniously opened at the National Museum in Zaječar, with the speech given by Bora Dimitrijević, director of this respectable institution. "Roman Drobeta and its area" is the name of the exhibition which was, within that same event, opened at the Museum "Portile de fier", in the Romanian border town Turn Severin. The exhibition was opened by Irina Cajal Marin, state secretary at the Romanian Ministry of Culture and Cultural Heritage.
Central reception and press conference took place in Zaječar, in the salon of the City Assembly and Small Hall of the Town Hall. The host was Boško Ničić, the mayor, together with Serbian Minister of Culture Nebojša Bradić, Romanian state secretary for culture Irina Cajal Marin, as well as directors of museums from Turn Severin and Zaječar Mataca Sorina and Bora Dimitrijević.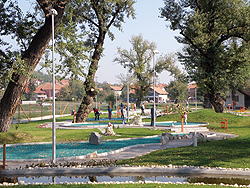 The crown of this event was a series of programs held at "Felix Romuliana" in Gamzigrad, and marvelous finale was provided by the First Belgrade Singing Association which performed compositions of Stevan Stojanović Mokranjac.
– Through this event, just like through the entire social and economic life of our city and the region, we showed to everybody that we have a great European potential and great European perspective – says for National review Boško Ničić, the mayor of Zaječar. – We also show that this is not just a phrase, or a trendy political mantra, but that it implies a very specific quality and measurable indicators of general improvement, which will be in a reasonable time period felt by all our citizens, every family, every company. And in that we know that European perspective is not a "magic wand" but a challenge, it is not the final, but the first step. We know that nothing will be resolved with it, but it is an opening of possibilities for us to, with a lot of effort and work, with a lot of knowledge and creativity, deserve what we are striving for.
IN THE LANGUAGE OF INVESTORS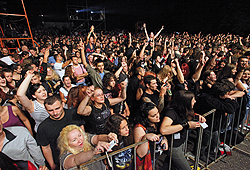 With exactly this kind of awareness, Zaječar people are continuously contacting serious investors indicating important advantages of investing into this city. They are currently preparing to do the same at several business and fair events in Italy. What are they emphasizing the most in these efforts?
– We emphasize that Zaječar is the center of the region of Eastern Serbia and center of the district, a part of "Danube 21 Euroregion", in the zone of the vital "Corridor 7" – says mayor Ničić. – We use exact facts. In easily accessible surrounding markets there are 38.5 million consumers (in Serbia, Bulgaria and Romania). There are already 350 companies in Zaječar and the surrounding area, and 15 million euros were invested in the last five years. Only in 2009, a hundred million dinars from the city budget was invested in the development of infrastructure. We have almost eight thousand qualified and competitive employees. Out of that, 10 percent is work forc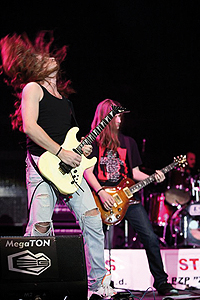 e with vocational and university degrees. Average net salary is 260 euros per month. These are all elements the significance of which we do not have to explain in to many details to business people.
After a long time in this line of work, a reporter develops a special sense that enables them to feel the pulse of the city where they arrived. We know that only the best would be taken before a guest, what people keep for special occasions, including friendliness, brightness, avoiding difficult issues. We know that the impression that you take from there can be unrealistically beautiful and that afterwards, transformed into an article, it can look like sugar coating. But this is our third or fourth visit to Zaječar in the past two years and we know what we are talking about: spirit of entrepreneurship, new optimism, taking things into one's own hands, as well as dealing directly with problems, which are never small, is what characterizes the life in the Serbian "capital of the East". What more would you need for starters?

***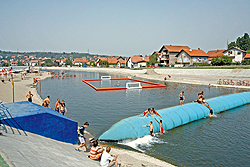 Priest's Beach
This summer, the Sports Recreational Center "Popova plaža" ("Priest's Beach") attracted again numerous citizens of Zaječar and their guests, of all generations. Built on a former dump, on the bank of the Timok River, this beautiful sports center, with well developed beach, numerous sports fields and attractive related services, is an example of how it is possible to significantly improve the quality of life in Serbian cities with own investments and own initiative.
***
Euroregion
Initiated for the first time in 2000, this three-part project has been implemented since January 2002, when Vidin, Bulgaria, hosted a meeting of the mayors of the host cities, Romanian Kalafat and Serbian Zaječar. They agreed to establish Euroregion "Danube 21", the first of that kind in this part of the Balkans. The objective is to "join efforts in solving the most serious issues that this part of the European southeast is facing, and to stimulate strong development processes". Today, eight years later, this objective has been realized to a great extent, and good results are coming from all sides.
***
Floods
This year again Zaječar and the surrounding areas were hit by big spring floods, repeating the warning that big regulation projects are necessary in order to provide a long term solution for this problem. In accordance with the report that was recently adopted by the Zaječar City Assembly, this year's damages from floods in Zaječar were estimated at 452.5 million dinars.