Care
THE TENTH "SCHOOL OF FRIENDSHIP" ORGANIZED BY "OUR SERBIA" ON TARA   
In Serbian Code
The participants were Serbian children from eight regional countries, from Serbian enclaves on Kosovo and Metohija, children without parents who were included in the support program of "Our Serbia", but also children of eight different nationalities that live in the territory of Serbia. Six hundred of them in total. Numerous friends and donors visited them and participated in their jolly workshops, starting from the president of Serbia. General sponsor was Banca Intesa, the program was led by the professional team of "Our Serbia", and the Institute for Healthcare of Children and Youth from Novi Sad was in charge of health of the participants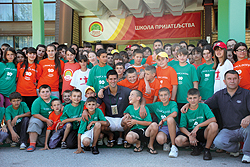 Within this year' "School of Friendship", the multiethnic seminar "Days of Friendship" was organized for the fifth time, between July 3rd and 9th. It gathered 160 children of eight different nationalities that live in the territory of the Republic of Serbia. Children of Hungarian nationality came from Kanjiža, Rusin nationality from Ruski Krstur, Romanian from Nikolinci, Slovakian from Bački Petrovsc, Bosnian from Brodarevo, Albanians from Tupalo near Medveđa, Bulgarian from Dimitrovgrad. Of course, together with them there were Serbian children who were included in the support programs of "Our Serbia".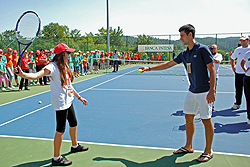 "This seminar is focused on intercultural education", people from "Our Serbia" explain. "The goal is to promote multicultural values and to contribute to the development of democratic society. Children of different ethnic background meet with one another, spend time together, learn specific cultural traits of one another. Together they participate in creative and educational workshops, address the topic of tolerance and cultural differences in an interesting way, learning that differences mean richness and give a special quality to our lives."
This year again the seminar was organized under the auspices of the provincial government in Novi Sad, with a special support provided by the government of Spain, a friend-country of the "School of Friendship".
ELEMENTS OF NATIONAL IDENTITY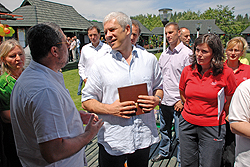 The new project within the "School of Friendship", called Serbian Code, gathered 200 children of Serbian nationality from eight regional countries. That is how, for the first time, children of Serbian nationality, age 10 to 12, gathered together with their peers from Macedonia (from Kućevište near Skopje, Staro Nagoričano and Kumanovo), from Croatia (from Bijelo Brdo and Vukovar), from Montenegro (from Andrijevica and Plužina), from Hungary (from Batanja and Budapest), from Romania (from Timisoara), from Albania (from Skadar and the vicinity), from Slovenia (from Ljubljana and Novo Mesto), from Bosnia and Herzegovina (from Drvar and Bosansko Grahovo).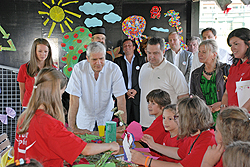 "Serbian Code" is also the title of a special program realized by "Our Serbia" with them, in the period between July 10th and 20th. In the manner that is understandable and interesting for children, adapted to their age, terms that represent an indispensable and recognizable part of Serbian tradition, religion, language, culture and customs are defined and explained. For the purpose of that program, "Our Serbia" has recently published a very attractive book-glossary, with a large number of entries relevant for Serbian identity and world view. Authors are deacon Nenad Ilić, Anastasija – Vesna Ilić and Ivica Živković.
"With Serbian Code we are trying to enable these children to, in a lovely and interesting way, become familiar with authentic Serbian national values, gain friends with the same background from the entire region, and in that to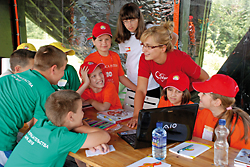 make stronger their ties with their home country", say the representatives of "Our Serbia". "Children find especially interesting the staging of the Battle of Kosovo and Serbian holidays and customs, which they performed themselves as a part of the workshops. They also had available several creative workshops: school of ethnology, singing, painting, ecology, school of basketball, football, volley-ball and tennis. School for scouts enabled them to get familiar with natural beauties of Tara National Park in a special way."
CHILDREN OF "OUR SERBIA"
The third part of this year's "School of Friendship" on Tara, which took place between July 21st and August 4th, gathered 200 children included in support programs of "Our Serbia". These are children from Serbia and Republika Srpska whose parents have been killed, kidnapped or missing during the recent wars in these territories, as well as children from Serbian enclaves in Kosovo and Metohija. The arrival of children from this southern province of Serbia was organized in cooperation with non-governmental organization "Dečja radost" from Gnjilane, which had received a donation for this activity from the Ministry for Kosovo and Metohija.
"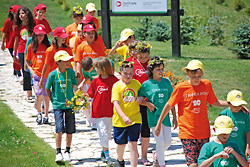 Within this section, the program of psycho-social support took part within educational-upbringing workshops with entertaining and recreational content: the program Serbian Code, school of ethnology and weaving, painting and sculpture, ecology, music, computers, journalism, school for scouts, school of sports (football, basketball, volley-ball, rhythmic gymnastics and tennis). They were also visited by former children, now already adults, of 'Our Serbia', to celebrate together a decade of work."
On July 23rd, the children of "Our Serbia" were visited by the best Serbian tennis player ever, Novak Đoković. Welcomed with utmost excitement by his little big friends, Novak formally opened the newly built complex of tennis fields that would carry his name. The opening ceremony was attended by Desko Nikitović, general consul o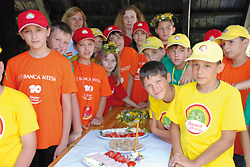 f Serbia in Chicago who, together with his family, donated to "Our Serbia" funds for the construction of the field. And the Đoković family donated to "Our Serbia", as a support in the realization of the "School of Friendship", RSD 1,000,000. Additionally, they decided to provide regular financial support for 12 children under the care of "Our Serbia".
– I am really glad because of this opportunity to be on Tara and to help children – said Novak Đoković. – The purpose of this entire action is to bring joy to them and provide them with freedom of movement; we all know that most of these children come from Serbian enclaves in Kosovo and Metohija, and that only here they can spread their wings and have a carefree childhood. This is not my individual act, this is an action of the entire country of Serbia and all of us who stand here. To see such a large number of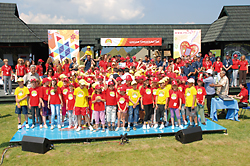 children happy and smiling, truly enjoying this beautiful center, is a big thing.
Novak Đoković visited workshops of the "School of Friendship", and he also spent time with children on the new tennis field, where they showed him the skills with tennis racket that had mastered this summer.
Big support for the equipment of tennis fields was provided by the company Philips, which donated spotlights for the lighting of fields and decorative lights for the "City of Friendship" in which children workshops were taking place.
***
Visits
On July 30th, the "School of Friendship" was visited by the president of the Republic of Serbia Boris Tadić and Minister of the Interior Ivica Dačić with a delegation of this Ministry. This summer, the "School of Friendship" was also visited by Bishop Teodosije of Lipljan, Minister of Education Žarko Obradović, president of the Executive Board of Banca Intesa, Draginja Đurić, singer Zdravko Čolić, as well as numerous benefactors and friends of the organization. Among them are Mira Radojević and Staniša Ognjanović from London, Cica Stojanović from Vienna, Pero Tomić from Moscow, who have been supporting "Our Serbia" for all these years.
In accordance with rules of hospitality and the Serbian Code, all guests were welcomed with bread, salt and anthem God of Justice. They visited workshops, participated in them, spend long time talking to children. Children tell us that the most emotional moment was when they all together, led by the president, sang There, Far Away and This is Serbia.
***
Book Fair
Within the "School of Friendship", for the eight time this year, a donative book fair took place under the auspices of the publishing company "Politika – Novine and Magazini". The books for this fair were provided as gifts by the Belgrade City Library, the "Official Gazette", "Beogradska knjiga", Ivo Andrić's Endowment, Grafički atelje "Dereta", "Kreativni centar", "Čigoja štampa", "Stubovi kulture", "Clio", "Bookland". Books published by "Princip Press" and National Review attracted great attention of the guests at the book fair.
***
Šarenica
A unique experience for children was their appearance in RST TV show "Žikina šarenica", which was filmed at the "School of Friendship". They will certainly remember the humanitarian concerts by Goca Tržan, Tijana Dapčević, band "Zana", Jelena Tomašević, Kiki Lesendrić, ethno band "Trag" from Republika Srpska, Milan Stanković, Saša Kapor and Jovan Stefanović, as well as spending time with actors Milorad Mandić Manda and Ivan Jevtović. On top of everything, there was a performance of the National Ensemble "Kolo", a great friend of "Our Serbia", led by its director Radojica Kuzmanović. On that occasion, the biggest kolo of friendship was danced, joined by all the children, teachers, the team of "Our Serbia" and members of the Ensemble "Kolo".
***
Day of Police
Within the "School of Friendship", in cooperation with the Serbian Ministry of Interior, the second Day of Police took place. On this occasion, members of the Anti-Terrorist and Special -Terrorist Unit, Gendarmerie, traffic and cavalry police spent time with the children. They also presented very attractive demonstrations of their exercises.