Old Masters
DUŠKO TRIFUNOVIĆ (1933-2006), JOYFUL POET OF GREAT SORROW
Only To Be With You
Millions of people sing and know his songs by heart. They were recorded by "Bijelo Dugme", Zdravko Čolić, "Indeksi", Arsen Dedić, Jadranka Stojaković, Neda Ukraden, Vajta, "Teška Industrija", "Kod"... His poetry is part of the sentimental luggage of most of us "born in the previous century". "There is a mysterious connection", "I accepted to be anything she wants me to be", "What would you give to be me", "Crazy head", "Goldfish", "We could have done anything", "Remember me for my songs"… And today, after everything, he rests on a hill above Sremski Karlovci and the Danube, under Branko's Stražilovo, just as he confided Her a long time ago: "When you become old, I will be a gentle slope of Čerat"
By: Zorica Todorović Mirković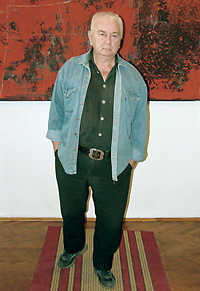 The dead never return. However, this does not apply for great poets. As we all know, they actually do not leave until their verses are read, spoken or sung. They live in textbooks, schoolbooks, their work is studied and takes a whole different dimension. Duško Trifunović is one of them. He began shining in the sky of poetry in 1958, when he was awarded with "Branko's Award" in Sremski Karlovci for his first book of poetry Golden Bullet.
This unusual bullet went straight into the heart of readers. However no one, not even Duško himself, could even anticipate that in that same town, almost half a century later, the poet will find his eternal peace. In that town on the Danube surrounded by vineyards, millions of small scented suns from which the afar famous Karlovac wine has been made for centuries. According to his own wish, the most sung poet in Yugoslavia was buried on the Čerat hill above Sremski Karlovci and under Stražilovo, where his brother in poetry Branko Radičević, the most famous poet of Serbian Romanticism rests. Just as he wrote in his poem: "When you become old, I will be a gentle slope of Čerat..."
It seems that even there, between the two poets, there is the "mysterious connection" Duško sang of. They were born near one anther, Branko in Slavonski Brod, and Duško in Sijekovac near Bosanski Brod, and now they rest near one another. After Radičević's funeral, no poet in Sremski Karlovci had so many people present at his burial as Trifunović did. He passed away on January 28, 2006 in Novi Sad, where he lived. And so many people arrived to Čerat hill to say goodbye to Duško two days later!
HE CLEANED EVERYTHING BEHIND HIM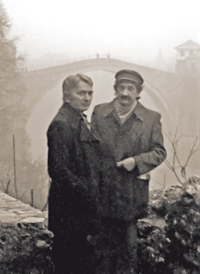 He stated his wish to be buried in Sremski Karlovci in his will, included in his book of poetry Spring Cleaning published in Novi Sad a year before his death. He anticipated his departure, just like the readers did. He was saying goodbye, cleaning everything behind him, making summaries. Like ancient sages, like old masters, "everything I could tell you about myself" he summarized in a few unforgettable poems in this book. Not big in volume, it contained more love songs than any before it.
"... Around me is a world which
I could have said goodbye to a long time ago,
and I stayed only
to be with you again..."
"She, the Woman, is an axes around everything revolves", Duško used to say. "Naturally, it is not just one woman, but through one I address all of them and they are all mine." And on that beautiful March day in 2005, contemplating over the reporter's remark that it is "too early to say goodbye", and going through the book ornamented with a beautiful inscription, he said: "You see, a time comes when one has to withdraw. He is forced to do so by old age or illness, which can humiliate, hurt… I have written a long time ago that the whole life is dying, as soon as we are born, we begin a battle for survival, starting with small pox, until the moment wefeel the need to tell someone what has happened 'in the middle', to leave knowledge…"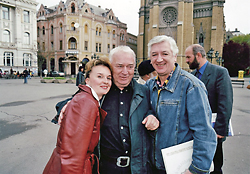 Duško ends Spring Cleaning, a warm and honest book, with verses dedicated to Her:
"Look, Lord, how I pray to you,
Take care of the one I love."

If it had not been for the war, he would probably never have left Sarajevo. This city on the Miljacka, in which he published almost all his books, was something he could never get over. The bombs were already falling, yet he kept postponing his departure. The telephone was constantly ringing, friends from all sides called him, mostly from Novi Sad, warned him to stop playing games, to leave everything and leave immediately. He hesitated, could not make a decision, lay on the floor for days to avoid bullets. He was not certain he would leave even on the day he entered a full bus. Mothers with children had priority and he could have been a surplus. But he wasn't. He finally reached Novi Sad, empty handed, with the heaviest suitcases full memories and pain because of everything that was happening.
LIVING IN THE TRAIN TO BAR
Zoran Kolundžija and Pero Zubac greeted him in Novi Sad with wide open arms and open hearts. Zubac practically forced him to take the refugee identification card which, as they found out later, provided him only accommodation. He refused to take any other aid otherwise intended for refugees.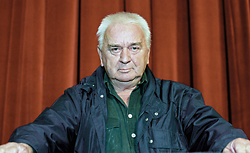 "It is true", tells Zubac, "that, thanks to this refugee ID card, Duško used to travel to Bar by train for months. For a while, it was his mobile home. He would leave at night and return to Novi Sad with the same train. So he suffered homeless until one evening in Novi Sad, near the monument of Zmaj, the then mayor Milorad Mirčić met him. Seeing the poet having a stroll, the mayor approached him.
"Uncle Duško, may I give you my regards? I have grown up with your songs and it would be a great honor for me to have a coffee with you."
"Of course. I am very proud such a handsome young man grew up with my songs."
The poet did not know who the young man was and was surprised when he took him to the Novi Sad assembly building, to his presidential cabinet. Pero Zubac remembers well the touching story.
"Uncle Duško, tell me, please, how can I help you?" asked the new acquaintance over coffee.
"Thank you, son, no one can help me, because I am the mist…"
However, the mayor soon provided a place for the poet to live. Then numerous other friends, known and unknown, attempted to help the poet in different ways. Emir Kusturica personally helped the poet get a job at the Novi Sad television station, Pero Zubac gave him some of his shows, so many times Sead Memić Vajta left him his fees from concerts in closed envelopes… And in the Kolundžija house, Duško was a member of the family.
OH, IF ONLY THE DAY WAS LONGER
"Uncle Duško, will you be our pet now? asked my younger daughter Isidora when the poet first came to our house and brought them two Kinder eggs", remembers Zoran Kolundžija. "Accidentally or not, he brought joy to already grown girls with the same present when he visited us for the last time before his death… We knew how much he missed his son Aleksandar and daughter Ana who live in Slovenia and whom he rarely saw."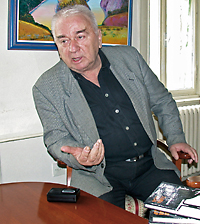 Kolundžija also remembers sitting with Duško, his sense of humor, his enjoying food and insufficient care for his health.
"For us, his friends in Novi Sad, his feeling comfortable here means a lot", adds Kolundžija. "He loved Novi Sad, perhaps mainly because of Pera Zubac, who was most responsible for Duško feeling here at home. I am certain that the literary relation of these two great poets will remain memorized in the history of literature."
He wrote wonderful, great and romantic poetry. Even about the most difficult things he spoke simply, lucidly, as a master. He sang about the time for loving, suffering, being sorrowful. Those poems originated from life, from the people with whom, wherever he found himself, he was close. Our Duško. When buying vegetables, he chatted with the peasants as if they were family. The same was with all the other people he met, or who met him, both in life and in poetry.
Even today, the creative work of Duško Trifunović remains insufficiently explored, claim Zubac and Kolundžija, in spite of recognition from the greatest literary authorities. A step forward will certainly be the Poetics of Duško Trifunović, doctoral dissertation prepared by Miloš Zubac, younger son of the famous poet. Great poets such as Pera Zubac, Matija Bećković, Ljubivoje Ršumović know well the value of Duško Trifunović, which is proven by their writing. However, new generations are only about to reveal it.
Duško Trifunović left his close friend Pero Zubac manuscripts written since his early youth, a kind of Road Signs. (Zubac considers them a capital work.) He also left a written yet unpublished book On This Very Day. In his last interview with the author of this text, Duško revealed that those will be poems in which he will lie, but without insulting anyone:
"The title is actually my starting point for 'lying' in verses. I begin with the lie that Alexander the Great stood next to Diogenes and told him: 'Move away, your greatness'…"
In such a manner, the book further tells about different historical events which became an inevitable part of our and general literary heritage; naturally, pervaded with love sorrows and misunderstandings. Pero Zubac will decide when this book will be published.

***
The Most Sung Poet of a Disappeared Country
During his lifetime, Duško Trifunović published 84 books, mostly poetry, from the Golden Bullet to Spring Cleaning. The poems for singing are only part of his opus. His verses made many rock musicians famous, such as "Bijelo Dugme" and "Indeksi", and entire generations in Yugoslavia grew up singing them. Even today people remember the mega concerts and millions of sold records. The poetry of Duško Trifunović is part of the sentimental luggage of most of us "born in the previous century". Naturally, he also wrote completely different miraculous lyrics, and before his departure, the Novi Sad publishing house "Prometej" and the Subotica Radio "Herc" published his collected works in 15 books.
***
Identifying
There is a beautiful story about the literary brotherhood and great friendship between Pero Zubac and Duško Trifunović. It began in the Svrljig mountains, at the border with Bulgaria, where the poet from Sarajevo was in transit. Coming upon a village inn, he dropped by for refreshment. He was having his coffee and exchanging glances with the villagers who curiously watched the unknown guest. After a time, one approached him: "Poet, isn't it?!" "It is", confirmed Duško. "Pero Zubac!" cried the stranger, proud of recognizing the great poet. "Yes, Pero!" confirmed Duško without hesitation. He did not want the man to loose a box of beer in a bet he took claiming he recognized the poet. Well, Duško or Pero, it's all the same.
***
About the Fate of the Prison Guard
One of his most beautiful songs, "Mysterious Connection" is actually not a love song as many think. It has a different, sadder history. It was written as lyrics for a movie about Tahir, a prison guard. In one scene, Tahir is asked how he is, and he crabbedly speaks how prisoners do their five, ten or fifteen years and leave, and he stayed there for twenty. The song was actually about his mysterious connection with life. "There is a mysterious connection, a rigid law for all people, the anchor keeping the ship from being swallowed by the storm, sinks together with the ship because it is part of it". The guard accepted such a life, explained Duško.