More than a Game
BELGRADE AND MOSCOW CITIZEN, MINA ZAKIĆ, WORLD FAMOUS CELLO PLAYER
I Want the Music To Lead Me
She was only nine when she conquered Europe for the first time (Lizen, Austria, 2000). And then, to avoid any misunderstanding, repeated the same many times. Today she is the only Serbian student at the elite Tchaikovsky Conservatorium in Moscow. After a series of victories, the Russians recognized her extraordinariness, which means the same as if the Chinese recognize you in the area of acupuncture or the Brazilians in football. She knows that she is on the mysterious road towards the heights, where the only limit can be the human himself. She speaks and thinks in Russian, feels in Serbian. She is enchanted by Shuman, Shostakovich, Bach. She remembers a balcony in Bežanijska Kosa, her childhood on the Sava and New Belgrade blocks, summer journeys through Serbia. Serbia for her is home, freedom and the deepest connection. She is one of the symbols of Serbia we need in the XXI century. It would be sad if Serbia, like many times before, would be the last to understand it
By: Branislav Matić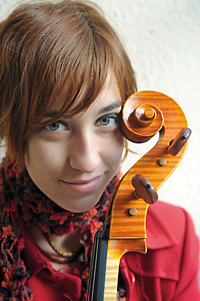 She was still a little girl, an angel with golden locks, smaller than the instrument she was playing, passionately, dedicatedly, when, at her first concerts in Belgrade, she proved us the truth of Borges' remark that "music is the most perfect form of time". She grew up in Bežanijska Kosa and New Belgrade blocks, attended music classes in Zemun (in the class of Professor Nada Jovanović). She understood very early how much effort one has to invest to make what one does seem simple, performed with ease. She was only nine when she conquered Europe for the first time (first prize at the International Competition in Lizen, Austria, 2000). And then, to avoid any misunderstanding, repeated the same in Dresden 2001, Kosice 2002, Paris 2003, Moscow 2007, St. Petersburg 2009.
Immediately after elementary school, she enrolled the Academy of Music in Novi Sad, in the class of Professor Imre Kalman. In 2005, she became student of the Academic Music College in Moscow, in the class of Professor Alexei Nikolayevich Seleznov, and since September 2009, she has been the only Serbian student at the Tchaikovsky Conservatorium in Moscow, the world prestigious institution of its kind.
Mina Zakić, today a nineteen year old, is one of the symbols of Serbia we need in the XXI century. (It would be sad if Serbia, like many times before, would be the last to understand it.) She visited her country this summer, performed at Belef, spoke with her old friends from National Review. Thus this text.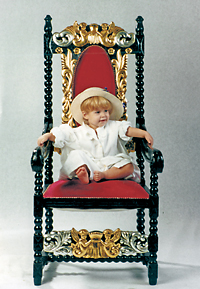 Music. For me it is something, someone, everything. Satisfaction, pain, effort, sweat, idea, wish, rest, seeking, calmness, softness, purification, mirror, the aim and beginning of everything. Something by which there is never a question mark, exclamation mark, anything concrete. The same need as the need for breathing, food, sleep. Love and eternal existence.
The share of effort and miracle. I never thought that it is necessary to invest anything into any art. If you have a wish, it already is not a necessary investment, but an internal need, something so natural. Strenuous efforts and hard work can have the same effect, but only if it is a product of a too large satisfaction. And music, in each of its revealing, certainly is.
My composers. Shuman is close to me; phrase, intonation, all the breaths and silence of his music are under my skin, even when I am not with my cello. I find myself in his music, I receive (or feel…) a clear, wonderful form. Shostakovich – because there are no words to explain him. These are emotions no healthy soul can stand. Bach – divinely unreachable.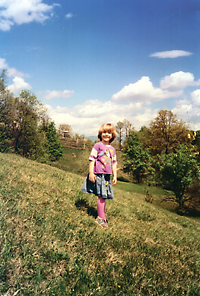 The path of supreme music. One can go that path and reach wherever. The only limit is you yourself. It makes the whole process even more miraculous – you are conducting a miracle. Sometimes it seems as if it is a layer protecting from everything surrounding you (and everything surrounding, except music, in that moment is perfectly excessive) and thereby contributes to calmness, divineness, separation from everything. Whatever you enter that whirlpool of creation with – all the fears, pettiness, burdens, high ecstatic moments – you exit free. What is necessary, the most beautiful things that remain after a natural (unconscious) selection, turns into music and the music shapes it. It simply leads towards itself. I only want the music to lead me, because it is the only way I know and want to go. I simply give myself to it.

Memories of childhood. Cartoons on Channel 1 at 18:30 (Touché Turtle). A large balcony on Bežanijska Kosa, the largest I have ever seen, and the feeling that I am the happiest person in the world for having it. Peter Pan for goodnight; each time he takes me to another place, although at the beginning it seems the same…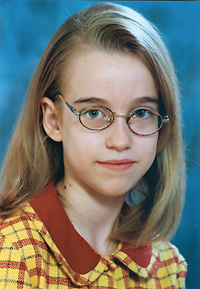 Images of my hometown of Belgrade I will forever carry within. I remember the quay on the Sava, the path to school and the large balcony on Bežanijska Kosa. Or they are more feelings, most often of nostalgia, therefore melancholic, but light, pleasant, familiar. I grew up in New Belgrade blocks, with parks and the Sava surrounding me. In an environment where everything is familiar yet never completely comprehensible. The whole atmosphere brings a feeling of calmness and unity. My evenings and nights are related to Kalemegdan, some entrances, long conversations, senselessness of any motion, action… A golden glass of people, many stories in all of them, a remote riverboat on the Sava with music from the eighties. Old people and close nostalgia.
From journeys through Serbia. I remember the best food I have ever tasted, the liveliest faces, hands in which pores everything is drawn, to the degree that every human is a personification of infinity… Hills, everywhere hills, pure thought and feeling; love, happiness, everything that follows – flows into one. Milking cows, an endless meadow, discovering completely different sounds of silence, simplicity. "Nature cannot stand desolateness." The whole sentence in every human I have met outside of the capital and the satisfaction of living.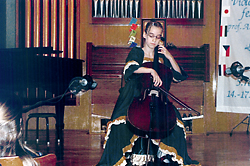 My Serbia. Only abroad I essentially understood what MY Serbia is. My country and, what's most important, my home. My me. It is, before all, the association to the language, then the feeling of freedom and deep relatedness to the soil. The thought I have my home enables me to be open towards other people, cultures and nations. In short – Serbia is my past and an always possible and sure glance into the future, while everything else is the present.
Serbian woman in the world. My view of it is the same as I expect others to see it: completely natural.
My discovering of Russia. It is hard to discover it, because it is enormous. It usually takes a whole lifetime. Up to now, I have been discovering it between Moscow and St. Petersburg. I also discover it through movies, books, concerts, museums. Perhaps I mostly discover it through people.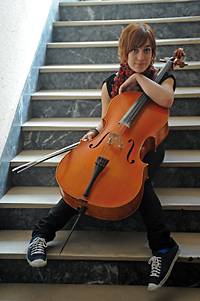 Moscow and me. At the time it was a big step. I threw myself into something uncertain, I could not orient in space, in time of the flight, so the fall onto the ground was very difficult. As if I was opening my eyes for the first time, when all that light is blinding (so at first I tried to look more into myself).
Now we are more related. I know the rules of the city, I know what I need from it, and that my limits are drawn only by my wishes and needs. It is impossible to completely know it, it is too big, it is impossible to get to know all those people, but the security in its character, in the moving of the city itself is certainly initiating.
In Moscow I like most… The possibility of choosing. Moscow is sufficiently wide for any wings and sufficiently narrow for the greatest poverty one could feel. It gives you the possibility to choose what you will be and what you will do. It gives sanctuary, fulfillment of any wish (which is mostly why it is a very dangerous city). It is developing (sometimes into senseless progress, but it understands that it can survive only as a perpetuum mobile). Wonderful concerts, plays, the time which overruns itself and always rushes away, the culture which is in the veins, glances, opinions of all of them – there are many ingredients of this enormous city, made of the strongest people I have ever seen.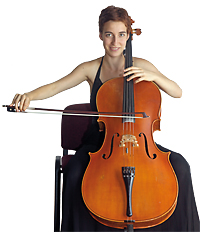 Reading. I generally most often read. The last book I have read in Russian is Nabokov's Desperation and in Serbian M. Yourcenar's Alexis. I don't think there is unserious literature, but since I am a classical type, I prefer classics. It is hard to me to make a choice now, but, the list could look like this: Gogol, Muller, M. Yourcenar, A. Rimbaud, Hoffman, Hugo, Pasternak, Rilke, Hesse, Novalis, Rabelais, R. Roland, Ahmatova, Balzac...
Movies? I also like classics (I am scared of these wild tendencies). Fellini, Godard, Almodovar, Allen, something like that.
What makes me proud is… Cognition.
Greatest disappointments. Love, lack of understanding…
I used to wish… I wished to be a princess, dancer, to have the whole audience in "Kolarac" on their feet and the orchestra behind me… Then I stopped wishing anything. All the endings of some paths (some of which were never begun) meant an end of one life, but also the beginning, the possibility of choosing something completely new. I have never been attracted to people as such, but the immediate moment of their birth, creation. Now I also do not have a role model in the form of a human. I think it is enough to have at least a slight connection with the divine works of great people to become bigger yourself. I would like to be me.
Friendships. In Moscow my friends are mostly musicians, while my closer friends are "people of the same madness".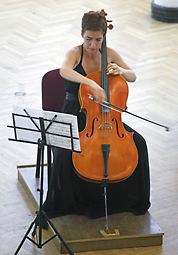 Successes and mistakes. I have never measured any of my deeds by success. Perhaps success is the feeling that I get up more easily after each fall, reconciling with the fact that nothing falls onto the soul, hands or life just like that. And it is good it is so. Mistakes are certainly present, but we bury them very carefully and very deep.
Gratitude. I am grateful to everything. I think I am very happy to be surrounded by people that surround me, to have a "lucky star" (which perhaps does not do anything, but is doing a great job), be in the environment I live in, having the possibility of a soft touch of all fine, clear, light substances.
I would not say I am being treated as a Princess…
In the first place is the family, every part of it. And as an integral part of my whole, I owe each of them something which can hardly be comprehended by words.

***
Foreigner in Russia
"At the beginning, Russians treat all the foreigners the same: they don't. It is necessary to attract them and that is the way to keep them. They have no limits in anything; the only thing that can stop them are themselves. Deeds, fresh views, wish, action – I think those are things which surpass national borders, and people who surround me are sufficiently oriented towards art and freedom."
***
Language
"I speak in Russian, I think in Russian, I feel in Serbian. Our language is simpler, with affects of emotions, and, naturally, closer to me. The Russian language is before all Pushkin, Dostoyevsky, Chekhov, Lermontov... Creative work here has been done with the help of such people… The language – the agile, rich, thoughtful, poetic tool of social life, thoughts, feelings, hope, rage, future. And Serbian – it is me, my beginning and my end."
***
Performances
Mina Zakić performed in all significant concert halls in Belgrade and Novi Sad. Following the invitation of the Ministry of Culture, she opened the Bemus in 2002 and held a solo concert. Her solo concert also opened the First International Festival of Cello in Belgrade in 2003. She held several solo concerts in Paris (2003) and Moscow (2006-2008). She performed with the RTS Symphony Orchestra (2002), Symphony Orchestra of the Artistic Ensemble "Stanislav Binički" (2003), Symphony Orchestra of the Academy of Art in Novi Sad (2004-2005). She participated at prestigious seminars held by M. Straus, K. Janković, A. Gerhard, S. Apolin, M. Kope, M. Ler, L. Hopkins, K. Bend, M. Rodin, J. Chang Cho...
In 2004, she became part of the European Youth Symphony Orchestra.