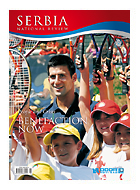 SERBIA - National review no. 22

Prologue
Idiot. Ίδιώτης. In line with the original meaning of this Old Greek word, it is a person who is indifferent toward interests of the community in which he lives and toward state issues, who is focused on his own and private, who is encircled and measured with his own selfishness. Society is only a hunting ground, an area where you enter only to despoil as much as possible and, like a blind dog, drag that into your own litter. There are no moral obstacles, no scruples, no mercy. Although he will never need that much, he still despoils more and more. Just in case. He is also an idiot because he will always, apparently shrewdly and resourcefully, successfully, exchange more for less: soul for money, welfare of everybody for his own welfare, faith for a meal.
Is this time characterized by the triumph of Idiot? Is being an Idiot the only possible systemic solution?
Not all of us are idiots.
GALLERY

CONTENTS
Prologue
PEOPLE AND CRISIS, PEOPLE OF CRISIS, PEOPLE CRISIS

Benefaction Now
Vitrage
NUMBERS, EVENTS, INTERESTING THINGS
Beautiful Face of Serbia
PHOTOGRAPHY BY IGOR MARKOV
Town Events
IN A TOWN BELOW JAVOR, AT THE RESTORED "NUŠIĆIJADA"
To be Seen for Ivanjica
Branislav Nušić, they say, never set foot in this town, then located on the border with Turkey, where people were sent for punishment or into exile. But that is why his Minister Živka, in the famous comedy, says to her son in law Čeda: "You are seen for Ivanjica!" People from Ivanjica took it with no less humor than Nušić, and under that slogan, as far back as 1967, they established a festival of comedy, led by Soja Jovanović and Ljuba Didić. Abolished after five very successful years, everybody there knows why, it was restored this September in a manner that will be remembered
Text and photographs: Luka Vesković
Near the Distiller
IN OSEČINA, IN THE MIDST OF PODGORINA, AT THE FAIR "TREASURES OF SERBIA", THIS SUMMER
Serbia Among Plum Trees
How is good Serbian slivovitz actually made? What does it look like, in the hills, next to a distiller and fire, far away from cameras, cabinets and sugar coating? What does it take in order for Serbia to win back its former excellent positions in the world plum market? Do we have a state and does it have us? Will Serbia get rakia roads, like it has wine roads? Why is it that rakia is poured over a wound and poured out for one's soul? Why is it necessary for the production of top quality rakia exactly these three things: old recipes, new technologies and three friends?
Text and photographs: Roza Sazdić and NR Pres
Visit
HOW IS UB PREPARING TO BECOME ONE OF THE RICHEST MUNICIPALITIES IN SERBIA BY 2015
Grounds for Realistic Optimism
"We have completed soil and water analysis and have all preconditions for mass production of various healthy food. We have signed an agreement with Germans on refurbishment of old mines and their turning into a tourist-sports oasis. Since 2015, two big new thermal power plants will be supplied from our mine 'Radljevo', one of which is in our municipality, and EPS is investing EUR 700 million into it. A 26 kilometers long southward highway will be running through the municipality (the construction is in progress), gas pipeline will arrive by 2016, and we are opening two new industrial zones..." says the president of the municipality Vladislav Krsmanović
By: Aleksa Mitić
Photographs: Dragan Bosnić
Road Sign
IN ZAJEČAR, ABOUT GREAT CULTURAL LIVELINESS AND CLEAR DEVELOPMENTAL PERSPECTIVES
A City Looking Up to Europe
Spectacular archaeological discovery of sculpture "Thracian Horseman" brought joy to everyone. "Gitarijada", after two decades of stagnation, gathered over 10,000 fans of rock and roll and brought the name of this city back to the musical map of the Balkans. More than 1,000 bikers from 40 clubs across Europe arrived to the city. Central celebration of the "Days of European Heritage" in Zaječar this year. "Belgrade Chamber Academy" performed at the Imperial Palace in Gamzigrad. And business people are getting ready to explain, at a series of business and fair gatherings in Italy, in the language of investors, why it is important to invest into this city and the region
By: Goran Budimir
Roads
REPORTERS OF NATIONAL REVIEW WITH AN UNUSUAL EXPEDITION ON BESNA KOBILA
In a Jeep through Clouds
The landscape is beautiful and desolate, herds of wild horses, distant horizons and profound thoughts. A few kilometers long motorcade made of colorful field vehicles, the value and meaning of which can only be noticed here and not in the petty-bourgeois strutting along small towns. To make everything livelier and spicier, southern trumpet orchestra appear here and there, in which every other trumpeter claims that he is a legitimate grandson o famous Bakija Bakić. And to finally preserve that aura of mystery over everything, a young nun is driving us to the lunch at the Monastery of Lepčince. So much air and brightness can cure even the darkest souls
Text and photographs: Dragan Bosnić
Springs
HOLY MOUNTAIN TRAILS: A SHORT HISTORY OF MT. ATHOS AND GRIGORIOU MONASTERY
In the Garden of Our Lady
Assumption of the Holy Virgin, as well as all other holidays dedicated to this protector of the Holy Mountain, is celebrated here with special joy. We witnessed this year's celebrations of the Holy Virgin and experienced that again. It was a good opportunity to once again, together, remind ourselves of the history of this place and to visit the renowned monastery founded in the 14th century by St. Gregory the Silent, of Serbian origin
Text and photographs: Mišo Vujović
A Holy Place
MIHOLJSKA PREVLAKA, IN BOKA, OLD AND NEW SPIRITUAL CENTER
Island of a Future Century
Mesmerizing scent of the Adriatic Sea and the smell of holiness become one on this unusual place, where Saint Sava founded Archbishopric of Zeta as far back as 1219. Many resented this strong Christian Orthodox spiritual center on the Coast. Many centuries of Venetian and Austro-Hungarian attempts to close it down are filled with mysterious and horrible events. But, as it happens in sacral history, bones of the monks-martyrs poisoned in the 15th century released myrrh at the end of the 20th century. What else did the reporter of National Review saw and heard there this summer?
Text and photographs: Olga Vukadinović
Care
THE TENTH "SCHOOL OF FRIENDSHIP" ORGANIZED BY "OUR SERBIA" ON TARA      
In Serbian Code
The participants were Serbian children from eight regional countries, from Serbian enclaves on Kosovo and Metohija, children without parents who were included in the support program of "Our Serbia", but also children of eight different nationalities that live in the territory of Serbia. Six hundred of them in total. Numerous friends and donors visited them and participated in their jolly workshops, starting from the president of Serbia. General sponsor was Banca Intesa, the program was led by the professional team of "Our Serbia", and the Institute for Healthcare of Children and Youth from Novi Sad was in charge of health of the participants
Examples
CHILDREN'S BASKETBALL CAMP ON FRUŠKA GORA, FOR THE THIRD TIME THIS SUMMER
You Came, You Play
Playing sports must not be a privilege, but a right. That is why the Sports-Educational Camp "I Came to Play" is free of charge. It gathers about one hundred boys and girls from all former Yugoslav republics. In addition to basketball technique, they also learn ethics, in both sports and life. As well as numerous useful social skills. And they learn most from one another, they say
By: Sonja Madžar
Preparation
EXERCISE OF MILITARY ACADEMY CADETS "GRADUATE 2010"
Firing on Pasuljanke
For the first time this year, all levels at the Military Academy participated, including those on advanced training at the General Staff Headquarters. Also, it was the first time that people were able to watch this military exercise and geo-positioning of the units on the internet, in real time. The Military Technical Institute and SDPR Yugoimport showed new military devices and equipment from their export-oriented program. And the main task of Serbian forces was to break through the enemy lines and banish the enemy beyond the state border with an efficient attack, to establish control on their own territory, neutralize terrorist actions and force everyone to accept the conditions for permanent peace
By: Aleksandar Petrović, Mira Švedić
Photographs: Goran Stanković, Dušan Atlagić
Recognition
THUS FAR, THE INSTITUTE FOR INTELLECTUAL PROPERTY OF SERBIA REGISTERED 54 PRODUCTS WITH THE PROTECTED DESIGNATION OF GEOGRAPHIAL ORIGIN
New Protection for the Authentic
This is how industrial, trade, craft, natural, agricultural and home industry products are being protected, as well as services in a particular territory. The source of special characteristics and qualities are the climate, soil composition, sunlight, wind rose, specific microorganisms, traditional production processes, skills of people often passed down from generation to generation for centuries. What will they recognize us by, what have we (alas) failed to do, and for what it is not yet too late?
By: Radmila Tamindžić
Road Guardians
SERBIAN MEDIEVAL FORTIFIED TOWNS: NIŠ
On Many Layers
The old Roman fortress was destroyed by the Huns in the 5th century. Then it was refurbished and made Byzantine by Emperor Justinian. It was looted and desolated again when, in early 7th century, the Slavs arrived there. It was included in the medieval Serbian state for the first time by Stefan Nemanja in 1186. The last medieval Serbian reconstruction of this city was under the auspices of despot Stefan Lazarević in the 15th century. The existing fortress is the remainder of the Turkish one from the 18th century. It is under protection of the state since 1948.
By: Vojislav Filipović
Benefactors
THE NOVI SAD CHRONICLE OF MARIJA TRANDAFIL (1814-1883), THE GREATEST SERBIAN BENEFACTOR
Oblivion Swallows Those Who Forget
She has inherited and, with a lot of effort, multiplied her enormous wealth. She owned "half of Novi Sad". She was hungry and poor only for a day. Without ever forgetting that day, she endowed her entire property to others; those who she thought needed it the most. She has helped the towns poorest, children, girls with no dowry, widows, the church, national institutions, hospitals… She rests in the tomb of St. Nicolas church, with her husband and children. No one holds commemoration services for her any more
By: Tatjana Marković
Reading book
ANCIENT BOOKS: PJEVANIJA OF SIMA SARAJLIJA (1791-1847) AND OTHER ADVENTURES OF THE UNUSUAL WRITER
When the Whole Nation Sings
His life resembles a picaresque novel. He lived in Serbia, Hungary, Austria, Walachia, Russia, Montenegro. In Serbia he was a government scribe, in Montenegro state secretary, he took part in both uprisings, he fought in the Battle of Dubalj. He knew Jacob Grimm, Herder, Goethe. He was a close friend of Vuk, teacher of Njegoš. He personally placed Dositej's coffin into the grave. He dedicated his poems to a German lady Theresa Von Jacob and a Turkish lady Fatima. Somehow left in the shadow and unread, he left a bigger heritage to his people than it was recognized and valued up to now
By: Dragan Lakićević
Old Masters
DUŠKO TRIFUNOVIĆ (1933-2006), JOYFUL POET OF GREAT SORROW
Only To Be With You
Millions of people sing and know his songs by heart. They were recorded by "Bijelo Dugme", Zdravko Čolić, "Indeksi", Arsen Dedić, Jadranka Stojaković, Neda Ukraden, Vajta, "Teška Industrija", "Kod"... His poetry is part of the sentimental luggage of most of us "born in the previous century". "There is a mysterious connection", "I accepted to be anything she wants me to be", "What would you give to be me", "Crazy head", "Goldfish", "We could have done anything", "Remember me for my songs"… And today, after everything, he rests on a hill above Sremski Karlovci and the Danube, under Branko's Stražilovo, just as he confided Her a long time ago: "When you become old, I will be a gentle slope of Čerat"
By: Zorica Todorović Mirković
More than a Game
BELGRADE AND MOSCOW CITIZEN, MINA ZAKIĆ, WORLD FAMOUS CELLO PLAYER
I Want the Music To Lead Me
She was only nine when she conquered Europe for the first time (Lizen, Austria, 2000). And then, to avoid any misunderstanding, repeated the same many times. Today she is the only Serbian student at the elite Tchaikovsky Conservatorium in Moscow. After a series of victories, the Russians recognized her extraordinariness, which means the same as if the Chinese recognize you in the area of acupuncture or the Brazilians in football. She knows that she is on the mysterious road towards the heights, where the only limit can be the human himself. She speaks and thinks in Russian, feels in Serbian. She is enchanted by Shuman, Shostakovich, Bach. She remembers a balcony in Bežanijska Kosa, her childhood on the Sava and New Belgrade blocks, summer journeys through Serbia. Serbia for her is home, freedom and the deepest connection. She is one of the symbols of Serbia we need in the XXI century. It would be sad if Serbia, like many times before, would be the last to understand it
By: Branislav Matić
Eye
PAINTER AND SCULPTOR DUŠAN RAJŠIĆ STEADILY FOLLOWS HIS ENTHUSIASMS AND SELF-EXPLORATIONS
Revealing Don Quixote
"Rajšić's art is founded on the poetics of Romanticism Expressionism, which creative mechanism is initiated by pure energy very close to the one Serbian culture cherished with the works of unrepeatable Mateja Vuković and partially Jovan Soldatović. Rajšić is on the path of becoming part of the top of Serbian fine arts", wrote Nikola Kusovac for the exhibition in the "Ikar" Gallery in Zemun
By: Milorad Đoković, PhD
The Winner
EXCLUSIVELY: NIKOLA GRBIĆ, WORLD'S VOLLEYBALL STAR
I Gave My Best and I Am at Ease
He came from the village of Klek near Zrenjanin to the top of the world and remained there for almost two decades. From the very beginning he has been endowed with dignity, strong character and special intelligence for sports. He thinks that a lot depends on one's upbringing, mental capacity and the environment. "Only those who are fully committed and who always give their best on the edge of what is humanly possible can move forward", he says. "I have seen exceptionally gifted people who ended up as mediocre players, in their arrogant self-confidence." And he always gave his best when playing for his country, with pride and special emotions. He inherited that, he says, from his father Miloš, and that is what he will pass on to his son Miloš
By: Dejan Bulajić
Insurance
"DDOR NOVI SAD"
First mobile office for insurance
In a specially equipped "DDOR Novi Sad" van , which has set off on a six-month journey across Serbia, the citizens will be able to insure themselves, their families, property and vehicles
Illumination
HYDROELECTRIC POWER PLANT ST. PETKA IN SIĆEVO GORGE MORE THAN A CENTURY OLD
The Rebirth from Nišava
The first industrial company in Niš was the cognac factory held by king Milan Obrenović (1880). Then the construction of the railway started (1881), the first train arrived (1884), illumination of the city initiated (1895), Todor Milovanović turned the small town of Niš into a modern European city. Still, the crown of everything and the strongest engine of further development were the construction of the hydroelectric power plant on Nišava, supported by state loans (1903 and 1906). And then, finally, on September 21, 1908, it shined!
By: Zoran Plavšić
Energy
ENGINEER DRAGAN JOVANOVIĆ, DIRECTOR OF PD "TERMOELEKTRANE AND KOPOVI KOSTOLAC"
We are Lifting the Power of Serbia
This company, established in this form after reorganization of the Electric Power Industry of Serbia in 2006, last year marked the 140th anniversary of coal mining in this area with records. Already in the first eight months of this year, new records were made: 5.17 million tons of coal and 3.33 billions of kilowatt-hours of electric power (which used to be annual consumption until a few years ago). But that, of course, is not all
Hospitality Industry
IN THE RESTAURANT "ROMANTIČARI", ON KARABURMA, OLD LEADERS OF THE HOSPITALITY INDUSTRY IN THE CAPITAL
Center with Such a Belgrade Spirit