Challenges
FEMALE RAFTING TEAM OF THE NAUTICAL CLUB "LIMAN" FROM ZEMUN CONTINUES ACHIEVING GREAT RESULTS
Tamers of Wild Waters
Last year they were the best club in Europe, this year the best in Serbia, they represented our country at the European Championship in Italy and World Championship in the Netherlands. Although they work without a coach, adequate rivers and tracks for practicing, without reliable material base, they are not giving up. Attractiveness of this sport, nobility of togetherness in danger and exploit, gathering at the most beautiful rivers in the world – these are constant motivating factors. They won participation in the World Cup in Costa Rica, but it is uncertain whether they will get there
By: Dušanka Tadić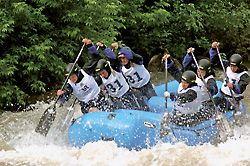 Milica Tanasijević, Zorana Jovanović, Marijana Caran, Dragana Veinović, Nadežda Matić, Milica Popović and Biljana Veinović (on the bench) – that is this famous crew of the Nautical Club "Liman" from Zemun which constituted the rafting representation of Serbia at this year's European Championship in Italy and World Championship in the Netherlands, last year won the title of the best club in Europe and became state champion in 2010, which won them the right to try themselves at the World Championship in Costa Rica next October. (Unfortunately, to win the right does not necessarily mean to be able to, since it is very uncertain whether at least the minimum funds will be secured for what is necessary for the participation in a competition of the highest rank. And is it necessary to explain what a pity it would be if these wonderful girls, these champions, are kept at home in such a sad and unfair way?!)
And how did they start practicing this exciting and not at all naïve sport?
Love toward nature, spending time together in and off the boat, travel, adventures, adrenalin – these are their main motifs to chose this sport, they tell us in an interview for National Review. Rafting is, by default, a sport on wild water. There is a classification of rivers on the scale of one to six, according to the speed, obstacles, dangers (whirlpools, vortexes, the so-called siphons that pull toward the bottom...). The Sava and Danube are, let's say a "one", while "six" is reserved for waterfalls "which cannot be survived".
– We do not have many fast rivers in the region, we paddle on three or three plus, at most – explains Marijana. – The most attractive and most beautiful is the Tara; we often go to the Vrbas, but it is not as wild. Here in Serbia, we have the Ibar and Lim. We were on the quite strong Struma River in Bulgaria. We even turned upside down there, so they had to pull us out with ropes. But the most difficult river we rafted on as of now is definitely the Noce River in Italy, it is above four. After the training, we left the boat a little scared, because we had not been on such a difficult river before.
None of these girls will forget the state championship on the Ibar, in October 2006. Unprepared, for them it was the first encounter with wild water, as well as baptism of fire in terms of having their boat turned upside down. It was the most exciting event for Milena Furtula Cvijanović. She hasn't been practicing for two years, during one canyoning she broke her leg, then she became a mom, but she is still formally the skipper of the team.
– As soon as we started, while the water was still calm, a girl fell from the boat, the former skipper, and we had to pull her out the best we could. We made it. But soon, when we reached the fast current, our boat stranded on a rock, and it took one hour for the rescue team to pull it out. Meanwhile, we fell into the water, but still we surfaced safely. Luckily, this happened during the training, and later we were one of very few female teams that did not repeat such a mistake during the competition – Milena remembers.
MY TEAM – MY FAMILY
– But, none of us gave up because of this, on the contrary, it made us even more interested in this sport, and it seems we will never stop doing it – Zorana continues. – Like all rowing sports, rafting is physically very demanding, it is very important that you are strong. That is why there are different types of training, both on land and in the water. In all competitions there are always many more male than female teams, but they prefer R4, four members in a boat, while we prefer R6, because it is much more difficult to harmonize six persons to do exactly the same things at the same time.
Last year, another member joined the team, the youngest one. Milica Popović, a student, is 20 years old, and she already participated in championships in Italy and the Netherlands, at Euro Cup in Banjaluka. She is not hiding her excitement:
– When I saw for the first time how experienced girls train, I was truly fascinated. They pulled their oars through water with ease, as one. They were a team, both in and out of the boat. And I will never forget the moments of my first descent down the Vrbas River. Now I cannot imagine my life without rafting, this sport gave me something that neither rowing nor volleyball could, and my team is now my new family.
In order to join the training, Nadežda Matić is coming from Mladenovac every day, traveling 120 kilometers back and forth.
– I fell in love with rafting on the first tourist descent down the Ibar River in 2005 – she says. – My love toward this sport has been growing ever since. Adrenalin and direct contact with often wild nature are just magical. Rivers that run through canyons, forests, national parks, leave you breathless. To tame each one of them is a challenge that drives you forward, through the biggest waves and all those labyrinths of rocks and stones in the water.
During the summer, girls often train on the Vrbas, where they have great hosts and great friends. In the sister club "Canyon" from Banjaluka, against which they measure their strength, they are always welcome, they say.
KNOWING HOW TO READ WATER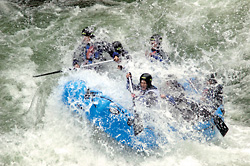 – Since we train on the Danube for an hour an a half upstream, we are very good in making descent, where fitness and strength are really necessary. In this discipline we always beat the "Canyon girls" – explains Zorana. – They are more successful in slalom, where there are both upstream and downstream gates, because they know better how to read water, and we do not have enough experience in this.
Luckily, they had a chance to spend the entire summer of 2008 in Banjaluka, adds Milica. They learned a lot from the members of Club "Canyon".
– All this is a matter of their good will. Our Club "Liman", or the Association, cannot pay a coach for us. So we manage somehow by having the coach from Croatian representation send us trainings by fax, and last year one friend from Hungary used to come on weekends to train us. Although they do not have wild waters themselves, but are making artificial tracks or going to the neighboring Austria for training, Hungarians are traditionally strong in rowing sports and are achieving great results.
If they manage to go to Costa Rica, they will have to face dangerous waters there, which are categorized as high as five. After the tragedy that happened during the European championship in Italy when on the Noce River, at the moment when the boat turned upside down, their friend Brankica, from the representation of Bosnia and Herzegovina drowned, everybody has their fears.
– They say – Zorana tells us – that female teams will be transferred to an easier section, exactly because of what happened to our dear Brankica. Until now, competitions were always taking place on the same section, but it seems that people from the International Rafting Federation have realized that they have to make some concessions for us. Men are still physically much stronger.
We have achieved everything on our own initiative, based on our will and desire, say the members of this winning team. If we take into account the fact that they have no coach, that our rivers are mostly not wild enough for an adequate training, that many things here are done spontaneously, they can be more than satisfied with results. Within their abilities, the Ministry of Sports, Zemun municipality and Club "Liman" have helped so far. But, Costa Rica is next, and the real sponsor is still in the domain of hope.
***
Schedule
In addition to Milica Popović, who is a student, all girls from this winning Club "Liman" are employed: Milica and Zorana are architects, sisters Dragana and Biljana work at the family photography shop, Marijana works with computer systems, Nadežda is a typist. Luckily, competitions in the region most often take place on weekends, and when it comes to championships that last for several days, there are always annual vacations and free days. regular trainings are always after work, and night often catches them while they are still on the river.
***
Equipment
For rafting, one needs primarily a rubber rafting boat, with holes in the bottom through which water comes in and out, so it cannot sink. Then oars, usually plastic ones for training, and for competitions much lighter carbon oars. Mandatory equipment includes vest and helmet, and scuba diving suits are also used, since white waters are usually cold.