Road Sign
"GOLF CENTER" IN ŽABALJ, ON THE TISA, THE BIGGEST IN SERBIA
Meeting at the 19th Hole
Although it has a reputation as an elite sport, golf is the most numerous individual sport in the planet. You can feel all of its magic and learn all skills in this beautiful place 100 kilometers from Belgrade, 30 from Novi Sad, 10 from Zrenjanin. Soon, there will be a hotel here, an ethno village, professional course with 18 holes... Possibilities are numerous, and now it is turn for serious investors
By: Aleksa Mitić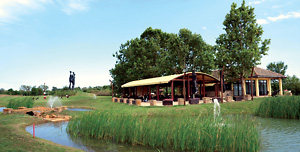 Golf is more than movement: the one when a player is trying to throw the ball into a hole by striking it with a club in as few moves as possible, competing both with himself and with the opponent, the other player. Although it has a reputation as an elite sport, golf is the most numerous individual sport in the planet. Those who are informed, claim that at the beginning of this millennium, 67,000,000 golfers every year play over 500,000,000 games, on about 80,000 golf courses on all five continents. Although currently it is not an Olympic sport (it will regain this status in 2012), golf is, along with football and basketball, the most popular sport in the world. Professional golf is under control of PGA (Professional Golf Association), and national amateur associations of each country are associated in EGA (European Golf Association) and the world IGF (International Golf Federation).
In Serbia, there are two big golf courses. One is on Ada, on the Sava River in Belgrade, and the other, somewhat bigger, in Žabalj, a place located on the road that connects Zrenjanin and Novi Sad. This place near the Tisa River, near Carsko lovište and natural reservation Carska bara, is less than 100 kilometers away from the capital, 10 from Zrenjanin, and 30 from Novi Sad.


–Two golf courses are not sufficient for Serbia – says Saša Jokić, the owner of "Golf Center" in Žabalj. – Only Belgrade needs three more. Also missing are golf courses in many big cities in Serbia. I wish we had them. And the rumor is that they will be developed from Niš to Palić. Slovenia has 14, and only a decade ago they had only two. Czech Republic has more than one hundred. Similar situation is in other countries in the region. Spaniards extended their tourist season thanks to golf, because golfers are real globetrotters: they travel from one course to the other, and therefore it is not surprising that in our region golf is in expansion.
The terrain near the Tisa River came to life in 2001, but it gained real popularity only when in the middle of this decade it had been taken over by people from Novi Sad marketing Agency "Markons", which celebrated two decades of work this year, and marked it with the traditional "Markons Open Tournament". In addition to about one hundred members, guests from abroad were also there. In mid October, the third "Cup of Friendship" took place, on which 37 golfers from Slovenia also took part, with traditionally diverse side programs.


– How did we get into this business? It is the result of lucky chain of events – continues Jokić. – Our agency specialized in sport marketing. And so we worked for twelve years for basketball representation of Yugoslavia, now Serbia. We participated in the organization of European basketball championship in 2005, worked three seasons for "Partizan", two for "Zvezda", for "Budućnost" from Podgorica... Until in 2001 we organized the opening of a golf course, I would not dream that we would get involved in this business. Žabalj Municipality terminated its lease contract with our predecessors... We evaluated the situation and concluded that in our country it is the sport of the future, worth investing in, that it has marketing potential. We put together two activities that we were involved in, and here we are in golf. It was a training ground with "three holes". Today, we have a golf course built in accordance with all world standards, which has nine holes, two driving ranges, where middle and long strikes can be practiced, putting green, training ground for hitting the hole, chipping green for hits from sand, as well as pitching green where middle and short strikes into green are practiced. With all this, conditions have been met for organizing a golf tournament, golf academy, corporate events and teambuilding.
REALLY NICE PEOPLE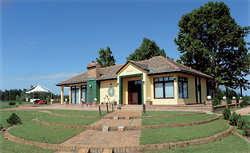 That is how the first investment phase in "Golf Center" Žabalj was finalized. Soon afterwards, people from the world of business started to come.
– Generally, it is believed that golf gathers together successful people who come to socialize, also talk about business... However, golf would not be the most numerous individual sport in the world if golfers did not come from lower and middle class. The belief that golf is a sport reserved for elite is just a misconception. It isn't. Golf equipment can be purchased for as little as 130 dollars and everyone can afford it. A set of clubs with a bag is sufficient, maybe a cart, good golf shoes, trousers that are not jeans with pockets on the side and polo shirts. Additional cost is annual membership and you can play as much as you want throughout the year – explains Viktor Leka, Director of "Markons", himself a passionate golfer and a member of this club.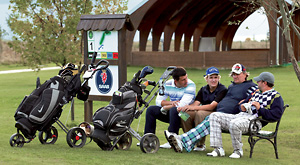 People get emotionally attached to golf. This socializing is mentally relaxing, and on top of it you practice sport, your muscles are moving, working. After a game there is a period of relaxation, socializing. People go to the 19th hole, which is also called a club house. Really fine people, we conclude after the day spent at the "Golf Center". And there you can meet Novak Đoković and his brother, as well as Janko Tipsarević. Or the driver of Miloš Pavlović, Mr. I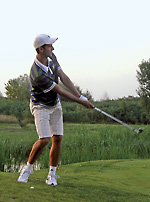 vanović, father of famous Ana, or actor Lazar Ristovski... They come from all over. Nick Bollettieri, the famous tennis coach from Florida, used to play here, and was fascinated with the course.
In many aspects golf resembles life, and golfers believe that the most important competition is with oneself. It can also be applied on companies that get involved in this sport. Some of them often organized team buildings hear. Golf courses are also places of exclusive promotion for them, presenting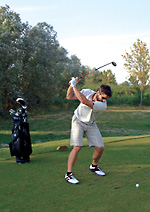 leaders in their line of business, ort companies with defined corporate identity and a recognizable image.
– Presence of a company on golf course, because of the specificity of players and visitors, is perfect for the improvement of corporate culture, and can be realized when a company enters into some type of partnership with "Golf Center" – says Saša Jokić. – Partnership programs have their special characteristics, which make them stand out against traditional types of corporate promotion. Partner activity in golf transfers sport, social, cultural and moral attributes of this noble sport to the company-partner itself, and thus it represents one of the most efficient ways of improving corporate image.
THE SECOND PHASE OF DEVELOPMENT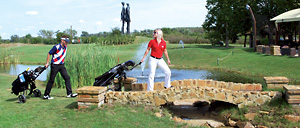 – We have also established our own Academy, in which we trained more than one hundred candidates – says Jokić. – Having passed the exam, with the "green card" of our club, a golfer can play anywhere in the world. And play very well, because this is one of the more demanding courses (we were given this evaluation by foreigners who licensed it). Since the foundation, we have organized about thirty amateur tournaments, and certainly the most important was state championship "Serbia Open".
"Golf centar" Žabalj has good cooperation with Golf Club "A" from Olimje. Last year, 34 of them participated at the "Cup of Friendship", out of that 15 ladies.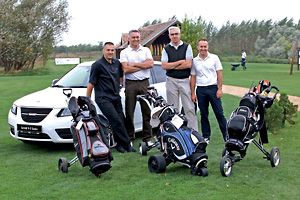 – We expand cooperation with everybody in the region. We have contacts with clubs from Lipice, Kranjska gora, Zagreb, Sarajevo, Hungary, Bulgaria... When we started, we had exceptional support from the Provintial Development Fund and thanks to them we put everything into operation. Now we should realize the second phase of development. We need accommodation capacities. There is a great interest among foreigners, because golf is not only sport, it is also tourism and, before all, good business. In addition to expanding the course to 18 holes, so that professional tournaments could also be organized here, a hotel is planned to be built here with 50 rooms, and 30 bungalows in the form of apartments in ethno style, with 60 to 90 apartments. We have a detailed regulation plan and necessary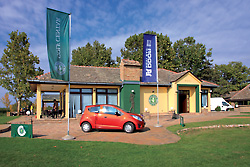 permits. We are ready to start cooperation with potential investors. Geographical opposition of the course is excellent. We have good relations with Žabalj Municipality, they want to help us in the building of infrastructure. I

hope that everything will move in good direction and that we will find ourselves, in addition to golf, also on the tourist map of this region, and that this will become an epicenter of tourist offer of Vojvodina and Serbia.
Those who learn to play on this course can play anywhere in the world. A 300 meters long channel, 6 lakes, sand obstacles – all this requires a very precise game. Nine holes, three hours outdoors, for 18 holes it means six hours on fresh air. Every position of the ball is a challenge, every situation in golf is a new story. Everything is there. So should you be. Check it out. You will soon want much more than that.
***
Romans and Scotts
According to Grolier Encyclopedia, Roman emperors played a kind of a game that is very similar to the present day golf. It was called "paganica", in which participants used a stick to hit a feather-ball. A similar game, "het kolven", existed in the Netherlands, and in France it was called "jeu de mail".
However, it is believed that direct predecessor of the contemporary golf is the Scottish version created as far back as 1457. In Scotland, people still play on the oldest golf course "Sent Andrews", built in the 16th century. Scotts defined golf equipment and appearance of the course, established standards and ground rules, expanding them throughout the world. The first official golf club – called the "Gentlemen Golfers' Society", today the "Honourable Company of Edinburgh Golfers" – was founded in Edinburgh in 1744.
***
Duke the Donor
The first golf club in our country was opened in May 1936 in Košutnjak, under the auspices of prince Pavle Karađorđević. The course was leased for 30 years, at the price of one dinar per year. In this way, the government showed its support to this sport. However, World War Two came and everything stopped. Seven decades later, at the "Golf Center" near the Tisa River, the Second Memorial Tournament of prince Tomislav Karađorđević took place.