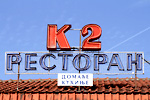 Gastronomy
IN NEW BELGRADE RESTAURANT "K 2" – FOREST ĆEVAP FOR THE READERS OF "NATIONAL REVIEW"
Creative National Cuisine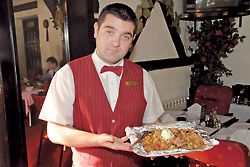 In Belgrade restaurant "K 2", on the border between Zemun and New Belgrade municipalities, for more than one decade people eat like in those nostalgic gourmet songs from the plains. Merit for this goes to, among others, Chef Igor Sužnjev, born in Bačva, a graduate of the Hotel Management School, the highest educational institution for this vocation in Serbia. After graduating, he found himself at the restaurant of Belgrade hotel "Palace", and for a while he worked there as a professor of practical training. Afterwards, in the middle of the Mediterranean, he studied secrets of delicate local cuisine from that area... He has been working at "K 2" almost since its establishment.
– We primarily nurture national cuisine – says professor Sužnjev for National Review, and we drink excellent quince brandy that smells like fruit just picked from the tree as an appetizer. – In time, upon request of our guests, we expanded our offer to venison, introduced seafood program, and we sometimes in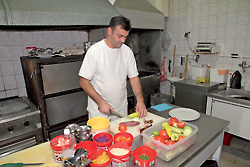 lude into our menu specialties recommended by our regular customers. We make stuffed cabbage, pickled cabbage leaves with three types of meat (better known as "wedding" cabbage), "lički" cabbage boiled with smoked meat, lamb meat roasted under an iron bell on coal and ashes... We have a large selection of boiled dishes. Appetizers are (typically) aspic (pihtije), baked beans (prebranac), mutton, prosciutto, pork and beef legs in pickled cabbage... We also have pickles, ajvar, hot sauces, relish (pinđur)... Everything is prepared using our own recipes.
The food is, of course, accompanied by various wines (about 150 types from the most eminent wine cellars, including monastery wines). For a full hedonistic experience, they also offer about twenty types of Cuban cigarettes.
During ten years of work, they hosted many famous people from the world of politics, art, sport, entertainment, as well as guests from abroad. There is no music (your voice must be heard), and as a sign of respect to regular guests they do not lease out their restaurants for various celebrations.
***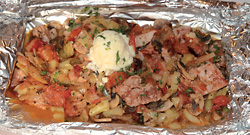 Forest "ćevap"
For the readers of National Review, professor Sužnjev this time recommends "forest ćevap". "Barbeque 400 grams of pork fillet. Meanwhile, bacon cut into small cubes is simmered in a saucepan, together with mushrooms, also finely chopped, fresh onions cut into strips, fresh bell pepper and tomato, also chopped", he describes. "When this is almost finished, you add chopped barbequed meat and cook it together. When we wee that there is enough gravy, we serve it in a foil. To cut the long story short, just taste it and you will understand everything!"
***
Restaurant "K 2"
Džona Kenedija 10 e
(+381 11) 319 37 39, 063 20 11 02