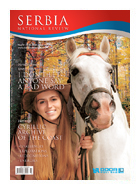 SERBIA - National review no. 23
Prologue
Yes, we are tired of everything. Of "our current problems" which have not ceased to exist for already 30 years. Of tireless part-time optimists, of charlatans with a wise-guy facial expression, of political puppets, workers on strike broken up with a pittance, of our "international friends" whose knife we carry stuck in our heart pretending not to notice anything. No one here has the common sense to bring even his own position to the final consequence. And to confront fate.
However, at least this autumn silk in October and November, this sun and these colors are a remedy for everything, until this year too departs towards… The "better past".
GALLERY

CONTENTS
Prologue
ON THE MAP OF ANTI-UTOPIA
Do Not Give Up on Your Mind
Vitrage
NUMBERS, EVENTS, INTERESTING THINGS
Beautiful Face of Serbia
PHOTOGRAPHY BY LJUBIVOJE MARIČIĆ
Visit
VALJEVO IN THE 21ST CENTURY, WITH WISDOM OF OLD AND SPIRIT OF MODERN CITIES
Always With a Good Reputation
The story about "Valjevo hoax", of course, is only an anecdote and a humorous neighbor's joke. "The city is one of a few in Serbia that received an international credit rating, adopted all needed strategic documents, received a certificate of good business climate. Austrians, Italians, French, Slovenians and others have already invested here and are successfully expanding their businesses. Local entrepreneurs also keep the same pace", says for "National Review" the mayor of Valjevo Zoran Jakovljević. "Valjevo has a lot to offer to all of them, as well as to all its guests, in the area of culture, spirituality, tourism, entertainment, sports..."
By: Goran Budimir
Destinations

THE VLASINA LAKE AND ITS MAGIC, NATURAL AND HUMAN, THROUGH THE EYE OF THE "NATIONAL REVIEW" REPORTER
The Place that Will Conquer You (Again)
For a long time, only people living in its vicinity were interested in this wondrous lake. But even they were mostly leaving, rather than coming. Today, it seems that nobody is quite sure how oblivion and indifference were conquered with the story of wondering floating islands, homemade bread and inextinguishable fire, the truth that even fog can be beautiful, catfish for which the season is never closed. Or we simply understood a lot on our own? In any case, a great comeback has happened and better times started for Vlasina
By: Olga Vukadinović
Photographs: Milan Janković
Roads

IN DONJA LOKOŠNICA AND ON BABIČKA GORA, WHILE THE OFFERINGS OF THIS YEAR'S YIELD ARE GETTING READY
In the Empire of the Best Bell Pepper
Inn the fall, all houses in the village, including those that are not painted, get an unusual façade: it is difficult to see even a small portion of the wall that is not covered with red bell pepper left to dry in the abundant sun of the southern Pomoravlje. Afterwards, the most beautiful garlands reach fresh produce markets in big cities, and the rest is ground. Local ajvar and pickles also have good market value. And a lot can be seen and learned in this area
Text and photographs: Dragan Bosnić
Village

IN JASIKOVICA, BELOW GOČ, AN UNUSUAL CULTURAL EVENT
It's Not Good if the House is Empty
The end of summer usually brings melancholy and an unusual sense of transience. And "Greeting the Summer", organized in his village by well known Belgrade reporter Žika Nikolić, the author of famous RTS show "Šarenica", exuded liveliness, health and authenticity. First, "Nemanja's Bequest" was read on the stage in the orchard, followed by appearances of Petar Božović, Vjera Mujović, Jadranka Jovanović, Merima Njegomir, "Legende", Branimir Đokić and his orchestra... Who knows, maybe this is really a kernel of a big and well thought trough return to the village, in line with the wish of the protagonists of this event
By: Roza Sazdić and NR Pres
Challenges

FEMALE RAFTING TEAM OF THE NAUTICAL CLUB "LIMAN" FROM ZEMUN CONTINUES ACHIEVING GREAT RESULTS

Tamers of Wild Waters

Last year they were the best club in Europe, this year the best in Serbia, they represented our country at the European Championship in Italy and World Championship in the Netherlands. Although they work without a coach, adequate rivers and tracks for practicing, without reliable material base, they are not giving up. Attractiveness of this sport, nobility of togetherness in danger and exploit, gathering at the most beautiful rivers in the world – these are constant motivating factors. They won participation in the World Cup in Costa Rica, but it is uncertain whether they will get there
By: Dušanka Tadić
Event
SECOND FESTIVAL OF SERBIAN WINE IN LAZAREVAC
Among the Best
More than 40 wine manufacturers from all over Serbia and many visitors are an important contribution to affirming supreme Serbian wines as a local brand, continuing the Serbian wine tradition and further strengthening the culture of wine
Ancestors and Descendents
DOES SERBIA TAKE DUE CARE OF MONUMENTS AND GRAVES OF ITS SOLDIERS WHO FOUGHT AT THE THESSALONIKI FRONT?
Mirror of the State and People
Slanted for a long time, the cross on Commemoration Chapel on Kajmakčalan has finally collapsed. On its front, the name of king Aleksandar was scratched with a chisel and is almost illegible, below the inscription: "To my giants-heroes, unflinching and loyal, who opened the gate to the freedom with their chests and remained here as eternal guard at the doors of their homeland". In the belfry near the Chapel, the bell donated by Mihailo Pupin is rusted and has not made a sound in a long time. The hospital of Archibald Rice is in ruins, as well as the building of the Supreme Command of Vojvoda Živojin Mišić in Bac. There is no road sign pointing at Bela stena, where Vojvoda Vuk died, and the memorial tomb is covered with rocks. Unwalled Serbian military cemetery in Bitola borders with the Zoo... Lack of money or lack of shame? Ask those who are in charge
By: Anđelka Cvijić
Photos: B. Maslovarić and A. Cvijić
Discoveries

ARCHEOLOGISTS OF THE SANU INSTITUTE FOR BALKAN STUDIES CONTINUE EXCAVATIONS IN THE VICINITY OF SVRLJIG
On the Trace of a Lost City
Timacum Maius appears on the ancient Roman "Peuntinger's Map" in the vicinity of Niš, but the disputes about its real location have been going on for more than 150 years. The explorations in the area of the Svrljig village of Niševac will probably resolve many dilemmas. Up to now, the borders of the city were resolved (it covered more than five hectares), remains of the road leading through the settlement were discovered, as well as part of the system for wastewater drainage. This autumn, in the third year of the explorations, a luxurious villa from the early II century was discovered, a unique discovery on the Serbian soil
NR Press
Road Guardians

SERBIAN MEDIEVAL FORTIFIED TOWNS: PIROT
Millennium Guard at the Gate
They call it Kale, Small Town, Momčilo's Town. The Pirot fortress has really been, since prehistory and ancient times, a home of gate guardians. Gates of the East and Gates of the West, depending on where you are coming from. The present day fortification, one of the best preserved in Serbia, dates back to the time of prince Lazar. It has kept its original function until the early 20th century, when it was given the status of cultural heritage protected by law. It was here that important scenes of the film "The Battle of Kosovo" were shot
By: Vojislav Filipović
Photographs: Dragan Bosnić
Fountains

PATHS OF MOUNT ATHOS (2): SAINT SAVA'S HERMITAGE
Never-Ending Prayer
According to the rules of St. Sava, prescribed for those with immense spiritual energy, the prior and fraternity of Chilandar choose a worthy ascetic who remains here until the end of his life. "No one, except for the chosen ascetic, shall have power over the cell. Neither the prior, nor any member of the fraternity… Those not worthy or capable of spiritual living may not be chosen for the cell…" Dilapidated and deserted in one period, the hermitage of St. Sava complex is again the most beautifully arranged and most representative part of Karyes, seat of Mt. Athos
Text and photo: Mišo Vujović
Reading book

ANCIENT BOOKS: TWO IMPORTANT TITLES IN SERBIAN THANKS TO DRAGUTIN D. KOSTIĆ (1873-1945)
The Nibelungs and St. Sava
With this year's publication of the translation of the famous German epic poem and reminder of a small book about the most important Serbian saint, Srpska književna zadruga brings before our eyes the exquisite personality of their translator and writer. He was of German origin, baptized in 1869 in an Orthodox Christian church not long after he changed his surname, gave his son one of the most important names in Serbian history and literally until the end of his life lived his Serbian destiny. Vinaver says about him that he was "the greatest expert in everything Serbian". He even knew "what the monks-scribes left to the future generations in a secret alphabet, so that it would not be forgotten in the darkness of time and vanity of daylight"
By: Dragan Lakićević
Pro memoria

THE EVENT THAT HAPPENED 135 YEARS AGO FOUND ITS POET AND PAINTER
Night guard on Vučja Poljana
Exploits of five Serbian frontiersmen, fighting the attacks of Turkish squad of 200 soldiers (nizams), in that distant 1875, profoundly touched people in all Serbian countries. The wave of excitement and pride hit Belgrade as well, the capital of the Principality of Serbia. The fervent patriotic heart of great Đura Jakšić could not stay still. That is how the famous poem "Karaula na Vučjoj poljani" ("The Watchtower on Vučja poljana") was created, published for the fist time in "Otadžbina" that same year, and the painting "Watchtower" or "Night Guard"
By: Petar Branov
Press
BEGINNINGS AND GOLDEN CENTURY OF SERBIAN FEMALE MAGAZINES
Titles that Arouse Nostalgia
Since Orfelin's "Slavic-Serbian Magazine" (Venice, 1768) to the congress of journalism in Belgrade in 1911, about 1.100 Serbian newspapers and magazines have been published. The first female magazine was "Domaćica" (Belgrade, 1879), then followed "Srpkinja" (Pančevo, 1882), "Bazar" (Beograd, 1883), "Ženski svet" (Novi Sad, 1886), "Srpkinja" (Velika Kikinda, 1887), "Žena" (Novi Sad, 1911), "Srpska žena" (Sarajevo, 1911)... the main subjects were care for the community, educative mission, practical advice, a kind of old-fashioned purity free from any hypocrisy and banal conservatism
By: Tatjana Marković
Belvederes

ACADEMIC RAJKO PETROV NOGO, ON OF THE FATEFULLY IMPORTANT SERBIAN POETS, EXCLUSIVELY FOR "NATIONAL REVIEW"
That Tiny Light between Two Darknesses
I live in Voždovac, the city is down there. As soon as I go down, I meet people who no longer speak coherently. On my hill, I am losing my days and nights as I like, I grow old in solitude, like in a monastery, because I chose to. When I am in language and being, I am at peace with myself and with others. And when I am not, I am good for nothing and I quickly go to my hometown, so those hills would not forget me, to fetch from those forests of mine two-three poems that have been rotting there for several winters. Nothing here is completed, not a single issue in the Balkans has been solved. I comfort myself with the famous Dučić's sentence: "As soon as our enemies start thinking that we have drowned, we surface on a place unknown to them"
By: Mila Milosavljević
Photographs: Dragan Bosnić
Bokelian Book

DR GORAN KOMAR, RESEARCHER OF THE LONG HISTORY OF SERBS IN BOKA, OLD HERZEGOVINA AND DUBROVNIK
Coastline Archive in Cyrillic
"Yes, that magnificent archive of our people, 'on the sea foam', contains under-researched abundance of Cyrillic documents. They show that Cyrillic is an ancient and universal alphabet of the Balkan Peninsula, and that here, on the Coast, Serbs have lived since ancient times... We are on a difficult and dangerous turning-point. Serbs in Boka must steer clear from particularisms within their own community and unfounded feeling of self-sufficiency, similar to the one that was widespread in Dubrovnik just before its fall. We should also think about another fatal feature of Boka and Bokelian people: exaggerated pragmatism. This is the time that needs more open steps to be taken in the society and some sacrifice of our own comfort..."
Text and photographs: Bane Velimirović
Winner

EXCLUSIVELY FOR "NATIONAL REVIEW": NENAD ZIMONJIĆ, A LONG LASTING INTERNATIONAL TENNIS STAR
I Don't Let Anyone Say a Bad Word
His brilliant rise in singles was brutally stopped by the embargo against Serbia in the 1990s, in the years when he was reaching maturity. Later in doubles he won 37 titles (three grand slams), played another 24 finals, and added four grand slam titles in mix. Both in difficult times and when he is on the winner's throne, he keeps the smile of a silent champion. So deep and mature. He says we should argue about and correct our faults among ourselves, and everywhere else unconditionally stand behind our country. If everyone is healthy and ready in December, he believes we will celebrate after the Davis Cup finals in Belgrade
By: Dejan Bulajić
Photos: Nenad Zimonjić's archive
Archeology

FIVE CARDINAL MONOGRAPHS PUBLISHED UP TO NOW WITHIN THE "ARCHEOLOGICAL MATERIAL OF SERBIA" PROJECT
Grand Surprises Await Us
Only a small part of the enormous archeological material in Serbia has been published and studied. (Not to mention what still has not been excavated.) The rest is rotting in depots under bad conditions, without appropriate documentation, unavailable to science. Everything indicates that publishing of such material would bring suspicion on many established scientific "truths", including the thesis of some of the greatest authorities of ours, especially regarding prehistoric cultures in the area of present Serbia. Books were published about Niš (79 sites), Kruševac (67), Požarevac (196), Vranje (67), Leskovac (106). The monograph about Knjaževac is currently in printing (41), and of Šabac in procedure (444). What comes next?
By: Radmila Tamindžić
Trend

TIJANA AND MILA POPOVIĆ FROM NOVI SAD ACHIEVED A MARKED SUCCESS AT THE "LONDON FASHION WEEK"
High Fashion from the Plains
Combining what is seemingly incompatible, coarse with gentle, first class materials with recycled ones, classical with avant-garde forms, and introducing an ethical-ecological principle into fashion, the Popović sisters became the first Serbian women to be invited to participate in one of the most prestigious and most glamorous fashion events in the world
By: Teodora Ž. Janković
Photographs: The archive of Tijana and Mila Popović
Road Sign
"GOLF CENTER" IN ŽABALJ, ON THE TISA, THE BIGGEST IN SERBIA
Meeting at the 19th Hole
Although it has a reputation as an elite sport, golf is the most numerous individual sport in the planet. You can feel all of its magic and learn all skills in this beautiful place 100 kilometers from Belgrade, 30 from Novi Sad, 10 from Zrenjanin. Soon, there will be a hotel here, an ethno village, professional course with 18 holes... Possibilities are numerous, and now it is turn for serious investors
By: Aleksa Mitić
Lighting

HYDRO POWER PLANT "VUČJE" FROM 1903, THE SECOND IN SERBIA
Sun in the Glass
This power plant on Vučjanka was put into operation shortly after the one on the Đetinja River in Užice, and has been working continuously for more than a century. The 17 kilometers long power line that connects it with Leskovac is considered to be the oldest one in Serbia. At that time, the opportunities opened by this power plant gave rise to the development of industry in this area, and as the result Leskovac was named the "Serbian Manchester". And in February 2005, the Executive Committee of the international Institute of Power and Electronic Industry Engineers (IEEE) included "Vučje" on the list of milestones of world technological development
By: Zoran Plavšić
Energy
ENGINEER PETAR KNEŽEVIĆ, DIRECTOR OF PD THERMAL POWER PLANTS "NIKOLA TESLA" IN OBRENOVAC
By the Standards of New Millennium
In four thermal power plants (TENT "A" and "B", "Kolubara" and "Morava") this company has fourteen blocks, which represent one third of total installed power in Serbia, and their share in total production has been, for years, over 50 percent. In four decades of their existence, they have produced 538.000 gigawatt hours, while 800 million tons of coal was consumed, which makes TENT the foundation of power industry in Serbia. The program of rehabilitation and repair of the plants, which has been implemented in accordance with the plan since 2001, gives expectedly good results
Introduction
ŽARKO BLANUŠA, PRESIDENT OF THE MANAGEMENT BOARD OF "TERMOELEKTRO" FROM BELGRADE
The Second Conquer of the World
This modern company develops rapidly in line with market demands. It invests into the latest equipment, tools and assets, determined to remain the regional leader in decades to come. Rich experience from the past, current dynamic development and expertise guarantee that big investors in strategic projects and facilities around the world, but especially in Serbia, will find in "Termoelektro" a reliable and professional partner
Science and Economy

DR DRAGAN KOVAČEVIĆ, DIRECTOR OF ELECTRO-TECHNICAL INSTITUTE "NIKOLA TESLA" IN BELGRADE
Development, With Respect for Tradition
Based on the strategic study aimed at solving the problem of reactive energy, for example, the Electric Power Distribution of Serbia saves tens of million of euros every year!... Serbian power distribution is based on the sparkling tradition of Tesla and Pupin. It is quite realistic and reasonable to have this as one of the key Serbian national brands, a strategic stronghold, powerful argument. Is that enough?
Insurance
ATTRACTIVE NEW OFFERS FROM "DDOR NOVI SAD"
"Driving License Plus" Keeps You Safe
DDOR Novi Sad has expanded its major campaign of raising the level of traffic safety by giving away an introductory session of safe driving training to drivers who conclude the policy of compulsory motor vehicle insurance
Gastronomy
IN NEW BELGRADE RESTAURANT "K 2" – FOREST ĆEVAP FOR THE READERS OF "NATIONAL REVIEW"
Creative National Cuisine


From now on you
can buy National Review at Trafika sales outlets