Power
HYDRO POWER PLANTS "ĐERDAP", THE LARGEST ONES ON THE DANUBE AND THE BIGGEST PRODUCER OF POWER IN SOUTHEAST EUROPE
The Year of Record and New Growth
In addition to two hydro power plants "Đerdap", four hydro power plants in Vlasina and HE "Pirot" also operate within this company, says for "National Review" engineer Dragan Stanković, Director of this system. Thanks to high capacity and favorable hydrological situation, the annual production plan of almost seven billion kilowatt-hours was exceeded in early December, and we have also made a series of records. Planned revitalization of hydro power plants, large and demanding phase work, will significantly increase their power and extend their useful life by 30 years
By: Aleksa Mitić
Photographs: Dragan Bosnić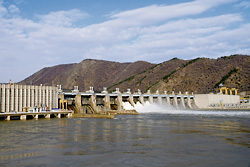 In the last days of December, people in "Đerdap" set new records in monthly and annual production in their entire history, four decades long. The did this not only in hydro power plant"Đerdap 1" in Kladovo, but also in other hydro power plants of this Company of the production of hydro power: "Đerdap 2" near Prahovo, "Vlasina" and "Pirot".
– HE "Đerdap" is the largest producer of electric power in Southeast Europe. We already exceeded the production plan of all our hydro power plants long time ago and at the same time we broke the record from 1996. Then, in 1996, we produced 8,299,116 megawatt-hours (MWh) of electric power, and by the end of 2010, we will certainly produce more than 8.5 million – says for National Review electrical engineerSrbo Petrović, Director of the Directorate for Corporate Support of "Hydro power plant Đerdap", during our visit to Kladovo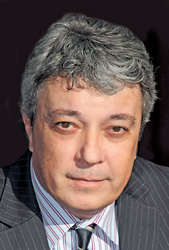 in December. – That year of 1996 was also the year of breaking records for our biggest power plant "Đerdap 1" (produced 6,473,980 MWh), and in late December 2010, we broke that record as well. Four hydro power plants "Vrla", which operate in the system of Vlasina power plants, set the previous record (425,414 MWh) in 1999, and already in early December 2010, they produced 438,819 MWh, which is their highest performance in 55 years of operation. In our youngest hydro power plant "Pirot", they have already doubled their planned obligations and broke the record from 2005 (177,700 MWh), generating already in early December more than 208,000 MWh of electric power. "Đerdap 2" has also broken its previous record from 2008, when it generated 1,537,556 MWh...
Numbers speak clearly, exactly. Everything can be seen in them. Of course, behind it all, there are people, their knowledge, effort and commitment.
– In terms of production performance, this year will certainly be recorded as exceptional – says Director of PD HE "Đerdap", mechanical engineer Dragan Stanković. – This year's production plan of almost seven billion kilowatt-hours was realized long time ago. Thanks to high available capacity and favorable hydrology, all our power plants operated excellently. In this, "Đerdap 1" operated without an aggregate, because it is being refurbished, and this situation will last for the next five years, when we will fully complete the revitalization of that power plant. Then there are other power plants within our comp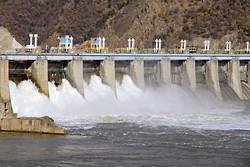 any. Since we have completed the regular overhaul, our plan is to automate HE "Pirot". It will be serviced by a smaller number of employees and it will have remote control, from one center. Currently in progress is modernization of Vlasina power plants, and modernization of regulator is currently being finalized at "Đerdap 2". Also in progress is revitalization of the lock (it will be finished in May 2011). Preparations for winter season have been completed. In case the river should freeze, icebreaker "Greben" is ready, because the Danube must remain navigable. (The dam on this big European river was not built only for the production of electric power, but in order to maintain its navigability, so that sailors would not depend on water level. Long time ago, during periods of low water level, ships would wait for several weeks at the time to continue their journey.)
THE GIANT AND ITS DIMENSIONS
When a traveler reaches Kladovo and sees the dam, he sees only that part of it which is above the water. It is difficult to even imagine the actual size of this giant that connects two countries, Serbia and Romania. And the quantity of construction materials sufficient to build an entire city is embedded into it! Now, more than four decades later, revitalization of the power plant begins, and it will increase its power and extend its useful life for the next three decades.
A lot of work. Just as an illustration, only one hole in which the generator is located is so big that a 13 storey skyscraper, with five two-bedroom apartments with 50 square meters of surface area each on every floor, could fit into it! Over 1,500 tons of material and equipment was taken out of it for the purpose of reconstruction!
Director Stanković tells us that the revitalization of the sixth aggregate began on September 1st, 2009, and it is planned to be finished in the first half of 2011. During dismantling and defectation, he says, it was discovered that the upper ring of the directional device, weighing 84 tons, was so damaged that a new one had to be built. This was also confirmed by experts from "Silovije mašini", who originally produced it. Therefore, the deadline for the completion of revitalization, as well as for the beginning of work on revitalization of the fifth aggregate, had to be postponed. Only after one is finished, works on the second one can begin.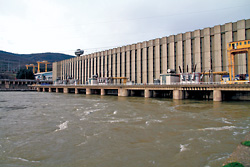 Majority of this work, says Stanković, is performed by Serbian experts, and colleagues from Russia, who originally mounted these plants, are monitoring and advising. And a large part of the equipment being built is produced in Serbia. Companies "Goša", "Prva petoletka", institutes "Nikola Tesla" and "Mihajlo Pupin" have been engaged. Employees at ATB "Sever", for example, are working on specific tasks such as mounting of the stator and rotor on the generator.
– Experiences of contractors for this type of works say that, as a rule, the deadline is exceeded on the first revitalized machine, and then deadlines are significantly shortened on each subsequent aggregate – explains Director Stanković. – We are used to racing with the time and we believe that the final deadline for the completion of reconstruction of power plant, planned for 2015, will not be exceeded. According to estimates, the entire work will cost about 168 million dollars, and the power of the largest power plant on the Danube will be increased by about ten percent.
CHAIN OF IMPORTANT POWER PLANTS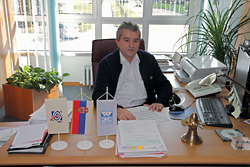 Hydro-power and navigation system "Đerdap 1", let us remind you, is located in the vicinity of Kladovo, at the 943rd kilometer from the point where the Danube discharges into the Black Sea, on location where it was possible to use the potential of this river in the most optimal way. It was built jointly by Serbian and Romanian constructors. Each country is using its own half and everything is being done upon mutual agreement. Over the dam, a road that connects the two countries was built. Construction on the Serbian side (then Yugoslav side) began in September 1964. The Danube was dammed five years later, and the first aggregates were commissioned on August 6th, 1970. During construction of the main facility, 13.4 million cubic meters of gravel and river debris was excavate, 7.2 million cubic meters of rocks, 3,2 million cubic meters of concrete was built in, 167,000 tons of reinforcement and steel structures, as well as 69,000 tons of equipment.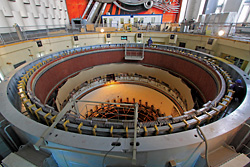 In both halves of the power plant, Serbian and Romanian, six 190 MW turbines were installed. At the time, they were the biggest ones in the world, with diameter of generator rotor of 14.9 meters, weighing over 600 tons. Total installed power is 2,280 MW.
The construction of locks enabled unobstructed passage of river and maritime ships. Every year, 90 million tons of goods can be transported through this passage.
HE "Đerdap 2", on the section between Kusjak and Ostrovul Mare, is also the result of joint efforts of our and Romanian constructors. In addition to its significance in terms of electric power and navigation, it is also important for the development of agriculture, road and railway traffic. The construction began in December 1977, and the last aggregate on the Serbian side, the tenth, was commissioned in September 2000. Total installed power is 270 MW. Annual production of both power plants, the main and the additional one, is 1.5 billion kilowatt-hours of electric power.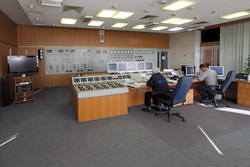 "Vlasina hydro power plants", the four "Vrle", began to generate the first kilowatts in 1955. In early 1958, aggregates "Vrle 3" and "Vrle 4" were also commissioned. These power plants, with possible daily production of 2.5 to 2.8 million kWh, are used to cover peak consumption in the electric power system of Serbia.
When the natural landslide cut-off the flow of the Visočica River, and it flooded the village of Zavoj, this natural dam was used, then the artificial one was added to it, and in this way the accumulation lake was created. Afterwards, hydro power plant "Pirot" was built. This peak power plant between Pirot and the border with Bulgaria, is equipped with two 44.5 MW aggregates, its average operating time is 1,400 hours per year, and it produced 130 GWh of electric power.
"ĐERDAP 3", DESIRES AND POSSIBILITIES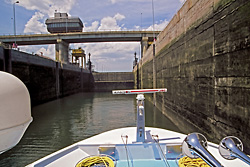 For almost three decades, electric engineers have been debating a new hydro power plant on the Danube, which would be designated as "Đerdap 3". It would be a reversible power plant, like the one in Bajina Bašta, which would turn less valuable energy into high quality energy. During the night and in periods when the system has a surplus of electric power, pumps would fill the accumulation lakes with water. Water would be kept there and used for the production of electric power when it is needed the most. Topographic conditions, the experts say, enable the construction on four levels. It would be a power plant bigger than two "Đerdap 1", with capacity of 2.400 MW and producing 7.6 billion of kWh of peak energy. It would be built in accordance with the drawings made by "Energoprojekt", near Donji Milanovac, on locations Pesača, Brodica and Željeznički potok. Explorations have indicated that this would be one of the most profitable facilities of that type in Europe. Its costs are estimated at EUR 5-6 billion.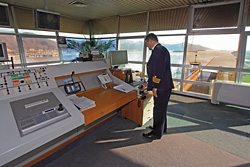 – It has been discussed as if all prerequisites for the realization of such project have been fulfilled. However, that is not the case – warns Director of PD HE "Đerdap", engineer Dragan Stanković. – There is a high volume of documentation, but it is far from being complete so that on the basis of it, construction of such a facility could be taken into consideration. Unlike power plants "Đerdap 1" and "Đerdap 2", we would not share this one with Romania, because it would be located on the Serbian side. It is quite certain that it would influence exploitation of the system of existing power plants, and we would need to reach an agreement with our neighbors and friends, Romanians, about all aspects of this project. We have signed a contract with them until 2050, on their participation of the maintenance of river banks on our side. This primarily indicates the seriousness of the operation and exploitation of the entire system for both parties. This forty year long cooperation of two electric power systems is rare in the world, and was established with prior approval of two countries.

***
Undertaking
As the result of the construction of two power plants on the Danube, long time ago, two big accumulation lakes were created, which had significant influence on the river banks from Kusjak to Kladovo and to Novi Sad on the Danube, Šabac on the Sava River and Bečej on the Tisa. Twelve settlements were moved upstream from the first dam, and new ones were built: Sip, Tekija, Golubinje, Donji Milanovac, Dobra and Mosna, to which 8,400 people moved. 13.000 hectares of land, roads and ports were sunk. New industrial facilities, ports, and about 200 kilometers of major and regional roads were built.
***
Protection
Fifteen settlements have been permanently protected from water surge (including Belgrade), as well as more than 180,000 hectares of fertile land, industrial zones, roads… Kilometers of embankments have been built, together with 53 pump stations, one thousand draining wells, 760 kilometers of draining canals… Proper operation of all these facilities is maintained by a special office with about 80 employees, and about seven million euros is allocated for this purpose.