Introduction
INSTITUTE "JAROSLAV ČERNI", BELGRADE
The Pillar of Serbian Water Management
They have participated in designing and construction of the most significant hydro-energy and water management facilities in the territory of South Slavs. They have solved the most complex problems in designing, constructing and exploiting dams and hydroelectric power plants. They have built water supply projects practically for all major cities in Serbia, as well as projects for irrigation, protection of water and protection from water. They have designed a series of ports and harbors on the Danube, Sava and the Adriatic Coast. They have developed advanced control hydro-information systems that are used throughout Serbia. They have realized capital projects in the countries of Africa, Middle and Far East, Latin and South America and Europe

Founded in 1947, this scientific and research organization is involved in the use and protection of waters, as well as protection from water. It prepares developmental studies, technical documentation on all levels (from conceptual and preliminary design to main and as built designs), provides consultancy services, provides professional monitoring of construction, prepares strategic documents in the field of waters. It also has an important educational role in the university education.
Institute for water management "Jaroslav Černi" was given its name after its first director, a respectable civil engineer specialized in of hydrotechnical engineering. In more than six decades of operations, it has grown into the most important organization of Serbian water management. Thanks to its successful operations in the territories off former Yugoslavia, and in over 20 other countries, the name of Institute "Jaroslav Černi" has become recognizable far and wide. The Institute has its scientific and professional staff, equipment and experience to successfully resolve even the most complex tasks, applying the latest knowledge and sophisticated technologies. Out of over 240 employees, more than a half have university degrees, and a number of them has scientific or research titles.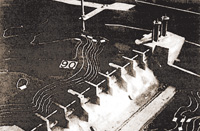 Pioneering era. In the historic development of this Institute, the first phase is primarily related to hydro energy. Intensive construction of hydro power plants, solving complex hydrotechnical problems, basic research in the areas of hydrology, hydraulics, geology, hydrogeology, geo-technical engineering, mechanics of rocks and other scientific disciplines – mark this era in the development of the Institute.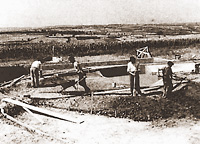 Chronologically, Hydrology Institute was first opened in 1947, within Serbian Academy of Sciences and Arts. Practically at the same time, Hydraulic Laboratory was established within the Ministry of Energy of the FNRY, for the purpose of resolving specific issues related to the designing of hydro power plants. By merging the Hydraulic Laboratory and the Group for Hydro Energy (a part of the Institute for Electric Power Industry), Group for Cement and Group for hydrotechnical pressure tunnels (a part of what was then "Hydro-Electrical Project") in 1950, Hydro Energy Institute was established. Three years later, in 1953, Hydrology Institute and Hydro Energy Institute merged into one organization: Hydrotechnical Institute "Engineer Jaroslav Černi" of the Serbian Academy of Sciences. Later, it has developed into the current Institute for water management "Jaroslav Černi".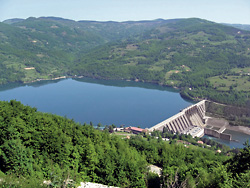 Dams and hydroelectric power plants. Institute "Jaroslav Černi" has participated in designing and construction of the most significant hydro-energy and water management systems and facilities in the territory of South Slavs (hydro power plants "Đerdap I", "Đerdap II", "Zvornik", "Vrutok", "Vinodol", "Dubrovnik", "Rama", "Bajina Bašta", "Vlasina", "Golobočica", "Grančarevo", "Grabovica", "Salakovac", "Uvac", "Višegrad"...). In the fields of research and measurements in situ, development and application of physics or mathematical models and study analysis and synthesis, the experts of the Institute have achieved results which enabled the construction of dams and hydroelectric power plants from the 1960s to the 1980s in Yugoslavia reach its climax.
In recent times, the Institute has made a very significant contribution to the development of hydro energy industry in Serbia and Srpska. Following the imperative of sustainable development, g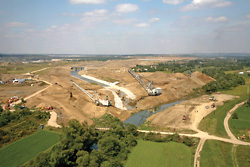 reat need for "pure energy" and necessity to use renewable energy sources, they have prepared a series of studies and projects aimed at increasing the use of hydro-potential of the Drina River and its tributaries ("Buk-Bijela", "Foča" and other hydroelectric power plants in the upper stream of the Drina, cascade power plants in the river's middle stream, power plants on the Drina tributaries – Bistrica, Sutjeska, ćehotina…), for hydro power plants in Herzegovina ("Ulog" on the Neretva and "Bileća" on the Trebišnjica River), as well as a series of projects for small hydro power plants in Serbia. The latest important accomplishment of the Institute is the hydroelectric power plant system on the Ibar project, which will be realized upon the agreement of the Serbian and the Italian governments.
Besides, Institute "Jaroslav Černi" resolves very serious and often unique problems of the functioning of dams and hydroelectric power plants. Especially remarkable is the already ongoing project of water flow recovery (more than 15.000 liters per second) under the "Višegrad" dam on the Drina.
Among the latest projects of the Institute, also emphasized could be the "Prvonek" dam near Vranje, the only tall dam in Serbia built and successfully completed in the previous two decades.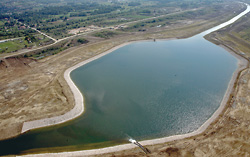 Water supply. Water is the most significant strategic resource in the 21st century. In the field of water supply, and draining and treatment of waste waters, the Institute has pprepared projects for all major cities in Serbia (Belgrade, Niš, Novi Sad, Kragujevac, Užice, Lazarevac, Čačak, Kruševac, Kraljevo, Trstenik, Aleksinac, Šabac...). "Jaroslav Černi" also has numerous references in field of water protection and environmental protection.
Irrigation. In the 20th century, irrigated surfaces of land in the world increased from 50 to 250 million hectares. In Serbia, unfortunately, that world trend does not exist. Out of the total of 4.7 million hectares of fertile land, 3.6 million is adequate for irrigation, and only 30,000 hectares are being irrigated, i.e. less than 1 percent! Therefore, major work is ahead of us, and at Institute "Jaroslav Černi" a series of strategic studies from this field have been prepared...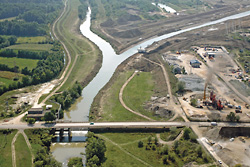 Protection against floods. Flood hazard areas in Serbia occupy an area of 1.6 million hectares, an area that includes 500 bigger settlements and 515 industrial facilities. Flood hazard is threatening to 680 km of railway and about 4,000 km of roads. The existing system for protection against floods consists of 3,460 km of selected embankments near rivers, 820 km of regulated waterways, 930 km of canals and 39 accumulations and retentions for retaining flood tides. In the overcoming of this problem, "Jaroslav Černi" gives a significant contribution with its studies and projects for all major waterways in Serbia (the Danube, Tisa, Sava, Drina, Southern, Western and Bog Morava, Ibar, Raška, Kolubara...), plans for the arrangement of erosion areas and protection of mines from water.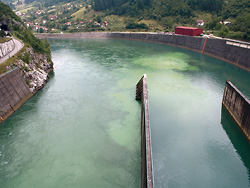 Ports and harbors. Institute "Jaroslav Černi" has prepared studies and designs for ports and harbors on the Danube and Sava rivers (Belgrade, Novi Sad, Smederevo, Sremska Mitrovica...), as well as on the Adriatic Coast (Bar, Ploče, Lora, Split, Hvar...).
Hydro-information systems. These systems are the axis for the control of water and power resources. Institute "Jaroslav Černi" has shown its great capabilities in this field with the development of hydro-information systems "Drina", "Vlasina" and "Vrbas".
International projects. The Institute has realized its projects in the countries of Africa, Middle and Far East, Latin and South America and Europe, the biggest of which were in Libya, Iraq, Iran and Peru.

***
Contact
Institut za vodoprivredu "Jaroslav Černi"
11226 Belgrade, Pinosava
Jaroslava Černog no. 80
Telephone: (+381 11) 390 64 50
Fax: (+381 11) 390 64 81
www.jcerni.co.rs

***
Phases of Development
Institute for water management "Jaroslav Černi" has come a long way and has gone through different phases of development, from dedicated professional state owned institution to independent market oriented organization with majority state ownership, which is primarily at the disposal of the state, but also capable to provide a wide range of different services to different users.