Leaders
DEJAN STANOJEVIĆ, MD, DIRECTOR OF "MERKUR" SPECIAL HOSPITAL IN VRNJAČKA SPA, OFFICIAL TOURISM CHAMPION IN THE REGION
Ready for a Strategic Partner
"High European standards were achieved in terms of professionalism, technology, therapeutic and prevention programs. Traditional spa treatment and balneotherapy were merged with modern wellness and aqua facilities. The border between treatment and enjoyment was canceled. For further development, it is necessary to look up to the experiences of European spas, e.g. Hungarian and Slovenian, where first a hospital is developed, and then in concentric circles around it wellness and spa centers, large and mini hotels. The most important thing is to continue the development programs, regardless of who will be the owner of the assets. There is no reason to fear, a strategic partner cannot take away our national treasure: water springs, parks…"
By: Jagoda Plavšić
Photographs: Dragan Bosnić
Many know a lot about the natural beauties of Vrnjačka Spa, the biggest and most beautiful spa in Serbia. We have already written that the ancient Romans discovered its salutariness. It is royal, its visitors used to be gentlemen, the elite, it was a mundane center. The official Champion of Health Tourism of the Balkans is in it – "Merkur" Special Hospital, the institution which was the first in our lands to "erase the border between medical treatment and enjoyment". Following the world trends, "Merkur" had ceased being only a health resort already a long time ago, and became a recognizable modern health, wellness and spa center.
During the previous years, this Special Hospital has made a spinning jump and its head, director Dejan Stanojević, MD, and his team are making a series of business successes, one after another. With constant enrichment of its programs, supreme service, e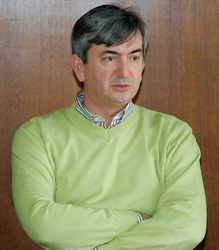 xtraordinary comfort, numerous innovations, the tourism season in "Merkur" was extended to 12 months a year. Continuously. Both healthy people and those with problems come here, because, as they say, the treatment in this center is the best, and the holiday most pleasant.
Promoting the quality of services, the most up-to-date technologies of treatment and rehabilitation, investments into equipment and education of employees, educational programs and prevention of complications in diabetes patients, merging of traditional spa treatment, balneotherapy and contemporary wellness and aqua facilities, contributed to the success and maintaining the leading position in health and wellness tourism, and brought Dr Stanojević numerous recognitions, including this year's Man of the Year in South-Eastern Europe Health Tourism award.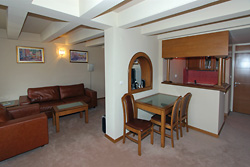 Two and a half years ago, "Merkur" became the National Center for Prevention, Treatment and Education of Diabetes Patients, especially insulin dependent, and since recently it can be proud of another novelty too. It is the first institution in our lands, even wider, where the unique program for diabetes patients was also extended to those taking pills as therapy.
– It was agreed with the Ministry of Health and Republic Institute for Health Insurance to extend the program of prevention and education for insulin dependant diabetes to patients regulating their sugar level with oral hypoglycemic medications – says for National Review Dejan Stanojević, MD, director of "Merkur". – 60.000 people are included in the program. Estimations are that Serbia has between 500.000 and 600.000 diabetics and the number is, unfortunately, rapidly increasing. This was the first prevention program and I am really proud of because, together with my team, I succeeded in persuading both the Ministry of Health and the Republic Institute that it was high time to invest in prevention.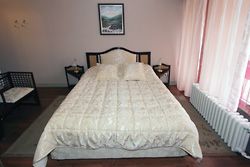 Patients here have complete medical screening, starting with diagnostics and detection of accompanying complications of diabetes (retinopathy, polyneuropathy and others). They also have education – the school of diabetes daily gives lectures on different subjects of diabetology. The objective of the ten-day program is to discover the diabetes complications on time, to prevent them, to have the patient learn how to have a quality life with his or her disease. Unlike other institutions, the National Center for Diabetes in "Merkur" has all consultations in one place and the patient is completely scanned. This is where they learn how to change their way of life. To the pleasure of those who passed the educational program, the program "Living with Diabetes" was also created. Many patients come back again to another ten-day program bearing the costs themselves.
QUALITY, QUANTITY, CONTINUITY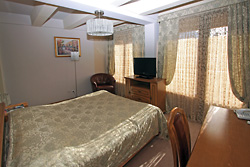 – There is no magic formula to success. The point is in dedication to work, constant work for the benefit of the company and the employees. It is not easy to succeed, but the result is here – says Dr Stanojević. – In 2009, we had more than 20.000 overnights and that was a true accomplishment. Also important is that, during the previous and this year, we completed several big investments, a new mineral water well, a warm spring we named "Roman Spring No. 2". The new quantities of water will be a gift for all guests, because the water in the pools is warmer now and there will be more of it for underwater massages, for tubs, for drinking. According to my vision of modern Vrnjačka Spa, there will also be water for the new wellness and aqua park, which should be open for all citizens and guests of the Spa hotels.
We continue developing our commercial programs too, and at the moment there are already about a dozen, adds Dr Stanojević. They include "Linea Life", weight loss program, Preventive Program for Managers, "For Your Best Years" program (prevention and treatment of osteoporosis), Fast Diagnostics, "A Smile as a Gift" (dental program with relaxing and rest). "Wellness Weekend", "Honeymoon" and similar attractive programs are an authentic combination of treatment and relaxation.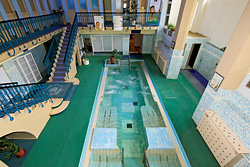 – We are attempting to prove ourselves in quality, quantity and continuity. Up to now, we have been intensively working on increasing the quality and on quantity. According to this year's decision, the main task in all departments in which we have implemented quality systems will be working on continuity, that is, on maintaining the existing level of quality. The times are difficult and many things do not depend on us, but there must be continuity in quality. It is our opportunity and we must not let it go.
"Merkur" invested a million Euros into new equipment. Everyone is going through training programs, from medical workers to waiters and cooks. Employees are the best investment and the guests and patients are sacred. Besides knowledge, the most important things are a smile and politeness.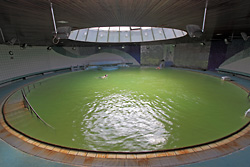 – We have a large "Treatment in the Homeland" project, the optimization of services according to Austrian and German standards. The objective is to turn to the markets of these two countries, mainly through animating policy holders of their state and private insurance funds. We will first address the policy holders in Austria who are originally from Serbia (200.000 to 300.000 of them). The guests from the West, including those originally from Serbia, want to know exactly what they will have from the first to the last day, at what time, what kind of therapy, how long the therapy lasts, how long the examination lasts, etc. This we can certainly achieve.
"Merkur" has showed that they know how to work and how to approach the guest. The best proof for it is the previous year, a record one in terms of business results.
– In order to continue the growth in the following ten years, we should look ahead, understand the trends and forces that will shape our business activities in the future, move fast and be ready for what is to come. Only then we can fulfill our objective: to remain a leader in health, wellness and spa tourism – concludes Dr Stanojević.

***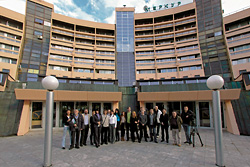 Treatment and Fun
"Merkur" has 308 employees. It disposes over the most state-of-the-art equipment for high quality diagnostics (ultrasound, Doppler, laser, colonoscop, EMNG, osteodensitometer). The most up-to-date treatments are accompanied with national guides for diabetes, as well as balneotherapy (application of salutary mineral waters).
Vrnjačka Spa has four salutary water springs, one warm and three cold (Topla Voda, Snežnik, Jezero, Slatina). Depending on the diagnosis, the doctor recommends the patient which water to use and how. People here can receive treatment, as well as have fun in the rich tourist, cultural and recreational offer.
***
Results
Excellent results were achieved with patients who passed the ten-day program of the National Educational Center for Diabetes in "Merkur". Insulin therapy was canceled in 3,24 percent of them, the insulin dosage was reduced in one fourth of patients and glycoregulation was improved in about 70 percent. Non-insulin dependant diabetics can now also use the program at the expense of the Republic Fund for Health Insurance. They only need a statement from their physician and verification of the commission.
The experts in "Merkur" are also remarkable in the area of gastroenterology. The warm waters are used for treating stomach diseases and the cold for removing sand from the gallbladder, kidneys…
***
The Future
– I have always been saying that the future of Vrnjačka Spa is in several wellness and spa centers. Slovenians and Hungarians are a good example. They first develop a hospital and then, in concentric circles, raise wellness centers, large and mini hotels around it – says Dr Dejan Stanojević, director of "Merkur". – My dream is to develop Vrnjačka Spa in the same way and have everyone doing what one does best. "Merkur" remains the axes and strong medical logistics in all concepts. It is most important to continue the activities and development program of "Merkur" regardless of the owner of the assets. It is important to have the institution continue its successful business activities, to make profit and fill the budget. There is no reason to fear of privatization, because a strategic partner cannot take away our national treasure: water springs and parks.
***
Reporters in "Merkur"
Marking the end of another very successful business year of "Merkur" Special Hospital, partner of our magazine, National Review organized a three-day stay in Vrnjačka Spa at the end of December 2010 for a large group or Belgrade media reporters. At the press conference, they were able to hear from the heads of this company about the basis of the business philosophy and development strategy of "Merkur", as well as to see with their own eyes why their host was awarded with a series of records and first-class recognitions during this year (from "Wellness Award 2010" to "Man of the Year in Health Tourism" granted to the general manager of "Merkur", Dr Dejan Stanojević).
The beauties and graces of Vrnjačka Spa were undeniable.