Summits
ON PEŠTER, A PLATEAU FROM WHICH DRAGONS, LAKES AND AIRPORTS HAVE DISAPPEARED
Autumn on Serbian Tibet
Covered with vast pastures, only here and there spotted with a groove, village, parcel of mountain wheat, this area has been since time immemorial well-known for its shepherds, merchants and, in one period, for smugglers. It is also famous for cheese, harsh winters, caves in which great spiritual leaders lead ascetic life. People here have always lived scarcely, in temptation, honestly. When you come here, you feel certain distrust and judgments. Soon, however, all the hospitality that is typical for highlanders will be displayed
Text and photographs: Dragan Bosnić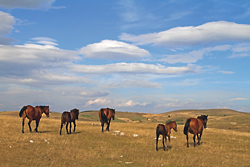 They called it Serbian Tibet, because of its harsh climate, relatively high altitude and important sanctuaries in its vicinity. Pešter is located on the south side of Stari Vlah, bordered with rivers Ibar and Lim. It was named after its numerous caves (peštera), many of which served as a refuge to learned monks and important spiritual leaders. It is covered by immense pastures, only here and there spotted with a groove, dense village or farmland covered with mountain wheat. Since time immemorial, people from Pešter have been known as shepherds, good merchants and in one period they were famous smugglers. They have always lived scarcely, on the border between two worlds, in the vicinity of major roads. Maybe because of this, when we first meet them, we feel certain distrust and feel that we are being judged. Soon, however, they show their hospitality, typical for highlanders.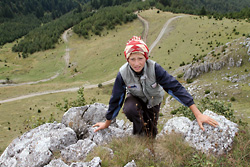 Administratively, Pešter is in municipalities Sjenica and Tutin.
Topographically, the flat Peštersko polje, Giljeva mountain and Sjenica basin stand out. In the north-east area, there is Trojan peak (1,351 meters) with remains of a city that died out in the 6th century. In the area of Pešter field, there used to be a lake. And it drained out. Numerous swamps and puddles have left behind it and, because of specific altitude, unusual life forms have been preserved here.
Legend has it that a dragon killed by St. George used to live in this lake (Muslims believe that this was done by Đerzelez Alija). The dragon was three-headed, and its dieing scream stretched from the city of Trojan all the way to the spring of the Raška and Sopoćani Monastery. The memory of this mythic event, according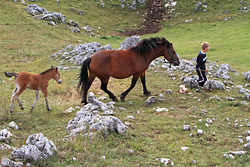 to Pešter people, is kept by many local toponyms. On the place where the dragon recoiled there is a village of Braćak (braćaknuti), it stretched out near the village of Pružanj, truncated the forest with its tail in Krnja Jela. Its flight made the entire mountain of Ninaja sway (zaninati = to sway). It was still alive near Živalići, it dragged near Vučinići, most of its blood drained out near Točilovo, and its bones remained in Koštano polje (the Bone Field). The locals found its first head in Čukote, so they poked it (čukati) with sticks. The second head, obaljena, was found near Baljen, and its tail, similar to viper's tail (guja) was found by the Gujićs.
Many have forgotten this legend, some have never even heard of it, but the toponyms remained. Before the fight with the dragon, St. George cut the stone with his sword and cold mountain water sprang from it. On Đurđevdan (St.George's Day), near that spring, called Đurđevice, which still runs today, both the Christian Orthodox and Muslims used to make a symbolic sacrifice (a ram) to St. George for a long time.
IN KATUNI, NOT FORGETTING WINTER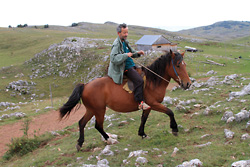 In cooperation with the Tourist Organization of Sjenica, a team from National Review decided, in early autumn, to go through this vastness of pastures. A little on foot, a little on horses, and most of the time by "lada niva". The starting point of this journey was, of course, the town of Sjenica. It was founded on an important caravan road that led from Dubrovnik toward the Eastern Balkans. In the city center there is an old mosque with a dome claimed by the locals to be the biggest in the Balkans. Nearby is the old bazaar, administrative buildings, school… In addition to big cattle fairs, Sjenica has, since recently, become known for its "Pie Days".
We begin the intended journey on the road that leads toward Novi Pazar. We cross the Vapa River, which slowly winds through the Sjenica plateau. We stop for a while at Štavlje, well known for its mine, to visit the old church at the cemetery. Further, toward the settlement of Duga Poljana, it is necessary to overcome a steep hill. It is a small Muslim settlement with a recognizable minaret, small shops and short winding streets. Some houses are new, some are half-demolished, with thatched roofs, but all of them have, apparently mandatory, satellite antennas.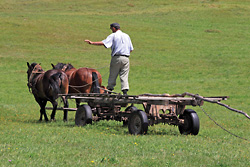 From there, the road goes south-east toward Karajukića bunari. And it is exactly there, on the road toward Bunari, the typical Pešter landscape begins. The road winds over the wavy plateau on which, unlike most of our mountains, there are still many sheep, cattle and gorses. Every foot of the pasture is mowed, because winters here are long, with a lot of snow and with temperatures that would make the Siberia proud. There are numerous katuns (or apartments, as locals call them) where herds stay during the summer. Houses are covered with thatched roofs, encircled with numerous haystacks and next to every house, it seems, several horses graze. A newcomer would think that a horse is still the main means of transportation here, but this is not the case. It was first driven away by "fića" (Zastava 750), then "Golf", and now better quality cars can be seen as well.
THE VAPA DRANK THE LAKE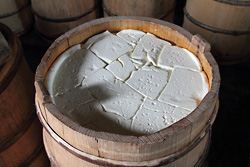 After the Trojan peak, the view of unbelievably flat Pešter Field appears before us. It seems that all the water from the former lake drained out down the winding basin of the Vapa River. Today, apart from a few puddles, Pešter is practically waterless. That is why it has the most extensive water supply network in Serbia, through which water reached every katun. They say that during its construction there were problems with the laying of water supply network. The former "people's authority" used to solve problems easily: rebellious owner would be taken in for an interview and kept until the workers would lay down the necessary pipes over his property. When the pipe was buried, the owner would be released to go home.
Because of their drinking water, the Karajukića Bunari has long been the center of cattle breeding on Pešter. This is evidenced by numerous farms, industrial plants, school building, numerous residential buildings. Much of it has been abandoned, although many local people have stayed, despite everything.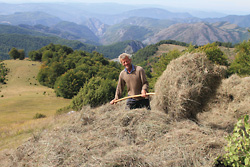 On the way back, the road led us from Bunari to the North-West, via Buđeva to Sjenica. The same views repeat: indefinite hills covered with burnt grass, a herd of cattle here and there, old shacks... Before Sjenica we make a turn toward airport. On this plateau it was not a problem to build a runaway for airplanes problem, or to destroy it (as it turned out in the spring of1999).
Next day we started toward Giljeva. Vast forests and indefinite pastures alternate on the mountain. Views are different from those in the Pešter field, but springs are scarce here as well, and herds are numer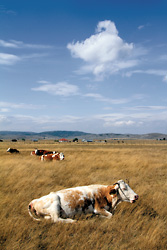 ous. Below 1,617 meter high Jelenko we reach the grouped apartments. It was interesting to take a peek at mljekar in which there were about fifty big vats full of famous Sjenički cheese. We taste the cheese, the fame of which is well deserved, and then we go to look around on mountain horses. We don't know what it is like for a longer period, but for this short period that we spent here it was more pleasant on horses than in "Lada Niva". A part of the crew managed to gallop to the rocky Jelenko. The view from there was definitely worth it. The view reached far, far, all the way to the distant peak of Kučki  Kom and Vasojevića Kom.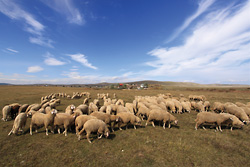 Second to the last route was supposed to be the most interesting. Before us was the Canyon of Dubočica, reachable from the narrow forest road, and the final point was Kumanica Monastery on the bank of the Lim River. The adventure promised by professor Filipović, the tour leader, really happened, but in an unpleasant way. Some woodcutters left huge beach logs on the narrow road. We could not budge. Not one step further. Nor could we turn around to go back. Exhausting ride backward down half of the mountain ensued. Even for Miško, from "Firma Krstić", this would be quite a feat.

***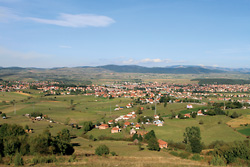 Spring
Sjenica is supplied with water directly from the spring of the Vapa, which is so strong and clean that it was not necessary to build any reservoir or accumulation lake. If Novi Pazar had anything like it, they say, it would soon solve its existing problem with drinking water.
***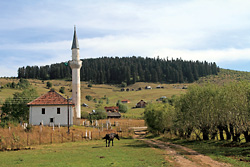 The Forest Takes Care of Itself
At the farthest corner of Pešter there is a settlement of Ugao (corner). There is an interesting story about the old mosque in the village and the forest that belongs to it. Ancient trees on the hill above the mosque are protected, although locals say that it is not necessary. The forest, they say, takes care for itself! In the old times, a man violated the prohibition to cut this forest contained in an old legend, and fell one tree to make roof on the house. Only a few days later, heavy storm clouds gathered above the village, and the first lightning hit directly the newly built roof. Since then, nobody has to guard the forest around this holy place.