Knowledge
PROF. SLOBODAN UNKOVIĆ, PhD, FROM THE SINGIDUNUM UNIVERSITY IN BELGRADE
Tourism Is Noble Work
There are no working hours, much energy and knowledge are necessary, constant improvement – says the reputable professor. Tourism in the world has a faster growth than the total economic growth, and such a trend will continue. The annual number of tourists is 936 million and the consumption amounts to 1.100 billion dollars. Estimations are that there will be one billion and 400 million tourists in 2020. Serbia is achieving humbler results in tourism than it could or should considering its natural and cultural resources, but the 4-5 percent growth is encouraging
By: Rozana Sazdić
Photo: R. Sazdić and Singidunum University archive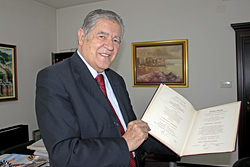 Singidunum is the first accredited privately owned university in Serbia. It was established with the intention to educate high-quality personnel in accordance with the requests of modern economy, enabled to essentially develop the business environment. The faculties within this university became leaders in promoting new knowledge and skills. Two things prove the aforementioned: big demand for experts with the diploma of this university and the constant rapid growth of interest for enrolment.
Professor Slobodan Unković, PhD, president of the Tourism and Hotel Management Faculty at the Singidunum University and director of the Department of Postgraduate Studies and International Cooperation, an internationally reputable scientist, is the favorite professor of generations of students.
– It is nice to work with young people who are full of enthusiasm and yearning for knowledge – says Professor Unković. – I mainly work at the master and doctoral studies, but I also hold several lectures to the new generation of students in Tourism Economics, upon the request of my former student, Professor Krunoslav Čačić, PhD, dean of the Tourism and Hotel Management Faculty. I had the pleasure to work with young people while I was teaching at the Faculty of Economics, at faculties in the region, as well as in the USA and European countries. It is truly enriching to meet the new generation and follow them in their professional career. Many of my former students are now professors, public workers, diplomats, ministers. Seventeen of them are doctors of sciences. Up to now. I am always happy to meet my students in any part of the country or the world and see that they became successful people. It is a sign that you have been doing a useful job and that they applied the knowledge they gained. As you know, people and their attitude towards the job are crucial for tourism. When speaking about tourism in Serbia, one should keep in mind the people who contribute to its development on all levels.
Tourism is noble work, says Professor Unković. There are no working hours, much energy and knowledge is needed, constant improvement.
– Look at the Italians or the Spanish who have the feeling how much tourism is important and do their job with love. The Spanish waiters sing while serving. The famous uncle Rone in Venice has been explaining for years what is beautiful in his country and his city. It is important to enjoy your job, whether it means maintaining green areas or offering hotel services – says the professor. – I fell in love with tourism already in Dubrovnik, where I was brought up. I have also worked as a tourist guide, and already then found how much one needs to know his country and do the job with love. A boy in Belgrade has recently made me happy. Foreign tourists stopped him at the St. Sava plateau and he explained them where they were and who St. Sava was. He did it in simple words, but correctly and fluently. I believe we must develop the awareness of the beauties and heritage of our country from the earliest age. You cannot, especially in tourism, learn everything at the university. You have brilliant guides who are art historians or economists. Tourism management also has lawyers, doctors, film workers, many of them achieving extraordinary results!
ALL ASPECTS OF TOURISM DEVELOPMENT
Professor emeritus Slobodan Unković, PhD, graduated from the Faculty of Economics in Belgrade in 1961, when he became assistant. He got his doctoral degree five years later. He was granted the Ford's scholarship and given the opportunity for specialist studies in the USA. Upon his return, he was elected as assistant professor at the Faculty of Economics in Belgrade. He was teaching tourism at the universities in Zagreb, Opatija, Dubrovnik, Ohrid, Bar... While he was rector of the Belgrade University, he was granted the title of honorary doctor of sciences at the Russian Lomonosov University, later at the Chinese Ren Min, and last year at the Lincoln University in the USA. In cooperation with this famous American university, he organizes basic and postgraduate studies at Singidunum in English, with reputable professors from all continents holding lectures. Singidunum is the associate member of the World Tourism Organization, which is a great acknowledgement both to the University and Professor Unković for many years of active cooperation.
No one can explain better than professor Unković the economic and social importance of tourism, its multidisciplinarity, crucial aspects of organizing tourism and managing it (from a company to the country as a whole). 42 years ago, the Belgrade Faculty of Economics formed a special program for tourism at basic and postgraduate studies. Then, in 1969, Tourism Economics as a subject was introduced, and from that school-year on, lectures were held by Slobodan Unković, PhD. His book Tourism Economics, translated into English and Chinese, had the twentieth print run in Serbian.
Similar to elite institutions of the same type in the world, the Faculty for Tourism and Hotel Management at Singidunum studies tourism from the aspects of law, geography, art history, but emphasizes studying from the economic point of view. After completing the basic four-year studies, students get the title of graduated economist. Each year, 300 students are enrolled at this study program, and 60 at one-year master studies. In February 2011, the third generation will enroll at the doctoral studies in tourism management.
– We are the only institution in Serbia accredited for doctoral studies in tourism management – says Professor Unković. – We have high-quality teachers and we put all the knowledge and experiences into our programs. With applying modern techniques and methodologies, we pay special attention to three educational elements. Our students learn English and one more world language. We have German, Spanish and Italian, and we are planning to introduce French, Chinese and Russian. The second element is education in the area of information technology, because a graduated economist needs knowledge and skills he or she receives by becoming electronically literate. We have a very well equipped computer center. We also accentuate the significance of professional practice. Our students practice in renowned local and foreign companies. The last semester is completely dedicated to professional practice and preparation of the graduation paper.
IMPORTANCE OF SUPREME EDUCATION
Professors of Singidunum regularly participate at conferences and scientific meetings, especially contributing to the cooperation of science with public and other industrial enterprises, promoting the profession and positioning tourism in the modern business environment.
– I participated at many scientific meetings, as well as in the work of the World Tourism Organization. I can say that our scientific thought and teachers are not lagging behind the international examples. We have good faculties and high education schools, such as the College of Tourism and the College of Hotel Management in Belgrade, with which Singidunum has a very good cooperation – says Professor Unković. – However, in tourism development we have not achieved the level we should have based on our natural and cultural resources.
According to the data from January 20 published in Madrid, 936 million participants were registered in international tourism with the consumption of 1.100 billion US dollars, mentions Unković. During the previous 50 years, the average growth rate of income from tourism was above 5 percent, and tourist consumption above 11 percent. The growth of world tourism was faster than the total growth of world economy. The official estimations of the WTO: a growth of 4-5 percent is estimated for 2011. It is in line with the growth trend and projections according to which there will be about a billion and four hundred million tourists in 2020.
***
Serbian Tourism
– Much attention should be paid to relevant data and future activities should be planned based on economic figures and scientific research. The data show that tourism has a bigger growth than the GDP growth in the world, and such a trend will continue – emphasizes Professor Unković. – Serbia is achieving humbler results in tourism than it could, but they are in line with the total development tendencies. There is a growth of 4-5 percent, which is good. However, the tourism balance sheet states that our population spent 150 million dollars on tourism more than the 900 million dollars income Serbia made from tourism in 2010.
***
Efforts, the Fair, Awareness
– We must not underestimate the efforts invested into stimulating tourism development. All such programs should be welcomed and supported – says professor Unković. – The Tourism Fair is also a good opportunity. Its quality and number of participants indicate the growing attention paid to this area as an element of the total economic growth and development. Ever since its founding, Singidunum has had a stand at the Fair. It is a sign of our support, as well as the expression of the need to meet and work together on the development of Serbian tourism. Serbia is an incredibly beautiful country with rich natural and cultural resources. The awareness of it should become part of our everyday life. Everyone in Serbia must feel that tourism is important, that it can make people live better and improve their standard of living.